Olga Papaemmanouil: Revolutionizing Data Science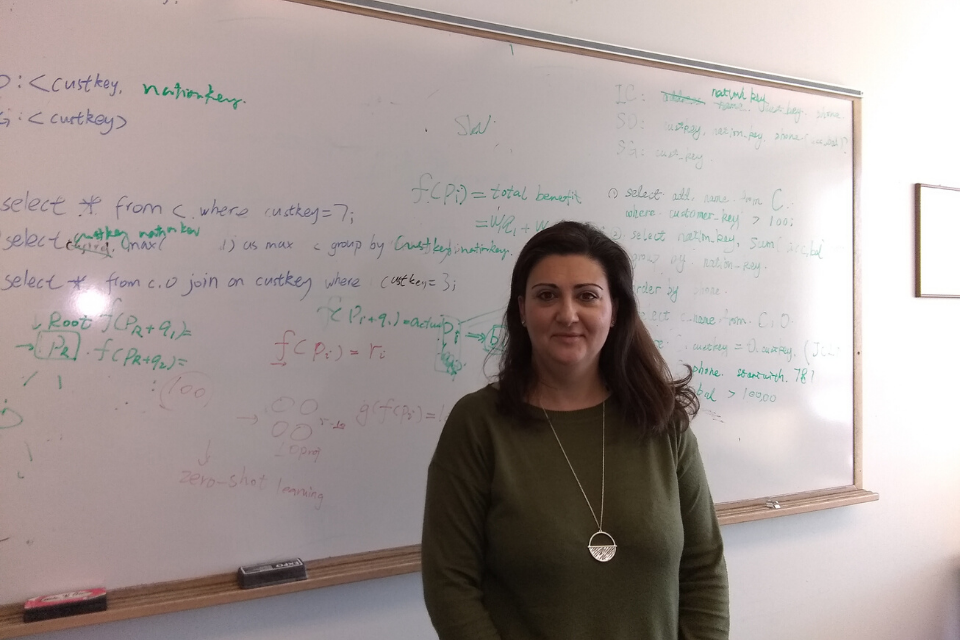 Making databases work to solve big problems has always been important to Olga Papaemanouil. From her early career in finance  to her current role as a Brandeis innovator, Olgas' work aimed to simplify the design and tuning of databases as well as to assist application developers in tackling the challenges of building, managing and optimizing data-driven applications. Today, the Brandeis computer science professor is working on an impressive array of Big Data Analytics solutions, with a common goal of collecting insight on the complexity of the big data sets and leveraging this insight to produce solutions that improve the effectiveness and efficiency of Big Data systems.
Olga began her career at the Greek stock exchange as a software engineer, working on data management solutions that powered investment activities. Excited by the untapped possibilities of new trends in data management research she left private industry to pursue a PhD at Brown University. At the time, Olga's focus was on optimizing the architecture of distributed data dissemination systems and quickly moved to analyzing and predicting the performance of database systems. During her studies at Brown University, she became part of a group of collaborators at Brown, MIT, and Brandeis who worked on making core breakthroughs on stream-based data processing. Working alongside peers from these institutions, Olga saw that the computer science faculty at the New England area was highly collaborative, innovating  on a wide range of data management challenges. When it came time to apply for academic positions, Olga came to Brandeis, eventually winning tenure while becoming a key Brandeis innovator.
Over the past 10 years, Olga's work has touched many different aspects of data management systems:  from how to evaluate the performance of data processing tasks to how to make big data exploration applications user-friendly and how to leverage machine learning to facilitate the deployment of big data management system on cloud infrastructures. 
Olga's work on cloud databases touches upon an economically important challenge: optimizing the costs of cloud services. Today's companies are leveraging Big Data for everything from marketing to customer service to supply chain sustainability. Processing large datasets—for instance, all sales of electronics in the US—can help companies predict consumer behavior, optimize the use of raw materials to conserve resources, and create jobs by reducing friction in markets. However, processing these large datasets requires massive amounts of "computing power." With the advent of cloud technology, many companies no longer maintain their own servers, instead, renting storage and computing resources on the servers of large companies such as Amazon—what is known as the "cloud." In the Big Data era, renting computing resources can become costly, given the enormous computing power needed to process data. Olga developed a series of tools that help data engineers to provision cloud resources that meet the demands of their application. While many vendors offer to their customers simple tools for estimating their cloud usage, the tools are provided by the vendors themselves, lacking both customization to each individual application's high level performance goals.  Olga's technology allows engineers to map application-level performance metrics to server-level resource requirements, allowing companies to optimize their cloud usage costs without sacrificing the quality of their applications. 
What's next for Olga? Her current work focuses on leveraging deep learning theory to produce solutions that automate and customize various operations involved in big data management systems.  Olga is developing a series of data analytics and exploration techniques that can decrease the gap between the growth of data and the limited human ability to comprehend the data, facilitating end-users in deriving insights from huge and complex datasets, such as the ones in neuroscience, biology and astronomy. Using her tools, scientists will be able to navigate themselves through massive object collections more quickly and effectively  with the help of object recommendations, visualizations and automatic pattern detection techniques. Olga is also set to change the architecture of database systems by incorporating rigorous deep learning theory into the core functionality of database systems allowing data management systems to customize their behavior to the characteristics and performance goals of their supporting applications.
In all of her work on making data management systems more usable, Olga has focused on helping data scientists and system engineers accomplish their data analysis and processing goals more efficiently, and effectively. We live in an age where data analytics is predicted to be as significant a force in human history as the Industrial Revolution. With the collaborative work of Brandeis innovator Olga Papaemanuoil, the Big Data revolution will be that much closer to being a force to repair the world.