Fall Back Into Innovation Kicks Off with Seth Rosen's Inspiring Talk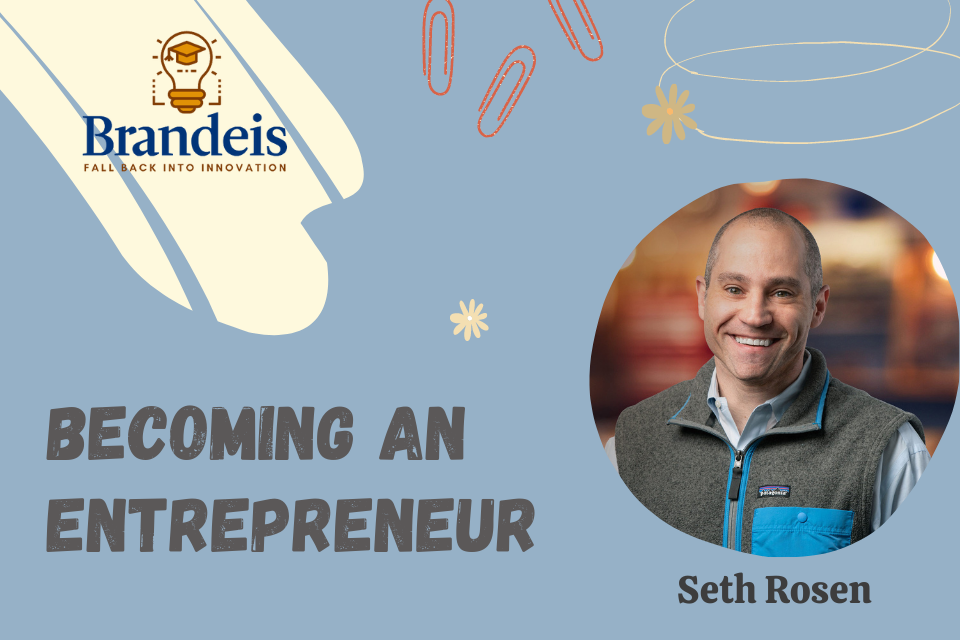 What does it take to be a successful entrepreneur or creative innovator? Is it wealth? Industry connections? Or is it something we can all have? According to successful entrepreneur and venture capitalist Seth Rosen, the key common factor among founders who make it is mindset. Seth spoke at the first session of the Fall Back Into Innovation series, part of Brandeis Innovation's Spark virtual incubator program.
Speaking to a packed but socially-distanced audience at Brandeis International Business School, Seth shared his frank, vulnerable account of his trajectory as an entrepreneur. Entrepreneurship, he says, is not a path to rapid wealth. Instead, it's a labor of love, one that takes grit, determination, and honesty. He told of his own path from a Master's at Bentley University to spending 11 years trying different business models before reaching his current success as the founder of CustomMade, one of the world's leading custom jewelry companies.  He urged attendees to focus on resilience as they faced the ups and downs of business, recounting how he nearly failed several times, but the support of friends and family encouraged him to keep trying. The result was several rounds of funding and a passionate customer base. His achievements, like those of nearly all entrepreneurs, are not the result of luck; they didn't happen overnight, either. They were the result of an entrepreneurial mindset built on grit, optimism, clarity, and commitment to people. Determination may be the strongest factor in success, but it's not the only one, Seth noted. Just as important to his progress was valuing the people he worked with, from advisors to cofounders to employees. It was relationships that helped him bridge the challenging times, gain new perspective, and find deeper meaning in his work. He encouraged attendees to focus on building strong relationships, noting that ideas can evolve, but having the right people around you will always lead to better outcomes.
Seth also emphasized the role that data plays in his business. He recommended that attendees balance their idealism towards their business goals with realism about what's working. Having a strong data program has helped CustomMade understand their customers. This has helped the startup serve customers effectively, optimize customer acquisition costs, and build a strong sales pipeline. While psychological factors such as mindset and relationship-building were keys to his growth, hard data is essential to operational excellence. Knowing what customers want, who's more likely to buy, and what products are trending fosters stable growth, which is what businesses need.
Finally, he reminded the audience of undergraduate and graduate students that a venture-funded startup is only one of many options available to aspiring founders. Many everyday businesses, from home services to retail, provide a good income to their owners, employ millions, and provide deep connections to the community. Moving away from the paradigm of funded tech startups to a more realistic understanding of viable businesses opens up the world of possibility to students in a range of disciplines, not just those in tech. He left the assembled students feeling inspired, hopeful, and enthusiastic about pursuing their own entrepreneurial dreams. "It was fascinating listening to Seth's journey of creating a remarkable company that offers customized engagement rings. Entrepreneurs such as Seth take risks, rethink the old, get into areas that are not proven yet, and bring fantastic new products and services to life. My takeaways: If someone is not prepared to take risks, the person will have no business being an entrepreneur. Additionally, resilience, creativity, and renewal are key!" says an IBS student and event attendee.
Brandon Musto, MS '22, agrees: "It was great hearing from Seth, especially during the extensive Q and A after his talk. He did a great job explaining his story and how he was able to bounce back after his first startup failed by being brutally honest with himself about what was working and what wasn't. This type of self reflection is something we can all take with us, even if we aren't necessarily starting a new venture"
Brandeis' Spark Program is designed to encourage and support entrepreneurial activity within the Brandeis community, including students (graduate and undergraduate), postdocs, faculty and staff.  The awards are intended to help bring your ideas and entrepreneurial ambitions to life.
"We're so honored that Seth chose to share his experiences in such an honest, uplifting way with our students," says Juan Giraldo, Spark Program Director. "People left the session energized, ready to start that next chapter of growing towards their aspirations. It was just what many of us needed to experience at this time. It was a great start to the 2021 - 2022 Spark program." 
To learn more about Spark, including how to participate, visit