5th Annual Sprout Bootcamp Helps Scientists Turn Breakthroughs Into Products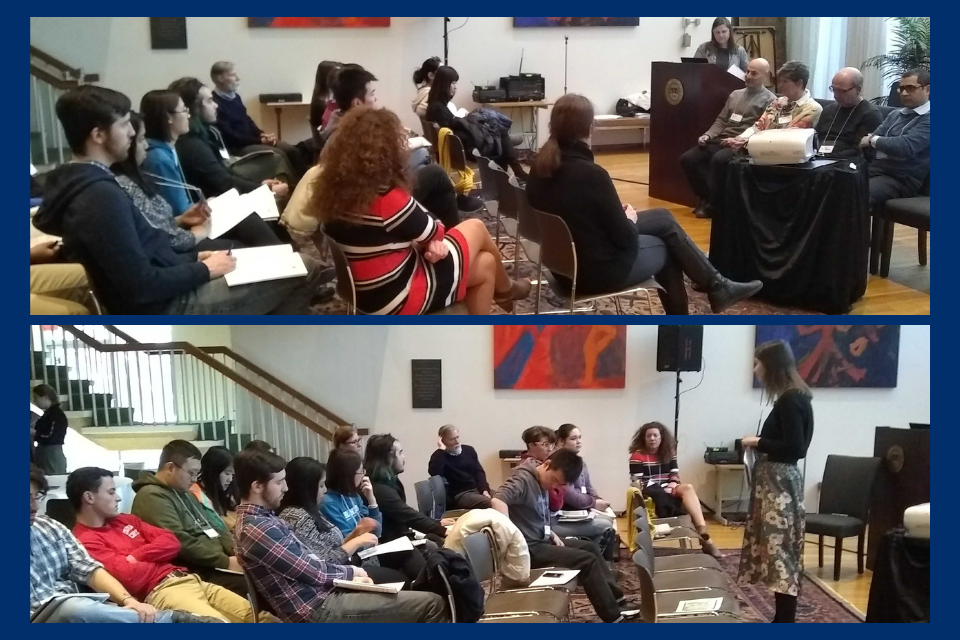 A new way to unlock the secrets of RNA. A promising path to an HIV vaccine. New information on how bacteria become resistant to antibiotics. A better way to collect solar energy.
These are just a few of the breakthroughs being developed at Brandeis University labs. This Spring, some of the best of these innovations will participate in Sprout, Brandeis Innovation's grant program and virtual incubator/accelerator. "The goal of the Sprout program is to identify bench research that has strong commercial potential and give scientists the support they need to develop their discoveries into commercial products," says Rebecca Menapace, Associate Provost for Innovation and Executive Director of the Office of Technology Licensing, who spearheads the Sprout program. 
The program has evolved over the years to offer more support than simply providing initial seed funding to research the commercialization of a drug or other scientific discovery. Instead, it now offers extensive training to scientists in how to manage the commercialization process. In the form of mentorships and its annual bootcamp, this training now comprises an equally valuable part of the grant program. "It's not just about the funding. It's about all the opportunities that arise from participating in Sprout," notes Nobel Prize winner Michael Rosbash,  Peter Gruber Professor of Neuroscience, who won a Sprout award in 2018. Participants note that the training, opportunities to connect to industry, and support make Sprout a uniquely valuable program.
At the core of Sprout's training is customer discovery, a system of identifying commercialization pathways developed by Prof. Steve Blank of Stanford University. Long before approaching commercialization partners, scientists themselves can ask the same critical questions that industry will: 
Who is the market for this product?
How can it best be distributed and marketed?
What are the most likely revenue streams?
What partnerships can help launch this product efficiently?
Working through these questions can help inventors launch their products with lower risk, and a higher rate of return. Brandeis Innovation's training model follows this framework closely, which is also mandated by the National Science Foundation I-Corps program for all of its grantees.
In addition to the best-practices training, Sprout offers mentorship to participants. Drawn from industry, Brandeis Innovation mentors are selected for their deep expertise in the fields in which each year's participants work. The Sprout bootcamp would not have been a success without the support from industry mentors who offered valuable insights and advice to help Brandeis innovators achieve another milestone towards their goals. The external mentors in this year's Sprout Bootcamp were:
Eric Furfine, PhD, '87, Chief Scientific Officer at Ohana Biosciences
Bill Edelman, a Chairman and a Board Member of various technologies and biomedical companies
Amanda Wagner, VP, Corporate and Business Development at Admirx, a startup company based at Atlas Ventures
Vipin Suri, PhD, '01, VP of Discovery at Obsidian Therapeutics
Beth Kahn, Associate Director of the New England I-Corps Node at MIT
Sprout participants are the evidence that Brandeis celebrates diversity in every aspect: their projects are on wide arrays of topics, but they are all aiming towards the same goal of creating impact through science and engineering:
Launched earlier last month, SciLinkR is an online public engagement platform that connects scientists and engineers with educators to increase and record STEM outreach.
Two teams led by Liz Hedstrom, professor of Biology and Chemistry, are working on developing new drugs to treat tuberculosis, with novel ways of targeting Mycobacterium tuberculosis (Mtb).
Sebastian Kadaner and his team designed an efficient and low cost method for annotation and quantification of circRNAs, which are shown to be biomarkers for cancer and Parkinson's.
Maxxshield is planning to custom, easily affordable mouthguards for athletes using 3D printers.
Another team, led by Isaac Krauss, is developing a more stable version of their current attempts at an HIV vaccine using sulfur atoms.
Addressing daily life problems, Grace Han and her teams have discovered that photo-switching molecules can be used as strong adhesives that are reusable and leave negligible adhesive residue. They envision their technology applied to bandages, surgical strips, and more. Her teams' work also includes an efficient method to store solar energy called "Solar Chargeable Thermal Applications", that allows for long-term operations and a diverse array of portable applications.
As with every Sprout grant year, the goal for FY 2019 is to support those Brandeis inventions with the strongest chance for becoming groundbreaking commercial products. It's an ambition that has certainly come to fruition in the past. With supprot from Brandeis Innovation, this year's Sprout participants may launch the next blockbuster drug, game-changing consumer product, or transformative scientific breakthrough.