For 9 Years and Counting, Sprout Fosters Inventions That Could Become the Next Big Thing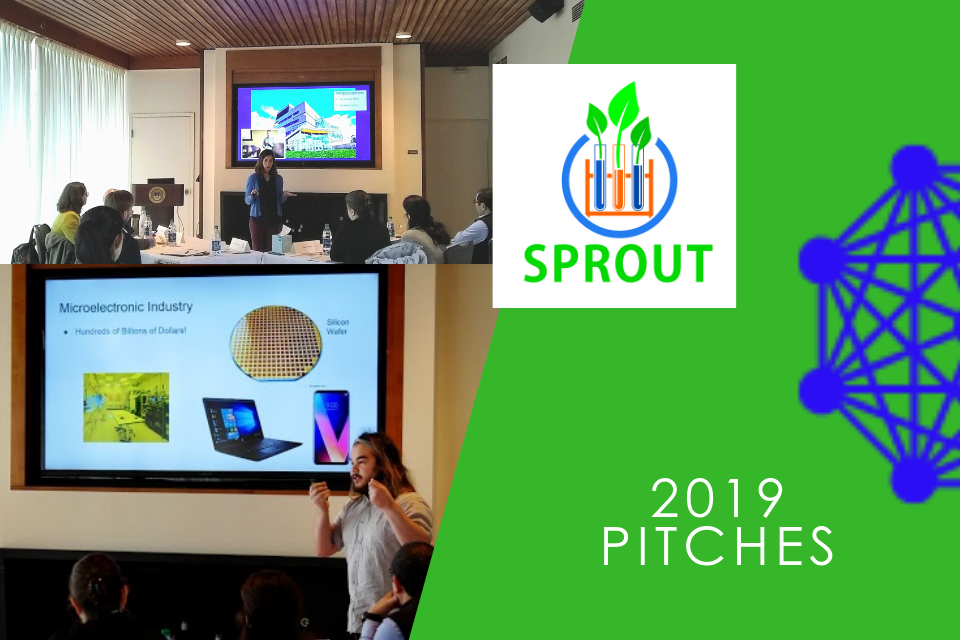 Once again, scientists from across Brandeis gathered in the Faculty Club on a bright if breezy Spring morning, hoping to launch the next breakthrough invention. It's part of a decade-strong program from the Brandeis Office of Technology Licensing, the Sprout program. Sprout's goal is ambitious: to identify and support scientific advancements that have the strongest possibility of becoming innovative commercial products. Past winners have included graduate students from the labs of leading Brandeis notables Michael Rosbash, Nobel Laureate, and American Association for the Advancement of Science Fellow Lizbeth Hedstrom. They also include many emerging scholars, often providing the seed grants necessary for launching vital research efforts. Past projects funded by the Sprout program have included a range of new ideas in chemistry, biology, and consumer goods. They include a carrot fiber aimed at reducing the risk of diabetes that is now on the cusp of commercial production, potential cancer treatments, and tools to enable other scientists to conduct their research more efficiently. All told, Sprout has helped more than 200 Brandeis scientists over 9 years to make an impact with their research.
This year's Sprout grant winners were the most varied to date in terms of the industries they address. Many traditional biology and chemistry projects won funding, including Associate Professor Isaac Krauss' ongoing research towards an HIV vaccine. Professor Lizbeth Hedstrom's newest work on tuberculosis was also among the winners.
Expanding the Impact of Sprout
Going beyond drug discovery and basic research this year were several projects that expanded the boundaries of Sprout's typical focus on food science, research tools, and medical research. Emerging from Grace Han's lab was a photo-switchable adhesive, which aims to make it easier to remove all those sticky adhesives when users no longer need them. Adhesives are commonly used by everyone everywhere in daily life, from tapes on packages to glue between silicon components in electronic devices, but the selective and controlled removal of
adhesives has remained a significant challenge. The Han team has discovered a new class of molecules called photo-switching molecules that are sticky at first, but can have their stickiness deactivated by UV light. The team aims to start in the microelectronics industry, then move to consumer applications.
In addition, researchers in the Han lab are also working on, and received a grant for, heat recycling materials controlled by blue LED light, a technology that promises to keep motor oil  from freezing in areas with consistent sub-zero temperatures using less power. Today, a standard oil pan heater is usually left on overnight and consumes several kWh of electricity, also overheating the engine oil. Han's team plans to solve the problem with their eco-friendly and low-cost solution
Expanding the boundaries further is SciLinkR, a platform for connecting scientists who wish to do outreach activities with K-12 educators and programs in need of outreach. Rather than a grant for specific research, the Sprout funding for SciLinkR instead aims to provide a pipeline for developing the next generation of STEM students and professionals.
Engaging Alumni as Mentors and Judges
Judges came from both external private industry and successful alumni. Eric Furfine, PhD '87, a longtime supporter of Sprout, shared his insights with the researchers. Furfine, a successful alumnus with a track record in biotechnology, currently serves as Chief Scientific Officer for Ohana Biosciences, and has long acted as a mentor in the Brandeis Innovation program. So, too, has fellow Sprout judge Vipin Suri, PhD '01, VP of Discovery at Obsidian Therapeutics, who also shared his experiences as an executive in the startup world. Rounding out the list of Brandeis alumni who returned to campus to support fellow Brandeis STEM professionals through the Brandeis Innovation program was Jordana Goodman, BS (Chemistry) '12, an IP attorney at Danielson Legal LLC. External judges supporting Brandeis Innovation scientists this year included Irena Ivanovska, PhD, Director at Celdara Medical, and Steven Robinette, PhD, a principal at Atlas Ventures.
"The Brandeis Innovation Sprout programs get so much support from our amazing science alumni, as well as the Boston scientific and venture-capital communities," notes Rebecca Menapace, Associate Provost for Innovation, and Executive Director of the Office of Technology Licensing and the Hassenfeld Family Innovation Center. "We're honored by the alumni's continued commitment, and encouraged by the fact that we have become such a strong bridge between Brandeis scientists and industry. It's one of the ways we support Brandeis' mission to tackle big issues in an interdisciplinary way. We're proud of the breakthroughs being made here at Brandeis, and look forward to seeing many of them in production one day, making a real difference in people's lives"