Brandeis University Innovation Center and Hampton University Launch NSF-Funded STEM Innovation Training Program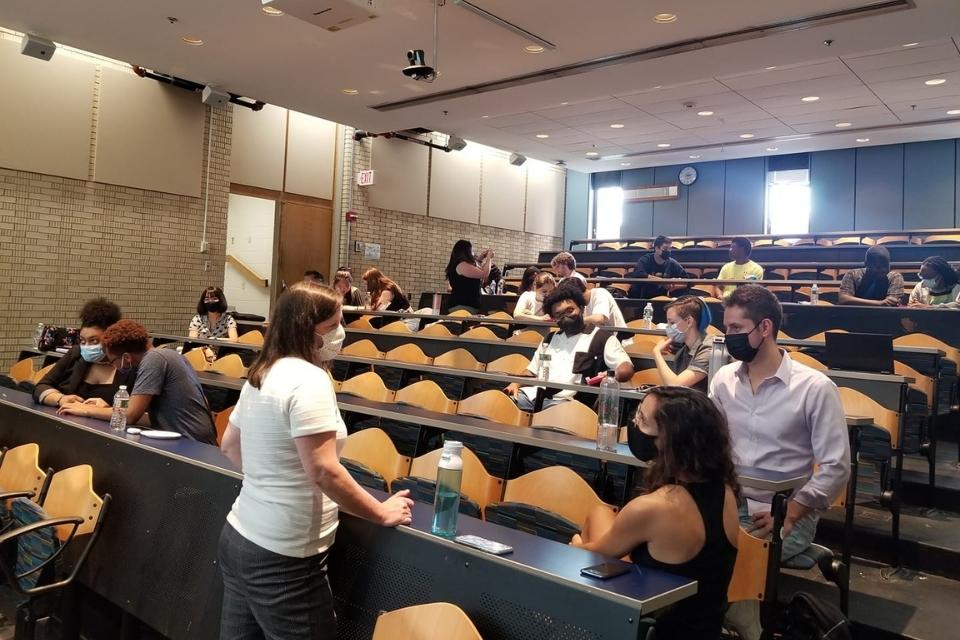 Collaboration with Hampton University aims to bring HBCU STEM students into leadership positions in national university startup ecosystems
The Brandeis University Innovation Center and Hampton University launched their new program today that aims to increase the pipeline of students from traditionally underrepresented groups participating in STEM programs at the undergraduate and graduate levels. 
The new program is funded by a $46,000 supplemental grant from the National Science Foundation (NSF) Innovation Corps (I-Corps™) that was awarded to the Brandeis Innovation Center. It builds on an existing partnership between the two universities. Program participants, known as I-Corps Fellows, obtain training in innovation and entrepreneurship, engage in career development activities, and build cross-disciplinary and cross-institutional connections.
I-Corps is designed to increase commercialization of university technologies. Teams consist of researchers and business specialists who come together to explore the commercial potential of an invention - they conduct market research, build prototypes, identify their markets, and hone a business model. Mentors from Brandeis' alumni network and industry support teams with feedback, coaching, and connections. In a few weeks, ideas can go from the lab to a workable nascent business.
"We are honored that the National Science Foundation has recognized our contributions to STEM education and research commercialization through this new grant," says Associate Provost Menapace. "This is especially amazing because the grant gives us the opportunity to collaborate with Hampton University and open up new opportunities for historically marginalized students to increase their numbers in science."
The team working on the initiative is led by Rebecca Menapace,Associate Provost for Innovation, Brandeis University, and founder of the Brandeis Innovation Center, Seth Fraden, Professor of Physics and founder of the Brandeis Bioinspired Materials Research Science and Engineering Center (MRSEC), Anahita Zare, PhD, Director of Education, Outreach, and Diversity at Brandeis University MRSEC, Prof. Jerald Dumas, Chair and Assistant Professor, Chemical Engineering, Hampton University, and Dean Demetris Geddis, Assistant Dean of the School of Engineering and Technology and the Chair of the Department of Electrical and Computer Engineering, Hampton University. 
About the Brandeis University Innovation Center
The Brandeis Innovation Center, which includes the Office of Technology Licensing, provides a hub for innovation across the Brandeis campus. The Center engages students, faculty, researchers, alumni and staff, promoting collaboration and discovery through research, grants and partnerships, including their signature programs, I-Corps, Spark and Sprout.
Brandeis is one of only 10 I-Corps sites designated by NSF in New England. Other sites in the region include MIT, University of Massachusetts, Lowell, and Northeastern University. Brandeis received its initial NSF I-Corps grant in 2017.
Brandeis University was founded in 1948 by the American Jewish community at a time when Jews and other marginalized groups faced discrimination in higher education. Today, Brandeis is a leading research university for anyone, regardless of background, who wants to use their knowledge, skills and experience to improve the world. Nearly 6,000 Brandeis students and 550 faculty members collaborate across disciplines, interests and perspectives on scholarship that has a positive impact throughout society. Learn more at brandeis.edu
For more than 150 years, Hampton University has been THE Standard of Excellence in higher education. Founded in 1868 by Brig. Gen. Samuel Chapman Armstrong, Hampton University has a long successful history of offering a strong academic program of educating the "head, heart and hand" and emphasizing the development of character.  This foundation has been built upon by Dr. William R. Harvey who has served as Hampton's president for 44 years. Under his leadership, the university has experienced accelerated growth and achieved notable accomplishments. During Harvey's presidency, 92 new programs have been introduced, 31 new structures dot the landscape of the campus surrounded three sides by water, and the university's endowment has grown from $29 million to $400 million and growing.  
The National Science Foundation supports fundamental research and education in science and engineering. NSF's role results in new knowledge and tools as well as a capable, innovative workforce. These complementary building blocks of innovation have led to revolutionary technological advances and wholly new industries.
The goal of the NSF Innovation Corps (I-Corps™) program, created in 2011 by NSF, has been and will continue to be to reduce the time and risk associated with translating promising ideas and technologies from the laboratory to the marketplace. I-Corps uses experiential learning of customer and industry discovery, coupled with first-hand investigation of industrial processes, to quickly assess the translational potential of inventions.
The I-Corps program is designed to support the commercialization of so-called "deep technologies," or those revolving around fundamental discoveries in science and engineering. The I-Corps program addresses the skill and knowledge gap associated with the transformation of basic research into "deep technology ventures" (DTVs).