Benjy Cooper, BS, 2011
Benjy used what he learned in Lean LaunchPad to develop a new treatment for osteoarthritis
Benjy Cooper has long had a vision to help patients with osteoarthritis gain greater mobility and improve their quality of life. As a doctoral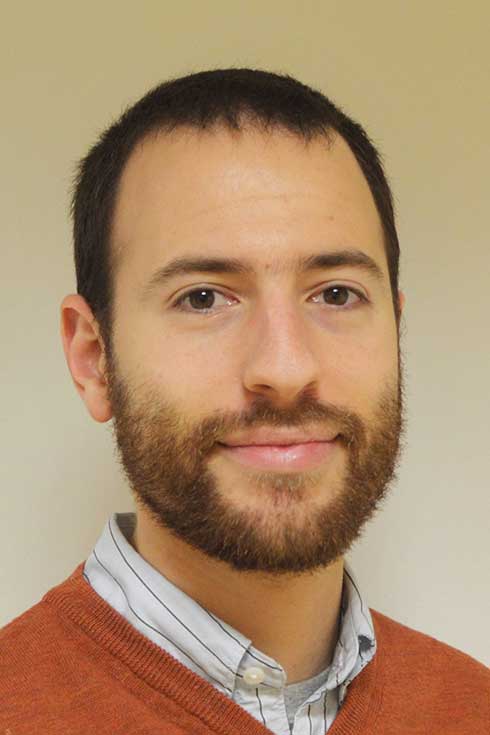 student at Boston University, he helped develop a biolubricant that mimics the fluids in our joints, which, when injected, restores joints' flexibility and patients' freedom of movement. Now, thanks to Brandeis Innovation's Lean LaunchPad program, he has launched a company, Articulate Biosciences, aimed at doing just that.
Working in his lab at BU, Benjy retained fond memories of his time at Brandeis as an undergraduate. He conducted undergraduate research with Prof Christine Thomas (Chemistry) and was so transfixed/enamored with research and translating university discoveries out into the "real world," that I wanted to support the Brandeis innovation community. 
That is what initially brought him to Brandeis Innovation. "I was looking for a way to give back," says Benjy. He found that opportunity--more than that, however, he found help from Brandeis in launching his innovation.
Benjy found the Lean LaunchPad program via the Office of Technology Licensing site. The program is based on the Lean Startup methodology of Steve Blank and Eric Ries. Guiding aspiring entrepreneurs through 12 modules, the program helps them create an actionable strategy for turning a technology idea into a workable business model. Brandeis Innovation's Lean LaunchPad helped Benjy, his team and the other members of their cohort:
Identify their ideal customers
Create plans for viable revenue streams
Align technologies with market needs
through an online program that allowed them to keep working in the lab while also building a business.
"The entire program was extremely valuable," say Benjy, noting that, through Lean LaunchPad, they were able to validate their idea. The benefits went beyond the 12-module training: the team met a wide range of stakeholders, with connections facilitated by Brandeis. For an osteoarthritis treatment, this meant connecting with surgeons and physicians, insurance companies, and hospitals to verify that there was a need for the treatment, and that it would fill a valuable niche on the market. The validation that came back, along with guidance on how to position the treatment for approval, made it possible for the team to move forward with their research, knowing that they were on the right track.
Just as importantly, the program offered "a structured way of launching a startup"--a sound footing in the often-challenging world of medical devices. From customer validation to developing a go-to-market strategy, the Lean LaunchPad program helped Articulate Biosciences lay the foundation for creating a viable medical treatment that can transform patients' lives. There is still much to be done, including FDA approval, and the skills learned in the program will help Articulate approach those challenges armed with knowledge of how the medical device commercialization process works.
2017 will see Benjy completing his work as a postdoctoral researcher at BU while applying to advanced accelerator programs. The pitch deck, message articulation, and product need validation gained through Lean LaunchPad form the basis for these applications, which often have stringent requirements to have these items in place. Brandeis Innovation continues to support the team with advice. Benjy, for his part, continues with his original mission of giving back, as well. He has advice for emerging innovators, based on his own positive experience going beyond the lab: "Get out of the building," he says, adding that startups progress when their founders connect with leaders in other industries, building new connections and learning new skillsets. That was one of the lasting benefits of the education program, and one he wants to pass on to others: "The more you can learn different skills, the more impactful of a scientist or engineer you'll be. The most effective research happening today is done not just within interdisciplinary teams, but within cross-disciplinary teams, where all team members thrive based on their well-rounded blend of science, business, human factors, and everything in between."