David Waterman, PhD '18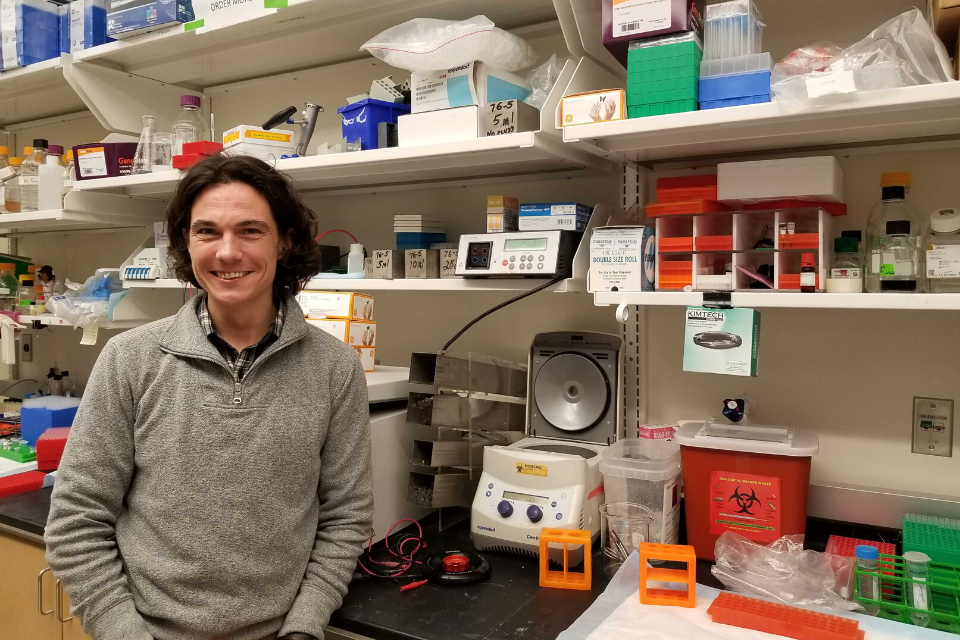 For many years, the United States avoided a lingering problem: plastics and other recyclables present complex challenges in being re-made into new materials. From contamination, real or perceived, to a lack of markets for recycled goods, effective recycling requires more than just a bin by a curb. We avoided this challenge with what David Waterman, PhD '18, calls a big bandaid: exporting our recyclables to China and other markets. Finding an outlet for US plastics depended on Chinese recycling facilities. In 2018, China introduced new regulations banning the import of many recyclables amidst concerns over contaminants present in plastic and paper waste. This pushed the ongoing challenge with recycling, contamination of recyclable materials, back onto the US waste-management industry. 
"[US companies] were working on the surface with single stream recycling. A lot in the waste stream didn't get recycled." notes David. Plastics were going out of sight, and out of mind.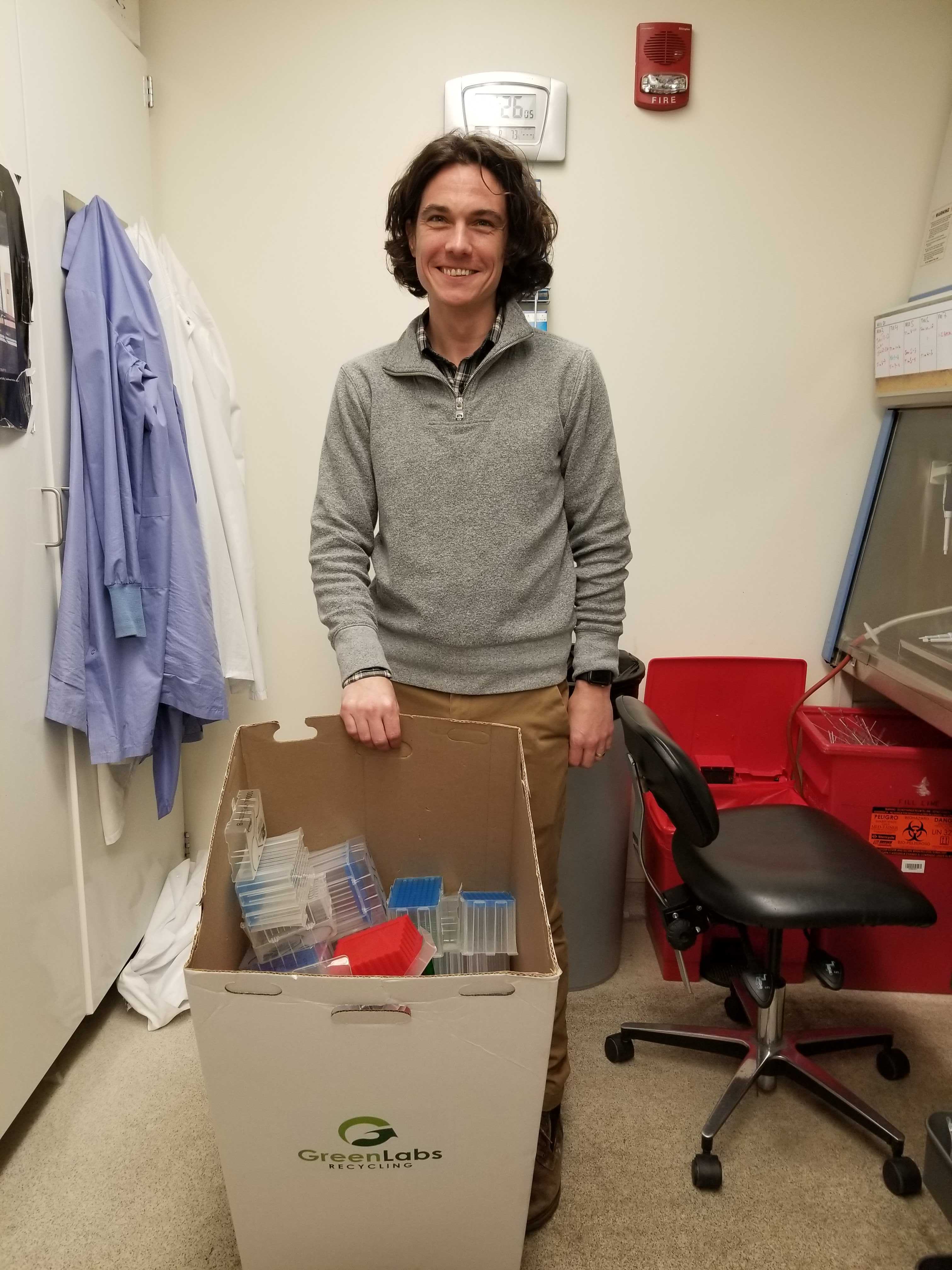 With contamination, real or perceived, being a main barrier to effective recycling, lab waste has emerged as a key challenge in sustainability. Plastics discarded from labs face the perception that they are likely hazardous from contact with biological or chemical materials."Right now, a single pipette box can cause a load of recyclable plastic to be rejected," says David. 
David applied to Brandeis for graduate studies on the recommendation of his supervisor at Harvard Medical School, where he was working in a lab. Within 15 minutes from the start of his interview, he "knew Brandeis was the place for me." The collaborative atmosphere and smaller size means that working creatively across disciplines is the norm, something highly appealing to many early-career researchers. While he was pursuing his doctorate in Molecular and Cell Biology at Brandeis, David noticed that large volumes of perfectly clean plastic discards from labs were not being recycled. He and some of his colleagues, including fellow doctoral student Brenda Lemos Waterman, MSc '16, PhD '19, were determined to solve. They formed a pilot program that would eventually become Brandeis' newest sustainability startup, GreenLabs Recycling. 
The pilot started at Jim Haber's lab, with one goal: to see the total quantity of plastic waste a mid-size labs generates. The results were surprising: the lab filled a 55 gallon can in 2 days. Based on this pilot, the GreenLabs Recycling team knew there was an opportunity to solve a major environmental challenge. 
Most of the waste coming out of labs is clean: plastics that have touched cancer cells or other biological waste go into burn boxes. The majority of plastics from labs are packaging materials - they don't touch anything toxic. Indeed, David and Brenda found that 75% of lab waste is non-hazmat. Following the success of the pilot, the team reached out to other labs across Brandeis, collecting this clean, recyclable plastic that was being discarded into the waste stream due to misperceptions.
On the recommendation of colleagues who had worked with Brandeis Innovation, the team applied to Sprout. This grant and acceleration program supports primarily bench research with commercial potential. The program was transformative for the team. Writing the Sprout application provided a means to learn about writing business-focused proposals, with its significant differences from scientific grant-writing. The team first won a Sprout grant, then, based on their success in the program, went on to an I-Corps fellowship. Both programs gave them the business skills they needed to make their idea a reality. Pitch training provided even more skills, from honing a message to conveying value to stakeholders. "The education I received at Brandeis taught me how to be a good communicator," he says, recalling Brandeis' science programs' emphasis on communications skills. "However, this took our ability to connect with stakeholders to a whole new level." Even more valuable were the connections made through the program: the team talked to Mary Fisher, sustainability coordinator and eventually connected with a potential partner, Gretchen Carey at Republic Recycling. 
Through the I-Corps fellowship, the team "learned how to really run a business." The supportive community of other Fellows, fostered by I-Corps Instructor Bozhanka Vitanova, helped them develop their idea and build effective processes. Critical to the development of the project is the customer discovery process emphasized in I-Corps training. Talking to potential customers proved to be the best way to develop the concept into a feasible business. For example, by talking to waste-management professionals, the team learned that polypropylene, the plastic found in many lab recyclables, is highly valuable. This helped validate the financial model for the organization, pointing the way towards profitability. Now, they are working with many of the leading academic laboratories in Boston, including those affiliated with MIT, Harvard University, UMass, and many others. 
"Without Sprout and I-Corps we couldn't have done it," says David, adding that the interdisciplinary skills learned in the program allowed them to address key aspects of a successful business, from marketing to revenue generation to partnerships. "It's like an MBA in real time."
From their beginnings as a single-lab pilot project, GreenLabs Recycling has grown to 17 customers with new ones added almost weekly. They recycle 3,000 lbs of plastic a week,with a goal of at least quadrupling this number by the end of the year, making a significant difference in Boston's biotech community.
David credits the project's success to the support of Brandeis Innovation: "It was a once in a lifetime experience doing Sprout," he says. With their creative approach to solving part of our global recycling challenges, there is much hope that the life-changing experience of Sprout will turn into a positive transformation for labs around the world.