The National Board
The National Board for Women's, Gender and Sexuality Studies (WGS) provides the program with guidance, financial support, and assistance with community relations. Its 20 members, appointed by the Brandeis University president, include friends and alumni from various regions representing many spheres of accomplishment.
The WGS Board has been extremely successful in raising funds to initiate new projects, support prizes and scholarships for students, and endow professorships. The National Board is largely responsible for creating the conditions in which the department can thrive. It meets twice each year.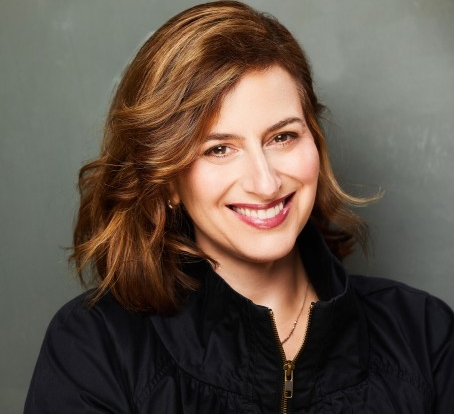 Debbie Adler '99
Board Member
Debbie Adler is a creative strategist, entrepreneur enabler, and curiosity addict.
At present, she is: collaborating on The Seeker's Guide, a book that brings together texts from across all religions and will be distributed in millions of hotel rooms; providing strategic support and funding outreach for Venture+Gain, a wellness-oriented transitional retreat and fellowship for recently returned veterans; and imagining the future of masculinity for the 21st century — wondering how the fourth wave of feminism will enable the paradigm shift.
Previously, Debbie consulted with dozens of nonprofit organizations on their engagement strategies, campaigns, and digital communications, in particular email. She has developed and designed complex programs that have grown email lists and driven online donations for clients such as the XPRIZE Foundation, Homeboy Industries, GODIVA, Encore.org, the Rockefeller Foundation, and the Film Society at Lincoln Center, among others.
She started her career at the intersection of media, content, and digital distribution as the music publicity director at KCRW, an NPR affiliate in Los Angeles, MBA intern with the digital group at HBO, and as the director of digital marketing at WNET, the PBS affiliate in New York City.
Debbie attended the THNK School of Creative Leadership course on design thinking for social impact in 2016, and received her MBA from NYU's Stern School of Business and her BA in Sociology from Brandeis University.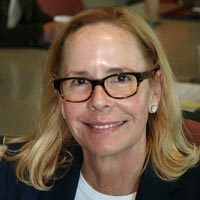 Cynthia Berenson
Board Member
Cynthia Berenson has been on the Palm Springs Jewish Federation Board Women's Division for four years as education chair and chaired the Lion of Judah event in 1999. As a non-Jewish woman, she is interested in giving to the Jewish community which has been so welcoming to her.
Cynthia and her family created the Allen/Berenson Distinguished Visiting Professorship in Women's Studies. They also established the Director's Office in the Women's Studies Research Center. Cynthia and Theodore recently donated a Chair in Fine Arts to Brandeis University.
Cynthia has a particular interest in issues of domestic violence. She also serves on the Palm Springs Film Festival and the Guide Dogs of the Desert Board.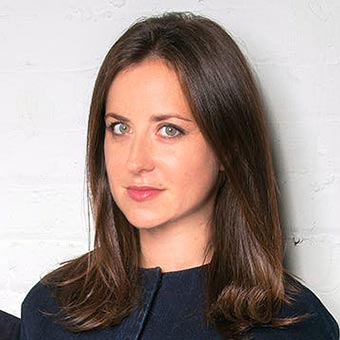 Sara Friedlander '05
Board Member
Sara Friedlander graduated from Brandeis with a BA in art history and minors in women's studies and creative writing. At Brandeis, she served as a peer TA for our core course, WMGS 5a, and took an active role in the life of the program. She went on to earn an MA in fine and decorative arts from Sotheby's Institute and has worked for the past decade at Christie's, where she is currently a senior vice president in the department of post-war and contemporary art.
She has been named among the 30 most influential people under 30 in the art world (The Observer) and the 40 most influential under 40 (Apollo Magazine). Sara already has a strong history of philanthropy; she sits on the Contemporary Council of the American Friends of the Israel Museum and co-chairs the Contemporary Circle of the Jewish Museum in NY. She is deeply devoted to Brandeis and to our WGS program and well networked with other alumnae.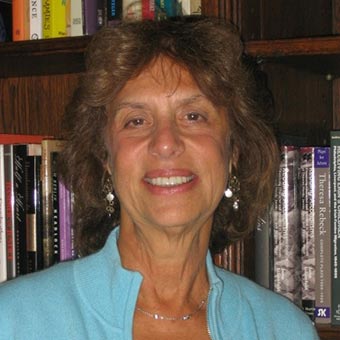 Phoebe Rothman Giddon '56
Board Member
Phoebe Giddon serves on three organizational boards, including Emerson College. She does volunteer work for the Massachusetts Association for the Blind. She spends her happiest, most productive days at her second home in the Berkshires, where she is actively involved in the arts, particularly in Shakespeare and Company.
Phoebe and her husband, Dr. Donald Giddon, created the Women and Health Initiative in the Women's Studies Program, and have sponsored WGS' popular Sexuality in Healthcare course.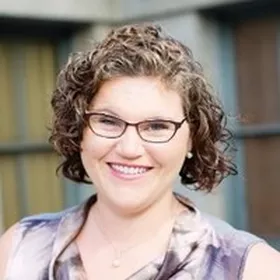 Claire Gunter '03
Board Member
Claire Gunter earned her BA in fine arts from Brandeis University in 2003, and an MA in business and communication from the Universalist de Barcelona in 2005. She settled in San Francisco in 2008, and works in the tech industry, focusing on Enterprise SaaS and Business Intelligence.
She is married and has two children. She supports equality and intersectional feminism, and has found her journey towards those causes enlightening, rewarding and truly beautiful, if at times painful. She joined the WGS Board in hopes that Brandeis students will start the journey before she did, and that the greater Brandeis community will have access to programming that will keep them informed and educated.
In addition to Brandeis, she supports Planned Parenthood because of its vital role in women's health care, the SF Bike Coalition for its role in making San Francisco the bike-friendly city that she and her family so enjoy, and AFS for giving her her first international experience, changing the trajectory of her life for the better forever.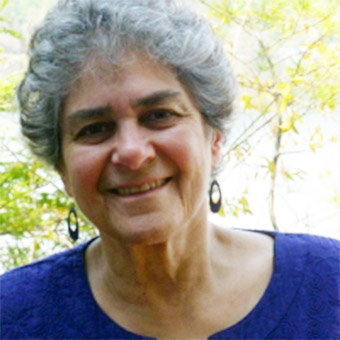 Susan S. Lanser is Professor Emerita of Comparative Literature, English, and Women's, Gender, and Sexuality Studies and chaired our program from 2001-07.
Her scholarly interests encompass the 18th century, the French Revolution, feminist thought, narrative theory, and the history of gender and sexuality. Her book, "The Sexuality of History: Modernity and the Sapphic 1565-1830" won the 2015 Joan Kelly Prize from the American Historical Association for the year's best book in feminist history or theory, honorable mention for the Louis Gottschalk Prize awarded to the year's best book in 18th-century studies, and was a finalist for the Lambda Literary Award in LGBTQ Studies. "Narrative Theory Unbound: Queer and Feminist Interventions," co-edited with Robyn Warhol, received honorable mention for the 2016 Perkins Prize of the International Society for the Study of Narrative.
At Brandeis, Sue also served as Humanities Division Head and as a representative to the Board of Trustees. She is currently president of the American Society for 18th-Century Studies.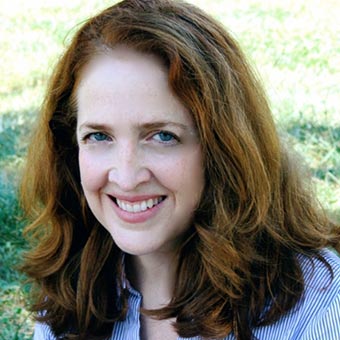 Sara Mandelbaum '81
Board Member
Sara Mandelbaum is a public interest lawyer with a specialty in women's equality. She graduated from Brandeis magna cum laude with a degree in English and American literature and a Certificate in women's studies. Upon graduation, she worked at Ms. Magazine, where she published book reviews and assisted the book review editor.
She graduated from the Rutgers School of Law with High Honors, winning awards in women's rights and criminal law. She clerked for Judge Sylvia Pressler (NJ), and was subsequently awarded a fellowship from Georgetown Law School to work at the NOW Legal Defense and Education Fund in Washington, D.C. She then worked as a litigation associate at Paul, Weiss, Rifkind, Wharton & Garrison, where she practiced general commercial law and devoted much of her time to working pro bono in the areas of reproductive rights and women's economic equality.
She served on several committees of the New York City Bar Association, including the Civil Rights and Lesbian and Gay Rights committees. She went on to head the ACLU Women's Rights Project, where she managed the project's docket of major impact litigation, including the representation of Shannon Faulkner in her historic challenge to the all-male Citadel Military Academy.
Sara was named by Jane Magazine as "One of the 15 Gutsiest Women" in 1998 for her work in advancing women's rights through the law.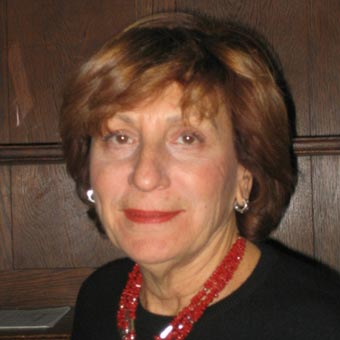 Hinda Shuman Marcus
Board Member
Hinda Marcus graduated from Boston University with a BA degree and also is certified as a paralegal.
In addition to her responsibilities as president and CEO of Arnold Industries, Inc., a Canton, Massachusetts-based distributorship specializing in the management and distribution of electromechanical components and fasteners, she serves on the executive board of Futures For Children, a non-profit organization aiding in the education of Native American children, is a rrustee of Hebrew Senior Life, and is involved in several other humanitarian and cultural organizations. Other interests include art, music, theater, travel and sports.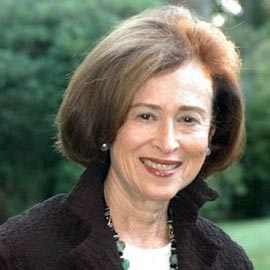 Barbara Perlmutter
Board Member
Barbara Perlmutter recently retired after 27 years as senior vice president of Public Affairs for Marsh & McLennan Companies, Inc., a global professional services firm. As its chief communications officer, Ms. Perlmutter was responsible for the development and management of Marsh & McLennan's internal and external communications, media and public relations, marketing, advertising and corporate philanthropy.
She is a member of the Council on Foreign Relations and its Women and Foreign Policy advisory panel; a board member of The Jewish Museum and Brandeis International Business School. She is a vice chair of Women In Need, Inc. and also co-chairs the New York Leadership Circle of Women for Women International. She is a Fellow of Brandeis University, where she chaired its National Women and Gender Studies Program.
Ms. Perlmutter is a graduate of Smith College and received an MA from Columbia University in history and an MBA with distinction in economics from New York University's Stern School of Business.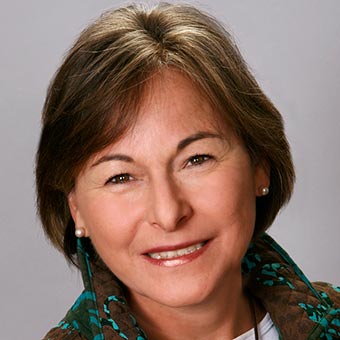 Terry Perlmutter '74
Chair
Board Member
Terry Perlmutter graduated from Brandeis magna cum laude in 1974 with a degree in sociology and received a master's in social work from Columbia University in 1976. She currently lives in Lincoln, Massachusetts.
Terry has had a diverse career with a wide range of organizations. For example, she implemented the Employee Assistance Program for McLean Hospital at Digital Equipment Corp., worked for many years as an employee relations consultant and HR business partner at Digital Equipment, and was director of admission and financial aid for Applewild School in Fitchburg, Massachusetts.
She has returned, however, to residential real estate as an associate of Coldwell Banker in Weston, Massachusetts, where she has been involved in residential sales for more than 15 years.
Terry chairs the National Board of Women's, Gender and Sexuality Studies at Brandeis.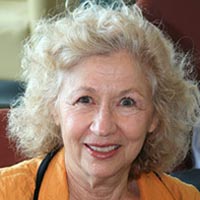 Odette Petersen '63
Board Member
Odette Rector Petersen has been involved with women's issues for most of her adult life. Starting with a local women's group, WRIT (Women's Rights in Tenafly), she has worked in a broad range of voluntary organizations. She is currently on the Board of SHARE, a breast and ovarian cancer support organization that uses the peer support model. Over the past 18 years she has been an advocate, organized volunteers, run a hotline and served as Board president.
In addition, she has taken the peer support group and hotline model and train women in Israel, Bosnia, Russia, Ukraine and Georgia.
Ms. Petersen is a trustee of the American Far Eastern Society, on the steering committee of a timeshare owner class action initiative, and involved with the arts.
Letty Cottin Pogrebin '59
Board Member
Letty Cottin Pogrebin has been a leading writer, editor, activist, and lecturer for more than three decades with a special interest in women's issues, family politics, and Jewish ethics.
She is a founding editor of Ms. Magazine and the author of nine books, most recently a novel, Three Daughters, and a memoir, Getting Over Getting Older. Pogrebin has contributed essays to dozens of publications, including The New York Times, the Washington Post, The Nation, Moment, and Tikkun. Listed in Who's Who in America, she holds many honors including an Emmy Award for her work on "Free to Be, You and Me," and a Poynter Fellowship from Yale University.
She is currently president of The Authors Registry and serves on the Directors Council of the Harvard Divinity School Women in Religion Program, and on the governing board of the Ms. Foundation for Education and Communication. She is also a past chair of Americans for Peace Now, and a past president of The Authors Guild.
Renee Rapaporte
Board Member
Renee Rapaporte is a family therapist and educator with a diverse academic and professional background. Her expertise is in couples therapy, parenting, and family preservation. Renee designed, developed and hosted a weekly radio program on sexuality and was director of counseling and public affairs at Planned Parenthood in West Palm Beach.
She served as a court-appointed special advocate in the Foster Care Review Unit of the Boston Juvenile Court. She is a guardian ad litem in the Cambridge Family Court and the Probate Court for Suffolk County. She taught group behavioral issues at Boston University Graduate School of Education and Boston University Business School. She facilitated group therapy sessions that focused on human interactions and organizational behavior. She now conducts groups for families under the auspices of Parents Helping Parents.
She has been a docent at the Norton Museum in West Palm Beach and a docent for a visual thinking strategy program for school children at the Museum of Fine Arts in Boston. Renee was a literary tutor, as well as a therapist at the Lucy Stone School.
Renee is a graduate of Connecticut College and received an MA in adult education at Boston University and became a licensed family therapist.
She was a board member of Planned Parenthood in Palm Beach County, an overseer at the Peabody Essex Museum, a board member of Brown University Hillel House, a board member of Combined Jewish Philanthropy, a board member of Parents Helping Parents. She is also a board member of the Women's and Gender Studies Program at Brandeis University.
At Brandeis, Renee has been instrumental in establishing the internship program in the Prevention of Violence against Women and Children. She also endowed a graduate fellowship in women's and gender studies, the Rapaporte Internship Grant, Renee Rapaporte Dissertation Year Fellowship, Rapaporte Seminars and Brandeis at BOLLI.
Nancy Starr Raphael '57
Board Member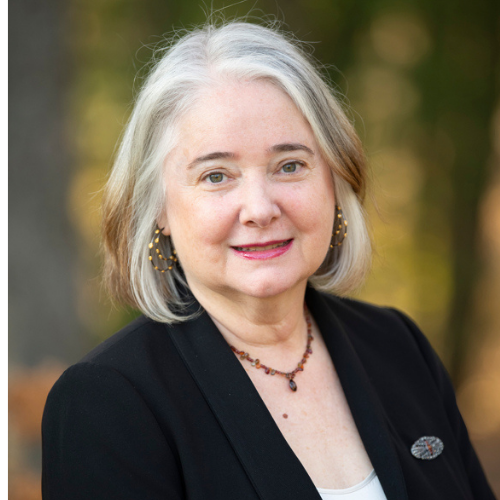 Rachel Sagan
Board Member
Rachel enjoys a professional life dedicated to public interest law, philanthropy and non-profit management. She co-founded a new social venture, the Metrowest Women's Fund. Rachel is the principal of Our Generosity Matters, a philanthropic advising practice to family foundations, non-profits and donors. She recently worked as the executive director of the United Way of Acton-Boxborough. She co-chaired the board of the Women's and Gender Studies for six years. She graduated from Northeastern University School of Law and Harvard University, magna cum laude.
Rachel is honored to have received the 2nd Annual John R. Heerwagen Award for Nonprofit Leadership by the Middlesex Savings Charitable Foundation and the Outstanding Non-Profit Executive Director of the Year by the Middlesex West Chamber of Commerce.
Valya Kazes Shapiro '61
Treasurer
Board Member
Valya Kazes Shapiro, Class of 1961, currently serves as treasurer of the board. She is an interior designer with 45 years of experience. She was born and raised in Istanbul, Turkey, and came to Brandeis as a Wein International Scholarship Scholar student, studying linguistics and theater arts. She met her beloved husband, Robert Shapiro, during her second year at Brandeis and was married six months later, only six days after her graduation. Robert was a member of Brandeis' first graduating class and served as a longtime trustee at Brandeis, the university that his father, Abraham Shapiro, helped establish.
Valya and Robert remained actively involved with Brandeis and frequently visited campus for celebrations, get-togethers with students, faculty, meetings, events, openings, commencements and reunions. Valya was one of the founding members of the Women's, Gender,and Sexuality Studies Program National Board and had remained active ever since. She also serves on the board of Hebrew Senior Life and has been a board member of and volunteer for the Women's Division of the Combined Jewish Philanthropies.
She has two sons and five grandchildren to whom she is very dedicated. She is currently writing her memoir.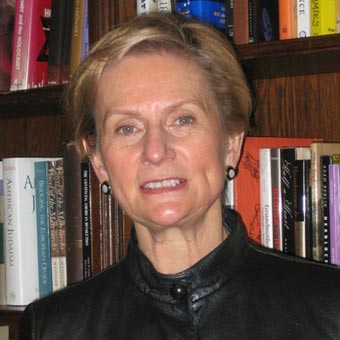 Susan Sternblitz Winokur
Board Member
Susan Winokur founded Class Cooking, a cooking school that donates all of its net proceeds to charity, in 1986.
She received her BS from Cornell University and her MS in education from the University of Pennsylvania. Susan has lived abroad and traveled extensively studying with chefs from France, Italy and America. She is a member of the International Association of Cooking Professionals, IACP and the Philadelphia Women's Culinary Guild.