Tillie K. Lubin Symposium
The Tillie K. Lubin Symposium focuses on a contemporary issue or event relevant to Women's, Gender and Sexuality Studies.
It was started in honor of Tillie Kulp, a native of Iowa, who married Charles Lubin in the late 1930s soon after he had purchased a chain of neighborhood bakeries in Chicago. After the birth of their daughter Sara Lee, the Lubins renamed their company the Kitchens of Sara Lee.
The company's great success allowed the Lubins to engage in many philanthropic projects. Among their major gifts, they established the Charles Lubin Family Chair for Women in Science at Skidmore College and the Charles W. and Tillie K. Lubin Center for Plant Biotechnology and the Lubin Chair of Hormone Research at the Weizmann Institute of Science. Tillie Lubin also had a lifelong passion for the arts and a particular affinity for Spanish culture. Her daughter, Sara Lee Schupf, served on the Women's Studies Program Board in the 1990s and endowed the Lubin Symposium in her mother's honor.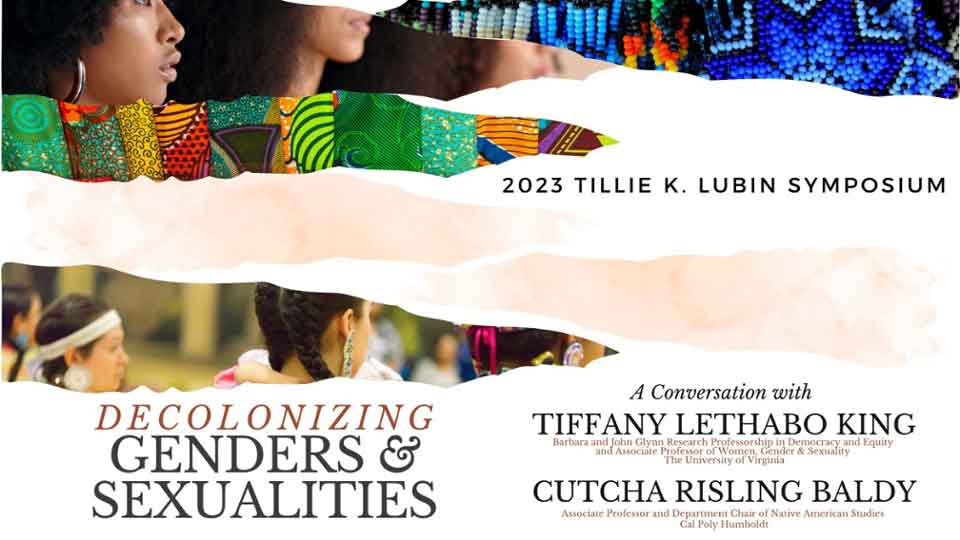 The 2023 Tillie K. Lubin Symposium is a conversation entitled, "Decolonizing Genders and Sexualities." Professor Tiffany Lethabo King (University of Virginia) and Professor Cutcha Risling Baldy (Cal Poly Humboldt) will engage in a conversation about what it means to study notions of "gender" and "sexuality" from a decolonial perspective. In this conversation, Drs. Baldy and King will discuss the intersections of Native/Indigenous Studies, Women's, Gender and Sexuality Studies, Black Studies, and the possibilities for decolonial perspectives on gender and sexuality within and outside of the U.S. Academy.
Please join us from 4-6 p.m. March 29, 2023, in the Rapaporte Treasure Hall inside of the Goldfarb Library for this exciting conversation facilitated by Professor V Chaudhry and Professor Evangelina Macias.
The event will also be broadcast via webinar. To view the event in webinar format, please register in advance.
Past Symposia
Too Busy with Living: Moving Beyond Colonial Apprehension of Indigenous Life in So-Called Canada
March 16, 2022
A conversation with Celeste Pedri-Spade (Queens University) and Zoe Todd (Carleton University) introduced by ChaeRan Freeze.
Rage, Race, and Vulnerability: Millennials and Political Participation in the Era of Trump
October 6, 2020
Cathy Cohen (University of Chicago) introduced by V Chaudhry.
An Informal Talk About Form in Heart Berries & New Work
March 14, 2019
Terese Marie Mailhot introduced by Professor ChaeRan Freeze.
Marching, then Running: Women Candidates in the Trump Era
February 26, 2018
Panelists include Glynda C. Carr, Ryanne Olsen and Charlotte Golar Richie with moderator Professor Jill Greenlee.
Rule of Law, Politics, Equality and the Media: Neil Gorsuch and the Dawn of the Trump Era Court
March 9, 2017
Panelists include Professors Anita Hill, Jeffrey Lenowitz, Eileen McNamara, Susan Parish and Michael Willrich with moderator Professor Jill Greenlee.
2016 Tillie K. Lubin Symposium
March 22, 2016
A conversation with Jasmine Johnson followed by a book signing with Janet Mock.