Current Graduate Students
MA in Women's, Gender and Sexuality Studies
Joint MA in Anthropology & Women's, Gender and Sexuality Studies
Joint MA in English & Women's, Gender and Sexuality Studies
Lianne Gallant
WGS Graduate Student Representative
Graduate Student
Kailoni Green
Graduate Student
Prounouns: they/them/theirs
Kailoni earned their BA in Africana Studies from San Francisco State University in 2019. Their interests are Queer Studies, Critical Race Theory and African Diaspora aesthetics.
Allie Woodlee
Graduate Student
Joint MA in Near Eastern and Judaic Studies & Women's, Gender and Sexuality Studies
Kelsie Ehalt
Graduate Student
Pronouns: she/her/hers
Kelsie earned her BA at George Washington University in Archaeology and History. She is particularly interested in the archaeology and texts of Mesopotamia in the 1st millennium BCE. She also applies critical theory to archaeological and textual evidence, especially theory relating to gender, ritual, performance, colonialism, and orientalism. She has excavated at the sites of Tel Kabri and Tel Megiddo in Israel.
Elizabeth [Ned] Nicholson
Graduate Student
Pronouns: they/them/theirs
Elizabeth earned their BA in History from SUNY New Paltz (2019). They are interested in queer community history based in the lineage of Allan Bérubé and Joan Nestle. Their research focuses on the influence of halacha and Jewish communal values in the roles that queer Jews played in the liberation movements of the 1960s and 1970s. They are newly interested in researching the intersection between queer Jewry and the Yiddihist movement.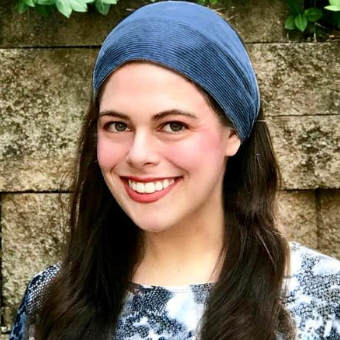 Ashley Stern-Mintz
Graduate Student
Pronouns: she/her/hers
Ashley Stern-Mintz is pursuing a joint MA in Jewish Studies and Women's Studies. In 2019, she graduated from Emory University with a BA in History, Religion, and Jewish Studies. Ashley currently works as a copyeditor for www.thelehrhaus.com, which publishes short scholarly articles pertaining to Jewish thought. She also works as an academic copyeditor at Emory School of Law in the Center for the Study of Law and Religion, where she assists professors with their publications. Ashley currently lives in Atlanta, GA with her husband, Ariel. 
Joint MA in Sociology & Women's, Gender and Sexuality Studies
Thelma Wang
Graduate Student
Joint MA in Sustainable International Development and Women's, Gender, and Sexuality Studies