Past Events
Helaine B. Allen and Cynthia L. Berenson Distinguished Visiting Professorship Lectures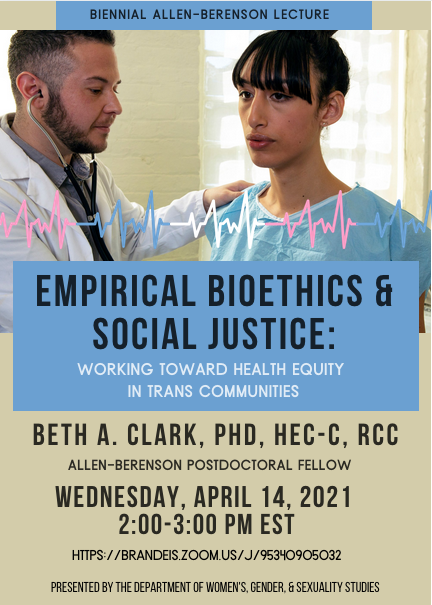 Photo Credit: Gender Spectrum Collection
Empirical Bioethics & Social Justice: Working Toward Health Equity in Trans Communities
April 14, 2021
Beth A. Clark, PhD, HEC-C, RCC
Allen-Berenson Postdoctoral Fellow
The 2021 Allen-Berenson lecture will focus on the importance of empiricism in bioethics research and clinical practice in terms of furthering social justice for communities experiencing health inequities. Dr. Clark will discuss the need for empirical bioethics research specifically in the field of trans health care. An overview of Dr. Clark's recent studies addressing pressing issues in trans youth health care — such as youth capacity to consent to hormone therapy — will be provided. Additionally, knowledge translation strategies to mobilize this research in both clinical and policy realms will be highlighted.
Conversations with Extraordinary Women
Conversations with Extraordinary Women was a webinar series sponsored by WGS in collaboration with the Rabb School, Hadassah-Brandeis Institute and the Women's Studies Research Center.