Beyond Brandeis
WGS majors and minors go on to a wide range of careers and graduate education. In the past six years, several graduates have entered master's and PhD programs in law, social work and a range of other fields at colleges and universities as diverse as Smith College, Columbia University, University of North Texas, Antioch College and Northeastern University's School of Law.
The vast majority are employed in positions that include:
Education policy analyst, National Parent Teacher Association
Program coordinator, Greater Boston Jewish Coalition for Literacy
Program coordinator, Circle Surrogacy
Associate, Foley Hoag LLP
Labor counsel, MBTA
Account manager, Twitter
Coordinator, Sexual Health Rankings
Editorial assistant, Pearson Education
Market account manager, SAVEUR Magazine
Case manager, Enable Inc.
Volunteer coordinator, Client Services at Safe Alternative to Violent Environments
Project assistant, Maternal Health Task Force, Harvard School of Public Health
Americorps member, Massachusetts Law Reform Institute
Counselor, Walden Street School
More information is available to department alumni through the WGS Office and the WGS LinkedIn group.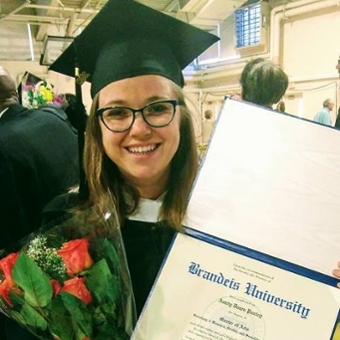 Amity Pauley, MA'17
"The joint MA degree in Women's Gender and Sexuality Studies and Sociology at Brandeis encouraged my growth as a scholar, providing myriad and unparalleled opportunities for intellectual engagement and educational experiences, both in the classroom and beyond.
"The coursework and academic atmospheres of the departments are stimulating and rigorous. Their supportive cultures fostered the creation and growth of professional relationships that contributed to my successes at Brandeis and helped me build a strong foundation for my future academic and professional achievements."