Department Staff
Undergraduate Department Representatives (UDRs)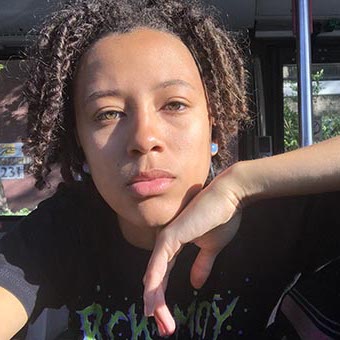 Cassipea Stith
Undergraduate Departmental Representative - WGS
Cassipea is non-binary Black student and Posse scholar at Brandeis. Along with Cassipea's major in WGS, they intend on minoring in AAAS. After undergrad, Cassipea hopes to enter law school and legally advocate for women of color. For now, Cassipea takes advantage of The Right to Immigration Institute (TRII), which provides a student-based model for legal advocacy by increasing the likelihood of approval for applicants seeking status in the U.S. Cassipea's interest in Black feminism, abolitionist work, and legal studies encourages them to imagine possibilies, while accepting and attempting to better reality. 
Izzy Hochman
Undergraduate Departmental Representative - WGS
Graduate Department Representatives (GDRs)
Lianne Gallant
WGS Graduate Student Representative
Graduate Student
Monica Keel
WGS Graduate Student Representative
Graduate Student
Pronouns: she/her/hers
Monica graduated with a BA in Spanish & French (double major) with a minor in sociology from Manhattanville College in 2019. She is interested in racial theory, intersectionality, social justice and global feminisms. She wants to further research the experiences of women of color worldwide through an intersectional lens to move towards equal representation for women in all fields.