Brandeis University Admissions
Embracing the Unknown with a Little Help From 'Morrie'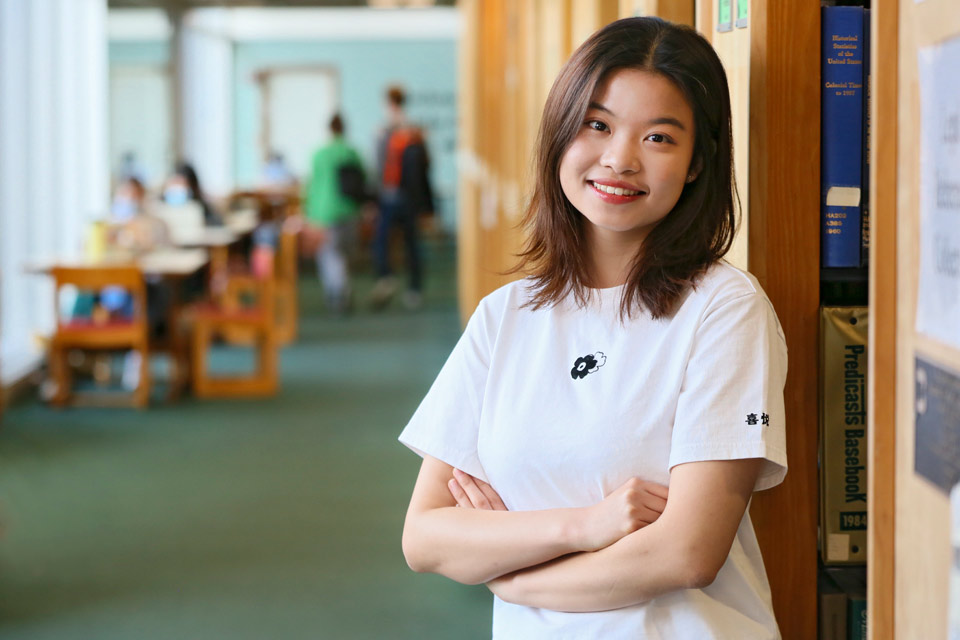 Tianyi G. '22
"If I could give any advice to first-year or international students, I'd say that it's okay to not have it all figured out. Use your time at Brandeis to explore your interests and discover who you are. "
Hometown
Hefei City, Anhui China
Major
Economics and Business, intended minor in East Asian Studies
Clubs and Activities
Roosevelt Fellow Student, Gateway Scholar, Intercultural Center
What Brought Her to Brandeis
"Tuesdays with Morrie," the story of Brandeis professor Morrie Schwartz and his inspiring teachings, influenced Tianyi to move 7,000 miles away from home.
From the first time she read it, she knew Brandeis was the place for her.
"Whenever I am feeling lost or need guidance, I turn to it," she says.
Meaningful Mentorships
When the COVID-19 outbreak occurred during the spring semester of her sophomore year, Tianyi wasn't able to return home to her family for two years.
During those challenging times she leaned on the support of Elaine Wong, retired senior associate dean of the arts and sciences. Wong spent the pandemic checking in on Tianyi to assure that she felt supported on campus during the lock-down.
"Elaine helped me so much during that time. She gave me academic advice, but also checked in on my well being and mental health. She made appointments with me frequently to keep in touch during the virtual learning experience. She taught me how to be considerate of others and is still such an important person in my life."
Favorite Spot on Campus
Upon arriving at Brandeis, Tianyi quickly got involved with activities within the Intercultural Center. She found herself meeting new friends, stepping out of her comfort zone, and cooking her favorite dishes for her peers in the Intercultural Center kitchen.
"I would ask my mom to send recipes from home and make them myself. My friends joke that I'm the mom of the group, because I'm always feeding everyone!"
Her biggest challenge? Finding the right career fit.
When she arrived on campus, Tianyi didn't know what she wanted to do after college. As a double major in business and finance, she was able to explore a variety of different courses to find her interests.
When Tianyi returned home to China during her junior year, she experienced two very different internships.
Her first internship at PWC, a "big-four" accounting firm, made her realize her passion wasn't in accounting. However, she soon discovered her love for marketing during her internship with Anhui Tea Industry Association, an international tea company located in her hometown.
She found that her foundation courses of marketing research and marketing management helped her confidently determine marketing goals for the company's clients.
"I found that my brain kept going after I left the meetings. I wanted to know more. I found I could use my creativity, while helping several tea clients throughout the region. I knew I had found my passion," she says.
Tianyi's Thoughts on Becoming a Brandeisian
Community at Brandeis is About …
"Embracing our differences. I am an international student and student of color, but I came from a very homogeneous society. After becoming an active member in the Intercultural Center, I've learned how important diversity is in our community. You really learn to respect different cultures and personalities."
"Brandeisian" Means …
"Discovering who you really are. During my time at Brandeis I've learned not only what I am passionate about academically, but what I care about as a person."
Words of Wisdom and Embracing the Unknown
Tianyi plans to pursue her master's degree in advertising communications, but isn't sure where she wants to start her marketing and communications career upon graduation. However, she confidently embraces the unknown.
"If I could give any advice to first-year or international students, I'd say that it's okay to not have it all figured out. Use your time at Brandeis to explore your interests and discover who you are. I'm not sure what I'll do for work upon graduation, but I know it will be something I am passionate about."