Brandeis Startups Make Their Regional Debut at Masschallenge Showcase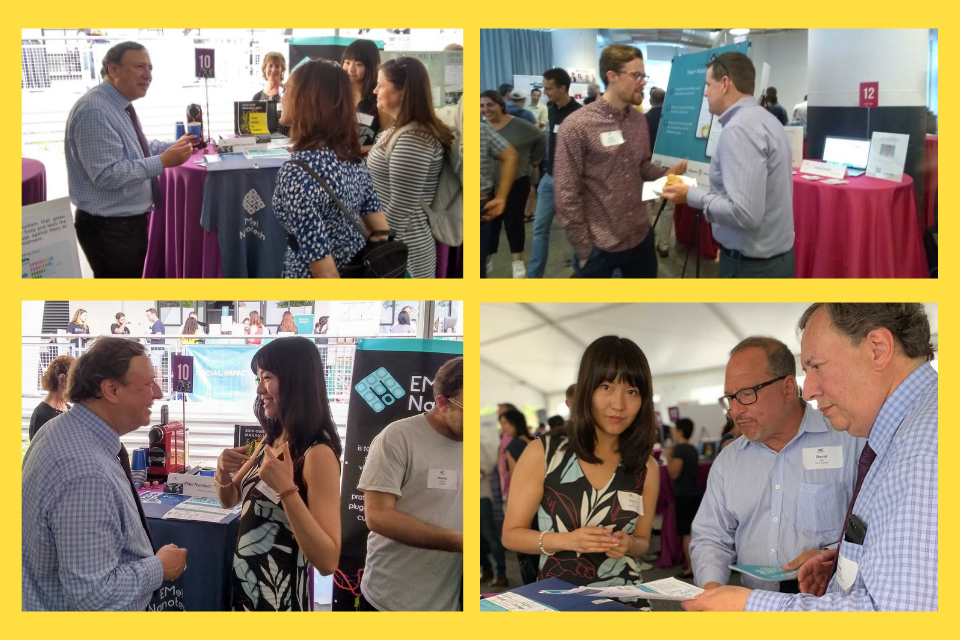 Two Brandeis startups were recently selected to participate in one of the most prestigious startup accelerators in the world, Masschallenge. The Masschallenge program hosted its annual Showcase event on July 16 at the organization's dynamic headquarters in Boston's Seaport District.
The beautiful summer evening saw over 1,000 registrants mingling with startup founders, hearing pitches, connecting with the founders, and learning about the groundbreaking innovations being fostered in Masschallenge's accelerator program. 
EMetNanotech emerged from the labs at Brandeis and has gone on to secure this top spot at one of the world's top accelerators.  
EMet Nanotech got its start as a viable startup during its participation in the Brandeis Innovation I-Corps program. Showcasing among other biotech and healthcare technology startups, they shared their transformative technology that promises to improve sample preparation for electron microscopy. Crowds gathered to hear about the EMetNanotech story and to learn more about the technology. Rong Zhou, PhD, of the Office of Technology Licensing, who has been involved in the project since its early phases, showcased the technology. Other members of the team were on hand to assist with the demo, bringing an espresso machine to show the analogy between the faster coffee preparation times we have all become used to, and the faster sample preps microscopists will enjoy thanks to the EMet technology. Even without the aroma of espresso as a draw, an eager crowd gathered all evening, as attendees continuously requested more information on this truly revolutionary technology.
In the Consumer Goods demo area, Masschallenge's consumer technologies and other cohorts were keeping the massive crowd engaged. GreenChoice, a 2018 SparkTank winner, wowed attendees with their app, which helps consumers "shop their values" by making more-informed grocery choices. Founder Galen Karlan-Mason, like Leana, credits his early participation in Brandeis Innovation programs for helping him to launch his startup successfully
As the sun set on a Boston evening, attendees networked, connected, and learned about the startups that have joined Masschallenge in the hopes of growing their companies. As both Brandeis teams at the event exemplified, today's Masschallenge participants are diverse, committed, and creative. This marks the first year that two Brandeis teams have made it to the Masschallenge finals. With talented teams such as GreenChoice and EMetNanotech, it may be the first of many years that Brandeis innovators take a prominent role in Boston's most prestigious startup programs.