Unafraid of Change, The Graduate School of Arts and Sciences Seeks to Expand the Possibilities of Doctoral Education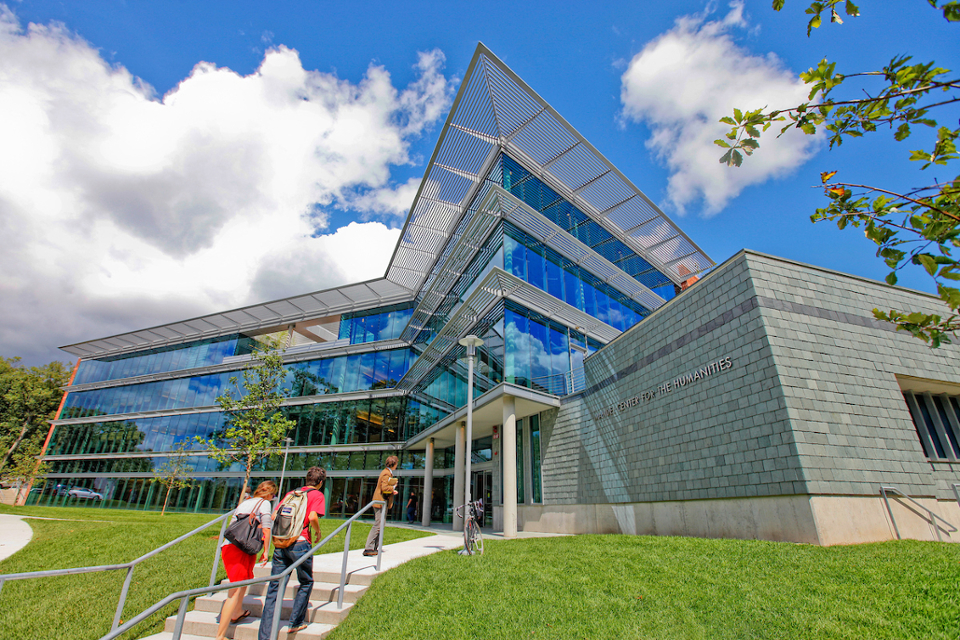 November 15, 2021
This article is the first in a series that will focus on efforts within the Graduate School of Arts and Sciences to promote diverse career pathways to our students. Please visit the
Professional Development
section of our website to learn more about upcoming seminars and workshops, opportunities to connect with our career counselors, and online career resources. 
It is no secret that it has become harder and harder to find tenure-track jobs in the academic market. Yet much doctoral training is aimed almost exclusively at the small fraction of students who will obtain those roles in academia. While this trend has developed over several decades, the 2008 financial crisis and the Coronavirus pandemic have exacerbated the problem in recent years. 
According to Leonard Cassuto, author of The New PhD, only one in eight students who begin a doctoral program will pursue a tenure track professorship in the academy. "This is a crisis we cannot ignore," says Wendy Cadge, Dean of the Graduate School of Arts and Sciences (GSAS). "The world needs scientists, humanists, artists, and social scientists to tackle its most pressing problems. We must, as the school that produces 80% of Brandeis' PhDs, ensure that our doctoral curricula and support mechanisms prepare students for the vast array of careers they will actually pursue."
GSAS has always graduated students who pursued diverse careers. What does it mean for a school that has alumni who are Broadway playwrights, vaccine researchers, schoolteachers, curriculum developers, navy chaplains, magazine columnists, politicians, artists and composers to actively prepare students for diverse career pathways today? 
For Professor of English Ulka Anjaria, answering this question started with a grant from GSAS' Connected PhD program. Funded by a three-year, $750,000 grant from the Andrew W. Mellon Foundation, the Connected PhD promotes curricular reform and career exploration in GSAS doctoral programs in the humanities and humanistic social sciences through sub-grants to students and faculty. "We discovered that some of our academic requirements could be more flexible to accommodate students with differing goals," she says. The English department now addresses career diversity at the earliest stage—beginning with the admissions process. "We require students to describe three potential careers of interest in the application," says Anjaria. "This is important because it signals to our applicants, before they even apply, that there are many career paths available to those with a PhD."
Many of the conversations within the department were framed by the MLA Virtual Summit for the Future of Doctoral Education, which was attended by Anjaria and Professor David Sherman. "This summit on the future of graduate education was very helpful for understanding current job market changes and difficulties, learning recent curricular trends, and brainstorming new ideas," says Sherman. "It was great to see that many programs, around the country, are grappling with these issues of career diversity and civic relevance in the humanities."
The English department transformed the end of a student's journey by introducing a more flexible dissertation model, approved by the University's Graduate Council in October. "We have a creative community," says Sherman, "and we need a curriculum that formalizes opportunities to express that creativity." While students still have the ability to produce a traditional dissertation—often considered a precursor to a book—they are now also able to develop a doctoral portfolio of their own design, which could include a series of articles, syllabi and other pedagogical materials, and even multimedia elements. 
During the process of reexamining the curriculum, which took about eight months, a major emphasis for the faculty in English was helping students learn how to communicate about their work and expertise to a general audience. "There is a huge audience for literature in the general public," says Sherman, "and that is an audience that most academics never speak to." Students in English are now required to take courses in pedagogy and writing in the humanities. These two courses are designed to bridge the gap between writing for academic audiences and more general audiences.
Some of the reforms in the English program were suggested by the department's alumni. Doctoral students in English are now encouraged to develop transferable skills by taking a course outside the department, whether it is in another academic discipline or in the International Business School, the Heller School for Social Policy and Management, or the Rabb School of Continuing Studies. "We have many graduates working outside the academy who told us, 'It would have been so helpful to study this while I was at Brandeis,'" says Sherman, "so we decided to incorporate these opportunities into our curriculum. We also hope that students will enrich the intellectual life of our department by bringing their diverse skills back to our classrooms and seminars." Students are able to further develop these skills with the program's new internship requirement, where students may pursue opportunities in publishing, curriculum development, academic administration, carceral education, library special collections, translation and other fields.
Changes are afoot beyond the English department. Other programs are reexamining their curricula to see if they can better meet student needs, including Anthropology, Musicology, and Near Eastern and Judaic Studies. The Anthropology department created a new advising model for doctoral students in which students will have two faculty mentors from the first year to provide two distinct points of contact and support. Additional changes, including new independent study courses that afford students more time to work on their own research, were approved for the Anthropology Department's PhD curriculum at the November meeting of the Graduate Council. Professor Brain Horton is now offering a required course on anthropological writing, which uncovers some of the "hidden curriculum" that graduate students must learn in order to be successful, including writing grant proposals, abstracts, journal articles, etc. "This course addresses an equity issue," says Professor Jonathan Anjaria. "It was important to formalize Dr. Horton's class because not all students come to Brandeis with the same understanding of these types of writing, and they are essential to long term success in any doctoral program." 
All of these curricular adjustments are augmented by a renewed focus on career and professional development at the school level. Professor Jonathan Anjaria was recently appointed as the first Faculty Director of Professional Development for GSAS to collaborate with Marika McCann, Assistant Director of Professional Development. He hopes to serve as a bridge between two worlds: academia and professional development. "Now more than ever, doctoral training is valued in such a wide variety of meaningful contexts, and it is our responsibility to showcase those opportunities for our students."
Anjaria and McCann have planned more than 20 new professional development sessions this semester. Anjaria brings alumni working outside of the academy back to campus for seminars where current students can learn about their career trajectories. "For instance, what does it mean to be a sociologist or an anthropologist at a tech company?" asks Anjaria. "Very often, these alumni have discovered rewarding careers performing research that is solving real-world problems. I'd like our students to see that and learn from the experiences of alumni." Recently, Daniel Acker PhD'18, a Senior Associate at Flagship Pioneering, gave a virtual overview of the company's industry fellowship program aimed at giving PhD students hands-on industry experience while they are in their graduate program. 
Anjaria is a big believer in one-on-one consultation. "Students do not benefit from a generalized approach," he says. He likes to begin these conversations by asking the students what impact they want their work to have and which audiences they want to reach. "We need to get away from the traditional thinking of Plan A vs. Plan B," he says. "Our students and alumni are not deviating from knowledge creation and scholarship if they don't pursue academic careers. In fact, they are doing the opposite—opening up their work to different audiences that will appreciate it in a variety of contexts." 
McCann focuses on professional development for students in the Division of Science. "I meet with programs individually to talk about different research career options outside of academia and also off-the-bench careers, such as science communication, data science and science policy," she says. Like Anjaria, she invites alumni back to campus to talk about their experiences in these fields and answer student questions about the job search beyond academia. She also collaborates with other career centers at Brandeis to help run virtual career fairs including the Fall Technology and Innovation Career Fair, providing students an opportunity to connect with prospective employers. 
McCann also encourages students in the Division of Science to meet with her for one-on-one consultations. 'Whether students are pursuing academic careers or a career outside of academia, they need to learn to tell their story and articulate their strengths and skills to prospective employers." 
In Spring 2022, Anjaria and McCann will collaborate with the Science Communication Lab to host the University's first ever three minute dissertation competition (3MT). "The Brandeis 3MT competition is a university-sponsored speaking competition designed to showcase graduate student research in three-minute talks to a general audience," she says. "This is an opportunity for graduate students engaged in original research to develop communication and presentation skills while sharing their work with faculty, staff, and students across the University." 
GSAS also recently purchased a subscription to Aurora by Beyond the Professoriate, which enables students, graduates and postdocs to discover career options in all disciplines, apply the skills acquired through their education, and successfully transition into academic or nonacademic career paths. Aurora's online tools and videos help students navigate the job market through faculty careers and professional careers beyond academia.
These changes represent the beginning of a process rather than the end, and Cadge is optimistic about the future of doctoral education at GSAS. "These pressures are not going away, and our students need to be our first priority in these discussions." She hopes Brandeis can become a model for other institutions where faculty put students first, wrestle with the mission and values of graduate education, and adapt to prepare students for all the good they can do in a range of institutions—not just academic ones. 
Career diversity will be the focus of GSAS's upcoming #GivingDEISday on November 30. Two generous members of the community are sponsoring matching gifts if the school can garner 75 donations. Alumni and friends of GSAS are encouraged to make a gift that helps the school expand the career and professional development services we offer students or to volunteer to speak with current students. Alumni may also allow current students to reach out for informational interviews using this form or connect with them in the GSAS LinkedIn group.