The Score: 2013-2014
Summer 2014
Commencement News
Congratulations to our 2014 degree recipients!
Undergraduates
Emily Mariko Eng - Bachelor of Science Summa Cum Laude (Composition Track)
Majors in: Music with highest honors, Biochemistry; Minor in: Chemistry
Prize: Reiner Prize in Music Composition
Jacoba B. Fleischman - Bachelor of Arts Cum Laude (Cultural Studies Track)
Majors in: Music, Anthropology
Benjamin M Gartenstein - Bachelor of Arts in Music
Prize: Florence and Charles H. Milender Prize in Music
Rachel E Levine - Bachelor of Arts Magna Cum Laude with high honors in Music (Performance Track)
Minor in: International and Global Studies
Prize: Phyllis and Lee Coffey Award in Music
Ben Hillel Plesser - Bachelor of Arts in Music (Composition Track)
Minor in: Classical Studies
Christopher M Stanton (not attending: received degree in February)
Bachelor of Arts Summa Cum Laude (Composition Track)
Majors in: Music, Computer Science with high honors
Isaac A Vesery - Bachelor of Arts Cum Laude with honors in Music (Cultural Studies Track)
Minors in: Business, Anthropology
Prize: Sandra Shea Fisher '56 Prize for Creative Arts
Graduate Students
Master of Arts in Musicology
Nicole Marie Brellenthin
Master of Fine Arts in Music Composition and Theory
David A Dominique
Bradley John Kuhn-Mckearin
Frank S. Li
Rebecca Brentano Sacks
Kyo Shimizu
Yiguo Yan
Master of Fine Arts in Musicology
Elizabeth Anne Crisenbery
Thomas Michael Croke V
Aldona Dye
Matthew Flynn
Ian Michael Lorenz
Derek Robert Strykowski
Julie Ann VanGyzen
Jessica Mae Vincent
Doctor of Philosophy in Music Composition and Theory
Travis Spencer Alford - Dissertation: It Goes to Eleven: Serialism, Derivation, and Continuity in David Sanford's Scherzo Grosso, and an original composition, Emily's Window for soprano, clarinet/bass clarinet, and piano
Edward Maxwell Dulaney II - Dissertation: Continuing the Tradition Untraditionally: Helmut Lachenmann's Restructuring of Musical Dialectic Through an Analysis of His Three String Quartets, and an original composition, Harmonica Concerto
Seunghee Lee - Dissertation: An Analytical Study and Survey of Compositional Style in Augusta Read Thomas's Jubilee for Orchestra, and an original composition, Bon II for Soprano and six instruments
Doctor of Philosophy in Musicology - Paula Jo Musegades - Dissertation: Speaking the Unspoken Through Silence and Sound: Aaron Copland and Hollywood Film Music
Stephen Rogers Radcliffe - Dissertation: Structural Integration and Dramatic Displacement in Early Verdi Recitatives and Scenas
Joel David Schwindt - Dissertation: Academicism in Monteverdi's Orfeo: Oratory, Gendering, and Architecturalism as Expressions of the Academic and Social Philosophy of the Accademia degli Invaghiti
A commemoration of the centennial of Irving Fine's birth has begun. On May 16, the Boston Modern Orchestra Project under the directions of Gil Rose performed Fine's music and that of his colleagues Arthur Berger and Harold Shapero in Boston's Jordan Hall. The highlight of the program was Irving Fine's Symphony (1962), which was premiered by the Boston Symphony Orchestra shortly before Fine's death in 1962. The project was co-sponsored by the Fine family, The Irving Fine Society, and Brandeis.
A recording of all of Fine's orchestral works including the Symphony as well as Harold Shapero's Serenade in D will be issued next fall.
On November 15, 2014 the music department will host a symposium and a concert of Fine's music by musicians from Copland House in the Slosberg Recital Hall.
This May, the first issue of the new music department newsletter The Slosblog appeared on newsstands throughout Slosberg. Creator and editor-in-chief Cheryl Nalbach promises scintillating news items in forthcoming issues!
Faculty News
James Olesen announced his retirement after 42 years of distinguished service at Brandeis. Jim has had an illustrious career here directing the University Chorus and Chamber Choir, teaching courses in conducting, directing the vocal study program, and serving as department chair. While there have been many changes in the department and on campus since Jim's coming to Brandeis in 1972, what has always been present is his tremendous respect for and commitment to the music, the students, and his colleagues. We will miss you Jim.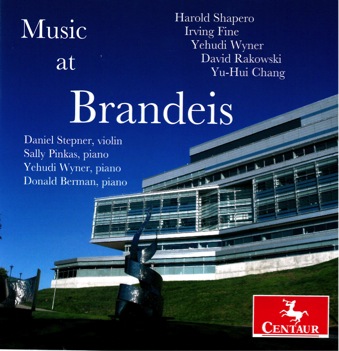 Daniel Stepner's latest CD Music at Brandeis is due to be released in June. The recording of works by Brandeis composers includes Harold Shapero's Sonata for violin and piano (1942), Irving Fine's Sonata for violin and piano (1946), Yehudi Wyner's Concert Duo (1955-7), David Rakowski's Pied-á-terre (1999), and Yu-Hui Chang's Worries J.S. as Real (2008). The recording was supported by funding from the Poses Fund for the Arts.
On April 4 Judy Eissenberg presented a live video conference with Peruvian musicians in Cusco, Peru for her class MUS 3b: Introduction to World Musics. Ethnomusicologist Holly Wissler and Peruvian Q'eros musicians Inocencia Quispe, Lucio Chura, and Victor Flores spoke to the class for over an hour from a hotel room in Cusco.
Student News
Every spring students of MUS 101b: Theory and Musicianship I: Part 2, taught by Whitman Brown, are required to compose minuet movements as a final project. The works are then performed and recorded by the Lydian String Quartet. This is always the highlight of the year in music theory and one of the many unique aspects of a musical education at Brandeis.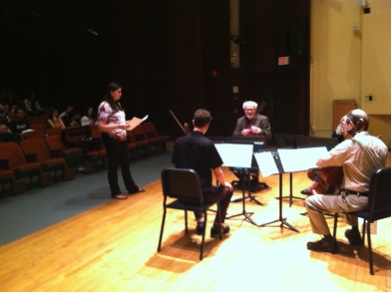 May 9, 2014: Lydian String Quartet performing minuet by Elana Kennedy
Musicology PhD student Joel Schwindt is the 2014 recipient of the Elizabeth Bartlet Award from the AMS. He will be using the funds for a trip to Paris to complete archival research on his Monteverdi-Invaghiti book project. Joel will receive his Brandeis doctoral degree in August. His dissertation is entitled "Academicism in Monteverdi's Orfeo: Oratory, Gendering, and Architecturalism as Expressions of the Academic and Social Philosophy of the Accademia degli Invaghiti."
Composer and doctoral student Jared Redmond has been invited for a 2-week residence at the 2014 International Gugak Workshop at the National Gugak Center in Seoul, Korea. 17 participants were selected: scholars, composers, performers, ethnomusicologists. The workshop consists of lectures, demonstrations, and lessons on the history, practice and philosophy of traditional Korean music, as well as cross-cultural contemporary collaboration.
Jared Redmond and musicology PhD student Derek Strykowski have been awarded Outstanding Teaching Fellows for 2013-14.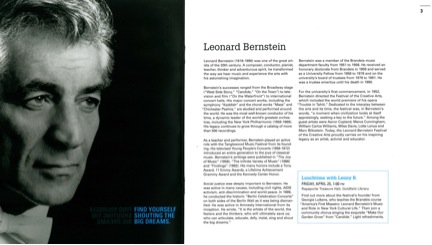 Musicology PhD student Georgia Luikens gave a fascinating talk on Leonard Bernstein on Friday, April 25 in the Rapaporte Treasure Hall, Goldfarb Library, kicking off the 2014 Leonard Bernstein Festival of the Arts. The talk Lunchtime with Lenny B. covered many aspects of Bernstein's life as a composer, conductor, teacher, activist, and arts advocate. Then a Brandeis select community chorus assembled by Georgia for the event performed a choral setting of Bernstein's "Make Our Garden Grow" from Candide (Georgia conducted). Awarded a 2013/14 University Prize Instructorship, Georgia created and taught the spring semester course "America's First Maestro: Leonard Bernstein's Music and Role in New York Cultural Life."
Alumni News
Composer Peter Van Zandt Lane, PhD '13 has recently been appointed Visiting Assistant Professor of Music Theory and Composition at the University of Florida. Peter has already taught courses for the Brandeis music department, summer school, and University Writing Program. He has recently completed a two-week residency at the MacDowell Colony finishing up Hivemind, a piece for wind ensemble commissioned by the Sydney Conservatorium Estivo summer music program. The work will be premiered in Verona, Italy, in July by players from Sydney, Verona Conservatory, and University of Georgia. He has also begun a composition commissioned by the Emory University Wind Ensemble, which will be an opener for a concert in Spring 2015.
The CD of his ballet Hackpolitik is set for a June 24th release on Innova Records. HackPolitik and the new version for wind instruments of his Slant Apparatus are both semi finalists in their respective categories for the American Prize in Music Composition.
Christian Gentry, PhD '12 in composition, has been appointed Assistant Professor of Music at Framingham State University. He will teach courses in music theory and history, and will start a new music technology program.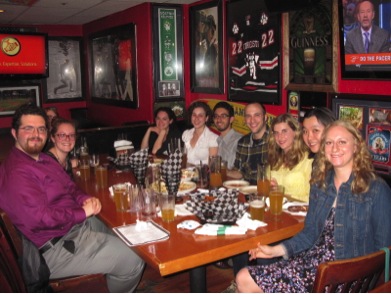 From l to r: Jared Field '11, Janette Myette '13, Rani Schloss '11, Lea Carnow '12, Yoni Battat '13, Dan Newman '09 and guest, Ann-Nin Wong '11, Devora Gleiber '13. Not pictured: Hannah Saltman '12, Karen Lowe '10.
Jared Field '11 has been working with his sister Jessie (also a Brandeis alum) on a new musical, "Always, Rachel". The work has been selected for a staged reading in the New York Musical Theatre Festival. Jared and Jessie will be working with a dramaturg over the next few months to revise and polish the show, and then producing three staged readings of it in Midtown this July. "Always Rachel" is based on the life of biologist and nature author (Silent Spring) Rachel Carson. You can visit the show's website at www.alwaysrachel.com to learn more about the show and to stay updated on the festival. Conductor, composer, clarinetist, and music educator, Jared Field was a music major who graduated Brandeis summa cum laude with highest honors in music, with an additional major in philosophy and a minor in film, television, and interactive media. He currently works part time at the Arts Initiative at Columbia University and writes blog posts on New York City museums for Columbia.A number of music alumni gathered at Connor Larkin's Pub in Boston on Friday, May 16 for food, drinks and good conversation. Then they were off to the Irving Fine Centennial Concert at Jordan Hall.
Spring 2014
Faculty News

Mark Berger, violist, Brandeis PhD '12 has been appointed as the newest member of the Lydian String Quartet and as Associate Professor of the Practice in the department of music. Mark performed extensively with the Quartet last season and has been teaching viola and chamber music in the department this past year. His official status begins on July 1. Welcome (back) Mark!
Eric Chafe's new book J.S. Bach's Johannine Theology: The St. John Passion and the Cantatas for Spring 1725 has just been released by Oxford University Press.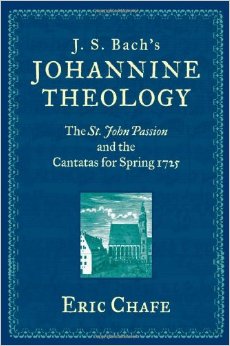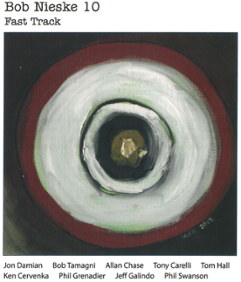 Bob Nieske has a new cd out Bob Nieske 10 – Fast Track on the CIMP label. He is joined by Jon Damian, guitar, Bob Tamagni, drums, saxophonists Allan Chase, Tony Carelli, and Tom Hall, trumpets Ken Cervenka and Phil Grenadier, and trombonists Jeff Galindo and Phil Swanson. All compositions and arrangements on the CD are by Bob.
Davy Rakowski has recently had a transcription of his piano music Sibling Revelry recorded by the President's Own US Marine Band on their CD From the keyboard, and his piano work Hotfingers recorded by pianist Nicholas Phillips on a CD titled American Vernacular: New Music for Solo Piano. Recent publications of his music by CF Peters include Exact Change (flute and soprano saxophone), Sibling Revelry (wind ensemble), Hotfingers (piano solo), Piano Concerto (piano/toy piano and orchestra), Préludes Book II (piano solo), Préludes Book III (piano solo) Blue Horizon (piano solo), Compass (saxophone quartet), and Thickly Settled (mixed quintet).
Allan Keiler was recently interviewed by NPR's Susan Stamberg on All Things Considered on the 75th anniversary of legendary contralto Marian Anderson's historic Lincoln Memorial Concert in Washington DC. The feature aired on NPR on April 9. Allan is the author of Marian Anderson: A Singer's Journey. Allan also contributed a chapter entitled "Liszt on Schubert's Alfonso und Estrella: Translation and Commentary," for the forthcoming book The World of Schubert, eds. Christopher H. Gibbs and Morten Solvik (Princeton University Press, 2014), and an article for the Journal of Music Theory, vol. 57.2014 entitled "The Problem of the Retrieval of Musical Knowledge: the Thoroughbass Tradition and its Relationship to Rameau."
Violinist and Professor of the Practice Dan Stepner was featured in the winter 2014 issue of Brandeis Magazine, Stepner's Graceful Bow to the Past, and present.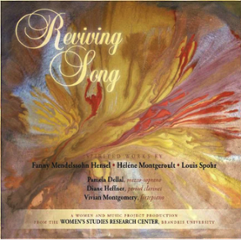 Vocal instructor Pamela Dellal has a new CD Reviving Song: Spirited Works by Fanny Mendelssohn Hensel, Héléne Montgeroult and Louis Spohr. Pam is joined by Diane Heffner, period clarinet, and Vivian Montgomery, fortepiano. The CD was produced by the Brandeis Women's Studies Research Center.
Graduate Student News
Composer Mu-Xuan Lin received an invitation from la Cité Internationale des Arts for a four-month residency in one of the 15 Paris city owned studios. She is currently in her Paris studio (next to the Seine) conducting dissertation research and writing music.
Musicologist Jessica Vincent completed an almost year-long project planning and curating the special exhibit Beginnings of Music at Brandeis for the Robert D. Farber Archives & Special Collections. The exhibit, which highlights Erwin Bodky, Irving Fine, Leonard Bernstein, Harold Shapero, and Arthur Berger during their years at Brandeis, opened on Wednesday, April 2, 2014, and will remain open throughout the summer.
Musicologist Daesik Cha has been awarded a Mellon Dissertation Year Fellowship for 2014-15 to complete work on his dissertation The Keyboard Fantasia in the Classical Period. Musicologist Charles Stratford and composer Mu-Xuan Lin have also received Mellon Dissertation Research Grants for 2014-15.
Undergraduate Student News
Composer Nate Shaffer '16 was featured in the winter/spring issue of the State of the Arts and in a Brandeis Now article Clinton, Mozart, and me in which he recalls how he found his calling as a composer.
Fall 2013
Faculty News
A number of news updates from Sarah Mead, gambist and Director of the Brandeis Early Music Ensemble:
Her new piece, Fantasia Sine Nomine has just been published by PRB Productions. The work was premiered at the Conclave of the Viola da Gamba Society of America last August in Forest Grove, OR. Its Australian premiere will be on March 29th, 2014, in Sydney, with the viol consort Josie and the Emeralds.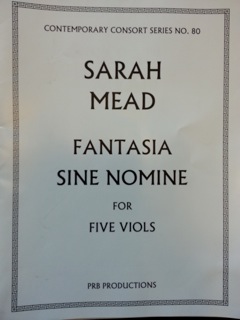 Her ensemble, Nota Bene recently completed a five day residency at Brandeis, which included class appearances for undergraduates studying Art History, Shakespeare, Renaissance Italian Literature, Cervantes, and Music History; a house-concert for graduate students in musicology; recording and videotaping at the Rapaporte Treasure Hall, Goldfarb Library; a performance at the New England Renaissance Conference hosted by Jonathan Unglaub at the Mandel Center. Presentations featured music from the Gorham Collection housed in Special Collections, with images supplied by Special Collections.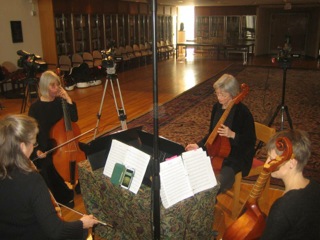 Ensemble Nota Bene, recording in Rapaporte Treasure Hall
Her Spring 2014 sabbatical will take her to the following places:

Oberlin College, Oberlin, OH–1 month residency as part of the Winter Term program (January).
UNC, Chapel Hill, NC–1 week teaching residency (February).
New Zealand and Australia–1 month visit including concerts, lectures, master-classes and coaching (March).
Trinity Wall St. (NYC) and 2nd Church in Newton (MA)–Tenebrae concerts with Tenet and Nota Bene (April).
Guildhall School of Music and Drama, London–featured guest presenter (May).
First New York Early Music Festival (NYC)–educational presenter (June).
Kyoto, Japan–Viola da Gamba Society of Japan, first international tutor (August).
Judith Eissenberg recently returned from an 11-day trip to Mali, and brought back an incredible account of her experience.
Toumani Diabaté and Judy in his studio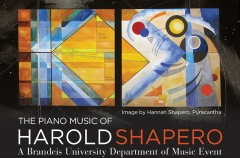 Tribute to composer Harold Shapero
On September 28 the department honored the late Harold Shapero with the program The Piano Music of Harold Shapero. Harold's Variations in C Minor (1947) and his Sonata in F Minor (1948), were performed by Sally Pinkas, and his Four-Hand Sonata (1941) was performed by the Hirsch-Pinkas Piano Duo. Speakers included former Shapero student Michael Weinstein (PhD '91), Harold's sister Pyra (Hannah) Shapero, and a video clip of an interview with Harold filmed by Eric Chasalow. Harold passed away in May 2013. He was 93 years old.
On October 5 composer Eric Chasalow's Where it Finds Nothing But the Wind had its premiere here in Slosberg. The work, based on texts from the Dead Sea Scrolls, was composed for soprano Tony Arnold and members of the Boston new music ensemble Dinosaur Annex. The program also included an earlier work for soprano and electronics The Furies, which is based on poems by Anne Sexton. The performance of Where it Finds Nothing But the Wind was organized to coincide with the Dead Sea Scrolls Exhibition at the Boston Museum of Science. The project had the support of the Brandeis Office of the Provost.
On January 17 composer David Rakowski will have a premiere of his second piano concerto at Jordan Hall. Pianist Amy Briggs will join with the Boston Modern Orchestra Project, conducted by Gil Rose, for the premiere. Davy wrote it at the Camargo Foundation in Cassis, France during his 2010 –11 sabbatical. The concerto was commissioned by the Jebediah Foundation and BMOP will record it for their label BMOP/Sound.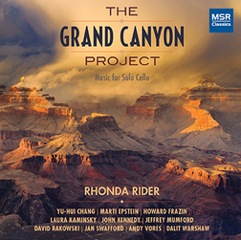 Composers Yu-Hui Chang and David Rakowski are two of 10 composers commissioned by cellist Rhonda Rider (one of the founding members of Lydian String Quartet) to write pieces for her that were inspired by some aspect of the Grand Canyon. Her CD, The Grand Canyon Project for solo cello, has just been released by MSR Classics. Rhonda was Artist in Residence at the Grand Canyon National Park during which time she prepared the pieces for the recording.
Violinist Daniel Stepner new CD 20th Century Masterworks for solo violin will be released shortly on the Centaur label. The works are by Hindemith, Ysaÿe, Bartók, and Coleridge-Taylor Perkinson. This cd comes on the heals of his recording of solos works for violin by Bach, and will be followed this coming spring by a cd of works for violin and piano composed by Brandeis composers Harold Shapero, Irving Fine, Yehudi Wyner, David Rakowski and Yu-Hui Chang.
Alumni News
Composer Peter Lane (PhD '13) has been working with New York-based choreographer Kate Ladenheim on a full-length electroacoustic chamber ballet HackPolitik for the Juventas New Music Ensemble's 2013-14 concert season. The work is based on a series of cyber-attacks conducted by Anonymous in 2010 and 2011, and further inspired by Parmy Olson's book We Are Anonymous: Inside the Hacker World of LulzSec, Anonymous, and the Global Cyber Insurgency. Portions of the ballet have already been performed in Boston, at the MacDowell Colony (where Peter had a residency this past summer), at Symphony Space in New York City, and at the Syracuse Ballet and Dance Center. The premiere of the full work with Juventas and the New York based dance company The People Movers takes place in Boston on November 15-16at the Boston University Dance Theater. Peter is joining the author for a lecture presented by the Schuster Institute for Investigative Journalism at Brandeis on November 14.
Composer Max Dulaney (PhD '13) has been appointed Assistant Professor of Music at Tulane University. Max's dissertation included an analysis of Helmut Lachenmann's three string quartets, and an original composition titled Harmonica Concerto.
Musicologist Brian Levy (PhD '12) has been appointed to the jazz studies and music history faculty at the New England Conservatory of Music. His dissertation Harmonic and Rhythmic Interaction in the Music of John Coltrane examines harmonic and rhythmic interaction in John Coltrane's Classic Quartet.
Graduate Student News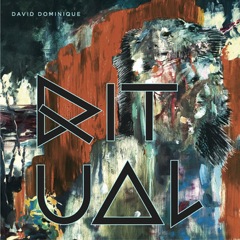 Composer Dave Dominique has a new album of his music, Ritual, which is scheduled for release on December 3. Comprised of 10 original compositions, Ritual draws inspiration from Charles Mingus, Duke Ellington, Sun Ra, Ethiopian music from the '70s, John Zorn, Steve Reich, and György Ligeti. The album is characterized by primal physicality and a wide range of instrumental timbres, including flute, violin, clarinet, bass clarinet, electric guitar, alto and bari sax, valve trombone, electronics, and a propulsive jazz rhythm section. Ritual was recorded and mixed to analog tape in Downtown Los Angeles with an ensemble of that city's finest creative musicians. The release date is: December 3, 2013.
Musicologist Matthew Flynn, MFA, traveled to Certaldo, Italy this past summer to present a paper at the Medieval and Renaissance Music Conference. His presentation "Manuscript Variations in Three Works of Francesco Landini"
 examined three Italian manuscripts from the 14th century which all contained the same three pieces by the famous 14th century Italian composer Franceso Landini: L'alma mie piange, Donna s'i t'o fallito, and Poy che da te. He discussed the slight variations in these pieces and explained what they illustrate about how the pieces were conceived and performed in the 14th century.
Composer Michele Zaccagnini's composition Variazioni su Aldo Clementi has been selected as one of four finalists for an important Italian competition "...a Camillo Togni." The winner of the competition will be selected at a performance of the finalists' works on November 24.
Musicologist Paula Musegades is specializing on film music and film studies. In addition to her work at Brandeis she is teaching a number of courses at Emerson College, including VM101 History of Media 1965-Present, a survey course for undergraduate students dedicated to the study of film and television history, which explores not only the history of film and television in the United States, but also such countries as Germany, France, China, Japan, and South Korea, including sociological and political influences on the formation of media arts in these countries and how they, in turn, influenced society; and an upper-level seminar Cinephilia and the Auteurs, which investigates the French response of André Bazin andCahiers du Cinéma critics to American cinema of the 1940s and 1950s, ultimately revealing the French influence on both American and French critics. Paula's dissertation topic is Speaking the Unspoken Through Silence and Sound: Aaron Copland and Hollywood Film Music.
Musicologist Charles Stratford's "Compositional Approach and the Work of E.E. Cummings in Luciano Berio's Circles" will be published in a forthcoming edition of SONUS: A Journal of Investigations into Global Musical Possibilities. Berio's own history with the music department dates back to February, 1961 and a concert that he gave in Slosberg with his wife Cathy Berberian and the ensemble Concerts du Domaine Musical. Included on the program were his Thema (Omaggio a Joyce), Sequenza (1958), and Circles.
Undergraduate News
A number of our undergraduate majors have gone on to interesting endeavors in and outside of the field of music.
Janette Myette '13 is a Stewardship Assistant at the Massachusetts Institute of Technology.
Nick Gordon '11 has created a startup company new speedway that is developing and marketing new events management software.
Michael Shafir '11 is an Associate Research Scientist at BBN Technologies (Computer Software).
Rani Schloss '11 is Program Coordinator at WGBH, Boston.
Ann-Nin Wong '11 is an Applications Specialist at MediTech in Framingham, MA.
Nick Brown '10 is Music Specialist for Library of Congress Music Division.
Eric Alterman '09 is co-principal cellist with the Brazilian Symphony Orchestra.
David Guerette '08 is IT and Media Specialist for the radio show From the Top.
Matt Stern '08 is music director for the Berkshire Theater festival and BU. He is also faculty music director at French Woods camp for the performing arts.