The Score: 2014-2015
Spring 2015
Commencement News
Congratulations to our class of 2015 degree recipients!
Watch the video of the 2015 School of Creative Arts Diploma Ceremony.
Honorary degree recipient and legendary dancer Suzanne Farrell addressing the class
Undergraduates
Christiane Zoe Fong - Bachelor of Arts Cum Laude (Composition Track)
Minors in: English, Film, Television and Interactive Media
Jonah Wesley Hirst - Bachelor of Arts Cum Laude (Composition Track)
Minor in: Sexuality and Queer Studies
Recipient of the Florence and Charles H. Milender Prize in Music
Charles Madison - Bachelor of Arts Summa Cum Laude
Majors in: Musical Theater Writing with highest honors, Psychology
Recipient of the Sandy Shea Fisher '56 Prize for Creative Arts
Adina Rae Shapiro - Bachelor of Arts Magna Cum Laude (Performance Track)
Majors in: Music with high honors, American Studies
Recipient of the Rosalie L. Warren Award in Music
Mariah Mae Smith-Jones - Bachelor of Arts Cum Laude (Composition Track)
Majors in: Music, Politics, Russian Studies
Graduate Students
Aubrey Brown - Master of Arts in Musicology
Dana Lee Dalton - Doctor of Philosophy in Musicology
Dissertation: Internal Conflict as Action: Aria Structure in Il trovatore
Jacques Pierre Dupuis - Master of Fine Arts in Musicology
Jessica Fulkerson - Master of Fine Arts in Musicology
Todd David Kitchen - Master of Fine Arts in Music Composition and Theory
Saman Nayeri - Master of Arts in Musicology
Elizabeth Emily Perten - Doctor of Philosophy in Musicology
Dissertation: Liszt as Critic: Virtuosity, Aesthetics, and the Artist in Liszt's Weimar Prose (1848-1861)
Recipient of the Sandy Shea Fisher '56 Prize for Creative Arts
Hannah L. Spencer - Master of Fine Arts in Musicology
Jackson Van Amburg - Master of Fine Arts in Musicology
Michele Zaccagnini - Doctor of Philosophy in Music Composition and Theory
Dissertation: Aldo Clementi's System; and an original composition, Variazioni su AlDo ClemEnti for chamber orchestra
Recipient of the Sandy Shea Fisher '56 Prize for Creative Arts
Department News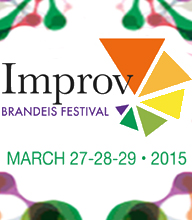 The Music Department hosted the first Brandeis Improv Festival March 27 – 29. Created and organized by Improv Collective instructor and saxophonist Tom Hall the three-day festival was a "celebration of spontaneous creativity and its increasingly vital role in modern life." Performances, workshops and seminars took place at Slosberg Music Center. Legendary improviser and drummer Milford Graves was the keynote speaker. The festival was funded by a grant from the Brandeis Arts Council and the Music Department plans a second festival two years from now.
On Saturday, March 21 members of the Brandeis Jazz Ensemble led by director Bob Nieske took the opportunity to 'gig' at the Hyatt Regency, Cambridge. The occasion was the Brandeis Junior/Senior Formal. The band enjoyed the experience, as did the dancers!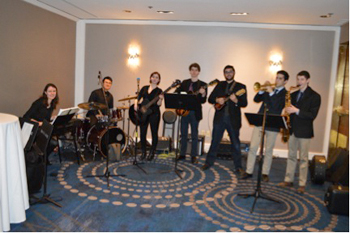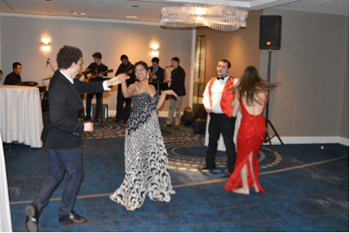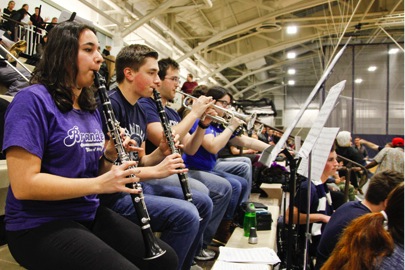 This spring saw the premiere of the Brandeis Spirit Band. The band is dedicated to playing a unique 'Brandeis style' of music at various athletic events on and off campus. World-renowned saxophonist, flautist and composer Ken Field has been hired by the music department with support from V.P. of Students and Enrollment Andrew Flagel to direct the band and create arrangements specifically for it. The Spirit Band is currently composed of 12 students including musicology PhD student Gabrielle Reardon (trumpeter) who helps over see the band's logistics. The band plans to grow in numbers in the future.
On May 1 – 2 graduate students in musicology presented the first Graduate Student Society Conference Loci in Musicology: Epicenters, Parallels and Unity in Slosberg Recital Hall. Keynote speakers were Margot Fassler, U. of Notre Dame, Joseph Auner, Tufts University, and Robert Gjerdingen, Northwestern University. Papers were presented by graduate students from Harvard, Rutgers, U. of Michigan, SUNY: U. of Buffalo, USC, and U. of Miami. Funding for the conference was provided by the Music Department and a grant from the Poses Fund.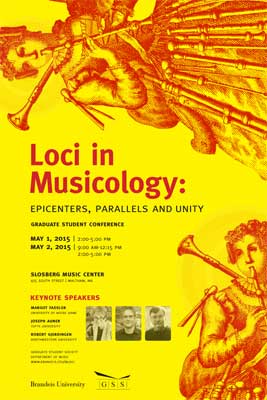 Faculty News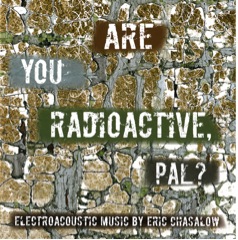 Composer Eric Chasalow has a new comprehensive CD of his electroacoustic music Are You Radioactive, Pal? The CD issued on Suspicious Motives Records includes works from 1991, 1999, 2003, 2004, 2009, 2010, and 2014. Philipp Stäudlin performs a work for alto saxophone and tape, and Dan Stepner a work for violin and tape. This follows on the heels of his 2014 CD feather, breath, mirror.
Musicologist Eric Chafe's new book Tears Into Wine: J.S. Bach's Cantata 21 in its Musical and Theological Contexts was published this May by Oxford Press. In the book, "Chafe shows that Cantata 21 reaches beyond the scope of the individual liturgical occasion to voice a breadth of meaning that encompasses much of the core of Lutheran thought." Tears Into Wine follows his monumental book J.S. Bach's Johannine Theology, which was published in May 2014 also by Oxford.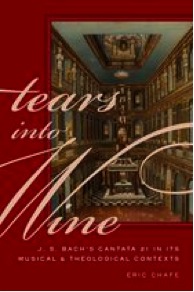 Lydian String Quartet first violinist and Professor of the Practice Dan Stepner has received a Provost's Innovations in Teaching Grant for 2015/16 for his project An Integrated, Transposable System of Scales and Arpeggios for Violinists and Violists. He will be creating a video as part of the project. The fund is intended to support and enhance the teaching and research excellence for which Brandeis in known.
Undergraduate and Graduate Student News
In May Charlie Madison '15 was a guest on WBUR Radio's On Point where college seniors were invited to discuss their senior theses. Charlie is an Independent Interdisciplinary Major in Theater Arts who has composed an original musical Grace. He will graduate with honors and accolades!
Composer and PhD student Victoria Cheah has received a Mellon Research Grant for 2015/16. The grant will enable her to study a manuscript at the Sachar Stiftung in Basel, Switzerland that is directly related to her dissertation work.
Composer and PhD student Emily Koh will be spending July as a resident composer at the Mizzou International Composers Festival where her works will be performed by the chamber ensemble Alarm Will Sound. She recently was in San Francisco for the Left Coast Chamber Ensemble's premiere of her composition "implodex!!", which they commissioned. When Emily is not composing she runs the concert series at the Boston New Music Initiative and also serves as principal bass for the New England Philharmonic Orchestra.
Alumni News
Musicologist Paula Musegades PhD'14 has been appointed Florence Levy Kay Fellow in Music and American Culture and Lecturer in the Department of Music and in the American Studies Program at Brandeis. Her two-year appointment begins July. Paula completed her dissertation research on Aaron Copland and Hollywood Film Music and has taught courses at Brandeis and at Emerson College. She has also served as senior academic administrator for the American Studies and Journalism Programs at Brandeis. While at Brandeis Paula will be continuing her research and also offering courses each semester.
Composer Peter Van Zandt Lane, PhD'13 has been appointed Assistant Professor of Composition at the Hugh Hodgson School of Music, U. of Georgia. He will also be the director of the Roger and Phyllis Dancz Center for New Music at the university. Peter was most recently Visiting Assistant Professor at U. of Florida.
Fall 2014
Department News
The music department's Ghanaian Drumming and Dance Ensemble
Fafali
was invited to perform for the visit to Brandeis of the President of Ghana John Dramani Mahama on September 29. Lead by the ensemble's director Faith Conant,
Fafali
offered a
traditional welcome for dignitaries from Ghana.
On Sunday, October 19 the music department collaborated with the Cambridge Society for Early Music to present A Tribute to Erwin Bodky in the Slosberg Recital Hall. Violinist Dan Stepner, Pianist Evan Hirsch, harpsichordist James Nicolson, and mezzo-soprano Deborah Rentz-Moore performed works by Bodky and Bach. Remarks were offered by James Nicolson, former Bodky students Adele Borouchoff and Nancy Golden (Brandeis class of '52), and musicologist Mark Lindley (from India via Skype). Also in attendance were Bodky grandsons Matthew and Nathaniel, and Brandeis alums and Bodky students Paul Goldstein '53, and Diane Goldstein '54. Coincidentally it is Paul who suggested to Bodky that the Brahms Academic Festival Overture be used for the music for a Brandeis alma mater.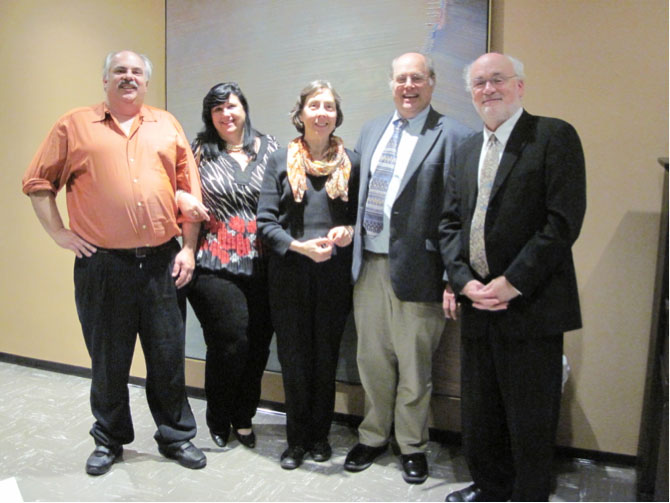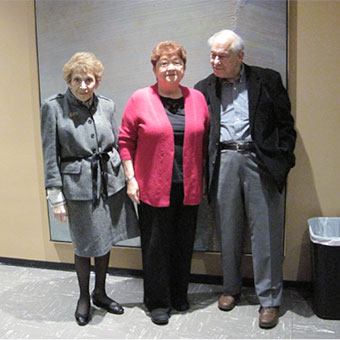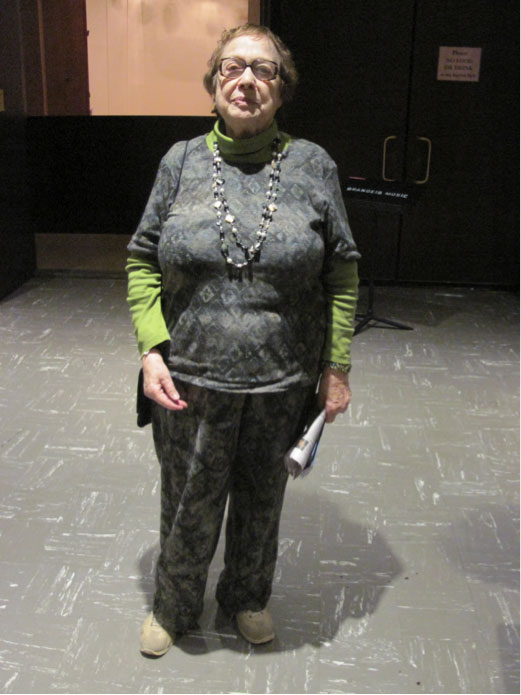 Erwin Bodky was Brandeis's first music professor and founder of the Cambridge Society for Early Music. A distinguished musicologist, keyboard player, and composer, Bodky studied in Berlin with Ernst von Dohnányi and at the Prussian Academy of the Arts with Richard Strauss and Ferruccio Busoni. He went on to serve on the faculty of the Prussian State Academy for Church and School Music until 1933 when the academy director was forced by the Nazis to dismiss him. Immigrating first to the Netherlands in 1933 and then to Boston in 1938, he secured a part-time position at the Longy School of Music. He was later appointed to the faculty of the famous Black Mountain College. Following his recommendation to Brandeis's first president Abraham Sachar for the establishing of a music department, Bodky was hired as Assistant Professor of Music in 1949, and later promoted to full professor. In 1954 Bodky was appointed chairman of the Brandeis School of Creative Arts. In 1957 the West German government designated him a professor emeritus, and in 1968 the Cambridge Society for Early Music established its Bodky Competition in his honor. Erwin Bodky authored many important books including Performance Practice of Early Keyboard Music and Interpretation of Bach's Keyboard Music.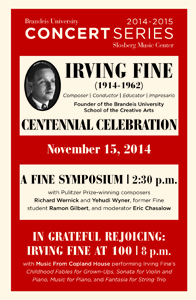 On Saturday, November 15 the Music Department formally celebrated the 100th anniversary of composer Irving Fine with an afternoon symposium and evening concert.
The symposium featured a discussion with composer and Pulitzer Prize winner Richard Wernick '55, Cantor Ramon Gilbert '54, composer and Pulitzer Prize winner Yehudi Wyner, and Irving G. Fine Professor of Music Eric Chasalow. Former students of Irving Fine, Gilbert and Wernick shared many memorable moments spent with the composer who served as teacher and mentor, and co-creator of the first Brandeis Festival of the Arts. Wyner and Chasalow offered insights into the importance of the "American Neo-classicists" and the central role that Fine played in that group, which included Aaron Copland, Harold Shapero, and Leonard Bernstein.
The evening concert presented musicians from Copland House (Eve Gigliotti, mezzo-soprano; Harumi Rhodes, violin; Danielle Farina, viola; Alexis Pia Gerlach, cello; and Michael Boriskin, piano) performing Irving Fine's Music for Piano (1947), Fantasia for String Trio (1956), Childhood Fables for Grown-Ups (1955, 1958), and Sonata for Violin and Piano (1946). Attending the symposium and concert were Irving Fine's three daughters: Claudia, Emily, and Joanna, and granddaughter Alicia.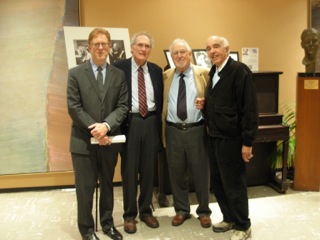 Future celebratory events include a week-long Irving Fine Centennial Festival hosted by the Library of Congress (December 2 – 6), and the release of the cd of Irving Fine's Symphony performed by the Boston Modern Orchestra Project.
Faculty News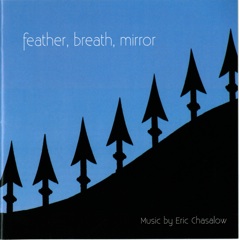 Eric Chasalow's new cd feather, breath, mirror has just been released. Works on the cd are: Due Cinta mani (2002) for piano and fixed media, Flute Concerto:three love poems (2005) for flute and chamber ensemble, Trois Espaces du Son (2004) for piano, percussion and fixed media, and Horn Concerto (2008) for horn and chamber orchestra.
Marty Boykan's cd Music for Piano (1986 - 2007) has just been released on Bridge. The pianist is Donald Berman.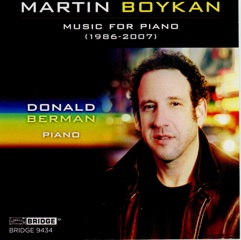 Davy Rakowski's Dance Episodes Symphony No. 5 will be premiered on October 25 by the New England Philharmonic, Richard Pittman, conductor. And he has just competed a flute concerto for a November 12 premiere on Oklahoma. While on leave this coming spring, Davy will be in residency at the MacDowell Colony and at Ragdale in Lake Forest, IL.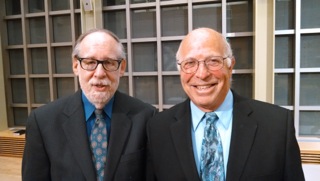 Allan Keiler (left) with Paul Buttenwieser (conversant for Silberger Lecture)
Musicologist Allan Keiler has been awarded the 2014 Silberger Essay Prize from the Boston Psychoanalytic Society and Institute. The $1000 prize is given for for an essay that "demonstrates outstanding psychoanalytically informed research and scholarship in the biobehavioral sciences, social sciences, arts, or humanities." Keiler will present his essay Liszt as Romantic Hero: Imposturing and the False Self at the Institute on October 22, 2014.
Professor Emeritus and Pulitzer prize-winning composer Yehudi Wyner has been elected president of the prestigious American Academy of Arts and Letters. The American Academy of Arts and Letters, founded in 1898, was established to "foster, assist, and sustain an interest in literature, music, and the fine arts," and is chartered by Congress. Each year, the Academy gives over one million dollars in awards to artists, architects, writers, and composers. It presents exhibitions of art, architecture, and manuscripts, and subsidizes readings and performances of new musicals. The 117-year-old organization is located in three landmark buildings on Audubon Terrace in NYC.
Wyner was elected to the Academy in 1999. He won the Pulitzer in 2006 for the piano concerto "Chiavi in Mano." Emeritus Professor and composer Martin Boykan is also a member. Read the full press release.
Vocal Instructor Jason McStoots is a soloist on the Boston Early Music Festival's recording of Charpentier's La Descente d'Orphée aux Enfers and La Couronne de Fleurs for CPO (Classic Produktion Osnabrück), winner of the 2015 Grammy Award for Best Opera Recording! Congratulations Jason et al.
Graduate Student News
In October composer and pianist Jared Redmond will compete in the 2014 International Edvard Grieg Piano Competition in Bergen, Norway. Later in the year he will perform a concert of contemporary piano and percussion music at Hanyang University in Seoul, Korea, which will include a new work of his, as well as works of John Cage and Maurice Ohana.
Musicologist Georgia Luikens has been invited to serve as moderator for a panel discussion on the music of Irving Fine at the Library of Congress on Saturday, December 6. Panelists will include Fine Professor of Music Emeritus (Brandeis U.) Marty Boykan and conductor, composer, pianist Joel Spiegelman (Brandeis MFA '56 and former Artist in Residence). The panel discussion is part of the Library's Irving Fine Centennial Festival and will take place in their Library's Coolidge Auditorium at 2 pm.
The recording of composer Mu-Xuan Lin's Double Jeopardy (2013) for octet from the February premiere by the Ensemble Proton Bern has recently been released. To listen, please go to Mu-Xuan's website or Soundcloud. And, Mu-Xuan has been invited by Novalis Music+Art Festival in Croatia as one of their guest-composers for the summer, 2015. The festival has commissioned her to write a piece for chamber orchestra and video in collaboration with Secession Orchestra (France) and video artist Claudia Joscowicz (New York).
Composer David Dominique spent October as an artist-in-residence at Brush Creek Foundation for the Arts in Wyoming. While there he worked on music for his next LA theater project No Shore to Break On, which will be staged in March. He will conduct his original score live for each of the six performances. He is also composing and recording a collection of electronic songs to be released as an album called Mask in May. David has recently been accepted for an artist residency for September 2015 at Djerassi Resident Artists Program in Woodside, California.
Undergraduate Student News
Milton Shapiro, clarinet, Leah Shapiro, horn, Michelle Kim, violin and Jeremy Koob, piano, performed a patriotic themed concert on November 9th, Veteran's Day, at Maristhill Nursing and Rehabilitation Center in Waltham. These musicians are members of the Brandeis Community Service Chamber Music Club, founded by brother and sister musicians Milton and Leah Shapiro. They are looking forward to performing at Maristhill again next semester.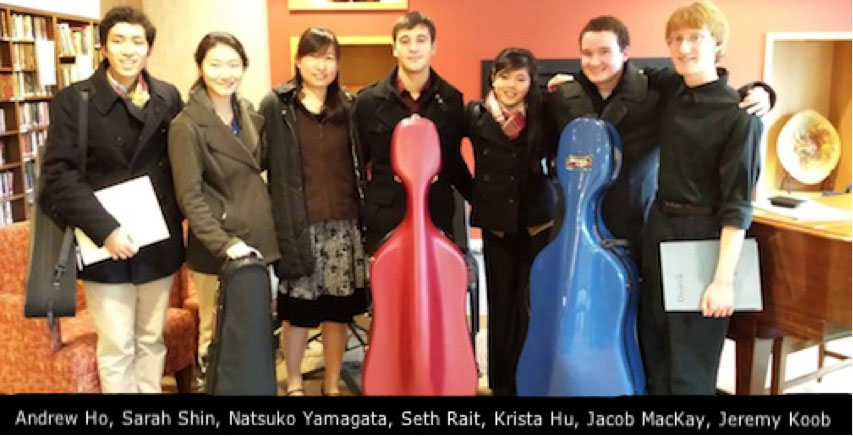 On November 16th, Andrew Ho and Krista Hu, violins, Sarah Shin, viola, Jacob MacKay and Seth Rait, cellos, Natsuko Yamagata and Jeremy Koob, piano performed an afternoon of chamber music at Newbridge on the Charles Assisted Living Center in Dedham. This is the second time Brandeis students have performed at Newbridge on the Charles. They have been enthusiastically invited back for future performances!
Alumni News
Peter Van Zandt Lane, PhD'13 in composition has received his second commission from the Barlow Endowment for Music Composition. The work will be performed by the EQ Ensemble. Peter is currently Visiting Assistant Professor of Music at the University of Florida.
Peter McMurray, MFA '08 in composition recently completed his PhD in ethnomusicology at Harvard University. He has just been awarded a post doctoral fellowship appointment at MIT.
Former music major Megan Bisceglia, '07 is Manager of Operations for the Concord Conservatory of Music, Concord MA. where she is helping launch a new Concert and Lecture Series. The first four concerts and accompanying lectures are devoted to the music of J. S. Bach.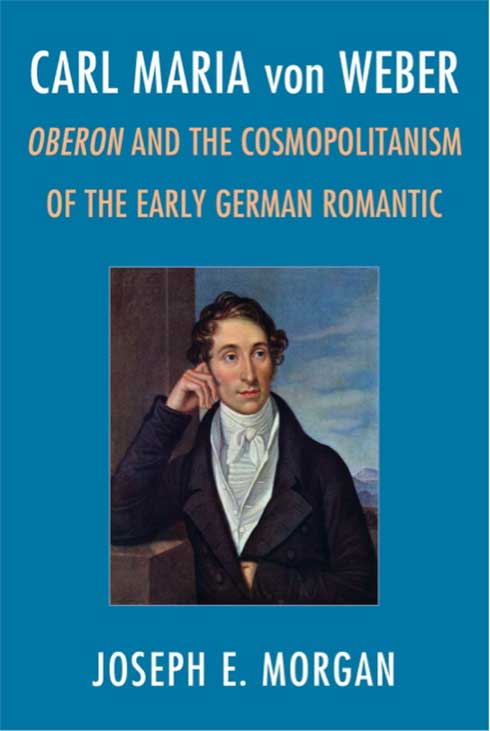 Musicologist Joseph Morgan, PhD'09, has been appointed Assistant Professor of Musicology at the University of Middle Tennessee. And Joe has a book out Carl Maria von Weber, Oberon and the Cosmopolitanism of the Early German Romantic published by Rowman & Littlefield.
Musicologist Silvio dos Santos, PhD'03 has been promoted to Associate Professor with tenure at the University of Florida, Gainesville.
Musicologist and chair of Music History and Musicology at New England Conservatory of Music Katarina Markovic, PhD'04 presented the program Goya and Beethoven: Revolution and Madness at the Boston Museum of Fine Arts on December 14. Joining Katarina were faculty and students from NEC performing music of Beethoven. The program included projected images of Goya's works, and readings from letters and contemporaneous documents. Katarina demonstrates how the two artists shared "a certain aesthetic temperament," which she discovered through studying each artist's works, correspondence, and other primary documents. You can read the notice carried in the December 12 issue of the Boston Globe.
Composer Jeremy Spindler, PhD'11 has recently been exploring a different set of (sweet) talents. Spindler Confections of Somerville produces artisanal sweets that are available at local areas gourmet and arts and craft shops, or online.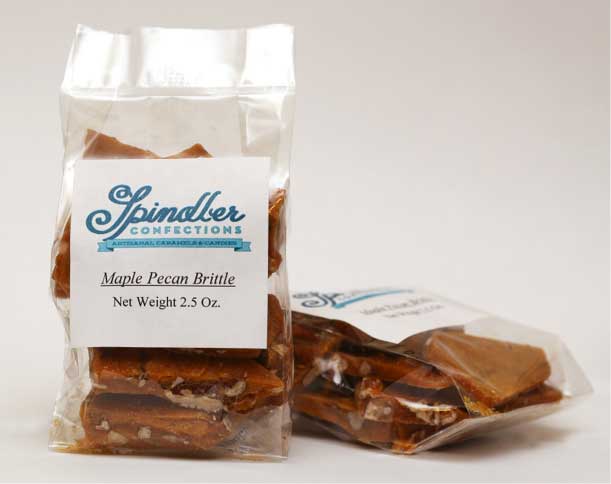 Read about Spindler Confections in a Boston Globe article.