The Score
The Department of Music's online newsletter
Spring 2020
Celebrating the Class of 2020
Congratulations to our undergraduate and graduate degree recipients for 2020!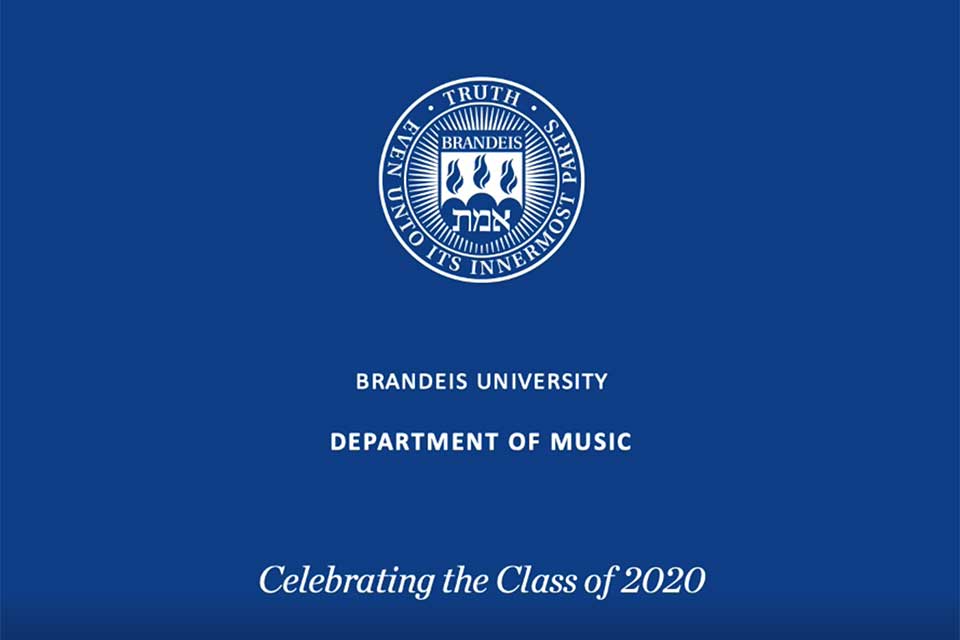 Undergraduates
Talya Bedford – Bachelor of Arts Cum Laude in Music with a minor in Computer Science
Mathias Boyar – Bachelor of Arts Summa Cum Laude with Highest Honors in Music with a minor in Economics
Recipient of the Herbert and Sandra Fisher Award for Exceptional Ability in the Creative Arts
Leah Samantha Chanen – Bachelor of Arts in Music with Honors and Health: Science, Society & Policy
Recipient of the Class of 1955 Prize for Creative Ability
Benjamin Dov Eisenstein – Bachelor of Arts Cum Laude in Music with Highest Honors and Biology
Recipient of the Phyllis and Lee Coffey Award in Music
Eliana Ellenberger – Bachelor of Science in Neuroscience and Music with Honors with a minor in Medieval and Renaissance Studies
Marek Haar – Bachelor of Arts Magna Cum Laude in Music with High Honors, Religion and the Creative Arts with Honors, and Politics
Recipient of the Reiner Prize in Music Composition
Ora Rogovin – Bachelor of Arts Summa Cum Laude in Music with Highest Honors and Neuroscience
Recipient of the Herbert and Sandra Fisher Award for Exceptional Ability in the Creative Arts
Graduate Students
Alexander Bean – Master of Fine Arts in Music Composition and Theory
Talia Amar – Doctor of Philosophy in Music Composition and Theory
Dissertation title: The Light, Path and Voice: Underlying Process in Voi(rex) by Philippe Leroux and an original composition Fractured Words
Recipient of the Herbert and Sandra Fisher Award for Exceptional Ability in the Creative Arts
Victoria Cheah – Doctor of Philosophy in Music Composition and Theory
Dissertation title: The Prismatic Lung: Morphology and Association in Steven Takasugi's Diary of a Lung and an original composition I watched the horizon of the sea, the world for unconducted septet
Richard Chowenhill – Doctor of Philosophy in Music Composition and Theory
Dissertation title: Seeing the invisible: New Approaches to the Analysis of Extreme Metal and an original composition: raw[within] (to self sooth)
NamHoon Kim – Doctor of Philosophy in Music Composition and Theory
Dissertation title: Spherical Structured Time in the three Toccatas of "die Soldaten" by Bernd Alois Zimmermann and an original composition Wer wenn ich schriee for soprano and double bass
Department News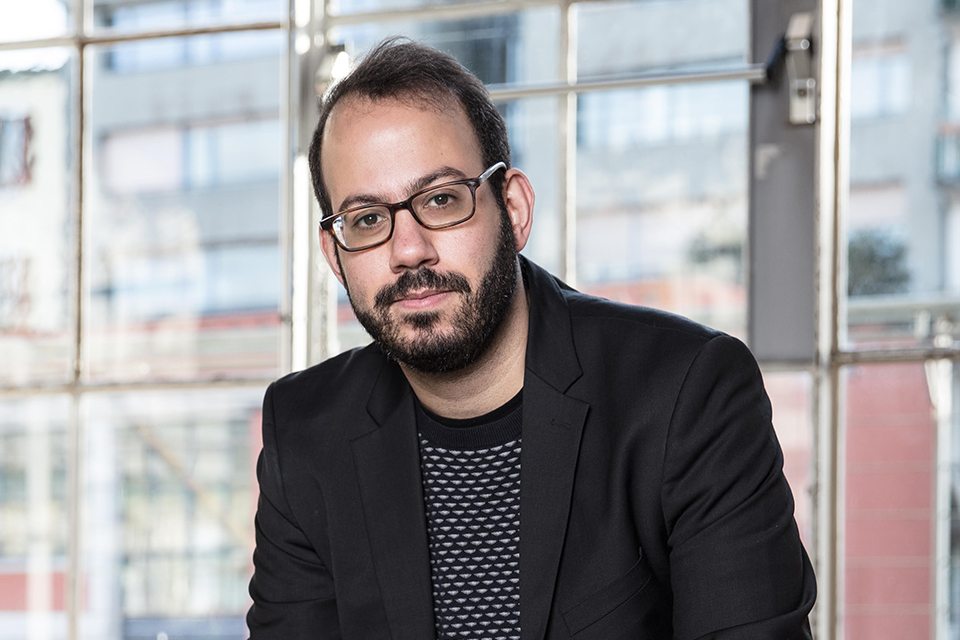 In May the department announced the first recipient of the Henri Lazarof international Commission Prize. Israeli composer Yair Kartag will receive the $15,000 prize to compose a chamber work for harp, viola and flute. The work will premiere at Brandeis in the spring of 2021. Yair was born in 1985 and currently lives in Tel Aviv.  His music has been performed by the Berlin Radio Symphony Orchestra, Munich Chamber Orchestra, Tokyo Sinfonietta and numerous other ensembles. 322 composers applied for the prize. The 2nd annual Commission Prize will be launched in November 2020.
Faculty News
Composer Erin Gee has been promoted to Associate Professor of Music with tenure. Erin joined our composition faculty in 2017. She is the recipient of numerous awards and commissions including a Fromm Foundation Commission, Chamber Music America Grant, a Charles Ives Fellowship from the American Academy of Arts and Letters, a Guggenheim Fellowship, Radcliffe Fellowship, the 2008 Rome Prize, as well as many distinguished residencies. Her works are performed worldwide.
In February Composer David Rakowski was distinguished guest composer at the Illinois State University Red Note New Music Festival.
The Lydian String Quartet is one of two featured ensembles on a newly released CD of Kurt Rhode's music. The quartet performs Kurt's piece Treatises for an Uncovered Past, which came about as a result of Kurt's winning the first Lydian String Quartet Composition Competition.  The CD, It Wasn't a Dream, is produced by Albany Records.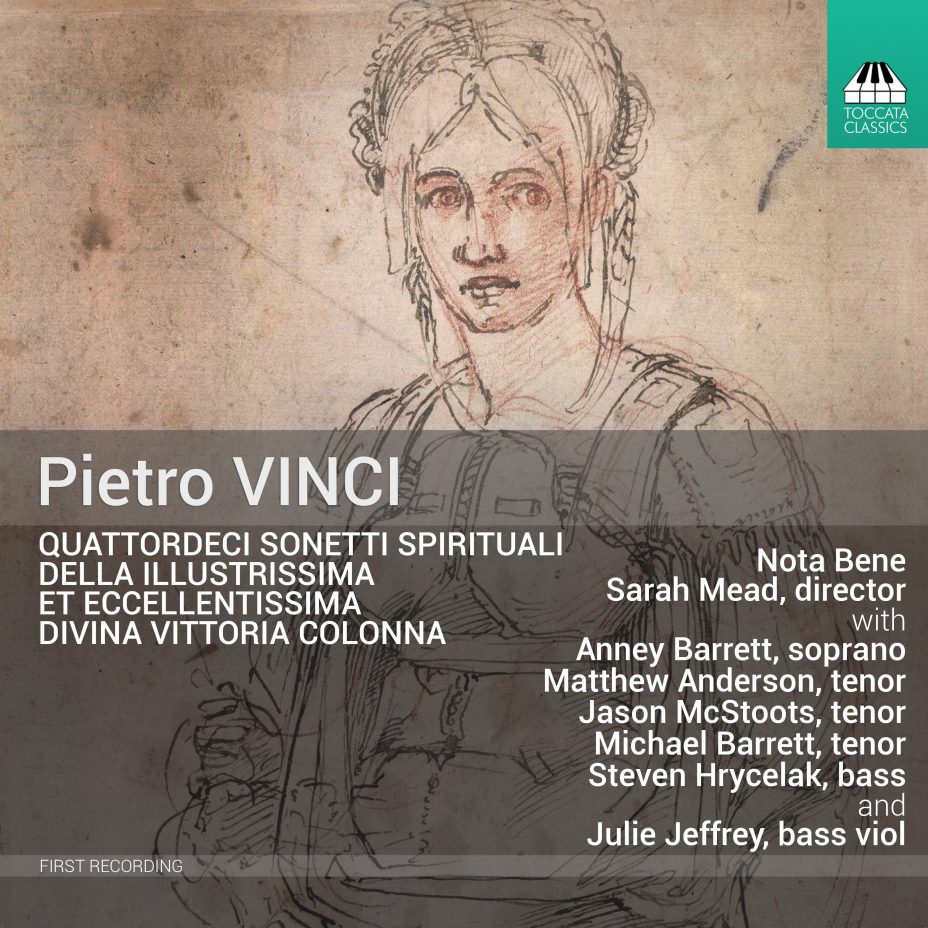 Sarah Mead's viol consort Nota Bene, along with five singers, released a CD of the Quattordeci Sonetti Spirituale of Pietro Vinci (1525-1584). This recording grew out of a project funded in part by Mandel Faculty Grant and the Brandeis Arts Council, and was originally inspired by a collaboration with Brandeis professor Ramie Targoff during the 2013 meeting of the New England Renaissance Conference that took place at the Mandel Center. The performances of the works, which were directed by Sarah, were recorded in 2019 in the Brandeis Harlan Chapel. It represents the first recording of this music. A review of the CD can be found on MusicWeb International.
Fafali drumming and dance ensemble director Ben Paulding has been awarded a Whiting Fellowship from the Marion and Jasper Whiting Foundation to study traditional Manding dance-drumming at the Gambia Academy. Ben's study of the music of Gambia adds to his already rich knowledge of traditional African music of Ghana, Togo and Benin.
Graduate Student News
Composer and recent PhD recipient Richard Chowenhill's composition In Solitude I Sit is on a new CD of works performed by the Donald Sinta Saxophone Quartet. The CD Ex Machina is on the Bright Shiny Things label.
In June musicologist and PhD candidate Matt Heck gave two talks on Shostakovich string quartets at the 3rd Annual Harvard Music Festival, Harvard MA. The talks shed light on Soviet composer Dmitri Shostakovich's music – focusing on his string quartets, and offering a closer look at musical and extra-musical stylistic elements through his Third Quartet.
Composer, PhD candidate and music department technologist James Praznik also spoke at the 3rd Annual Harvard Music Festival. His talk focused on the evolving relationship between creators and audiences in contemporary art and music.
Musicologist and PhD candidate Christina Dioguardi has been awarded one of four Brandeis Dissertation Year Fellowships by the Graduate School of Arts and Sciences. Her dissertation is titled Scraping Beneath the Surface: A Study of Trecento Florentine Identity in the San Lorenzo Palimpsest.
Alumni News
Composer Travis Alford PhD '14 has been awarded one of two Goddard Lieberson Fellowships for 2019. The Goddard Lieberson Fellowships of $15,000 are given annually to young composers of extraordinary gifts. Travis is currently an Assistant Professor of Music Theory and Composition at East Carolina University.
Composer Peter Van Zandt Lane PhD '13 has been promoted to Associate Professor of Composition with tenure. Peter is also Director of the Roger and Phyllis Dancz Center for New Music at the University of Georgia Hugh Hodgson School of Music.
Composer Emily Koh PhD '17 has been awarded an OPERA America commissioning grant via Boston's Guerilla Opera for the creation and premiere of her first concert-length opera,HER:alive|un|dead: a media opera.
Composer Christian Gentry, PhD '12 has been granted tenure as Assistant Professor of Music at Framingham State University.
Musicologist Reba Wissner  PhD '12  has been appointed Assistant Professor of Musicology (tenure-track) at Columbus State University's Schwob School of Music. 
Fall 2019
Department News
On October 29-30, the department hosted a workshop and performance event Texture, Surface and Line: The Listener's Experience of Late Medieval Music.  Organized by Professor Karen Demond, the event featured members of Boston's Blue Heron ensemble, directed by Scott Metcalf, and medieval music scholars Margaret Bent (All Souls College, Oxford and the British Academy),  David Catalunya (University of Oxford),  Karen Desmond (Brandeis University), Lawrence Earp (University of Wisconsin-Madison), Brad C. Hartt (Oberlin Conservatory of Music),  Jesse Rodin (Stanford University),  Anne Stone (CUNY Graduate Center) and Anna Zayaruznaya (Yale University). 
The culminating event was an exquisite performance by Blue Heron titled Si douce a oir—The Sweet Sound of Medieval Song.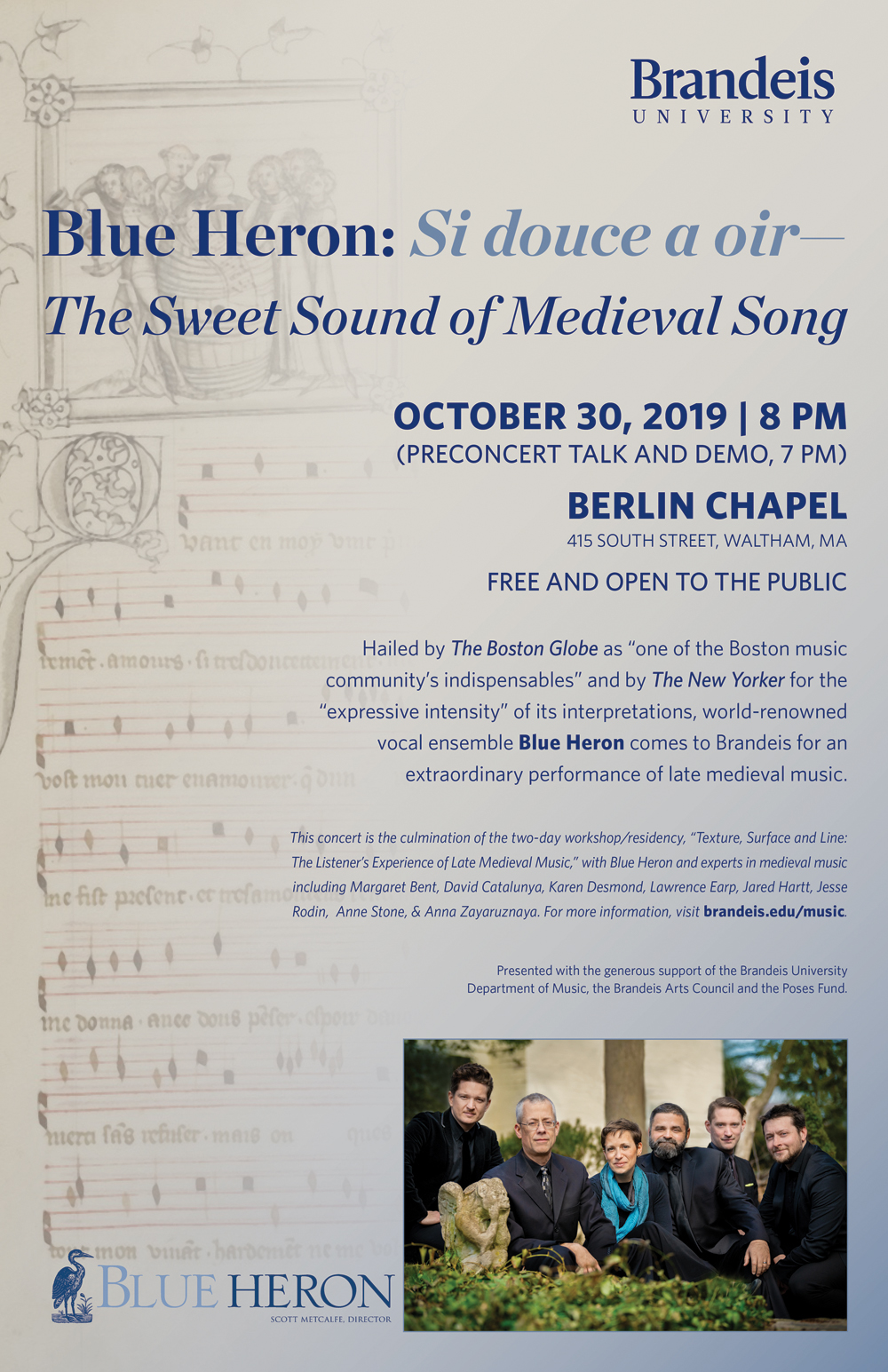 The music department was well represented at the annual national meeting of the American Musicological Society (AMS) meeting that was held in Boston on October 31 – November 3. 
Professor Karen Desmond presented at a session on Digital Musicology: Dialogue, Demonstration, Demystification.
PhD candidate in musicology Matt Heck gave a paper titled "Chromatic Bifurcation and Philosophy of Disunity in Shostakovich."
PhD candidate Jacques Dupuis presented a poster at the Poster Session titled "Who's Not] On the Radio: Gender Representation in US Classical Radio."
Alumnus Joel Schwindt, PhD '14 in musicology presented a talk titled "'Me at Last, Me at Last': Black Artists Freeing Themselves from Country Music's 'White Avatar.'"  Joel also chaired the session titled Rhetorical Devices.
Alumnus Derek Strykowski, PhD '16 in musicology presented a talk titled "Sounding the Interrogative: Cadential Attenuation as Systematic Device in the Madrigals of Sigismondo d'India."
Alumna Reba Wissner, PhD '12 in musicology chaired the session: What can I Do: The Future of Musicology. A Roundtable and Workshop for Faculty, Graduate Advisors, and Administrators.
Our Brandeis reception took place on Friday "late in the evening."
Faculty News
Karen Desmond is the recipient of the prestigious Lewis Lockwood Award for 2019 for her book Music and the moderni, 1300-1350: The ars nova in Theory and Practice.  The announcement came at the annual meeting for the AMS, which was held in Boston, October 31 - November 3.  The Lewis Lockwood Award is given "for a musicological book of exceptional merit published during the previous year (2019) in any language and in any country by a scholar in the early stages of his or her career."   The citation for her award reads: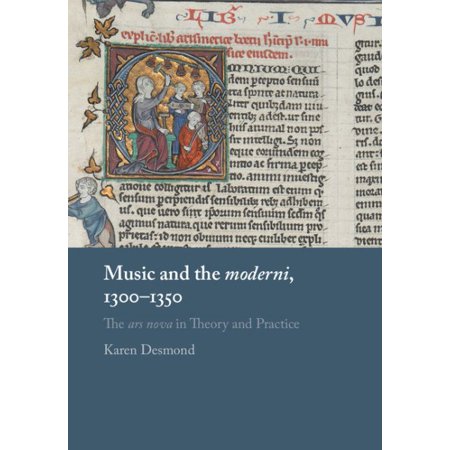 Karen's book was subsequently chosen as a finalist for the Society of Music Theorists Wallace Berry Award. The letter from SMT President Patricia Hall reads, in part: "This year's competition was particularly fierce and the fact that your book was selected by the SMT Publication Awards Committee as one of four finalists bears witness to its outstanding quality."
Sarah Mead is editor of the new publication of 14 Sonetti Spirituali of Vittoria Colonna by Pietro Vinci, PRB Productions, 2019.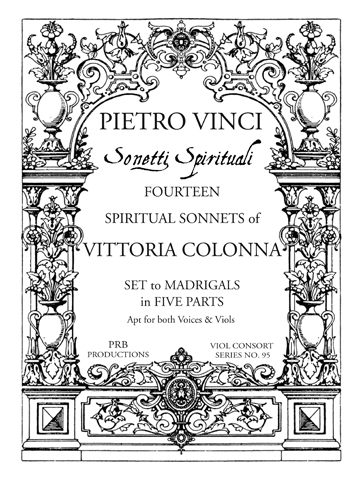 Judy Eissenberg's article " A Wild Goose Flying in the Sky – Gugak from Korea" appeared in the September 4 edition of The Boston Music Intelligencer. In the article she discusses the history of this important Classical Korean genre in the context of its recognition as a Korean Cultural treasure, and goes into great detail about the music, instruments and dance forms. 
Professor Emeritus Robert Marshall has a new book out Bach and Mozart: Essays on the Enigma of Genius, published by University of Rochester Press.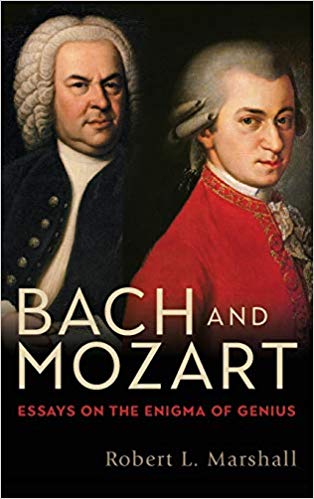 David Rakowski is having a typically busy year outside of Brandeis. He has a premiere of "Eighters Gonna Eight" for piano 8 hands on New Gallery Concert Series, Longy School on November 7. Also on the program are "Crackling Fire" for piano 4 hands, and two piano preludes. The concert will be repeated at Loewe Theater in NYC on Nov 26. Davy will be featured guest composer at the Red Note Music Festival, Illinois State U, in February, guest lecturer at Muhlenberg College, Allentown PA, on March 20, and guest composer at the USF New Music Festival & Symposium, Tampa, Florida, in April.
In a notice in the November 25 issue of The New Yorker magazine of an upcoming performance of his piano music at the Frederick Loewe Theater in NYC reviewer Steve Smith states: 
Vocal instructor mezzo soprano Krista River performed and recorded Tobias Picker's opera "Fantastic Mr. Fox," which has won a Grammy Award for Best Opera Recording.
The ensemble, conducted by Gil Rose, includes cast members Krista, John Brancy, Andrew Craig Brown, Edwin Vega, Gabriel Presser, Elizabeth Futral, Tynan Davis, Teo Lebow, Andrew Kremzer, Gail Novak Mosites, John Dooley, and Jonathan Blalock. They are joined by the Boston Children's Chorus.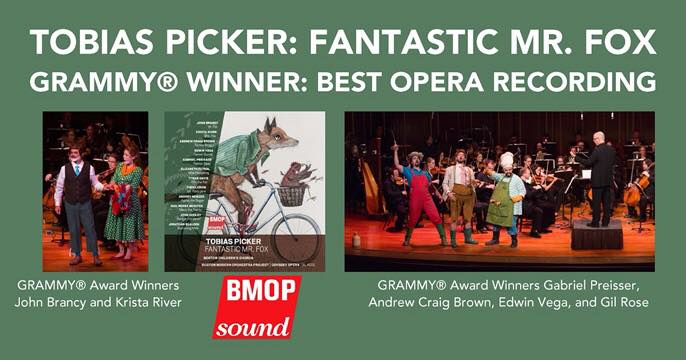 Graduate Student News
Musicologist and PhD candidate Jacques Dupuis received a Provost's Dissertation Fellowship to travel to Berlin, Weimar and Detmold, Germany this past summer to conduct archival research for his dissertation on Schumann's domestic dramatic vocal works.
Supported by a Mellon Foundation Dissertation Research Grant musicologist and PhD candidate Christina Dioguardi spent a month in Germany and Italy during September and October conducting research for her dissertation titled: "Scraping Beneath the Surface: A Study of Florentine Identity in the San Lorenzo Palimpsest."  The trip included 4 days in Hamburg working with Dr. Andreas Janke and his colleagues at the CSMC (the Centre for the Study of Manuscript Cultures) on the San Lorenzo Palimpsest, and the remainder of time in Florence working with primary sources at the Biblioteca Nazionale Centrale di Firenze, Biblioteca Medicea Laurenziana, and the Archivio del Capitolare della Basilica di San Lorenzo.  
In tandem with her research interests in cross-cultural idioms in music and theology, musicologist and PhD candidate Mina Cho composed a Pansori Cantata work "Gilryungjeon" ("Dream of Gilryung") where the Korean musical storytelling genre Pansori and a Western cantata meet a jazz orchestra. This piece tells the story of a Pansori singer named Gilryung in conjunction with the Passion of Christ according to St. Matthew Passion. n October, Renowned Gugak (Korean traditional music) artists (Gugak Jazz Society) came to Boston to premiere the piece and conduct workshops at Emerson College, New England Conservatory, and Tufts University.
Composer and PhD candidate Jeremy Rapaport-Stein  was artist in residence at Crosstown Arts in Memphis this fall, where he had a sound installation as part of their winter open house event. 
In November  LA New Opera West presented two performances of "The Moose," a mini-opera he wrote for Guerilla Opera's residency at Brandeis. Jeremy was chosen as one of 6 composer fellows for line upon line's Winter Composers Festival in Austin. He will be going to Austin in January to workshop a new piece for percussion quartet and perform a new piece for voice and electronics.
Musicologist and PhD candidate Zen Kuriyama supplied program notes for Musica Sacra New York's October 21st concert, "Music for a Gothic Space," at the Cathedral of St John the Divine in NYC. The concert features Machaut's "Messe de Nostre Dame," various motets, and the chanted Mass Propers for the Feast of All Saints. Musica Sacra New York is the longest continually-performing professional chorus in NYC. He subsequently provided the program-booklet essay for Musica Sacra New York's performance of Handel's "Messiah" at Carnegie Hall, on December 23. 
Zen was invited to Scotland to give a talk at the University of St Andrews. The title of the talk was "'Dear Ceddie': Discovering Gerald Finzi through St Andrews' Master of Music, Cedric Thorpe Davie." 
He has also been invited to submit his first peer-reviewed book chapter, in the Society of Christian Scholarship in Music's upcoming volume, "Christian Music Traditions in the Americas." The chapter will be on Virgil Thomson's choral works and the influence of shape-note hymnody. 
Alumni News
Kevin C. Karnes, PhD '01 in Musicology, Chair of the Department of Music at Emory University, has been appointed Vice Provost for the Arts at Emory.
Composer Emily Koh, PhD '17 in Composition & Theory has been awarded the Copland House Residency Award  for 2019. Artists chosen for the award "have pursued diverse creative interests and idioms, ranging from concert music to jazz, acoustic to electronic, fully-notated to improvisatory, socially-engaged to abstract. These all-expenses-paid, short-term stays at Copland House provide composers with the opportunity to focus undisturbed on their creative work at Copland's National Historic Landmark home in New York's Lower Hudson Valley." Emily is Assistant Professor of Composition at the Hugh Hodgson School of Music, University of Georgia.
Composer Tina Tallon, MFA '13 has written an article for the November 3, 2019 issue of The New Yorker magazine titled "A Century of 'Shrill': How Bias in Technology has Hurt Women's Voices."  Tina completed her PhD in composition at UC San Diego and is currently an Assistant Professor of Composition at the Boston Conservatory at Berklee and Visiting Assistant Professor of Music in the Visual and Performing Arts Department at Clark University.
Violist Yoni Battat, BA '13 continues traveling and performing at home and abroad. In Toronto he brought the duo version of Two Shekel Swing to the Bernard Betel Center for a full length concert of Yiddish nostalgia and smoking swing. 

He then headed to Northern Italy to reunite with friends of the VS Chamber Ensemble to premiere a new piece written by his long-time collaborator, Mario Pagotto as part of the 28th Annual International Festival of Sacred Music in Pordenone, Italy.

This was followed by a trip to New York to present some Arabic music and Piyutim (sacred poems) to the Iraqi Jewish Young Professionals Networking Group.


Composer/Librettist Rachel Peters, BA '99 in Music and Theater Arts, has a busy season ahead, including performances of new works and ongoing projects. In June 2021, the Virginia Arts Festival will present the premiere of Rachel's opera "Companionship."  The opera tells the story of an aspiring baker whose obsessive quest to bake the perfect baguette spirals into madness when her 207,345th loaf suddenly comes to life. Adapted from the short story by Arthur Phillips,"Companionship" mirrors our contemporary world, where what we consume becomes all-consuming. The opera features seven soloists, a children's chorus and an ensemble of eleven instruments, with stage direction by Bob McGrath, Co-Founder and Director of Ridge Theater in New York.  The opera will be part of double-bill with the premiere of "Bre'r Rabbit"(from Tales From the Briar Patch) composed by Nkeiru. Learn more about Rachel Peters and her 2020 schedule!
Robert Pearson, PhD '10 in Musicology, currently the Assistant Dean of Professional Development and Career Planning at Emory University, was featured in the Brandeis GSAS Alumni Spotlight.