The Score: 2015-2016
Commencement 2016
Congratulations to our class of 2016 degree recipients!
Watch the video of the 2016 School of Creative Arts Diploma Ceremony.
Tony Arnold, recipient of the 2015 Brandeis Creative Arts Award gave an inspiring and passionate speech at the SCA Diploma Ceremony.
Undergraduates
Peter Wray Eckman - Bachelor of Arts
Major in Music
Felipe Feffer - Bachelor of Arts
Majors in: Music; Philosophy
David Andrew Kapaon - Bachelor of Arts Cum Laude
Majors in: Music: Cultural Studies Track; Anthropology; Minor in: Classical Studies
Recipient of the Florence and Charles H. Milender Prize in Music
Samuel John Longo-Capobianco - Bachelor of Arts Summa Cum Laude
Majors in: Music with honors: Composition Track; East Asian Studies
Recipient of the Sandy Shea Fisher '56 Prize for Creative Arts
Jacob Allan MacKay - Bachelor of Arts Summa Cum Laude
Majors in: Music with highest honors: Performance Track; Environmental Studies
Recipient of the Sandy Shea Fisher '56 Prize for Creative Arts
David Jonathan Stiefel - Bachelor of Arts Cum Laude
Majors in: Music with high honors: Composition Track; Language and Linguistics
Recipient of the David A. Greene, M.D., Class of '71 Memorial Prize in Music
Graduate Students
Daesik Cha - Doctor of Philosophy in Musicology
Dissertation: Transformation of the Keyboard Fantasia in the Classical Period (1780-1800)
Recipient of the Sandy Shea Fisher '56 Prize for Creative Arts
Eugenio Delgado - Master of Fine Arts in Musicology
Eric Elder - Master of Fine Arts in Musicology
Mu-Xuan Lin - Doctor of Philosophy in Music Composition and Theory
Dissertation: On the Epistemological and Methodological Approaches in the Analysis of Contemporary Music and a Synthesized Analysis of Fausto Romitelli's La Sabbia del Tempo (1991), and an original composition Bonjour Minuet – a theatre of poetry: Proem and Episodes 11.1~1.4 (2013-15
Barbara Killeen Paquette - Master or Arts in Musicology
Jeremy Rapaport-Stein - Master of Fine Arts in Music Composition and Theory
David Stenson - Master of Fine Arts in Music Composition and Theory
Derek Robert Strykowski - Doctor of Philosophy in Musicology
Dissertation: Maximalism and the Nineteenth-Century Orchestral Style
Spring/Summer 2016
Department News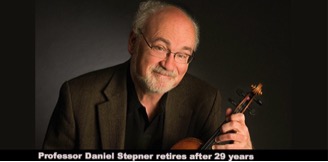 After 29 years as first violinist of the Lydian String Quartet and Professor of the Practice at Brandeis Dan Stepner is retiring at the end of the summer. Dan has been a leading voice not only for the Lydians, but for solo and chamber music performance at Brandeis as well. With passion, scholarly insight and enormous virtuosity he has inspired scores of students and colleagues at Brandeis and at Harvard where he also taught for many years. Fortunately for us Dan will remain close, playing annual recitals, leading his week-long summer string workshop, and producing and direct Aston Magna summer concerts all here at Brandeis.
Read Dan's recent interview with The Boston Globe.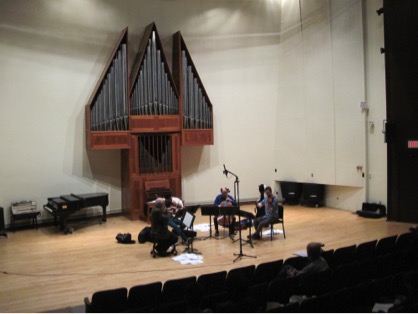 Lydian String Quartet performing minuets by students of MUS 101b: Music Theory I
Every year in early May the Lydian String Quartet performs a Minuet Reading of Works by Students of MUS 101b: Music Theory I. Student are required to compose minuets for string quartet as a final project and then have their compositions performed in a live reading by the Lydians. Instructors for MUS 101b were Davy Rakowski and Whit Brown. This year's reading took place on May 4.
This past March Slosberg Lobby was transformed into and art gallery for an Exhibition of Contemporary Korean Artwork. The exhibition featured 26 works and was conceived in collaboration with the MUUS Residency: Korean Gugak: Soundscapes of the Soul.
On March 12 & 13 the department presented a Fauré Festival Weekend celebrating French composer Gabriel Fauré. Conceived and curated by Dan Stepner the festival included talks and a round table discussion by scholars Nicolas Southon (editor-in-chief of the Complete Works of Gabriel Fauré), Carlo Caballero (Associate Professor of Music and Erma Mantey Faculty Fellow, University of Colorado), and Clémentine Fauré-Bellaïche (Assistant Professor in French and Francophone Studies, Brandeis University), a vocal master class with tenor Frank Kelley, and performances by the Lydian String Quartet, mezzo soprano Lynn Torgove, pianists Donald Berman and Ya-Fei Chuang, cellist Jacob MacKay, the Brandeis-Wellesley Orchestra, and the Brandeis Chorus (performing Fauré's Requiem). The festival was funded by a grant from the Brandeis Arts Council.
Early Music Ensemble director Sarah Mead has received an invitation from the Il Encontro Brasileiro de Viola da Gamba to participate as a teacher and to give a talk sharing her expertise as a long-time member of the Board of Directors and Music Director of the annual Conclave of the Viola da Gamba Society of America. The meeting will take place in Brasilia from September 9 – 11, 2016.
As part of the department's ongoing Outreach to the Community Program the Chamber Singers, led by Robert Duff, performed on February 28 before a full house at the Tower Hill Botanical Garden in Boylston, MA.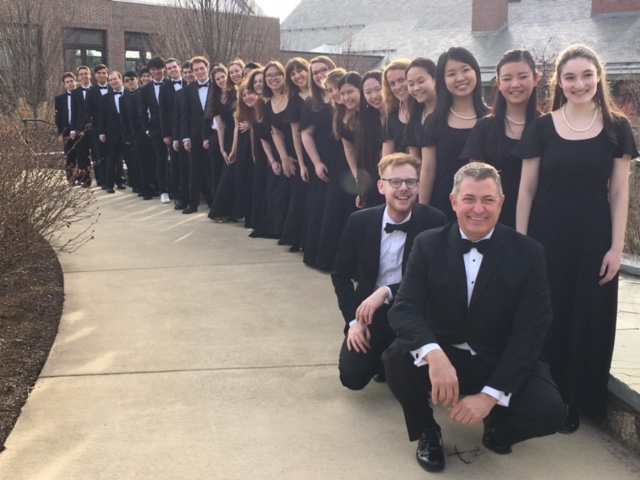 Undergraduate Student News
Several undergraduate chamber music students performed on Sunday, May 1 at Brookhaven at Lexington Assisted Living Center. Performers included Krista Hu, Hannah Chidekel, Ivy Gu, Kerri Gardner, Moira Applebaum, Amy Clark, Samantha Lauring, Jacob MacKay, and Jeremy Koob.
On Tuesday, May 3rd, jazz pianist Moira Applebaum '17 performed for the installation of the new president of the Brandeis National Committee at a reception and dinner held at the Newton Marriott.
On Saturday March 5th, Brandeis hosted a chamber music play-in - coordinated by Nina Sayles '17 - as part of the ACMP World Wide Play-in campaign. The play-in was an attempt to have as many people around the world as possible playing chamber music. Musicians attending read various chamber works purely for pleasure, including an entire group reading of Bach's Brandenburg Concerto #3. They also mingled over a potluck lunch. Over 20 musicians attended, including Brandeis students and faculty, non-Brandeis students, and greater-Boston locals. Eight different instruments were represented, including the mandolin!
Graduate Student News
Composer and PhD candidate David Dominique has been appointed Assistant Professor of Theory and Composition at the College of William and Mary beginning in fall, 2016. Dave is currently performing in Los Angeles in preparation for recording his next album, Mask, for his LA-based jazz ensemble, and is composer, conductor and co-producer of a new evening-length theater work Broken Record, which will be presented in Los Angeles this coming June and July.
Composer and PhD candidate Jared Redmond has received a 2016/17 Mellon Dissertation Year Fellowship. Jared's dissertation is titled "Cast a Butterfly in Iron: Sorcery and the failed Transcendence of Scriabin's Netherstar Sonata, and an original composition Down the Deep Stair for soprano and string quartet." Using techniques from Schenkerian analysis, theories of Russian octatonicism, and theoretical tools from philosophy and literary criticism, Jared argues that "Scriabin's 6th Piano Sonata, the only work he superstitiously refused to perform in public, resulted from profound tensions between his spiritual-Symbolist ideals and his compositional technique, and that it profoundly changed the course of his work to follow." His composition Down the Deep Stair freely sets a text from late fragments of Samuel Beckett.
PhD candidate in musicology Alexander Lane performed during a taped broadcast of the popular radio quiz show "Says You" on March 14th at BOLLI (Brandeis Osher Life-Long Learning Institute). A Podcast of the show was released on April 1, 2016. To listen, visit "Says You" in iTunes. In the Boston area, "Says You!" airs on WGBH 89.7 FM Saturdays at 8 p.m. and Sundays at 2 p.m.
Charles Stratford, PhD candidate in musicology, has an article forthcoming in the September 2016 issue of The Journal of the Arnold Schoenberg Center, entitled, "'Old Forms in New Music': Neoclassicism in Schoenberg's Serenade, op. 24."
Jacques Dupuis, PhD candidate in musicology, presented two papers this spring: first, "Playing on Genre: Robert Schumann and his Domestic Dramas," at the Bowling Green State University Graduate Student Conference; secondly, "Trading Spaces: Schumann's Transmission of Melodrama from the Concert Hall to Hausmusik," at the Rutgers University Musicological Society's Graduate Student Conference.
Georgia Luikens, PhD candidate in musicology, presented, "Transposing Opera: Yiddish and Romani Arias in Sally Potter's The Man Who Cried," at the Music and the Moving Image Conference this May in New York City. Georgia's review of, "Allen Shawn's Leonard Bernstein: An American Musician (Jewish Lives)," will appear in an upcoming issue of Vingtième Siècle.
In addition, her essay, "Staging Politics: Unity, Religion, and Collective Mourning in Leonard Bernstein's Mass," will appear in the volume Bernstein's Washington, to be published in 2017.
Victoria Cheah, PhD candidate in theory and composition, received a commission from Marilyn Nonken for solo scordatura piano (n.961, 963), with premiere performances in Boston and New York scheduled for this May. For this project, Marilyn commissioned composers Richard Carrick, Nina C. Young, Marcos Balter, Edmund Campion, Christopher Trapani, Victoria Cheah, and Brian Erickson to write works in memory of Gérard Grisey, using the scordatura required for his Vortex Temporum.
Composer, pianist, and PhD candidate in theory and composition Talia Amar's composition Reminiscence has been selected to be performed at the New Music Edmonton 2015-2016 Festival. In addition, her piece Phantasmagoria was performed and recorded by Jai Jeffryes on his new CD "Tangent Shores - Amethyst." Amar was also recently awarded the Rosenblum Prize for Young Promising Artists for 2016. This award is granted by the Tel-Aviv municipality and is designated specifically for performing artists (actors, singers, dancers, instrumentalists).
Mu-Xuan Lin, who is completing the PhD in theory and composition this spring, received Honorable Mention at the neuverBand International Commission Competition 2016 (Switzerland). Her work Pale Fire (2015), a Piano Spheres commission for solo piano and electronics, received its premiere performance on February 23rd by pianist Vicki Ray at REDCAT (Roy and Edna Disney/CalArts Theater), Los Angeles, following a panel discussion with guest moderator John Schneider (Radio KPFK, Director of Microfest). This followed a preview performance at The Boston Court in Pasadena, CA. Pale Fire (2015) received positive mention in the Los Angeles Times and a review by author Douglas Messerli.
Mu-Xuan was selected to serve as a fellow at the Sävellyspaja of Summer Sounds Festival 2016, Finland, where she will work with Avanti! Chamber Orchestra. She was also selected as an Associated Artist at the Atlantic Center for the Arts Master Artist-in-Residence Program 2016, working with Master Artist Georg Friedrich Haas.
In February, Eric Elder, candidate for the MFA in musicology, participated in the University of Arizona Graduate Student Music Conference in Tucson, presenting in both the conference proper and in a preceding workshop on the analysis of nineteenth-century sonata form. In the conference paper, "Rudolph Reti's Motive?" Elder examined the philosophical cosmology underlying the theory of thematic process outlined by the eponymous composer, critic, pianist, and theorist, and applied his findings by developing an analysis begun by Reti of Brahms' Symphony in D major, op. 73. In the workshop, led by conference keynote Robert Hatten and noted Schenkerian Boyd Pomeroy, Elder presented two alternative Schenkerian approaches to the first movement of Schumann's Fantasie in C major, op. 17. Eric will be continuing in the PhD program in musicology beginning this fall.
Faculty News
David Rakowski has been elected to the American Academy of Arts and Letters. Election to the academy is considered the highest recognition of artistic merit in the United States. The academy is divided into departments of art, literature and music. The roster of 250 members includes some of the country's most influential artistic minds, including Toni Morrison, Joyce Carol Oates, Stephen Sondheim, Philip Glass and Frank Gehry. Composer and meritus professor Yehudi Wyner serves as the Academy's president. BrandeisNow covered the story.
Yu-Hui Chang was a featured composer, along with composer Erin Gee and ECCE ensemble, at Tulane Universitys 2016 NienteForte Contemporary Music Festival in March. Yu-Hui was part of the Panel Discussion, a Pre-Concert lecture (to talk about music), a concert where her piece "Rhetorical Flourishes" was performed, and a masterclass.
Yu-Hui has been invited to be the inaugural guest composer for the Kneisel Hall Chamber Music Festival's Composers NOW Project. Kneisel Hall is a Chamber Music Festival located in Blue Hill, Maine, that runs for seven weeks in the summer. Each summer the festival invites 50 most talented young musicians (ages 18-28) in the country (strings and piano) to work intensively on great chamber works, coached by members of the Juilliard String Quartet and faculty from top conservatories. Yu-Hui will be in residence July 13- 16 and will coach the young musicians who will be performing a work of hers, give open rehearsal/talk, meet with the young musicians who are also composers, and attend the public performance of her piece.
Dan Stepner is a recipient of the 2015 Mandel Center for the Humanities Faculty Grant for his scholarship and pedagogical programming about the Mesoamerican origins of the Chaconne dance in Europe. The Odyssey of the Chaconne, a documentary, will include a performance of Bach's Ciaconna.
This past year, Neal Hampton was named Assistant Conductor of the Plymouth Philharmonic. He was also invited to conduct the New Philharmonia (Newton, MA) in September, returning in March to lead a concert of all-Viennese music. In February, he conducted the Cape & Islands Music Festival Orchestra.
This spring, Paula Musegades chaired a panel at the Society for Cinema and Media Conference in Atlanta, Georgia, where she presented a paper on Copland's creation of propaganda in film music. In April she traveled to Belfast, Ireland to present a paper at the British Association for American Studies. The paper discusses Victor Young's film score for The Quiet Man. In May she attended the Music and the Moving Image conference in New York and present a paper on Aaron Copland's film score for The North Star.
This summer Professor of the Practice and Early Music Ensemble director Sarah Mead will direct the Annual Conclave of the Viola da Gamba Society of America gathering at Pacific University, Forest Grove, OR. Sarah serves as Music Director of the Society.
This summer, Mark Berger, Lydian Quartet violist and Associate Professor of the Practice, will be joining an international roster of musicians at the Newport Music Festival, performing chamber music concerts at the famous mansions and museums of historic Newport, RI from July 9-17. Mark will also be returning this summer as strings coordinator for the Boston University Tanglewood Institute's Young Artist Orchestra program for their 50th Anniversary Season running from July 3 - August 13 in Lenox, MA.
In June our Ghanaian Drumming and Dance instructor Ben Paulding is presenting at the Fourth International Conference on Analytical Approaches to World Music at The New School in New York City. He will present a poster entitled "Kete: Ashanti Royal Court Drumming from Ghana." This conference features papers, workshops, concerts, and nine poster presentations. Ben's abstract is hosted on the AAWM website. Complete conference information is on their website.
Alumni News
Composer Travis Alford PhD '14 has recently been appointed Teaching Assistant Professor of Music Theory and Composition at East Carolina University.
In February composer John Aylward, PhD '08 had a premiere of his first opera Switch, performed by the Ecce Ensemble, soprano Amanda DeBoar Bartlett, and bass-baritone Mikhail Smigelski. The opera (libretto also by John Aylward) explores the relationship between an artist and his muse. It was performed at Le Laboratoire, In Cambridge, MA.
Hermann Hudde, MA '12 (Musicology), received a 2016 Research Grant from the Latin Grammy Cultural Foundation for his project "Conversaciones Con Compositores de las Américas." Hermann will research, document and publicize the life and works of prestigious Latin American composers residing in the United States, while demonstrating how their works contribute to the enrichment of concert music in the Western world.
Composer Laurie San Martin, PhD '03 is a 2016 recipient of a Guggenheim Foundation Fellowship. There were a total of 178 awardees chosen from a group of nearly 3000 applicants to the Foundation's competition. Laurie is currently Professor of Music at UC, Davis.
Fall 2015
Department News
Renowned soprano Tony Arnold is the recipient of the 2015 Brandeis Creative Arts Award. The award was established in 1956 as the first of its kind from an institution of higher learning. Recipients of awards and citations include Leonard Bernstein, Ernest Bloch, Aaron Copland, Gunther Schuller, Rudolph Serkin, Yehudi Wyner, Mark Rothko, Georgia O'Keeffe, Sam Shepard, Eudora Welty, Tennessee Williams, George Balanchine, Jerome Robbins, Twyla Tharp and Lincoln Kirstein. The award was given until 1995.
As Creative Arts recipient and Artist-in-Residence at Brandeis, Tony Arnold will focus on three topics: identity, politics, and embodiment of voice. She will work closely with students to create an original multidisciplinary work for performance, and will also offer other performances throughout the year, including a concert on November 18 at the Rose Museum, where she will present a series of musical works selected in response to the artwork on display by Roy Lichtenstein and Lisa Yuskavage. BrandeisNow covered the story.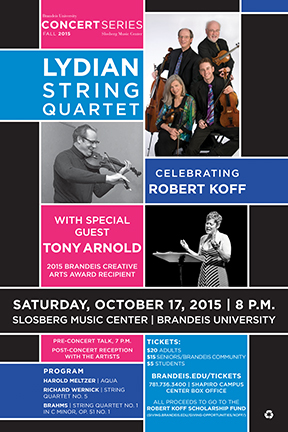 Brandeis has established the Robert Koff Scholarship dedicated to supporting undergraduate instrumentalists, with particular emphasis on string players. This scholarship is named after legendary founding member of the Juilliard String Quartet and longtime member of the music department Robert "Bobby" Koff. Particular recognition is due to Barbra Rabson '80 who studied with Bobby and spearheaded the initiative to raise funds for the scholarship. Special thanks go to Rosalind Koff and the Koff Family and to Alfred and Claude Mann for their generous support. The awarding of the first scholarship is planned for the 2016/17 academic year.
The scholarship was formally inaugurated at a concert on October 17 with the Lydian String Quartet and guest artist Tony Arnold.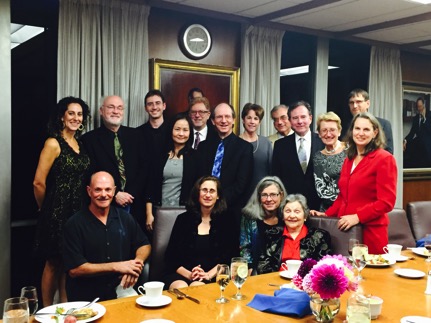 This past summer the department purchased a new Steinway B Concert Grand for the recital hall. Artists Donald Berman, Evan Hirsch, and Randall Hodgkinson, accompanied by piano technicians Debbie Cyr and John Von Rohr traveled to the Steinway factory in New York to select the instrument from among 15 pianos on the floor. The department has also purchased two new Yamaha grand pianos for classrooms.
Faculty News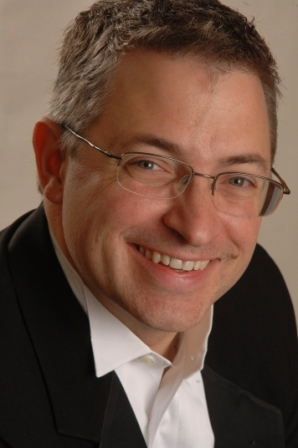 The department is pleased to welcome Professor Robert Duff to the faculty. Robert is our new Associate Professor of the Practice and director of the Brandeis University Chorus and Chamber Choir.
Robert has devoted his career to developing excellence in the choral arts, and has served on the faculties of Dartmouth College, Pomona College, Claremont Graduate University, and Mount St. Mary's College in Los Angeles. He continues to serve as the conductor and artistic director of the Handel Society of Dartmouth College, the country's eldest town-grown oratorio society. An active commissioner of new music, he has given several world premieres of works for both orchestral and choral forces and regularly programs music by living composers.
As guest conductor and clinician, Robert has served in national leadership roles and currently serves as the Vice President of the Eastern Division of the American Choral Directors Association (ACDA), and has been appointed by Governor John Lynch as Councilor to the New Hampshire Council on the Arts. Robert holds degrees in conducting, piano and voice from the University of Massachusetts at Amherst, Temple University, and the University of Southern California, where he earned a doctorate of musical arts in 2000. In addition to directing the two Brandeis ensembles, Robert will offer conducting courses in the department.
On October 2, Robert took the Brandeis Chamber Choir on a weekend retreat to the Berkshires. The ensemble, comprised of 29 undergraduates, boarded a bus at Slosberg and spent the weekend engaged in rehearsals and group bonding.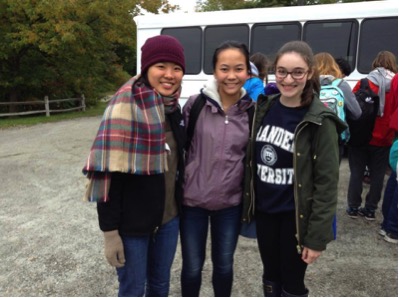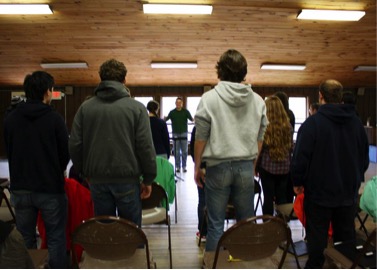 Robert has recently received funding from Brandeis for a Brandeis Commission Project related to the upcoming Louis D. Brandeis Centennial Celebration that will be happening on campus this winter and spring. The project encompasses commissioning a graduate student composer to write a work for the Chamber Choir. Composers will be invited to submit scores for consideration, and the selected work will be performed on the spring 2016 choral concert.
Saturday, October 24 marked the department's celebration of Eric Chasalow's 60th Birthday with a concert in the recital hall by Dinosaur Annex Ensemble. The program featured two works by Eric: Due (Cinta) Mani (2002) and the Boston premiere of On That Swirl of Ending Dust (2011); premieres of two works composed for the occasion: A Long Overdue Sequel by Yu-Hui Chang and All That Chas by Davy Rakowski; and Quartetto No. 4 by Mario Davidovsky.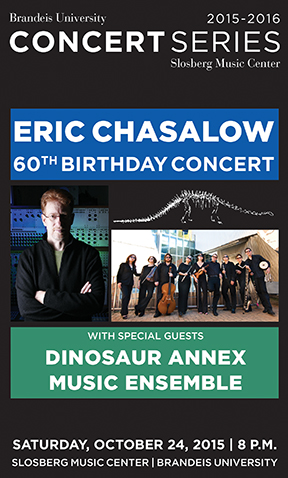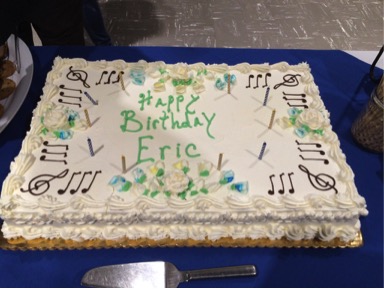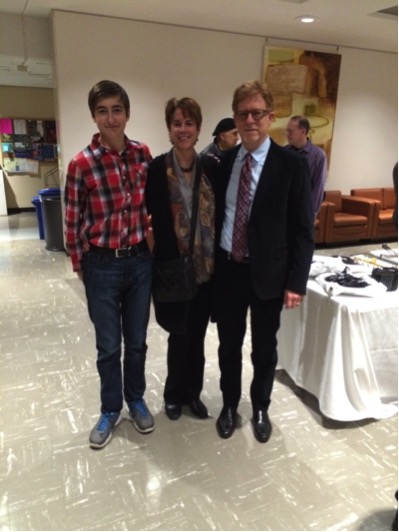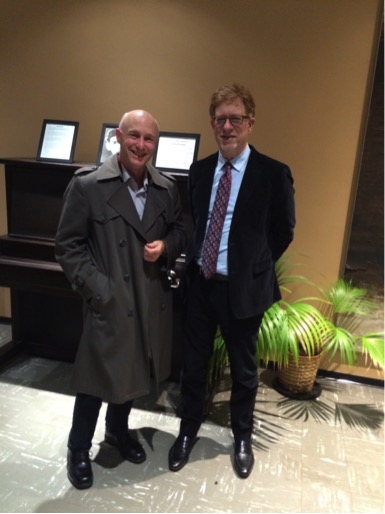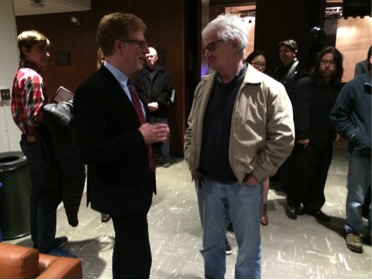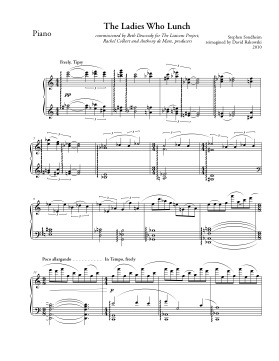 Composer Davy Rakowski was one of a select group of composers commissioned to compose works for Liaisons: Re-Imagining Sondheim from the Piano. The initiative of pianist Anthony de Mare, the project is an 80th birthday gift to Stephen Sondheim whereby composers write original works for solo piano based on Sondheim songs. Davy's brilliant work is The Ladies Who Lunch. A cd of the completed project has just been released by ECM Records.
Sarah Mead and Jason McStoots celebrate the release of a CD from Cornetto-Verlag with a performance and champagne reception at the Goethe Institute in Boston. As music Director for the project, Sarah gave a lecture on Samuel Capricornus and the backdrop of the Thirty Years War, and joined the ensemble as a guest performer.
Complete information about the recording and videos are on th Long & Away website.
Percussionist and director of African Drum and Dance Ensemble "Fafali" Ben Paulding spent two months in Kumasi, Ghana, conducting research on Kete, a genre of dance-drumming from the Ashanti King's royal palace. His research consisted of interviews and recording sessions with the region's reputed four original Kete groups -- Ankaase, Nkwantakese, Tafo, and Kokofu. Ben's article "Kete for the International Percussion Community" was recently published as a chapter in Discourses in African Musicology: J. H. Kwabena Nketia Festschrift. Published jointly by the U. of Michigan and U. of Ghana, the book is a collection of works celebrating the life and work of renowned Ghanaian ethnomusicologist J. H. Kwabena Nketia. The article presents Kete, a royal dance-drumming genre from the Ashanti Region of Ghana, in Western notation and offers adaptations of Kete rhythms onto the drumset.
Read the full article as it appeared in the online newsletter Rhythm! Scene, published by the Percussion Arts Society. Watch a video of Ben playing Kete with the Nkwantakese Kete Group, as well as a video of Kete for drumset and Kwadum.
In November Ben is presenting a paper at the Percussive Arts Society International Convention in San Antonio, Texas titled "Kete: Ashanti Royal Court Drumming from Ghana."
This year Ben is also collaborating with Ken Field, director of the Brandeis Spirit Band to arrange music for the band and Fafali for joint performances at athletic events.
Paula Musegades, PhD '14 (musicology) begins her two-year tenure as Florence Levy Kay Fellow in Music and American Studies. This year she is offering courses on American Music: From Psalms to Hip-Hop, and Protest Through Song, and continuing her research on music in film.
Alumni News
Composer Seunghee Lee, PhD '14 has been appointed Visiting Assistant Professor of Music at Ave Maria University, Florida. She will be teaching theory and applied piano courses.
Musicologist Joel Schwindt, PhD '14 has been appointed to the music history faculty at The Boston Conservatory. In April Joel present a paper at a meeting of the Renaissance Society of America.
Composer Jeff Roberts, PhD '08 was recently awarded an Asian Cultural Council Individual Artist Grant to live for the summer of 2015 in Seoul, Korea and, as a guqin performer, co-found a new East Asian Improvisation Ensemble with Korean piri and saenghwang master Gamin. As part of the grant project, Jeff also studied the Korean traditions of sinawi and sanjo and traveled around Korea to attend different Shaman rituals. His current work in Korea was rooted in a fellowship he received from the Korean National Gugak Center in 2014 to attend their two week workshop on Korean traditional music. Jeff's paper "Implications of Electro-acoustic Composition in an Intercultural Context: Negotiating Cultural Meanings and Uses of Timbre" was recently published in the journal eContact!, associated with the Canadian Electroacoustic Community and the Toronto Electroacoustic Music Symposium. The article appeared in late August. Jeff also was recently awarded artist residencies at the Banff Center in Canada and the Virginia Center for the Creative Arts to work on new compositions for this ensemble as well as on two commissions from the groups Cellophone (Toronto, Canada) and the Williams Chamber Players (Williamstown, MA).
Composer Michele Zaccagnini, PhD '15 will have an article, which is based on his doctoral dissertation Aldo Clementi's System, published in an upcoming volume of New Music Perspectives. Ircam will publish a description of the (algorithmic) procedures that he used to write the dissertation piece on the next volume of The OM Composer's Book vol. 3. And Michele will be presenting his musical interface for brainwaves coming from a meditator at the Ircam Forum Workshop in Sao Paulo, Brazil in early November.
Composers Yiguo Yan, MFA '14 and Travis Alford PhD '14 are 2015 winners of the American Prize in Composition. Yiguo has won the prize in opera, theater, film for her opera Colors of Obsession, and Travis has won in the choral division for his piece O Fragile Human, Speak…
The American Prize is a series of new, non-profit, competitions unique in scope and structure, designed to recognize and reward the best performing artists, ensembles and composers in the United States based on submitted recordings. The American Prize was founded in 2009 and is awarded annually in many areas of the performing arts.
Composer Yohanan Chendler PhD '13 is the first winner of the Cluster Prize for a new work for flute, clarinet, and electronics. Cluster is an organization located in Lucca, Italy dedicated to the promotion of new music composition. Yohanan's new work will be published by Edizioni Sconfinarte.
Graduate Student News
Composer and PhD candidate David Dominique is currently on a Mellon Dissertation Year Fellowship. He spent September as an Artist in Residence at the Hambidge Center for Creative Arts in Northern Georgia, and in October he was awarded a fellowship by the MacDowell Colony, where he will be an Artist in Residence in the Spring semester. Dave's upcoming projects include a new album with his LA-based jazz ensemble, solo performances as "Furniture Daniel," and a new evening-length theater project to be staged in Los Angeles in 2016.
Composer, pianist and PhD candidate Jared Redmond is currently in Berlin with help from a Hertz Traveling Fellowship from UC Berkeley, where he is focusing full time on his compositions and piano work. I am composing two duo pieces: a work for two gayageums and a half-hour work for gayageum, violin, and projection. The pieces will be premiered by living gayageum legend and Seoul National University Professor Yi Jiyoung, her student Kim Doyeon, and Lydian String Quartet violinist Judy Eissenberg, on March 17th at Wellesley College. The premiere will be underwritten by the Korean Cultural Society of Boston. He is also preparing piano repertoire a CD to be recorded in 2016, featuring almost exclusively pieces written in the last 10 years.
Musicologist and PhD candidate Derek Strykowski presented the paper "Symphonies for Sale: How Composers and Publishers Negotiated the Style of Concert Music in the Long Nineteenth Century" at the October 3 AMS New England chapter meeting at Amherst College. His article "The Diegetic Music of Berg's Lulu: When Opera and Serialism Collide" is forthcoming from the Journal of Musicological Research in February 2016.
Composer and MFA candidate Daniel Allas is having his piece Suite Before Dawn in memory of Henri Dutilleux performed by the Milwaukee Symphony Orchestra on November 4. The concert is presented as part of the 2015 Milwaukee Symphony Orchestra Composer Institute, a program for emerging composers, that is partnered with the University of Wisconsin-Milwaukee and the American Composers Forum.
Composer and PhD candidate Joseph Sowa's orchestral composition Summer Has Ten Thousand Stars has been named semi-finalist in the student division of The American Prize. The piece was previously a finalist in the ASCAP Morton Gould Young Composer Awards.
Having received a stipend from EXPERIMENTALSTUDIO des SWR and grants from the Max Kade Foundation and the Center for German and European Studies at Brandeis, composer and PhD candidate Mu-Xuan Lin was able to attend the EXPERIMENTALSTUDIO des SWR's Matrix15, a conference for composition, aesthetics, and electroacoustic music in September and October in Freiburg, Germany. Her new miniature piece about G (2015) for flute, oboe d'amore, harp, clavichord, and violoncello, written specifically for Ensemble Proton Bern, will be premiered along 29 other miniatures composed by a roster of international composers on Ensemble Proton Bern's 5th Anniversary Concert, December 7th, 2015 in Bern, Switzerland. Her newest work Pale Fire for solo piano and electronics, commissioned by the Piano Spheres Concert Series and pianist Vicki Ray, will be premiered by Vicki Ray, February 23rd, 2016 at REDCAT (Roy and Edna Disney/CalArt Theatre) in Los Angeles. The work will be performed again at the Bang on the Can Festival in the summer of 2016. And her piece Peinture Nº1 (2014, rev. 2015) for bass clarinet and marimba will receive its west coast premieres in San Francisco and Oakland by Transient Canvas, in January 2016.