The Score: 2018-2019
Spring 2019
Commencement 2019
Congratulations to our undergraduate and graduate degree recipients for 2019!
Undergraduates
Amy Elizabeth Clark -  Bachelor of Arts with majors in Music with high honors, and Computer Science
Recipient of the Herbert and Sandra Fisher '56 Award for Exceptional Achievement in the Creative Arts
Shira E. Gersh - Bachelor of Arts Summa Cum Laude with majors in Music with high honors, and Environmental Studies
Recipient of the Herbert and Sandra Fisher '56 Award for Exceptional Achievement in the Creative Arts
Valerie Faye Janovic - Bachelor of Arts Magna Cum Laude with majors in Music with honors, and Psychology
Recipient of the David A. Greene, M.D., Class of '71, Memorial Prize in Music
Denise Nalibotsky - Bachelor of Arts in Music with a minor in Mathematics
Yunfeng Qi - Bachelor of Arts in Music
Avi Benjamin Shapiro -  Bachelor of Science Magna Cum Laude with majors in Music with high honors, and Computer Science
Jake Sibley - Bachelor of Arts in Music
Kaylee R. Wallace - Bachelor of Arts Summa Cum Laude with majors in Music with highest honors, and Economics
Recipient of the Phyllis and Lee Coffey Award in Music; and the Jacqueline Foster Award
Graduate Students
Tyler Vipond Adamthwaite - Masters of Fine Arts in Music Composition and Theory
Inga Chinilina - Masters of Fine Arts in Music Composition and Theory
Jessica R. Fulkerson – Doctor of Philosophy in Musicology
Dissertation titled: "Applying Diatonic Set Theory to Thirteenth-Century Verticalities: An Evolved Mod7 Approach to Pérotin's Tripla"
Georgia Anne Luikens - Doctor of Philosophy in Musicology
Dissertation titled: "There's a Mass for Us? Context, Identity and Representation in Leonard Bernstein's Mass"
Brian C. Sears – Masters of Fine Arts in Music Composition and Theory
Joseph Brian Sowa - Doctor of Philosophy in Music Composition and Theory
Dissertation titled: "The Art of Transformation: The Heraclitian Form of Thomas Adès's Tevot as a Critical Lens for the Symphonic Tradition, and an original composition, Glimmer, Glisten, Glow for sinfonietta"
Recipient of The Sandy Shea Fisher '56 Prize for Creative Arts
Charles Hamilton Stratford - Doctor of Philosophy in Musicology
Dissertation titled: "Schoenberg's Dark Serenade"
Chin-Shuo Wu - Masters of Fine Arts in Music Composition and Theory
Department News
In February, the Brandeis University Chamber Singers, under the direction of Robert Duff, embarked on its second European tour, this time traveling to Vienna, Prague and Třebič. The ensemble gave four performances, one in Vienna, one in Trebic and two in Prague. The performances at the Capuchin Church in Vienna and St. Nicholas Church in Prague were standing room only. The performance in Třebič was given in the New Synagogue situated in the largest surviving Jewish Quarter in Europe and their final performance was at the Dvořák Museum in Prague. In addition to the four performances, the group had incredible learning opportunities through locally contracted sessions with musicologists and tour guides.

They were fortunate enough to have three sets of parents come on the tour.  One set of parents volunteered to both audio and video record the performances.
The Lydian String Quartet had a bust spring, which included a set of performances in Berkeley, CA at the Maybeck Studio for the Performing Arts, and at UC Davis's Jan Shrem and Maria Manetti Shrem Museum of Arts. 
On Sunday, March 31 the Quartet joined with founding members Wilma Smith, violin and Rhonda Rider, cello, as well as former first violinist Dan Stepner and guest violist Gillian Ansell for reunion concert to benefit the Mary Ruth Ray Scholarship Fund.  The group performed Mendelssohn's superb String Octet in E-flat major, Op. 20. Wilma and Gillian flew in from Australia and New Zealand respectively for the event. Also on the program was a beautiful arrangement for 9 violas (!) by Mark Berger of Bach's "Fugue" from Sonata No. 3 for Solo Violin BWV 1005.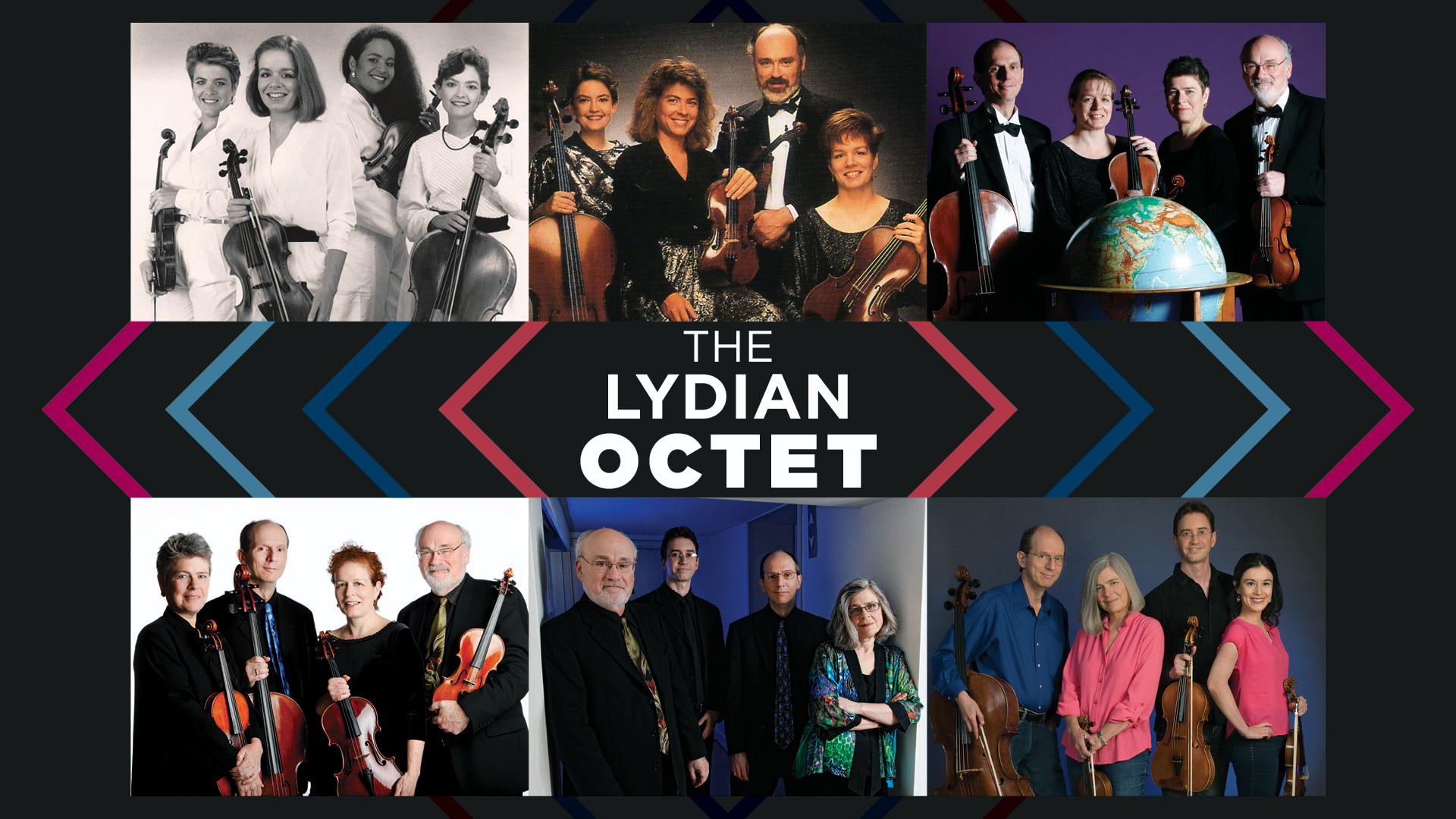 A month earlier, on February 26, the Lydians performed two works by John Harbison, the Boston Premiere of Quartet No. 6, and Thanks, Victor as part of the ongoing celebration of John's 80th birthday.
On March 14, our Ghanaian dance and drumming ensemble Fafali, led by Ben Paulding, taught a drumming workshop in Shapiro Campus Center for 20 Waltham Middle School students, brought to campus by group called Afternoon Enrichment. Below are some photos of the session, as well as the majority of the Fafali drum collection (16 drums, 10+ bells, 10+ rattles).

On June 7 – 8 the musicology faculty and graduate students presented the third biennial Musicology Conference titled Forms of Music.  Keynote speakers were Anna Zayaruznaya, Yale University and Jonathan Kregor, University of Cincinnati.  Janet Schmalfeldt, Professor Emerita, Tufts University led an analysis workshop.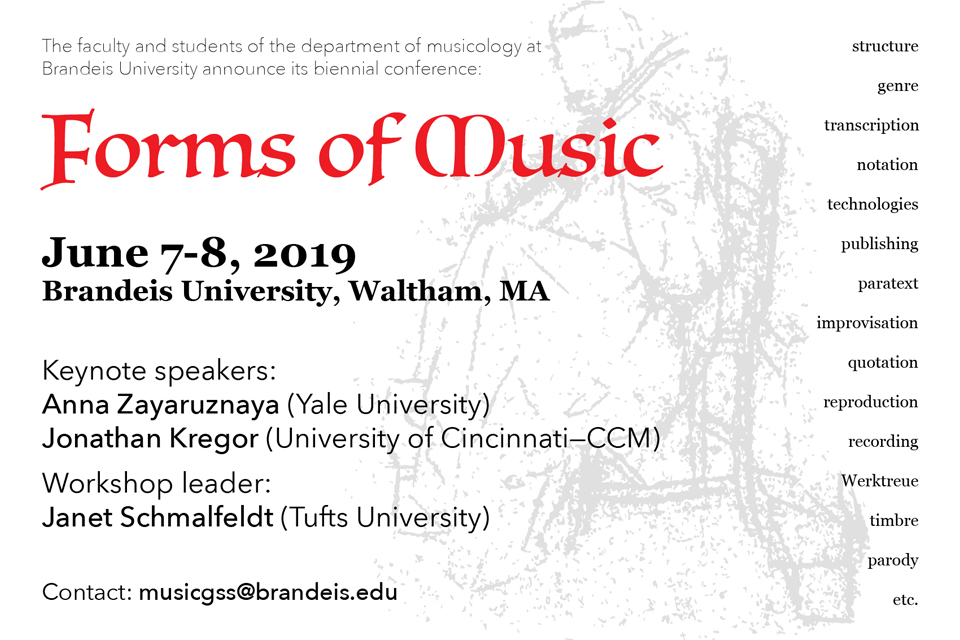 Faculty News
Congratulations are in order for Musicologist Karen Desmond who has been promoted to Associate Professor with tenure at Brandeis.  
This spring, Karen received a NEH Grant in support of her project Measuring Polyphony: An Online Music Editor for Late Medieval Polyphony. The funding will support the development of an online music editor to help scholars and students analyze medieval music manuscripts, and a workshop for medieval studies scholars, musicologists, and technical specialists to evaluate the prototype.
In spring 2019, Karen was appointed Visiting Fellow at Clare Hall at the University of Cambridge and affiliated Visiting Scholar with the Faculty of Music at Cambridge. While at Cambridge (she was on leave for the semester) she conducted research for a second monograph and visited libraries in the UK to examine manuscript sources for English polyphony.
Karen has recently co-edited two new publications: Erudition and the Republic of Letters, 4 (2019), and 'Philippe de Vitry and the Ars nova Special Issue', Early Music 46 (2018).  She also contributed articles and co-authored the introductions to each of the publications. 
Composer Davy Rakowski's composition Lee had its premiere performance at Chicago's Logan Center for the Arts on Friday, December 7. The composition is an homage to Davy's good friend/composer Lee Hyla who passed away in 2014. One reviewer noted that the three-movement work draws inspiration from some of Hyla's favorite works. This also marked the premiere of the new thirteen-member Grossman Ensemble, the central element in the newly formed Chicago Center for Contemporary Music, the brainchild of UC's composer Augusta Read Thomas who is the Center's director. Check out one of the many online reviews of the concert!
Davy's music is published by C.F. Peters. Recent publications include Breakdown for violin, viola, cello and piano, Blue Horizon for solo piano, and Preludes, Book VII, also for solo piano.
Composer Erin Gee was commissioned by the Chicago-based ensemble Dal Niente through a Chamber Music America Award to compose a new work for their 2018/19 season-opening concert at Chicago's Constellation Center. The new work, Mouthpiece 32 for 2 sopranos, 2 percussion, flute, clarinet, cello and bass had its "soft" premiere on their September 30 concert titled Proximity, which also featured other works by Erin.  The work adds to her ongoing award-winning vocal series Mouthpieces, that "combines vocal techniques, devoid of semantic language, to construct intricate and subtle patterns of a diverse array of vocal sounds. In the Mouthpieces, the voice is used as an instrument of sound production rather than as a vehicle of identity. Linguistic meaning is not the voice's goal." In preparation for Mouthpiece 32, Erin traveled to the Western Ghats Mountain region in India. spending 10 days doing sound research at the Shillim Foundation in Maharashtra, and working with expert sound engineer and designer Joel Gordon to produce onsite bio-acoustic recordings that would capture the sounds of the region, which she would then use both for inspiration and as actual sonic structures for the work. In this new work for Dal Niente Erin approached the sound-world of specific insects, animals and plants in the same way that she has approached vocal sound.  
On February 8, the Argento New Music Project presented The Voices of Erin Gee, an evening featuring Erin's works from 2000 – 2016, plus the world premiere of Mouthpiece 33 at Roulette Intermedium in Brooklyn, NY. The instrumentation for the new work includes clarinet, electric guitar, cello and bass flute, and Erin, of course! 
Composer and Naumburg Professor of Composition emeritus Yehudi Wyner turned 90 this June. Yehudi's long and distinguished career has included a Pulitzer Prize for his piano concerto Chiavi in Mano, a Rome Prize in Music, Ford Foundation Grant, Koussevitzky Prize, NEH Endowment for the Arts Award, two Guggenheim Fellowships, Institute of Arts and Letters Award, a Fromm Foundation Grant, the Brandeis Creative Arts Award and the Elise Steiger Prize given by the Chamber Music Society of Lincoln Center for lifetime contribution to chamber music, to name a few.  He is president emeritus of the American Academy of Arts and Letters. 
Yehudi was Dean of the Music Division at SUNY Purchase, and taught at Yale University, Harvard University (as a visiting faculty) and, of course, Brandeis.  For many years, he played in and conducted the Bach Aria Group.  Yehudi served as a member of the music faculty of the Tanglewood Music Festival from 1975-97.
Yehudi's compositions include works for orchestra, chamber ensemble, solo voice and solo instruments, piano, music for the theater, and liturgical works for worship at services.
We wish Yehudi a very happy birthday and many years ahead with many more wonderful compositions to come.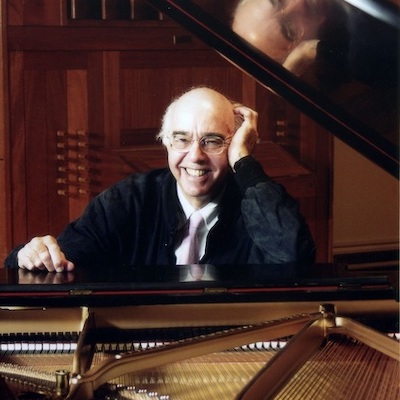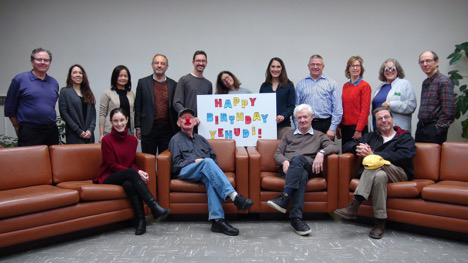 Fafali Director Ben Paulding's band Kotoko Brass has just issued an album titled Adampa. The group, consisting of three percussionists, saxophone, trombone, bass and keyboard, follows in the footsteps of the great Ghanaian tradition of using drumming to drive the ensemble, creating a natural desire to dance to its music. Shaping its global approach to music-making, Kotoko Brass features musicians from Ghana, Japan, Antigua, and the USA. At its core, the music is a celebration of tradition, diversity and unity, influenced by the rich culture and heritage of the Asante Kingdom of central Ghana.
Ben's Brandeis ensemble Fafali has been approached about performing at the Federal Reserve Bank of Boston, Harvard, the Waltham Public Library (confirmed for 2020), a Waltham after school program for middle schoolers, and an on-campus conference for Native Americans in STEM.
Composer Eric Chasalow was named a Summer Fellow at the renowned MacDowell Colony, spending the month of June at the colony along with other composers, architects, filmmakers, interdisciplinary artists, theater artists, fiction and non-fiction writers and poets. Each selected fellow receives an average value of $10,000, a private studio, and accommodations for up to eight weeks. The funding for the artists totals over $1 million.
Composer Yu-Hui Chang's new work for solo cello  Alter Ego had its premiere performance at the Weill Recital Hall at Carnegie Hall on April 23.  The work was commissioned by the Walter W. Naumburg Foundation and was written for and performed by cellist Lev Sivkov, the winner of the 2015 International Cello Competition.
Her new work Germinate for flute/piccolo, bass clarinet, violin, cello, piano and percussion was commissioned by Boston Music Viva for the ensemble's 50th anniversary season and was performed at the Longy School of Music's Pickman Hall on April 13.
Yu-Hui is serving as featured composer at this summer's 75th annual Composers Conference, which will take place here at Brandeis. Yu-Hui will meet with Conference composer fellows, and give a concert/lecture on August 1 that will include a performance by the Conference Ensemble of her piece Germinate.
Graduate Student News
Joseph Sowa, PhD '19 in Composition and Theory had his paper "The Art of Transformation: The Heraclitian Form of Thomas Adès's Tevot" accepted to the FSU Music Theory Forum (in January) and the Indiana University GTA Symposium (in February).  This spring Joseph successfully defended his dissertation titled "The Art of Transformation: The Heraclitian Form of Thomas Adès's Tevot as a Critical Lens for the Symphonic Tradition and an original composition, Glimmer, Glisten, Glow for sinfonietta."
Jessica Fulkerson, PhD '19 in Musicology also successfully defended her PhD dissertation "Applying Diatonic Set Theory to Thirteenth-Century Verticalities: An Evolved Mod7 Approach to Perotin's Tripla"  and now has an appointment this fall as Visiting Faculty in the Tufts University Department of Music.
Alumni News
Charles Stratford, PhD '18 in Musicology was appointed Visiting Professor in the Department of Humanities and Philosophy at Brigham Young University, Idaho. Charles is currently teaching general education courses in interdisciplinary humanities, and will offer a senior seminar on Romanticism in the fall.
Jeff Roberts, PhD '08 in Composition and Theory was appointed Assistant Professor of East Asian Music and Culture in the Department of East Asian Studies at the University of Alberta. This is an interdisciplinary artist-scholar position rooted in the fields of intercultural composition and improvisation, along with related research. The position also includes the founding of an East Asian traditional and new music ensemble and the eventual establishment of a center for intercultural composition.
Jeff Sposato, PhD '00 in Musicology was named Director School of Music at the University of Illinois at Urbana - Champaign. His tenure as director began July 1, 2019.
Tina Tallon, MFA '13 in Composition and Theory was mentioned in Alex Ross's "Notable Performances and Recordings" article in the December 6, 2018 issue of the New Yorker Magazine.  Here are his remarks:
"In October, at an event in the orchestra's Green Umbrella new-music series, I was shaken by Tina Tallon's ". . . for we who keep our lives in our throats . . .," a response to sexual abuse. The electronic portion of the piece evokes, in Tallon's words, the "muted whispers, tortured murmurings, and choked admissions of those who have been forced to remain silent far too long." Agonizingly, those voices do not quite succeed in being heard: after hovering at the edge of comprehensibility, they lapse back into the fractured texture from which they emerged."
Tina currently serves as Assistant Professor of Composition at the Boston Conservatory at Berklee and Visiting Assistant Professor of Music in the Visual and Performing Arts Department at Clark University.
Christian Gentry, PhD '12 in Composition and Theory had a new CD of his works, entitled Stockpiles, released in May 2019.
Robert Pearson, PhD '11 in Musicology has been appointed Assistant Dean of Professional Development and Career Planning in the Laney Graduate School at Emory University in Atlanta, GA, starting August 1.
Violist Yoni Battat BA '13 has released his debut album, Pocket Change!  While he has worked on many different recording projects, this is the first time he has had the chance to document his music, exactly how he imagined it. This 5-song EP builds on years of collaboration with his friends of Two Shekel Swing: Adam Shapiro (guitar), David Chevan (bass), and Jesse Chevan (drums), each of whom brought their musical voices to this project with what Yoni characterizes as "enthusiasm and creativity."

Fall 2018
Department News
On June 2 and 3, the music department welcomed Cristle Collins Judd and a host of internationally recognized scholars for "Tonal Structures in Early Music at Twenty," a conference dedicated to assessing the impact of Judd's influential book twenty years after its initial publication. An important collection of essays, many of the book's featured authors came to Brandeis to offer talks on the current state of the topics they addressed therein. The conference was organized by the Early Music Analysis Interest Group of the Society for Music Theory (SMT). The music department sponsored a wonderful closing reception, and local arrangements and planning were handled by Eric Elder, a candidate for the PhD in Musicology at Brandeis.
In late July and early August the department hosted the thirteen-day Composers Conference at Brandeis. Previously known as the Wellesley Composers Conference, it has now relocated to Brandeis. Under the artistic direction of Pulitzer Prize winning composer Mario Davidovsky the conference consisted of ten specially selected composer fellows working with guest composers Rand Steiger and Alex Mincek, performances by a professional ensemble led by James Baker (principal percussionist of the New York City Ballet Orchestra), a contemporary performance institute directed by cellist Fred Sherry (founder of TASHI and Speculum Musicae), and a chamber music workshop. The Composers Conference has played a pioneering role in the performance of new works by emerging composers. Founded in 1945 by Alan Carter at Middlebury College, the conference has served nearly eight hundred composers and many more chamber musicians. It is considered the oldest and one of the most respected programs of its kind.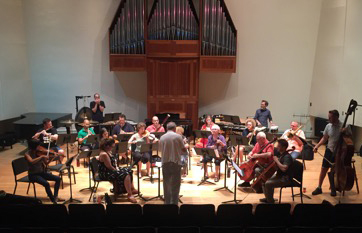 The Music Department is a co-sponsor of the exhibition Leonard Bernstein: The Power of Music, which will be on campus from October 4 – November 20.  The exhibition, which centers on Bernstein's life, Jewish identity and social activism, includes artifacts and photographs on loan from the composer's family, materials that document his time in Brandeis and in Boston, items from the University Archives, documentary films of him conducting and a video of a live performance of Mass, which will be on view in the Slosberg Music Center lobby.  The exhibition is free and open to the public.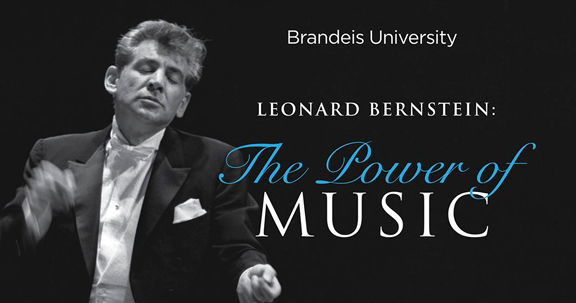 Faculty News
Musicologist Karen Desmond's new book Music and the moderni, 1300 – 1350: The ars nova in Theory and Practice has been published by Cambridge University Press.  In it Professor Desmond explores how individuals were involved in 'changing' music in the early fourteenth-century France, and the technical developments they pursued that precipitated this stylistic change.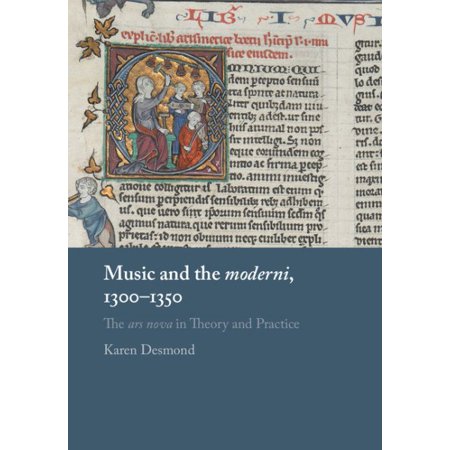 Jazz bassist and Brandeis Jazz Ensemble director Bob Nieske joined with his colleague clarinetist Billy Novick to kick off this season's Music at Mandel Series. With music by Antonio Carlos Jobim, Duke Ellington, Wayne Shorter, Richard Rogers and others Bob and Billy display amazingly rich and intricate counterpoint as they develop each song into a unique composition.  The Music at Mandel Series continues this fall with th Lydian String Quartet (October 10), MusicUnitesUS: A Taste of Ghana (November 14), and Brandeis Improv Collective Showcase (December 5).
Composer David Rakowski had a busy and very productive year while on sabbatical from Brandeis. He completed Symphony No. 7, for orchestra, four movements: Water, Air, Earth, Fire. "Water" movement premiered by New England Philharmonic April 28, 2018. Full symphony to be premiered April 27, 2019; Dream Logic, for flute/piccolo, clar/bassclar, violin, cello, percussion, piano/toy piano/melodica for New York New Music Ensemble; 33 minutes of Piano Concerto No. 3; Lee, for fl/picc, oboe, clar/bassclar, asax/barisax, horn, 2 percussion, harp, piano, string quartet. commissioned by the Grossman Ensemble in ChIcago, premiere on December 7 2018 at Logan Center for the Performing Arts, Chicago; Eighters Gonna Eight, for 2 pianos 8 hands (Sarah Bob, Don Berman, Geoffrey Burleson, Marilyn Nonken); and six piano preludes: Paprika (#71, 2017,) pour Talia Amar, Mustard (#72, 2017), White Pepper (#73, 2017), Asafetida (#74, 2017), Cayenne (#75, 2018) and Jalapeño (#76, 2018). Davy also participated in four artist residencies: Yaddo (Saratoga Springs, NY) Oct.-Nov.; MacDowell Colony (Peterborough, NH) Jan.-Feb.; Bogliasco Foundation (east of Genoa, Italy) Mar.-Apr.; and Virginia Center for the Creative Arts (Amherst, VA) May-June.
This September marked the third annual meeting of the Brazilian Viola da Gamba Society. "Encontro 2018" was held in Niteroi, Rio de Janeiro, at the Universidade Federal Fluminense (UFF). About 40 players and teachers of the viola da gamba attended, from all over Brazil. Over the course of three days there were classes for small and large ensembles and several concerts. Saturday night's concert featured Sarah Mead, playing music for solo and accompanied lyra-viol with several local players. At the final student concert Sarah also led the entire group of students, from new to experienced players, in two large pieces.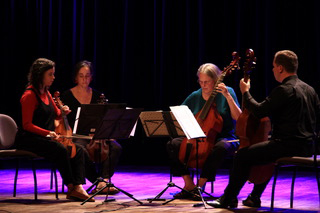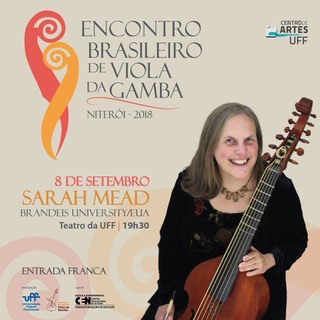 Composer Eric Chasalow has teamed up with his wife Barbara Cassidy to form the Barbara Cassidy Band.  Barbara is the principal composer, lyricist and singer on a newly released album Ford Hill Road. The song's arrangements are by Eric, who plays multiple instruments and sings on the album (Eric composed the music to three of the songs as well). They are joined by a superb group of musicians including our own Bob Nieske on double bass. Their recent cd release performance was at the well-known venue The Burren in Somerville, MA.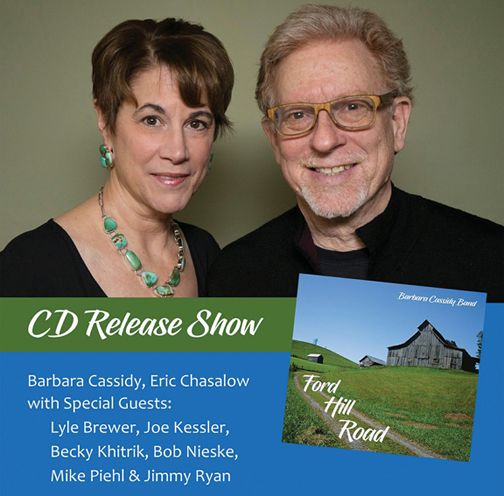 Graduate Student News
In September composer Inga Chinilina premiered her composition, Desolation, within the Open Space Composers Laboratory. The international composers laboratory Open Space is held by "Russia", the state's academic Russian folk ensemble as well as by The Roscosmos State Corporation for space activities. The project is dedicated to enriching our interaction with space through art, to develop a new approach to composition, and to create new performance techniques with Russian folk instruments. The selected composers created new works in close collaboration with the Russian folk ensemble and the astronauts. The final concert was held in The Memorial Museum of Cosmonautics next to a statue of Yuri Gagarin (the first person in space). Visitors were able to virtually attend the International Space Station using VR-glasses. A studio album of the music from the concert is scheduled to be released in the Spring of 2019.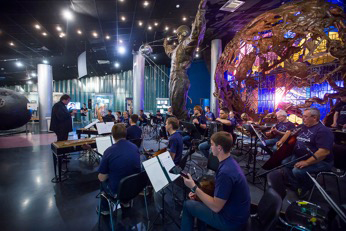 Performance at The Memorial Museum of Cosmonautics next to a statue of Yuri Gagarin
Eric Elder, PhD candidate in musicology, presented a paper titled, "Rudolph Reti and Alfred North Whitehead: Parallels in Process" at this year's November joint meeting of the Society for Music Theory and the American Musicological Society in San Antonio. The topic of the paper is the controversial early-twentieth-century Viennese-American composer and music theorist, Rudolph Reti. From the first reviews of his 1951 book, The Thematic Process in Music, Reti has been charged with all manner of infractions, from ignorance of basic harmonic function to plagiarism. But despite constant and nearly unanimous dismissal, Reti's work continues to be cited today. In his paper, Elder argues that Reti's theory has survived, in part, because it is more systematic than anyone has heretofore realized. Further, by applying the cosmological constructs of mathematician and philosopher Alfred North Whitehead, Reti was updating the musical organicism that he inherited from the likes of Heinrich Schenker and Arnold Schoenberg, renewing its relevance as a creative model in the world of Einstein, relativity, and quantum theory.
Two PhD Students Present at the University of North Texas 2018 GAMuT Conference
Jacques Dupuis and Eric Elder, both candidates for the PhD in Musicology, presented their research at the University of North Texas's 2018 GAMuT Conference, which was held on September 29. Jacques read his paper, "Robert Schumann and die Unverständlichkeit," and Eric read his "Multileveled Conflict in Mahler's First Symphony: A New Formal-Hermeneutical Analysis." Both papers were very well received. Dr. Janet Schmalfeldt, Professor Emeritus at Tufts University and author of In the Process of Becoming: Analytic and Philosophical Perspectives on Form in Early Nineteenth-Century Music, delivered a keynote address on aspects of narrativity in Schumann's music.
Alumni News
Musicologist Jacquelyn Sholes PhD '08 has just had her book Allusion as Narrative Premise in Brahms's Instrumental Music published by Indiana University Press. By "analyzing newly identified allusions alongside previously known musical references in works such as the B-Major Piano Trio, the D-Major Serenade, the First Piano Concerto, and the Fourth Symphony, among others, [Jacquelyn] demonstrates how a historical reference in one movement of a work seems to resonate meaningfully, musically, and dramatically with material in other movements in ways not previously recognized." Jacquelyn is Assistant Professor of Music History, Central Connecticut State University, and Affiliate Scholar, Center for Beethoven Research at Boston University.