The Score: 2017-2018
Commencement 2018
Congratulations to our class of 2018 degree recipients!
Undergraduates
Anthony August Arcese – Bachelor of Arts Summa Cum Laude with Majors in Music with high honors, and Biology, and a Minor in Creativity, the Arts, and Social Transformation
Recipient of The Florence and Charles H. Milender Prize in Music
Luyi Bai – Bachelor of Science Summa Cum Laude with Majors in Music with highest honors, and Computer Science
Recipient of The Phyllis and Lee Coffey Award in Music
Daniel Young Kwang Choi – Bachelor of Arts in Music
Jonah Gabriel Garcia – Bachelor of Arts Cum Laude in Music
Recipient of The Sandy Shea Fisher '56 Prize for Creative Arts
Kerri Anne Gardner – Bachelor of Arts in Music with a Minor in Computer Science
Recipient of The Student Employee of the Year Award; and The Reiner Prize in Music Composition
Roxana Habibi – Bachelor of Arts Magna Cum Laude with Majors in Music and Psychology, and a Minor in French and Francophone Studies
Recipient of The David A. Greene, M.D., Class of '71, Memorial Prize in Music
Andrew Gustav Larson – Bachelor of Arts Magna Cum Laude with Majors in Music with highest honors, and Health: Science, Society and Policy
Recipient of The Sandy Shea Fisher '56 Prize for Creative Arts
Yunfeng Qi – Bachelor of Arts in Music
Tristan Walker – Bachelor of Arts with honors in Music
Xiaolin Constance Zheng – Bachelor of Arts Cum Laude in Music
Graduate Students
Lauren Paige Bernard – Master of Fine Arts in Musicology
Martin Connor – Master of Fine Arts in Musicology
Daniel Aaron Krenz – Master of Arts in Musicology
Recipient of The Sandy Shea Fisher '56 Prize for Creative Arts
Georgia Luikens – Doctor of Philosophy in Musicology
Dissertation: There's a Mass for Us?  Context, Identity and Representation in Leonard Bernstein's Mass
Gabrielle Christine Reardon – Master of Fine Arts in Musicology
Charles Hamilton Stratford – Doctor of Philosophy in Musicology
Dissertation: Schoenberg's Dark Serenade
Donald Eric Warren, Jr. – Master of Fine Arts in Musicology
Spring 2018
Department News
In February, Brandeis' Ghanaian Drum and Dance Ensemble Fafali, led by Ben Paulding, gave a workshop-performance for Black History Month at the Waltham Public Library. It was one of their first off-campus performances for the ensemble, and was very well-received by the community.
March 2018 was New Music Month with the 2018 BEAMS Marathon Festival Weekend, March 15 – 17.  Featuring works by Brandeis student and guest composers, BEAMSfest included 7 concerts and 6 workshops and presentations.  Featured artists were guest composers Pamela Z, Elainie Lillios and Christopher Biggs, and guest ensembles Yarn/Wire, SPLICE Ensemble, and Transient Canvas. The festival celebrated the intersection of technology and art and the current state of electroacoustic music and performance. Made possible by a grant from the Brandeis Arts Council.  (full BEAMSfest schedule available here)
On April 6 - 7 the department was host to the 33rd Annual Meeting of the New England Conference of Music Theorists (NECMT). Over one and one-half days theorists presented papers on a wide variety of topics including Jazz, Blues, and the Avante Garde, French Modernity, Texts and Corpora, Visual Metaphors-lightening talks, and Extended Tonality.  The conference concluded with a panel discussion on The Evolving Theory Curriculum.  As Local Arrangements Chair, Muscicology PhD student Eric Elder was central to the organization of the conference. 
As part of a weeklong Leonard Bernstein Festival of the Arts celebration of the Leonard Bernstein Centennial Year the Brandeis-Wellesley Orchestra and the Brandeis University Chorus will present "A Tribute to Leonard Bernstein." Programming includes a concert version of Bernstein's "Mass."
Faculty News
Composer Yu-Hui Chang has two world premieres this spring. In March "Incredulous" will be performed by Ensemble Échapp in the Library and Galleries of the American Academy of Arts and Letters, New York, NY; in April "Pixelandia" for full orchestra will be performed by the Boston Modern Orchestra Project in Jordan Hall, Boston. Other works being performed this semester include: "Rio del Tizon" for solo cello, Kirin McElwain, cello in Brooklyn, NY (January); "Mind Like Water" for string quartet with the Lydian String Quartet, in the Recital Hall, Ann E. Pitzer Center, University of California, Davis (February); and two performances by the Ulysses Quartet of "Shadow Chase" (at Dumke Recital Hall, School of Music, University of Utah, and at The Louis Moreau Institute for New Music Performance at Marigny Opera House, New Orleans.). In February Yu-Hui returns as a featured guest composer at the School of Music, University of Utah, as part of their Maurice Abravanel Visiting Distinguished Composers Series where she will be giving a lecture, several masterclasses, and a concert.
Composer Eric Chasalow's new work for solo flute Ariel Fantasy has its premiere with flautist Shanna Guttierrez at the performance venue Constellation in Chicago on March 25. Performances of his works around the country and in Europe include: On That Swirl of Ending Dust by Ensemble Phoenix, Basel Switzerland, January 2018; further performances of Ariel Fantasy, at NUNC! Festival, Northwestern University, April 2018, and CUSP Festival Cleveland Institute, June 2018; Are You Radioactive, Pal? at the April NUNC! Festival; As A Kind of Knowing performed on the March Conference of the Society for Electro-Acoustic Music in the US (SEAMUS) University of Oregon.
Musicologist Karen Desmond has a number of new publications including a recently released book The Montpellier Codex: The Final Fascicle (Woodbridge: The Boydell Press, 2018) co-edited with Catherine A. Bradley, Associate Professor of Musicology, University of Oslo. Karen and her co-editor have written the "Introduction," (pp. 1-12) for The Montpellier Codex: The Final Fascicle, and Karen has contributed the chapter "Texture, Rhythm, and Stylistic Groupings in Montpellier 8 Motets." This book provides the first in-depth exploration of the contents and contexts of the Montpellier Codex's final fascicle of 43 musical compositions. Learn more about Professor Desmond's book from the publisher.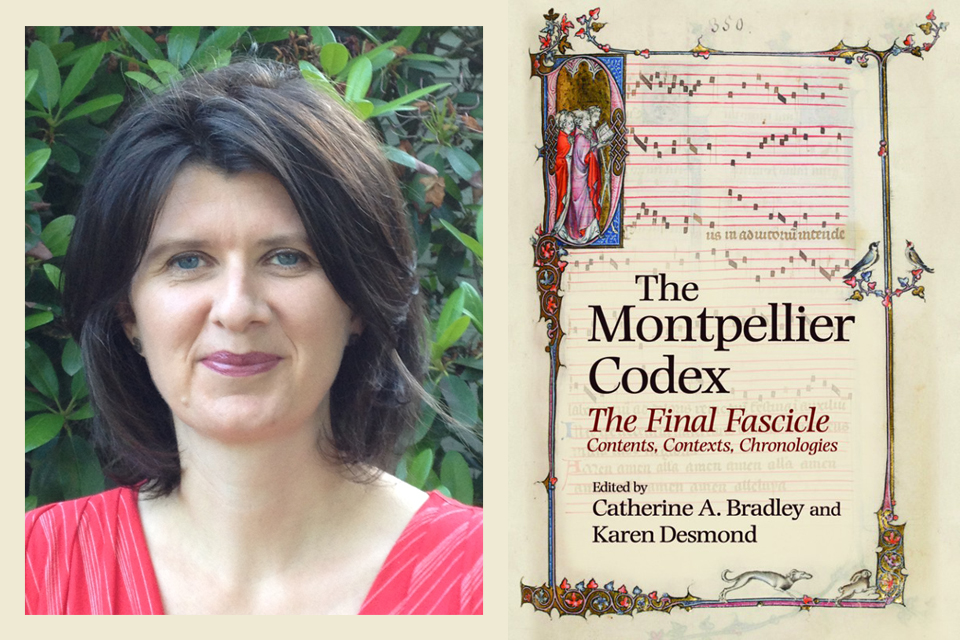 In addition, a forthcoming peer-reviewed article "'One is the loneliest number…': The Semibreve Stands Alone" will appear in the publication Early Music. Her article "Notations" will be published in A Companion to Medieval Motets edited by Jared Hartt (pp. 103-130), The Boydell Press.
Karen is also delivering two conference papers: "Measuring Polyphony: Digitally Encoding a Repertoire of Late Medieval Motets" at the  53rd International Congress on Medieval Studies at Western Michigan University, Kalamazoo, May 2018; and "Imperfection and Machaut's M18 (Bone pastor/Bone pastor) " at the 45th Conference on Medieval and Renaissance Music, National University of Ireland, Maynooth, July 2018.
Robert Duff, director of the University Chorus and Chamber Singers, directed  undergraduate and graduate conducting masterclasses at the March 10 American Choral Directors Association Eastern Regional Conference.
Musicologist Paula Musegades is giving a paper titled "Composing Atmosphere in Lost in Space: John Williams's Television Music" at the Music and the Moving Image conference held in New York City at NYU from May 24 - 27.
Composer David Rakowski has a number of works being performed on April 15 at the Cleveland Institute of Music, including the world premiere of Breakdown (originally commissioned by the Verge ensemble in 2013), selected piano Etudes and Preludes, and Arabesques I Have Known (2016). The first movement of his Symphony No. 7, titled Water, will be performed by the New England Philharmonic in late April. The orchestra will play the entire symphony during their 2018-19 season.
Fafali instructor Ben Paulding has an article published in African Music, an academic journal based out of of Rhodes University, South Africa. The article "Meter, Feel, and Phrasing in West African Bell Patterns: the Example of Asante Kete from Ghana" positions iron bell patterns -- similar in function to Afro-Latin clave rhythms -- as a gateway to theoretical analysis of West African dance-drumming music. The article focuses on Kete, which is one of the drumming pieces regularly played in Fafali.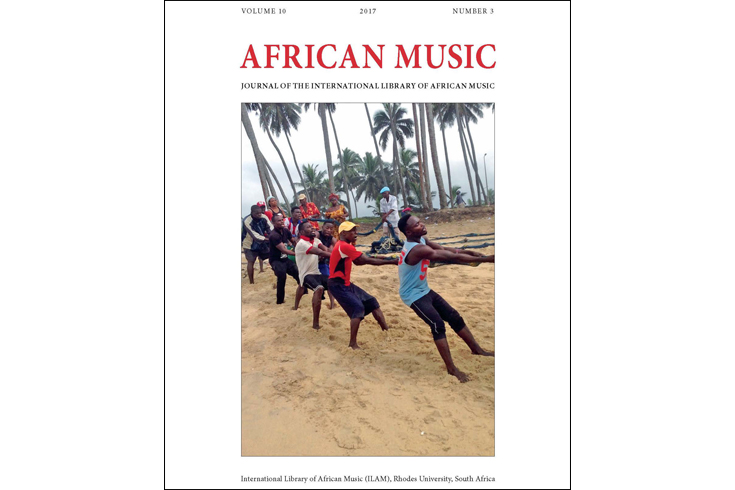 Ben has also started a new band  Kotoko Brass dedicated to fusing the traditional drum music of Ghana with popular genres such as African highlife, reggae, afrobeat, and New Orleans second line. The seven-piece ensemble consists of trombone, sax, keys, bass, drumset (Ben), and two African percussionists. Performances include the World Music/CrashArts' CRASHfest at House of Blues on 2/24, a World Music series at Club Passim, opening for Take 6 at the Strand Theater, and the Festival of the Arts at Brandeis in April.
In April, conductor 
Neal Hampton
 made his Boston Symphony Hall debut conducting the Boston University Orchestra in Samuel Barber's 
Adagio for Strings
 and Aaron Copland's
 Lincoln Portrait
 with Dr. Cornell Brooks, narrator. The concert is part of the program
Protest Without Words: The Arts and Social Change: Panel Discussion and Concert
presented by the Boston University College of Fine Arts. Neal is Associate Director for Orchestra Activities at BU's School of Music.
Graduate Student News
Three doctoral students awarded Mellon Dissertation Research Grants from GSAS
Composers Richard Chowenhill, Brian Sears, and musicologist Matthew Heck have all been awarded Mellon Dissertation Research Grants for 2018.  The amounts of the grants range from $2,000 - $5,600.
Richard's project is Seeing the Invisible: New Methods for the Musical Analysis of Extreme Metal. He will be using FFT/spectrographic analysis to demonstrate how many of the compositional structures and nuances of extreme metal exist beyond the scope and abilities of traditional, notation-based, forms of musical analysis.
Brian's project is titled Electroacoustic Performance Practice: Bridging the gap between performers and technology, and the pursuit of seamless methods of interactivity. The project will research potential methods of interaction between performers and technology in "mixed music" (music featuring live instruments and electronics), specifically how these different methods affect the performer's virtuosity and freedom of interpretation, as well as reception and perceived success of integration by the audience. 
Matt's project Research in Moscow's Archives on Dmitri Shostakovich and Mieczysław Weinberg involving archival research that pays particular attention to biographical details surrounding the two composers' early friendship and information on the works they composed between their first meeting in 1943 and the second wave of Soviet cultural crackdowns in 1948.
* * * *
In January, clarinetist, composer and PhD candidate Gleb Kanasevich was a featured performer at the contemporary music festival Dark Music Days/Myrkir músíkdaga, which was held in Iceland. At the festival he played a rendition of Horatiu Radulescu's 56-minute piece for 7 clarinets (one clarinet with six speakers) "Inner Time II (homage to Alexander Calder)." Radulescu was one of important artists, working with spectral content, and the piece is a spatialized audio realization of Calder's Mobiles in motion. The speakers are positioned around the audience in a full circle and the sound travels around the audience as the imaginary mobile "rotates." Gleb recorded the other six clarinet parts, which will be played through the speakers. This represents the first performance of the work in over a decade.
Gleb was also commissioned to write a work for 11 saxophones for Megalopolis Saxophone Orchestra, an excellent emerging group based between New York and Boston. The piece was performed on March 3 at First Church in Boston, and on April 7 at Anna-Maria Kellen Concert Hall in NYC. In February, Gleb did a small in-studio performance at a WQXR program called New Sounds. A video of his performance and a brief interview are available on the New Sounds website. On March 1 and 2, Gleb did a solo artist residency at Peabody Conservatory, presenting on his music and clarinet work, and performing a solo recital featuring his piece "Subtraction" and Horatiu Radulescu's "Inner Time II" (in the version for clarinet and six pre-recorded channels). The program of "Subtraction" and "Inner Time II" was repeated on May 9 at a new music series called Qubit, located in a unique concrete warehouse space in New York City.
Matthew Heck, PhD candidate in musicology, presented a paper titled Chromatic Bifurcation and the Philosophy of Disunity in Shostakovich at the 2018 McGill University Music Graduate Symposium, held on March 23 – 25 at the Schulich School of Music in Montreal.
Brian Sears, PhD candidate in composition, has won First Prize in the 2018 ASCAP/SEAMUS Student Composer Commissioning Program. His work Dreams Unwind is for piano and live interactive electronics. The program encourages young composers to pursue creative endeavors in electro-acoustic music as well as student participation in SEAMUS activities. The program is administered by SEAMUS and funded by the American Society of Composers, Authors and Publishers (ASCAP).
Eric Elder, PhD candidate in musicology, presented a paper at the March 2018 Graduate Student Music Conference and the U. of Arizona, Tucson.  His paper "Text, Meter, and Music: Toward a Holistic Approach to Structural Analysis of Ars Antiqua Polyphony" focuses on the nature of musical coherence in ars antiqua polyphony and the analytic challenges presented therein.  His work uncovering the connection between Rudolph Reti's theory of thematic process and Alfred North Whitehead's cosmological philosophy of organism ("process philosophy") has been accepted by the program committee of the Society for Music Theory (SMT) for inclusion in next year's joint national meeting of SMT and the American Musicological Society, which will take place in San Antonio in November 2018.
Jeremy Rapaport-Stein, PhD candidate in composition had his composition Mumblebug chosen to be performed at a conference at the University of Iowa's Center for New Music. The conference took place March 3 – 4.
Joseph Sowa, PhD candidate in composition had a world premiere of "Islands on Fog" in March, performed by Boston's Collage New Music at Edward M. Pickman Concert Hall at the Longy School of Music of Bard College.
Since February, musicology PhD candidate Charles Stratford has been living in Vienna on a Dissertation Year Fellowship awarded by the Mellon Foundation. While in Austria, he has been conducting archival research at the Arnold Schönberg Center, where he was formerly employed as an intern.  Charles presented a paper on his doctoral research at the Society for Music Analysis Theory and Analysis Graduate Student Conference, held at Durham University in the UK.  His paper was titled: "Adorno and Irony in Schoenberg's Serenade: Reaching for the Idea, but Getting a Style." He has been invited to speak at the SMA (Society for Music Analysis) Music and Analysis Conference held at City University of London in July.  His paper for that conference is titled: "Unity, Variety, Teleology: Schoenberg's Variations from the Serenade, Op. 24."
Alumni News
Rachel J. Peters, B.A. in Music and Theater Arts summa cum laude '99, has developed into a prolific composer of numerous works for the stage, including operas, musicals, art and cabaret songs and music for dance. Her works are performed nationwide with forthcoming premieres of her operas, Companionship, by the Fort Worth Opera, in May 2019 and Steve, by the Boston Opera Collaborative, in October 2018.  Learn more about the upcoming production of Companionship and read more about Rachel on her website.
Four Brandeis composition alumni: John Aylward, MFA'06, PhD'08; Laurie San Martin, PhD'02; Peter Van Zandt Lane, MA'08, PhD'13; and Scott Wheeler, MA'83, PhD'84 are 2018 recipients of awards from the American Academy of Arts and Letters. Scott has received the Arts and Letters Award; John the Walter Hinrichsen Award; Laurie the Andrew Imbrie Award; and Peter the Charles Ives Award. The awards will be presented at the Academy's annual Ceremonial in May. Candidates for music awards are nominated by the 250 members of the Academy.
Composers Tina Tallon M.F.A. '13 and Daniel Allas M.F.A. '17 have forthcoming world premieres commissioned by the  Los Angeles Philharmonic in conjunction with the orchestra's new music series LA Fest: LA's Newest Music. Tina's work is for chamber ensemble, and Daniel's is for solo clarinet and ensemble. Both works will be performed on October 9, 2018 under the baton of Gustavo Dudamel.
Composer Max (Edward) Dulaney, Composition PhD. '13 has a forthcoming new one-act opera, Already Root, that will be premiered by Talea Ensemble  on April 13, 2019 as part of their 10th anniversary season. The opera, inspired by the Orpheus and Eurydice legend, reimagines Eurydice's perspective within the myth, illuminating her experience and expanding her voice.  Max is currently Assistant Professor of Composition and Theory at Tulane University.
Fall 2017
Faculty News
We are pleased to welcome two new faculty members to the department:
Assistant Professor and composer Erin Gee, composer, comes to us from the University of Illinois, Urbana-Champaign where she was Assistant Professor of Composition-Theory. Erin holds a PhD from the Universtät für Musik und darstellende Kunst, Graz, Austria. She is the recipient of numerous fellowships, awards and commissions including a recent Chamber Music America Grant for a work to be composed for ensemble Dal Niente. Read Erin's full biography.
Assistant Professor and musicologist Paula Musegades, Brandeis PhD '14, was most recently Florence Levy Kay Fellow in Music and American Culture and Lecturer in the Department of Music and the American Studies Program at Brandeis. She has taught courses in film music, music and protest, American music, and history of rock music. Her research focuses on film and television music, pop music, and the growth of the music industry. Paula has also taught music courses at Emerson College. View Paula's Faculty Guide profile.
Musicologist and Assistant Professor Karen Desmond's project Measuring Polyphony: Digitally Mediated Access to the Music of the Middle Ages is the first project that encodes medieval music in the original medieval notation, beginning with a repertory of sixty-four motets transmitted in the major sources of French polyphony that were copied c. 1300-1375. Making digital versions of this medieval repertory publicly available, along with the tools and documentation that will enable others to rapidly add other repertories, opens up new possibilities for the analysis and interpretation of medieval music. Most current projects that encode music notation are focused on repertories written in the neumatic notations of western plainchant, or from the common practice period of c. 1600 and later.
Desmond has co-edited a book, forthcoming in February 2018, Catherine A. Bradley and Karen Desmond, eds., "The Montpellier Codex: The Final Fascicle. Contents, Contexts, Chronologies." Boydell & Brewer. She has a monograph in press, Music and the moderni: The ars nova in theory and practice (Cambridge University Press, forthcoming 2018). She has also published four essays in 'Nationes'-Begriffe im mittelalterlichen Musikschrifttum Politische und regionale Gemeinschaftsnamen in musikbezogenen Quellen, 800-1400. Ed. Frank Hentschel. Berlin: de Gruyter, 2016. Karen was invited to present two talks in June 2017: "The Notational Dot and the Line of Musical Time", at the International Symposium on Medieval and Early Renaissance Music at Kloster Neustift/Novacella (Italy); "Jehan des Murs and the 'Partes prolationis' music treatise of BnF lat. 7378A", Jean (des Murs) des Murs: Quadrivial Science in the Fourteenth Century, at All Souls College, Oxford.
This past summer Associate Professor of Composition Yu-Hui Chang was featured guest artist at the Wellesley Composers Conference. In September her new work titled "In Gentle Breeze, We Sing" (an experimental music theater piece for voice ensemble, children's choir, percussion, and piano) was premiered in the Innovation Series at the National Theater and Concert Hall in Taipei.
Professor of the Practice Robert Nieske's "Sonata for Flute and Piano" and his arrangements of 7-holiday songs has been recorded by Linda Bento-rei, flute, and Vytas Baksis, piano and will be available on cd in November.
Associate Professor of the Practice and first violinist of the Lydian String Quartet Andrea Segar is the recipient of a 2017/18 Brandeis Faculty Diversity Award for her project "Castle of Our Skins: Black in Europe and Beyond." Born out of the desire to foster cultural curiosity, "Castle of our Skins" celebrates black artistry through music. From classrooms to concert halls, "Castle of our Skins" invites exploration into black heritage and culture, spotlighting unsung and celebrated figures of past and present. "Castle of our Skins" is connected with the MUUS Residency Program and runs from November 15 - 18, culminating in a concert on Saturday, November 18 in Slosberg Recital Hall.
Department News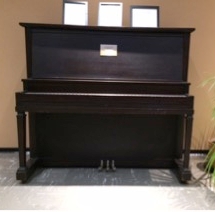 Bernstein childhood piano goes on a cross-country trip
Since 2002 the piano that was used by Leonard Bernstein as a child has been housed in the Slosberg Music Center Lobby, a gift from Brandeis alumna Professor Judith Wechsler '62. The upright piano, affectionately known as "Aunt Clara's piano," resided in the Bernstein family home in Sharon, MA until 1951. It was on this piano that Leonard Bernstein took his first piano lessons, quickly mastering the keyboard.
In celebrating the centennial of Bernstein's birth the Grammy Museum of Los Angeles has mounted an impressive exhibition of items belonging to the late composer/conductor including artifacts from the Brandeis Archives, and Aunt Clara's piano, which leads off the exhibition. The Grammy exhibition runs through 2020 and will be shown at the Kennedy Center in Washington DC, the New York Public Library, the Skirball Cultural Center in Los Angeles, the New England Conservatory of Music, Boston, and in venues in Tulsa, OK, Chicago, and Portland OR.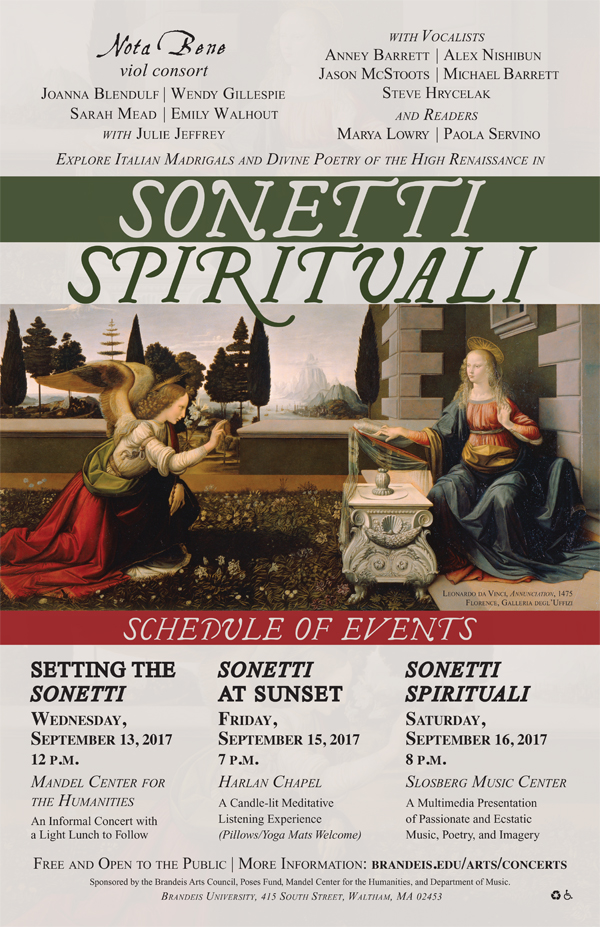 From September 13 - 16 Ensemble Nota Bene led by Professor of the Practice and early music specialist Sarah Mead was in residency at Brandeis as part of Professor Mead's project Music, Sound & Text: Exploring the convergence of three 16th- century art-forms. The primary purpose of the project is to study for convergence of instruments, composition, and text in order to more deeply understand the aesthetic basis of this Italian art-form as it arose in the late 16th century.
The ensemble (viol consort) Nota Bene along with five singers from the Boston Renaissance ensemble Blue Heron presented Pietro Vinci's musical settings of the poetry of Vittoria Colonna, sonetti spirituali, in workshops and concerts. The Saturday concert included readings by Associate Professor of Theater Art Marya Lowry and Senior Lecturer in Italian Studies Paola Servino, with visuals provided by Associate Professor of Fine Arts Jonathan Unglaub. Music, Sound & Text is funded by grants from the Mandel Center and the Brandeis Arts Council.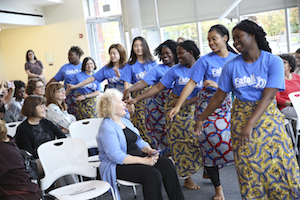 Photo by Mike Lovett
Ghanaian drumming and dance ensemble Fafali is having a busy fall semester under the leadership of Ben Paulding. On October 25 Fafali gave a performance and workshop for the Music at Mandel concert series (see pictures below courtesy of Brandeis photographer Mike Lovett). On Saturday, November 11, Fafali performed at the 7th annual Night for Africa, a showcase of African art, food, fashion, music, and culture, organized by the Brandeis African Students Organization (BASO). On Thursday, November 16th, Fafali performed at the Global Bazaar in the Shapiro Campus Center, part of the "I Am Global Week." Their final fall semester concert on Monday, December 4th, at 7 p.m. features three guest artists from Ghana -- Koblavi Dogah, Francis Akotuah, and Kwaku Manu -- as well as a youth African drumming group from East Boston nonprofit youth music center Zumix.
Graduate Student News
Talia Amar, PhD candidate in composition has been appointed as an instructor at the Jerusalem Academy of Music and Dance where she will be teaching music theory, form and analysis and electronic music.
Alumni News
We note the passing of composer Halim El-Dabh, MFA 1954, on September 2, 2017, at age 96. El-Dabh was an Egyptian composer, performer, ethnomusicologist and educator and a pioneer of electronic music. He is credited with composing one of the first works of musique concrete. At Brandeis, he studied with Irving Fine and went on to do legendary work at the Columbia Princeton Electronic Music Center. El-Dabh served as associate professor of music at Haile Selassie I University (now Addis Ababa University) in Addis Ababa, Ethiopia, professor of African studies at Howard University (1966-69), and professor of music and Pan-African studies at Kent State University (1969-91); he continued to teach courses in African studies there on a part-time basis until 2012.
Composer Seunghee Lee, PhD '14 has been appointed Assistant Professor of Music at Ave Maria University, Fl.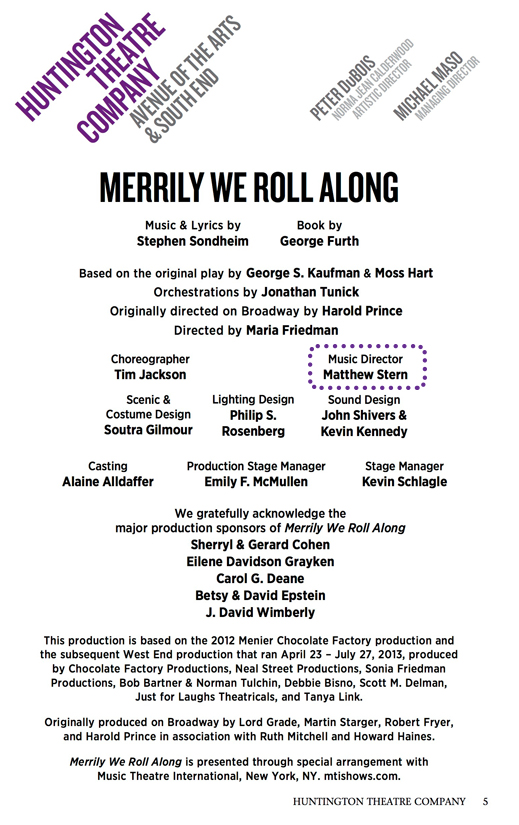 This fall Matthew Stern, BA '08 was music director for the critically acclaimed British production of Stephen Sondheim's Merrily We Roll Along at Boston's Huntington Theater. Matt was a Vocal Performance Major at Brandeis with an additional major in Near Eastern and Judaic Studies. While at Brandeis he studied voice with Pamela Wolfe, and conducting with Neal Hampton, James Olesen and Daniel Stepner, and with Lawrence Wolfe of the BSO. Matt served as Undergraduate Departmental Representative for Music and was music director for a number of student theater productions as well as a full-length program of choral music.
Matt is currently on the faculty of the Boston Conservatory at Berklee where he is teaching courses in musical theater, graduate styles and analysis, and vocal repertoire. He has directed a number of professional theater productions and received an IRNE (Independent Reviewers of New England) Award as Best Director for his work on The Scottsboro Boys for the Boston Speakeasy Stage Company. For more information on Matt Stern visit his website.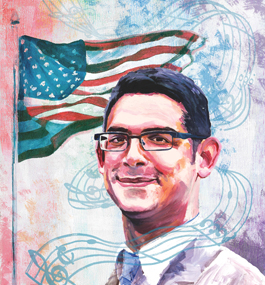 In the Fall 2017 issue of the Brandeis Magazine, Nicholas Brown '10 offers a heartfelt and touching discussion about personal identity, courage, and the powerful influence of poetry and the music of Leonard Bernstein. Nick was a performance major at Brandeis, studying voice and conducting and playing French horn. While at Brandeis he founded the Irving Fine Society to present the vocal works of Irving Fine. He also served in the Army National Guard and subsequently went on to study for a master's degree at Kings College. Following an appointment as a White House intern in the office of First Lady Michelle Obama, Nick accepted a position as a music specialist at the Library of Congress.
Alumni siblings Jared Field '11 and Jessie Field '13 have collaborated on a new musical about environmentalist Rachel Carson, best known as the author of "Silent Spring." Read the full article from Brandeis Alumni Magazine.