May 2021 URCC Newsletter
May 2021
Director's Message
Late Spring is a time of change. Commencement celebrates our graduating seniors and marks their transition to the next stages of their lives. For returning students, completing Spring Semester ushers in the summer and all that it brings. Fall 2021 brings yet another transition with the return to a more typical on-campus presence of students, faculty, and staff. Wherever you are now and wherever you may be in the future, I wish you the best.Spring Semester 2021 was eventful and action-packed in the Undergraduate Research and Creative Collaborations Office. Read on for research advice from Brandeis undergraduates, news about the Spring 2021 all-disciplines Undergraduate Research and Creative Collaborations Symposium, Recent Undergraduate Research Fellowships, and more.Warm wishes,Margaret LynchDirector of Undergraduate-Faculty Research Partnerships
---
Our Office:
The Undergraduate Research and Creative Collaborations Office (URCC), launched in 2020, is a unit in the School of Arts & Sciences, led by Dean Dorothy Hodgson and Senior Associate Dean Wendy Cadge. Through a grant* from the Davis Educational Foundation, the URCC is building an infrastructure to support Brandeis undergraduates' access to research and creative opportunities. For more information, contact the Director of Undergraduate-Faculty Research Partnerships, Margaret Lynch, at margaretlynch@brandeis.edu.
*The grant was received from the Davis Educational Foundation established by Stanton and Elisabeth Davis after Mr. Davis's retirement as chairman of Shaw's Supermarkets, Inc.
In This Newsletter:
URCC Announcements
URCC Past Events
Funding Opportunities for Undergraduates
Brandeis Undergraduate Research Awards
Undergraduate Research Spotlights
URCC Updates and Resources
Contact Us
URCC Announcements
Research Advice from Brandeis Undergraduates
New Video Series!
---
URCC Announcements
Research Advice from Brandeis Undergraduates: New Video Series!
Undergraduates who have not yet engaged in independent research or creative work typically have many questions about how to get involved and find opportunities. Students who want to learn more can now view a set of videos that feature four current Brandeis undergraduates who have conducted research: Alejandra Bonilla '21, Ariel Brathwaite '22, Yuezhu (Coco) Chen 22, and Emma Ghalili '22. In each of 12 videos, these students answer a common question about undergraduate research. You can view the videos on the URCC website.
The undergraduate video project was led by Professor Elizabeth Ferry (Anthropology) and Professor Angela Gutchess (Psychology) and funded by a Provost's Teaching Innovation Grant awarded to Professor Wendy Cadge by the Center for Teaching and Learning.
Preparing for Senior Thesis
A note to let you know that Undergraduate Research and Creative Collaborations has a page of resources for thesis writers. We have also just released a report about senior theses by Department and Division over the last four academic years that may be helpful to chairs and UAHs. Many thanks to Doug Bafford, the 2020-2021 URCC Graduate Administrative Fellow, for his work on this report. This is a good time to reach out again to your junior majors and remind them of the process and guidelines for writing a thesis, as well as the academic value of the senior thesis experience.
Thank you!
Wendy Cadge and Margaret Lynch
---
URCC Past Events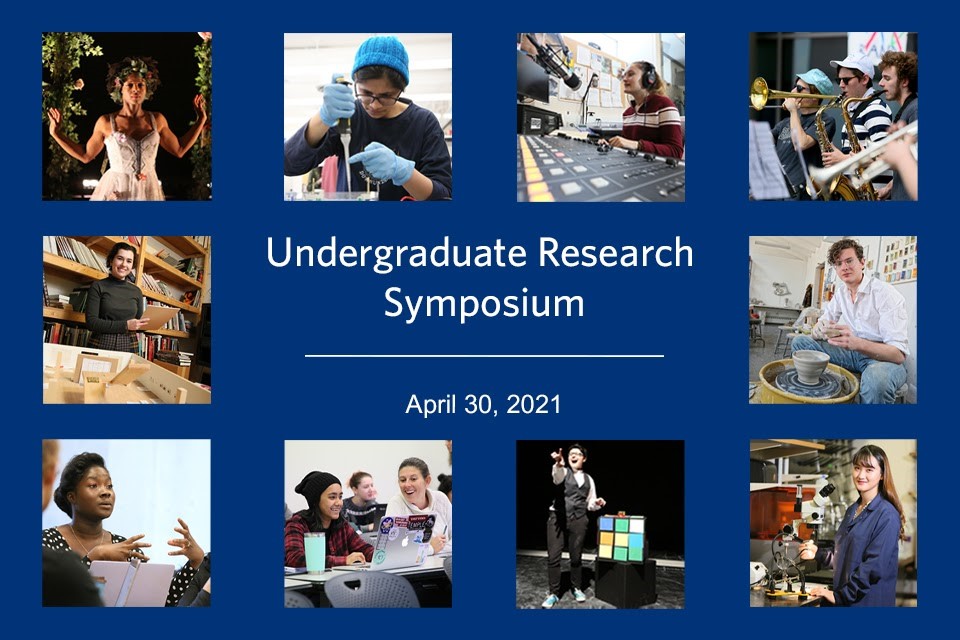 The first annual all-disciplines Brandeis Spring Undergraduate Research and Creative Collaborations Symposium featured 109 presentations from 113 undergraduate presenters. The students shared their research and creative projects with faculty, staff, parents, peers, and friends of Brandeis. Presentations spanned the Creative Arts, Humanities, Social Sciences, and Sciences. In addition to the live synchronous presentations, which were held via Zoom on April 30, participants had the opportunity to preview the presentations for two days prior to the live presentation sessions and continue to view the presentations for 10 days after the event. Presenters and attendees could discuss the projects asynchronously via the Symposium platform's comment feature. Nearly 450 comments were posted, and the questions posed by attendees and responses from presenters allowed for an extended conversation about the student's academic investigations and projects.
The URCC thanks the Davis Educational Foundation for funding to support the Symposium, and all of the Brandeis Community for their engagement with this event.
April 29 through May 5, 2021: Brandeis Senior Thesis Festival
The 10th annual Senior Thesis Festival showcased the senior thesis projects of graduating theater arts students. With the help of faculty advisors and in close collaboration with Brandeis Sound and Image Media Studios, they presented theatrical works they had created, directed, acted in, choreographed, and designed.
This year's Festival was unique because the Thesis Makers created their work to be experienced online through dedicated individual thesis websites. Each website was as individual as each student. Visit the Department of Theater Arts Senior Thesis website for full descriptions of the projects listed below. Between April 29 and May 5, prerecorded productions were available to watch for free at any time. The seniors who presented are listed below:
Casey Bachman, Disconnecting the Dots: Judaism and Israel
(Actor)

*Lauren Komer, Lulu
(Director)

*Renata Leighton, Boundless
(Deviser and Performer)

Xinbei Lin, Doctor Faustus Lights the Lights
(Director)

*Amy Ollove, Foolish Sanity
(Actor and Creator of script)

Nate Rtishchev, 10, 9, Too Late, Blast Off!
(Writer)

Anderson Stinson, III Anderson Stinson, III's Extended Universe
(Actor, Director, Writer, Film Producer)
*These students also presented at the Brandeis all-disciplines Spring Undergraduate Research and Creative Collaborations Symposium.
---
Funding Opportunities for Undergraduates
Looking ahead to Fall 2021
October 1, 2021 is the Fall deadline for a number of funding sources.  Returning undergraduates and their faculty mentors who are interested in applying for Fall funding can check the URCC Funding Opportunities page for details.
---
Brandeis Undergraduate Research Awards
Undergraduate Research and Creative Collaborations Office
Congratulations to the students who were recently awarded research fellowships! These fellowship programs would not be possible without the generous support of our donors and the Provost's Office. Thank you to our donors, the faculty and staff selection committee members, faculty undergraduate research mentors, staff, and of course the students!
The URCC is glad to announce the following awards:
Provost's Summer 2021 Undergraduate Research Fellows (14)

Jerome A. Schiff Undergraduate Fellows (9)

Robert and Fori Kay Undergraduate Research and Creative Collaborations Fellowship (1)

Jane Kahn '77 Undergraduate Research Fellowship (3)
 See the full list of students along with their project titles on the URCC Recent Research Awards Page. As in Summer 2020, the URCC plans a Summer 2021 Undergraduate program series with presentations and workshops related to undergraduate research and creative collaborations. Visit the URCC website for updates.
Division of Science
Summer Research Program back to (nearly) normal in 2021

With increasing vaccination rates and declining positive Covid test rates, the Division of Science is looking forward to a vibrant, in-person summer undergraduate research program kicking off right after Memorial Day. 
 The Division of Science summer program pairs first hand research, community building and guidance from Brandeis graduate students and postdoctoral fellows to provide undergraduate students a high-quality research experience. Past summer undergraduates have gone on to make substantial contributions (even as first authors!) to peer-reviewed research publications in fields such as materials chemistry (Shi et al., "Sunlight-activated phase change materials for controlled heat storage and triggered release"), molecular biology (Lamper et al., "A phosphorylation-regulated eIF3d translation switch mediates cellular adaptation to metabolic stress") and neuroscience (He et al., "Rapid adaptation to Elevated Extracellular Potassium in the Pyloric Circuit of the Crab, Cancer borealis").
For Summer 2021, we are excited to announce that 58 undergraduate researchers will be supported through the Division of Science programs and funding sources including NSF, NIH, and generous Brandeis alumni and foundation donors.
 Blavatnik Summer Science Research Fellowships (10)
Division of Science Summer Undergraduate Research Fellowships (9)

Frederick Alt '71 Summer Fellowships (2)

Nemtzow and Steffen Endowment Fellowships (1)

Jordan-Dreyer Summer Undergraduate Research Fellowships (2)

M.R. Bauer Foundation Summer Science Research Fellowships (10)

Traineeships for Undergraduates in Computational Neuroscience (6)
We will conclude the summer with SciFest, our annual summer poster session showcasing undergraduate research in the sciences, on August 5, 2021. Check the website for updates about the time and details for the session. 
Congratulations to all fellowship recipients!
---
Undergraduate Research Spotlights
Natasha Chaiyarat '22, the URCC Undergraduate Assistant, interviewed two undergraduates, Erin Magill '22 and Ruth Rosenblum '22  about their experiences in research at Brandeis. Both Erin and Ruth presented their project, Creating a Corpus of Child Speech by Monolingual and Bilingual Russian Speakers, at the April 30 all-disciplines Undergraduate Research and Creative Collaborations Symposium.  Read more about their research and the faculty mentoring they received on the URCC Undergraduate Spotlights page.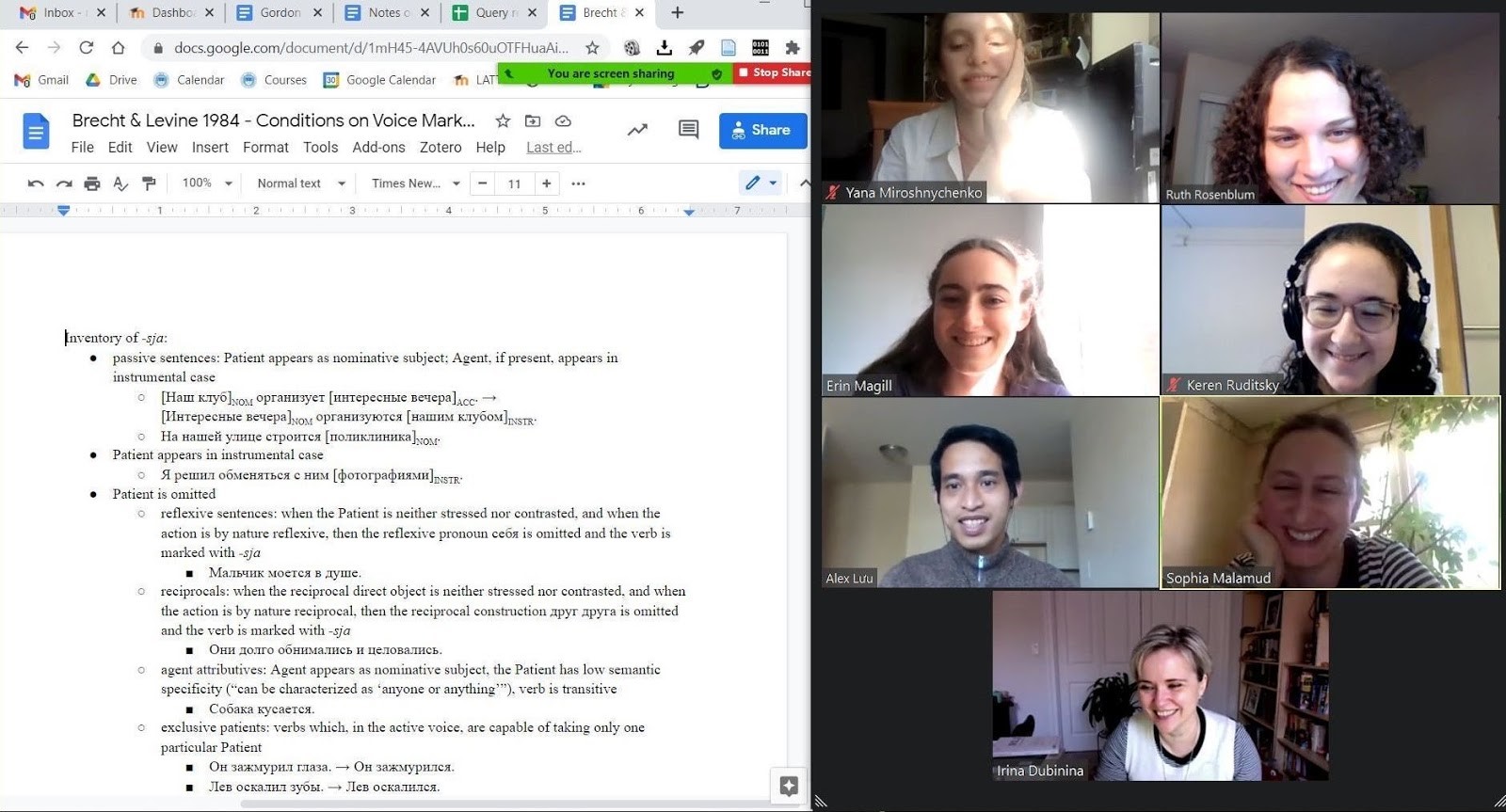 ---
URCC Updates and Resources
The URCC has a variety of resources available on the Research Support section of its website.
Brandeis Library
Stay tuned for Library workshops offered on Zoom this summer! We'll be adding workshops on data analysis, research skills, and more in the next few weeks.

Conducting research this summer? Connect with your Subject Librarian to discuss search strategies, resources, and research tips. Library staff are also available for  one-on-one consultations to help you find, manage, analyze, and visualize the data you use in your research.
---
Contact Us
Margaret Lynch, PhD, is the Director of Undergraduate-Faculty Research Partnerships.
Contact Margaret with questions about funding opportunities and to learn more about undergraduate research and creative collaborations. Don't know where to start? She can help you learn how to identify and contact potential mentors and funding sources, explore your research and creative interests, and advise you in getting involved.