What to Bring
... and what to leave at home!
As you begin to plan for your first year at Brandeis, undoubtedly you will wonder what you will need and what you should bring to live in the residence halls. Living in a residence hall is much different than living at home because of the close quarters with others, as well as the independence. Needed and desired items will vary from student to student. However, there are a few important things to consider when planning and packing for a year at Brandeis.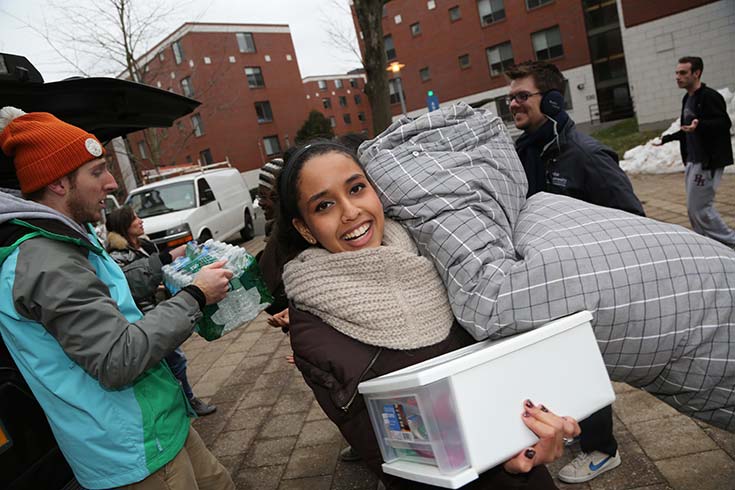 Furniture Provided by Brandeis
First, the furniture in the room will impact the space and types of items that you will need. Brandeis furniture cannot be removed from a room. All rooms at Brandeis are equipped with the following for every student:
Extra-long twin bed and mattress
Desk
Desk chair
Dresser
Closet space (some students may share closet spaces)
Ladder and guard rail (for lofted beds)
Items You May Want to Bring
Shower shoes (inexpensive flip-flops work well)
Shower/bathroom caddy
Small fan (rooms can get warm in August and September)
Towels
Pillow(s)
Linens and comforter
Surge protector/power strip
Alarm clock
Trash can
Small personal effects and decorations
The Student Services Bureau (SSB) offers linens for purchase. A complete list of services offered can be found on the SSB website.
If you are interested in renting a micro fridge, please see our Resources page.
Communal Items
Before purchasing items for your room, it is best to communicate with your future roommates. There are some items that you may want, like a mini fridge, where it would be problematic if each person brought their own. It is a good idea to always check with your roommates before bringing an item that may be communal or may impact your roommates.
Local Shopping
Whether you arrive to Brandeis by car, train, bus or plane, it can be difficult to bring everything in one trip. Sometimes there are items you think you might need, but you are not sure you will need them. For these items, we recommend not purchasing them until you arrive at Brandeis and see what you need. Fortunately, there are shopping centers — including Shopper's World, the Natick Mall, Arsenal Project and the Watertown Mall, all about a 15-minute drive from campus — where you may find the majority of these items. Target is located near or within these shopping centers.
Things to Leave at Home
Due to fire and safety restrictions, some items are restricted from residence hall rooms. Please consult Brandeis Rights and Responsibilities for a complete list of our campus policies, as well as our Prohibited Items page for a more extensive list of items not allowed in residence halls:
Halogen lamps
Hot plates (or any item with an exposed heating surface)
Standard-size refrigerators
Toaster ovens
Waterbeds
Air conditioners (without medical authorization)
Large fabric ceiling hangings
Upholstered furniture, such as couches, love seats and recliners
Space heaters