East Quad
Found in a quiet wooded area of upper campus, East Quad is primarily home to a mix of sophomores, first-year, and mid-year residents.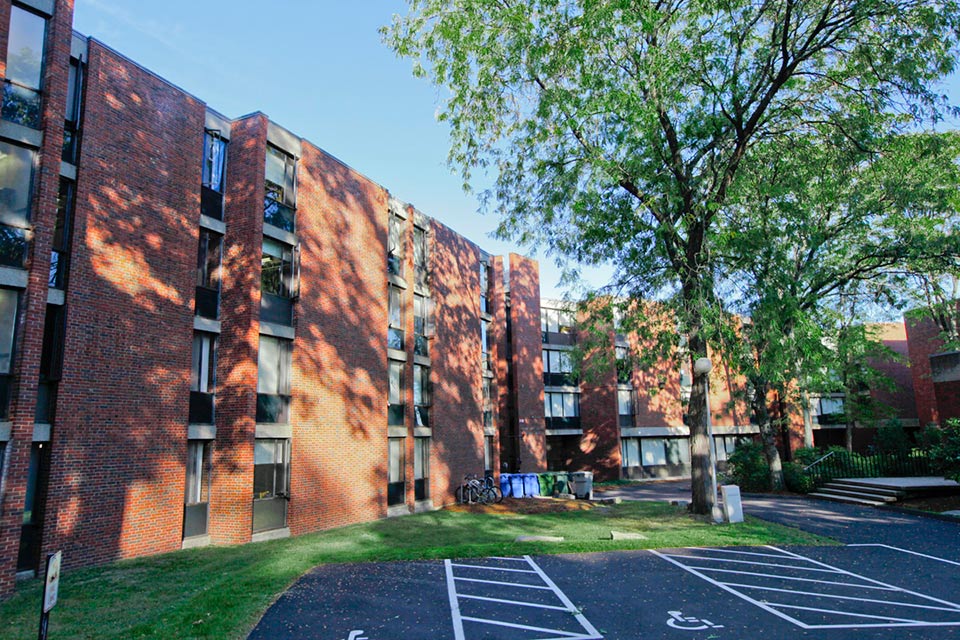 East Quad is comprised of four sections with six names: Hassenfeld-Krivof, Shapiro House, Pomerantz-Rubenstein and Swig, yet students refer to the main residence hall buildings as Hassenfeld and Pomerantz. East Quad is conveniently located across the street from Gosman Sports Center and steps away from the Health Center and the Intercultural Center. East was designed to maximize the potential of the residence living environment to become a tight-knit community. With open lounges on most floors, extended corridors, a community kitchen and large common areas, life in East is anything but dull. The top floors of East also provide residents with a clear, breathtaking view of the Boston skyline.
Staffing
East has 13 Community Advisors (CAs) who engage residents in establishing active living and learning environments where each individual is invested in promoting the success and safety of all members of the community. CAs create and execute programs, address student concerns, and support the community when issues arise.
East has one Area Coordinator (AC), a live-in full time professional staff member with an advanced degree, and one Assistant Area Coordinator (AAC), a graduate student staff member who is in pursuit of an advanced degree. The AC and AAC supervise the CAs, manage the residence halls, and hold regular office hours in the community office. 
Rooms
East contains both single- and mixed-gender rooms. The halls are traditional style, consisting of single and double rooms. The singles range between 100 and 140 square feet, and the doubles are approximately 200 square feet.
Floor plans: Hassenfeld / Pomerantz
Features
Residents of East have access to laundry machines, a number of open lounges on each floor, a large central lounge with a television and cardio room, and a community kitchen.
The Airplane Lounge is available for reservation by registered student groups.