Master's Program in Global Studies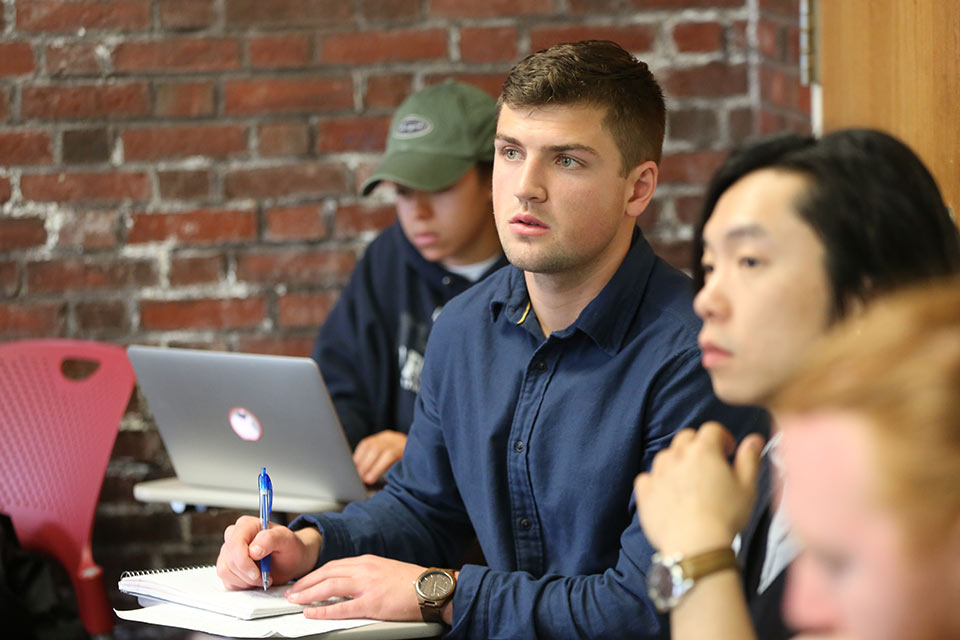 Loading...
***This program is currently on hiatus and not accepting applications for the coming academic cycle***
Overview
Brandeis University's Master of Arts in Global Studies focuses on the dynamic interplay of diverse global processes (whereas an international relations program would study exchanges between nations, multi-/bilateral agreements, and diplomacy). Our graduate program offers students advanced training in a global studies concentration and independent research leading to a Master's thesis. Students are exposed to a broad range of electives taught by our faculty experts and have flexibility in designing one's own curriculum and thesis to match their own interests. Visit the program website for more information. Application instructions can be found below.
Apply Financial Aid Program Site
How to Apply
Application Deadlines
Please note that our program is not accepting applications for this cycle.
MA: Fall semester (starts in late August) — rolling through May 1; application review begins January 15
Five-Year Bachelor's/Master's Program(for current Brandeis undergraduate students): Brandeis juniors: May 1
Application Requirements
To apply for the program, you need to submit:
An application fee (waived for the Bachelor's/Master's program)

Transcripts from all universities and colleges attended must be uploaded to your application; do not mail official transcripts to our office. For more information, visit our Frequently Asked Questions page.

Two letters of recommendation, submitted electronically (note: the BA/MA requires only one letter of recommendation)

A curriculum vitae (CV) or resumé

A statement of purpose indicating your reasons for undertaking graduate study and your qualifications for the academic program. The statement of purpose should clearly describe your interest in Global Studies, especially the subfield and issues that will constitute the focus of your coursework and research. You should also discuss your plans for a professional or academic career and how the program in Global Studies can help you achieve these goals (note: BA/MA students should also indicate how they will complete their bachelor's degree requirements in the first year of the program).

Written work: Please submit a sample of critical writing not to exceed 35 pages; the 35-page maximum may consist of a single paper or two shorter essays of approximately equal length.;

Graduate Record Exam (GRE) required for MA (the GRE is waived for Brandeis undergraduates applying to the Bachelor's/Master's, as well as for Brandeis students/alumni applying for the Master's). Our GRE institution code is 3092 (please note: this institution code only applies to GRE scores). MyBest™ scores from ETS will not be accepted.

Additional Requirements for International Applicants: Score report from one of the following English language proficiency exams: TOEFL iBT, TOEFL Revised Paper-delivered Test, TOEFL ITP Plus for China Solution, IELTS Academic, PTE Academic, or Duolingo English Test. You can arrange for the delivery of your TOEFL iBT or Revised Paper-delivered Test score report by providing ETS with our institution code, 3261 (no department code is necessary); please note that we do not accept TOEFL Essentials score reports or MyBest™ scores from ETS. Delivery of your TOEFL ITP Plus scores can be arranged via your Vericant account, delivery of your Duolingo scores can be arranged via your Duolingo account, and delivery of your PTE Academic scores can be arranged via your Pearson account. Further information about this requirement can be found on the International Students page.
Foreign Language Requirement: All Global Studies students must have advanced training in a foreign language (defined as at least one level beyond the graduation requirement at Brandeis). In cases where students lack sufficient language training, they can satisfy this requirement by an intensive summer course (either the semester before or after the residence year), by taking the corresponding course at Brandeis (as an additional course), or by private study and a qualifying language examination at the end of the second semester.
For a more comprehensive description of application requirements, please visit our Frequently Asked Questions page.