LinkedIn Photo Booth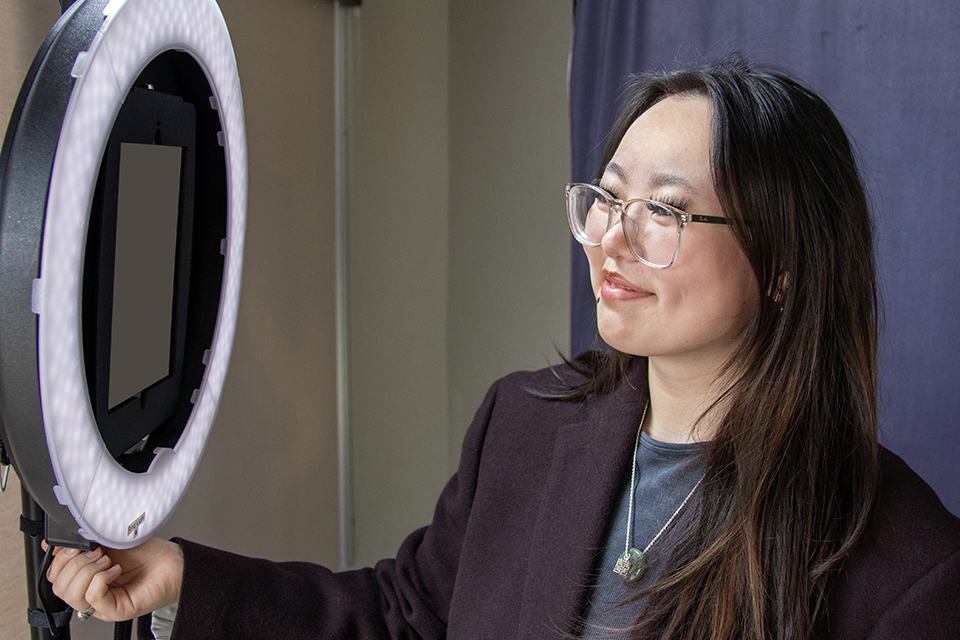 Snap a Free Headshot Anytime at Hiatt
Our permanent LinkedIn Photo Booth is here for you! We have a self-service system available at any point throughout the semester so you can always have an up-to-date, professional-looking headshot.
It's as simple as 1, 2, 3
Turn on the photo booth.

Position yourself and press the shutter button for a countdown.

Take as many as you'd like and share the best photo via email or Airdrop.
Headshot tips
The background is blue/gray (almost purple), pick colors that won't clash or blend in.
Solid colors work better than small patterns.
Ensure the ring light doesn't reflect in any lenses you wear by reducing the ring light's brightness.
Utilize the supplied grooming products—combs, bobby pins, toothpicks, etc.—so you look your best.
Bonus Tip: Don't have the right outfit for your photo? Snag free professional clothing from our Career Closet before stepping into the photo booth. You can even keep it for life after taking your headshot!
Stop by Hiatt during normal business hours (Monday—Friday from 9 AM—5 PM) to get your LinkedIn profile picture!
Hiatt Career Center
Usdan 15
MS 204
Brandeis University
415 South Street
Waltham, MA 02453
Phone: 781-736-3618
Fax: 781-736-3622
hiattcenter@brandeis.edu