Forage Virtual Work Experiences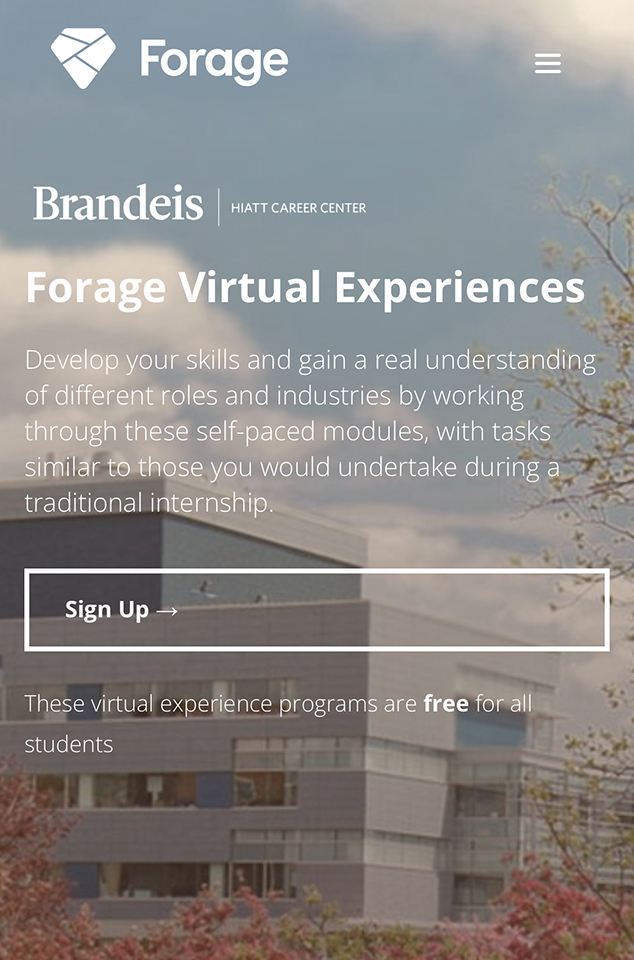 Virtual work experiences from leading companies including Accenture, Citi, General Electric, JPMorgan Chase, Lululemon and many more allow you a bite-sized opportunity to try out different types of jobs.
Develop your skills and gain a real understanding of roles and industries by working through self-paced modules with tasks just like an internship or entry-level position. This is an opportunity to experience a day in the life of an employee at a Fortune 500 company!
How it Works
You select from any number of free programs based on the industry, company or type of work you want to try on.
During the program, work through tasks set by the company. These are not graded assignments; they are simulated experiences that replicate work you would undertake as an intern or entry-level employee. Programs take between five to six hours to complete and are self-paced, allowing you to finish as you want. You can even revise and edit submitted work to show growth on a topic or task.
Programs Include:
Video instructions and materials created by the company
Work that reflects real day-to-day tasks of interns and entry-level employees
The chance to compare your work and see how an employee at that company would have completed the tasks
Benefits:
Sample what work is like at leading companies
Discover career paths that you may not have previously considered
Build confidence and gain skills to get you ready for work
Earn a certificate of completion and stand out to these employers
Get Started
Virtual Work Experiences are FREE. Log in with your Brandeis email address.
start your Virtual Work Experience
Frequently asked questions about Forage
Describe Your Experience on Resumes and LinkedIn
One of the benefits of completing these programs is adding each experience to your resume and LinkedIn profile. Follow these directions for listing your virtual experience:
Participating Companies Include