Hiatt Career Closet
Due to the ongoing construction in Usdan, the Hiatt Career Closet is temporarily unavailable. 
The Hiatt Career Closet provides undergraduate students free access to professional attire for interviews, career fairs, networking events and other career-oriented activities and occasions. Our goal is to help students feel prepared, professional and comfortable when making a first impression without having to leave campus or spend a lot of money.
Hours of Operation
The Hiatt Career Closet is currently unavailable due to the construction on the Usdan Student Center. We apologize for any inconvenience. Students are invited to shop again when we re-open from 11 a.m. - 4 p.m. Monday-Friday (no appointment necessary).
How It Works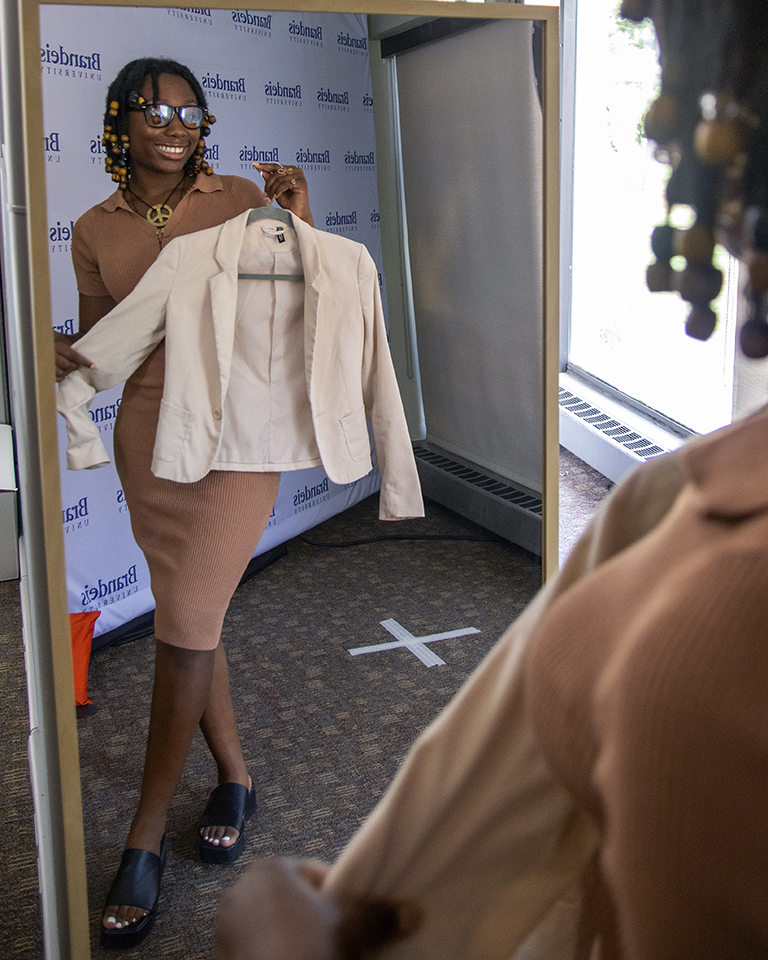 The Hiatt Career Closet is located on the second floor of the Hiatt Career Center in the Usdan Student Center. Students may take (and keep) any items of their choosing free of charge. We constantly have a rotating inventory, so the best way to shop for your specific needs is in person!
When you arrive, you will be greeted by our staff. We are there to answer questions, give advice and help you check out (students are required to check out even if no items are taken). We also keep in mind that shopping is a personal experience, so we will leave you to it unless you need additional assistance. Our space also offers a private, gender-inclusive restroom so you can try on items in private to help decide if they are right for you.
Expectations
Donations to our closet are ongoing, so inventory will vary based on what we receive and when. We strive to include items that are representative of all shapes, sizes and styles but cannot guarantee they will always be available. Please contact us if additional assistance in finding a style that works for you is needed.
Inclusion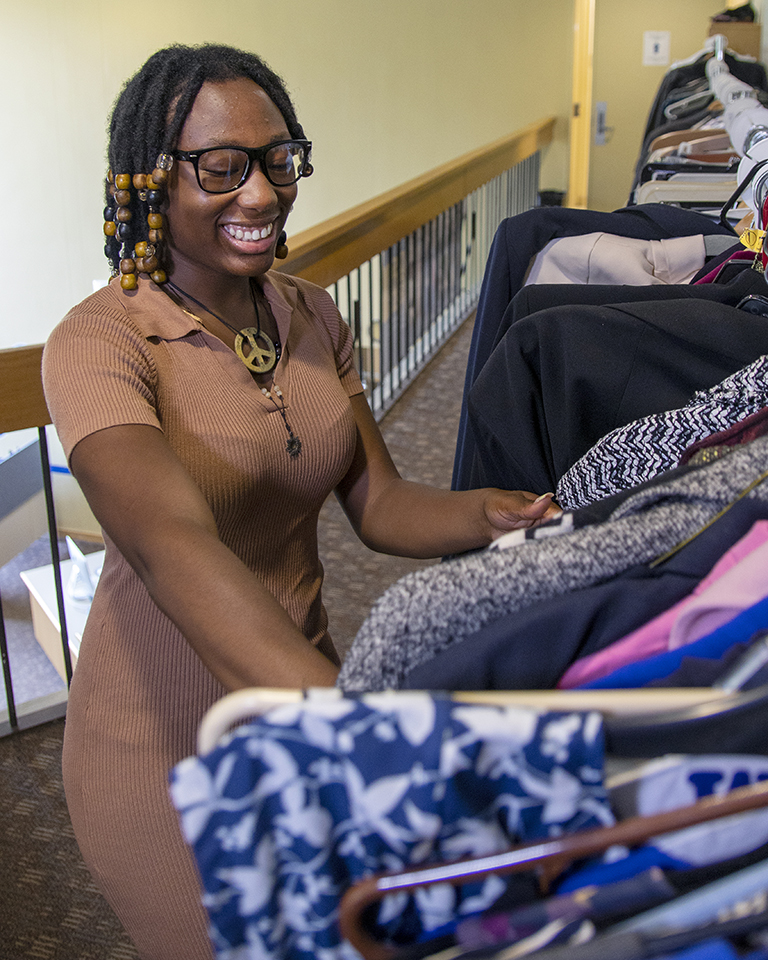 The Hiatt Career Closet strives to include all shapes, sizes and orientations. Each time a student visits the closet, they will be treated with sensitivity and respect. With the understanding that not all users identify with a specific gender, our garments are categorized into two categories: masculine style and feminine style. Within these categories, we have multiple item types (suits, jackets, blouses, pants, etc). Students should feel free to shop in whatever category they choose.
Donations
Accepted donations must be new or gently worn, in good condition and cleaned prior to donating. Items must be of high-quality: not ripped, stained, broken or missing pieces (buttons, zippers, straps). Review our donation guidelines and standards.
Donations can be brought to the Hiatt Career Center during business hours (9 a.m.-5 p.m. Monday-Friday) or dropped off in our donation bin after hours. For additional information, email the Hiatt front desk or call (781)-736-3618.
Decoding Dress Codes
There are various terms associated with workplace attire, and though most organizations don't have a written set of standards of what is appropriate, it's important to ask your manager and then familiarize yourself with these common categories.
General Guidelines for Workplace Attire
Model what your boss wears: Your boss can serve as a great guide as to what is appropriate to wear at work. See how they approach professional and casual days to better gauge what is expected.
Plan ahead: You want to present the best version of yourself and not look like you just rolled out of bed. Do your best to plan your attire the night before and be sure that it is clean and wrinkle-free.
Comfort: High heels, tight collars and suits on summer days may not feel ideal. When shopping, find more breathable fabrics, lighter colors and footwear that accommodates how much walking/standing you will be doing.
Working from home: Follow tip No. 1: Mirror what your boss does. If they are showing up on video calls with a pressed shirt, you should as well. Avoid wearing casual tops, pajamas, robes or anything else that looks too "relaxed." Professional impressions also go a long way over video calls, so it's important to dress the part.