Identity at Work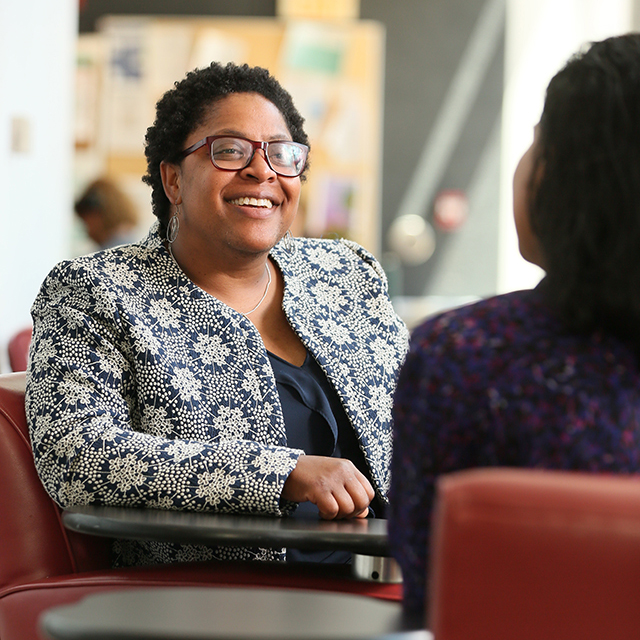 The Hiatt Career Center supports Brandeis undergraduate students and alumni of all affiliations, backgrounds, identities and preferences in considering how intersecting identities might impact work and professional development.
Every job seeker is unique and we recognize that your skills, values, background and interests are most valuable to you in a working environment. The Hiatt Career Center is committed to helping you transition into the workforce by equipping you with resources that further enhance the career development of you, the individual, that may identify in a specific community or group.
First-generation students bring incredible experience, knowledge and skills with them to college. Learn more how Hiatt can support you through your transition to Brandeis and the career exploration and job search process.
The job search process can present many questions and concerns for international students. Learn how to develop a search strategy, understand your work authorization status and how to connect with U.S. employers.
As a lesbian, gay, bisexual or transgender (LGBT) student or alum, you may find yourself in need of additional career exploration and research to best align your values and goals with a supportive work environment. Discover workplace resources and tips for making decisions regarding sexual orientation or gender identity as it relates to job searching.
In our increasingly diverse society, religion plays a large role that defines where we live, work and our overall world view. Explore how religious identity and expression intersects with career and work.
As a student-athlete, the skills and responsibilities you have developed from countless hours of practice and competition have an impact on your marketability. Find how you can search, apply and interview for a position that aligns with your background and interests.
Your background has given you a unique perspective and experience that can benefit any organization. It is important to reflect on those experiences and identify how you can highlight them in the job and internship process. (A student of color is a student who identifies as one or more of the following racial or ethnic groups: African, Alaskan Native, Asian, Black, Chicanx, Desi, Hispanic, Indigenous, Latinx, Native American, Native Hawaiian, and Pacific Islander.)
Choosing when and how to disclose a disability, whether invisible or visible, is an important and personal decision. Understanding your options regarding accommodations and support in the workplace is essential in choosing an employer.
Brandeis University is committed to the success of our students regardless of citizenship or immigration status. Find resources and information that can better support you as you gain experience, obtain post-graduation employment and/or apply to graduate school.
The Hiatt Career Center supports Brandeis undergraduate students and alumni with military experience by helping them frame their experience for the world of work and talk about their intersecting identities as veterans, students and professionals.
As a woman, you may have concerns about experiencing discrimination and inequality within your job search and the workplace. Educate yourself about the gender wage gap, negotiating salary and offers, and the unique insight you bring to your position.