Working With Hiatt
Our Mission
The Hiatt Career Center supports Brandeis undergraduate students and alumni in developing the skills to transform their unique backgrounds, liberal arts education and experiential learning into meaningful professional futures and relationships. We'll help you identify who you are, what you want and how to get there.
Who You Are

College is a time to discover yourself. You get to figure out what you enjoy, where your interests lie and goals for the future. As you find yourself weighing ideas and choices, we can help you to align them with your major or career through:

 
Individual and Group Appointments
It's often helpful to speak with an independent resource to think about options in a new way. Meet with a staff member once, for several weeks or check in every few months to keep you focused (appointment topics vary based on your needs).
Discovery Tools
We offer in-person and online tools to help you discover and describe your skills, values, interests and preferences. Learning more about yourself and about work will help you to connect both and get started.
Learning by Example
Brandeis students and alumni pursue various interests and career paths and we encourage you to connect with them. We'll work with you on how to find, learn and reach out to other students and alumni that are on a similar path as you.
Events and Programs
Throughout the year, you'll find events and programs focused on discovery and exploration with speakers from every industry including your peers, Hiatt staff, alumni and employers.
What You Want

As the semesters change, you'll find new experiences waiting for you to take advantage of. They could be in the form of studying abroad, an internship or joining a campus club. Whatever you choose, keep trying new things and take advantage of these offerings to help in your discovery:
Internships, Research and Jobs
Getting hands-on experience is an important way to learn about what you want as well as the world of work. We'll partner with you to devise a plan and strategy to find opportunities that best fit your interests and skills
Opportunities to Expand Your Network
Throughout the year (both on and off campus), we host events for students to connect with alumni and employer partners in various fields and industries.
Mentorships
Having multiple mentors throughout your career is key, and the Rise Together Mentor Network does just that! Connect with over 500 diverse alumni to learn about careers, industries, specialties and more.
How to Get There

You know what you want and you have your sights on it. Now, it's time to put it all together! Hiatt will support your professional goals, but we can't do all the work for you. Here's how Hiatt empowers you with resources and tools to get there on your own:

 
Job and Internship Postings
Over 12,000 organizations post both full- and part-time opportunities as well as internships exclusively for Brandeis students.
Career-Focused Appointments
Whether you are looking for an internship or job, we'll help you in developing your application materials (like a resume or cover letter), practicing for an interview or preparing for graduate or law school. We'll collaborate with you to develop your own personalized search strategy.
Exclusive Resources
We offer free resources you can access time and time again to learn more about industries and companies, build your skills, expand your network and create exceptional application materials. There is something for everyone, no matter where you are and what you want to do.
Lifetime Use of the Hiatt Career Center
Career is a lifelong process. Industries change, jobs evolve and life pushes us in different directions. Whether you need to update your resume from five years ago, change a job search strategy or explore a new area of interest, we offer the same support and expertise to alumni as you received as an undergraduate.
Principles of Service and Expectations
Our Approach
Modern services for modern careers: The world of work is ever-evolving, and our award-winning practices are grounded in teaching flexibility around career planning and decision-making for today and tomorrow's workforce.
Life-long skills: Students are at the center of our mission, and our goal is to enhance your experience by helping you create and develop career-ready skills for a lifetime of meaningful work.
Career everywhere: With career success at the core of the Brandeis mission, we collaborate and create partnerships through the Hiatt ecosystem model across campus to better support students in their career education and development.
Commitment to diversity, equity and inclusion: Hiatt is committed to building a space that is all-inclusive, welcoming, and free from bias and discrimination. We support students in considering how intersecting identities impact their work and professional development.
Your Approach
Stay curious and engaged: There's no one-size-fits-all path or plan to follow. You're unique, and staying open to all possibilities while channeling your curiosity and engaging in activities will fuel your success.
Be flexible and adaptable: Even the most well-intentioned plans and goals may shift over time. Hone in on your ability to adapt to new ideas and prospects.
The Impact

Brandeis equips you with the tools necessary to be successful in the professional world. Within six months of graduation, nearly 98% of Brandeis graduates are employed, in graduate school or engaged in other meaningful activities year after year. We encourage students to work with our office early and often so we can better support them throughout their career exploration and beyond.
Expectations
You are the expert on YOU. The Hiatt staff are experts on career. Our job is to help you plan effectively and to find the information necessary to make informed decisions as they relate to your job search and career planning process.
There is no "list" we can provide you of employers, graduate programs, jobs, or contacts that are a good "fit." We can collaborate with you on the resources and strategies to develop your own list and help prepare you for successful connections with alumni, employers and graduate programs.
Your application materials will be written by you, and only you. When you meet with us, we'll help you describe your experiences while providing review and formatting suggestions. Your applications may differ for each type of role you are applying for and will change over time. Though there is no template for you to follow, we suggest continually using the resources provided for materials on our website as well as meeting with our staff through for application-focused appointments.
We are not a placement office. Our job is to teach you to enhance your career skill set and allow you to be able to navigate the search, application and hiring process. We will collaborate and support you along the way, to be sure that you are equipped with your own game plan to put in place to apply for positions. The same expectation is true for career fairs and networking events; it is on the student to make the most out of these opportunities.
The Hiatt Namesake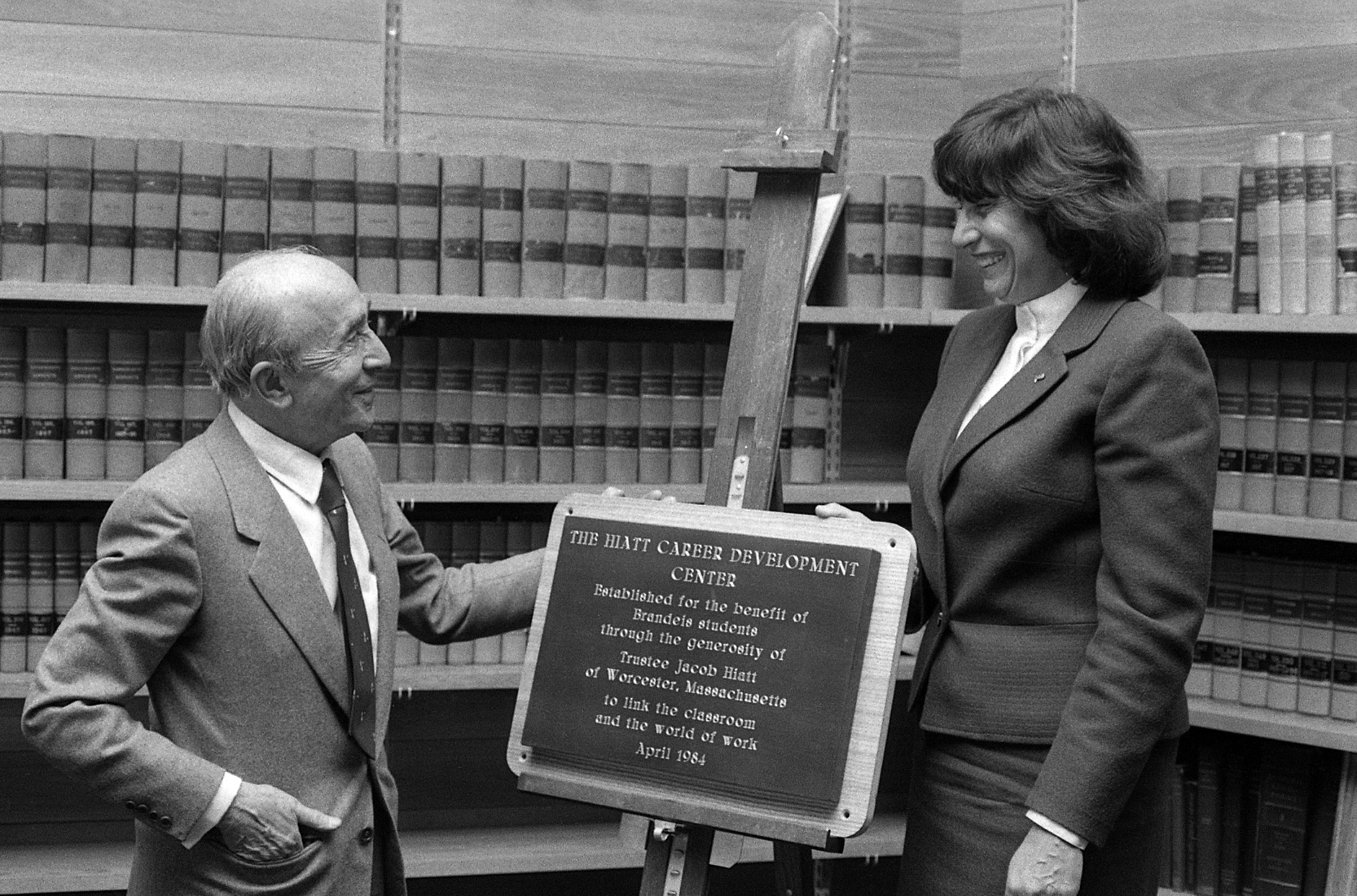 In 1984, Jacob Hiatt, a Worcester businessman and member of the Brandeis Board of Trustees, endowed the Hiatt Career Development Center at Brandeis, offering students skilled professional assistance to enable them to find ways to relate their liberal arts education to future career plans.
Jacob Hiatt emigrated to the United States from Lithuania in 1935 and began working at the E.F. Dodge Paper Box company in Leominster, Massachusetts, where he later became the president and treasurer. Mr. Hiatt supported a number of educational and cultural institutions in the area along with his daughter, Myra, and son-in-law, Robert Kraft, owner of the New England Patriots.