Current Fulbright Profiles
Aysha AlMemari
Country: Abu Dhabi, United Arab Emirates (UAE)
Program: MS GPHM'22
School: The Heller School for Social Policy and Management
Prior to coming to the United States, Aysha worked as a Key Accounts Management Associate at the Cleveland Clinic in Abu Dhabi. Recently, she has been selected by the UAE Federal Government to serve as a member of the Abu Dhabi Youth Council, where she aims to augment the academic and practical experiences she cultivated to represent and empower the youth of her community. Aysha earned B.Sc in Finance & Banking from the UAE University, and École Supérieure de Commerce de Rennes in France, and is currently pursuing M.Sc in Global Health Policy and Management at The Heller School for Social Policy and Management at Brandeis University as a UAE Fulbright Scholar to the United States. Being part of a leading medical center and a top-ten graduate school of health policy allowed Aysha to work side-by-side with clinical and non-clinic healthcare experts which helped her develop a knowledge base about this field and acquire a broad range of skills including problem-solving, structured thinking, discipline, and dedication.
Elca Augusto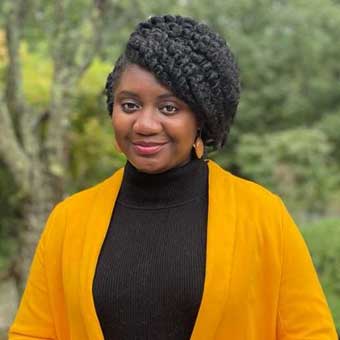 Country: Angola
Program: Master of Finance
School: International Business School
Elca Augusto is a Fulbright 2021 participant from Luanda province in Angola. Elca attended the Catholic University of Angola, where she had one of the highest scores in the entrance exam, which resulted in her receiving an internal scholarship made available by Ernest & Young Angola to the most promising students. During her undergraduate studies she was a very dedicated and focused student, thus she received an honor roll diploma and finished her degree in Economics in the year 2017. Additionally, during her degree she performed several extracurricular activities, such as Handball, belonging to the Students Association and VUCAN (Volunteers of the Catholic University). As a result of these activities, she had the honor of participating in 2017 in the SUSI (Study of the US Institutes) Leadership and Civic Engagement program, where she had the opportunity to learn a lot about the Civil Rights Movement in the United States and meet other African and American leaders. Right after graduating, Elca started her career in financial auditing with Deloitte & Touche Auditores Lda., one of the global leaders in providing audit & assurance services, where she developed several skills such as leadership, work ethic, teamwork, and resilience. In the United States, she will pursue her Master's in Finance, with much enthusiasm for being a new experience that will contribute not only to her quest for knowledge, but also to the development of her country.
Tumennast Baatar
Country: Mongolia
Program: MBA
School: Brandeis International Business School

Tumennast Baatar was born in Mongolia. Prior to attending Brandeis, Tumennast worked in Information Technology, Consulting and Pharmaceutical distribution sectors. He has experience in developing Mongolia's first consumer electronics brand and made it the second-largest brand in the local market. Tumennast is interested in Strategic management, especially in creating and sustaining a competitive advantage.
Batbayar Baatarkhuu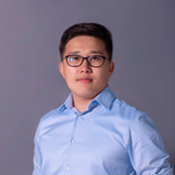 Country: Mongolia
Program: MA '22
School: Brandeis International Business School
Batbayar Baatarkhuu is a national of Mongolia. As a Fulbright Scholar, he is currently pursuing his master's degree in International Economics at Brandeis University. Prior to joining the Brandeis, he worked as an economist in the Monetary Policy Department and Financial Stability Council at the Central Bank of Mongolia for more than four years. He holds a Master of Finance and a Bachelor of Finance degree from the Warsaw School of Economics in Poland. As part of his master's program, he studied at University of Erlangen-Nuremberg in Germany, being selected for the Erasmus+ European Union Program. He has completed trainings on macroeconomics, financial stability, international finance, and financial sector policy at IMF and ADB institutes in Singapore, Thailand, and USA. His research interests are in applied macroeconomics, financial stability and macroprudential policy. 
Ali Farid
Country: Egypt
Program: Master's Degree in Global Health policy and Management (STEM Concentration)
School: The Heller School for Social Policy and Management

Ali Farid is an Egyptian Pharmacist and a Certified Project Manager (CPM) from the Project Management Leadership group (USA), He hold's a bachelors of pharmaceutical sciences degree from the German University in Cairo (GUC), He has worked for a number of years in different global bio-pharmaceutical companies such as GSK, EMD Serono and Merck & Co. managing each of these companies medicine portfolio regulatory affairs matters for different countries such as Egypt, South Africa and most of the English speaking African countries, Dealing with policy, licensing, registration, supply, pricing and communications with different medicines agencies and governments in the emerging economies has fueled his passion to pursue a degree at Heller in order to become a health economist and a health policy expert to further advance medicines pricing techniques in the Middle East and Africa region and provide more affordable access to medicines in the emerging markets.
Enner Martinez
Country: El Salvador
Program: Master's in Sustainable International Development
School: The Heller School for Social Policy and Management

Before coming to Brandeis, Enner worked three years as a Strategic Competitiveness Analyst at El Salvador's Ministry of Economy. As a public servant, he contributed to projects such as the First National Competitiveness Report of El Salvador 2018 and the Commercial Intelligence System. Enner also worked as a virtual professor at Universidad Gerardo Barrios. Moreover, he has extensive experience working on issues related to youth empowerment through initiatives like the Youth Council for the U.S. Embassy El Salvador. Enner graduated Cum Laude in Economics and Business Administration from Escuela Superior de Economía y Negocios in El Salvador. After graduating from college, he was chosen as one of the 31 most outstanding graduates in Iberoamerica by Fundación Carolina and Banco Santander. After graduating from Heller, Enner aims to work at the United Nations. In the long term, his main goal is to be a decision-maker in El Salvador to expand academic and professional opportunities for the young population.
Alice Rahelimalala
Country: Madagascar
Program: Master's Degree in Sustainable International Development 
School: The Heller School for Social Policy and Management
Alice Koloina Rahelimalala is from Madagascar. Prior to her arrival in the United States, she earned a Bachelor of Management in Accounting and Finance. Moreover, she was part of the Young African Leadership Initiative – Regional Leadership Center, South Africa Cohort 12, through which she acquired training in leadership, business and entrepreneurship. Back in her home country, she was involved in community service for approximately six years. Additionally, she created an after-school program called Malagasy Youth's Zeal toward Agriculture Resources and Agripreneurship (MYZARA). She is pursuing a master's degree in Sustainable International Development (SID'21) at Heller School for Social Policy and Management – Brandeis University. As part of her master's program, she completed her practicum as a Global Program Specialist Intern at Convoy of Hope in Springfield, Missouri. There, she assisted the global program team's development work overseas. She is passionate about community development with a special interest in the issues affecting rural communities. As she moves forward, she would like to become involved in empowerment of rural communities and improvement of the quality of life of under served populations.
Gaëtan Vignoud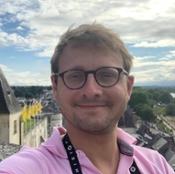 Country: Paris, France
Program: Visiting Student Researcher
School: Department of Mathematics, Brandeis University
Gaëtan is a PhD student from INRIA in Paris, France. He has made all his studies in France at the Ecole Normale Supérieure in Paris, where he studied mathematics and physics.
He has always been interested in working at the interface between neuroscience and mathematics, and has therefore started a PhD in 2018 in France on synaptic plasticity in stochastic neural networks, supervised by Dr Philippe Robert (INRIA) and Dr Laurent Venance (INSERM). Understanding how neuronal connections are shaped by the brain activity in order to enable learning and the the storage of memory has been the focus of Gaëtan's research for the past few years.
In particular, he has worked at the Center for Brain Science at Harvard University in 2015 to study photosensibility in larvas. Moreover, he has stayed at Mila, the Montreal Institute for Learning Algorithm, in 2017 under the supervision of Pr. Yoshua Bengio, recipient of the Turing Award, to build a biological model of the back-propagation algorithm.
During his stay as a Fulbright Visiting Student Researcher at Brandeis University, under the supervision of Pr. Jonathan D. Touboul, he will study the role of the striatum in procedural learning, using computational models of neuronal networks and plasticity.
Gaëtan also has a keen interest in ecology and global warming, leading to his participation in the Green Community initiative at the Center for Interdisciplinary Research in Biology.
In the future, Gaëtan would like to keep working on challenging projects with direct applicability in medicine or ecology, mixing up mathematics, data science and biology.