Beyond Beyond: The Class of 2020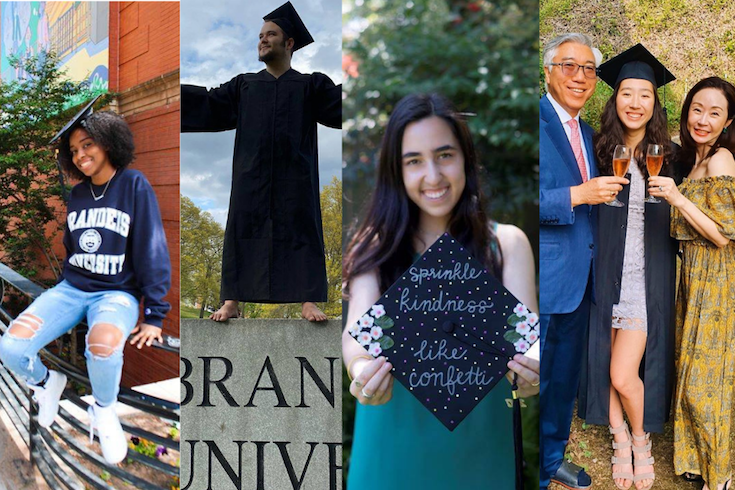 Every May most seniors look forward to the same thing; crossing that commencement stage, diploma in hand while turning that tassel from one side to the other. 
In 2020:
Living rooms were stages.
Diplomas would be mailed. 
Tassels didn't hold the same luster as they once did.
"Keep pushing forward. Everyone is going through a hard time and the pandemic has put us all in a tough position. You are not alone. Remember, the Brandeis community and Hiatt always have your back," echoed a member of the Brandeis Class of 2020 in response to Hiatt's Beyond Brandeis survey. Graduates are surveyed at graduation and again six months later indicating their employment status, areas where they need assistance and advice for future graduates. This student, in particular, illustrates the unprecedented challenges that these new Brandeisians faced.
Perseverance, flexibility and pivoting were all ways in which this class approached their career post-Brandeis. Of those who responded to the survey, 94% indicated they were employed, attending graduate school or engaged in meaningful work. They also reported that the COVID-19 pandemic had impacted their plans with 21% indicating a rescinded offer, 27% having a start date pushed back or changed and 49% considering graduate school as a new option given the state of the job market.
"It wasn't just students that pivoted in 2020, employers also shifted recruiting and on-boarding to accommodate for a virtual environment," said Jon Schlesinger, interim director of the Hiatt Career Center. "While more students in 2020 chose to go directly to graduate school, many industries continued to recruit Brandeis talent and students joined top local and national employers."
The Hiatt Career Center, while also going virtual in March, sprung into action to continue to support students, especially seniors. The largest spring career fair moved to be hosted virtually on the center's career management platform, Handshake. Staff launched additional virtual programming including panel discussions, group appointments and social media initiatives including Hiatt After Hours. The career team transitioned to fully remote appointments through phone and video conferencing. The employer relations team worked directly with organizations and recruiters to deliver more online recruiting programs and initiatives. 
"Though we had to quickly transition to a virtual office, we were lucky enough that our staff was already offering online programming and appointments which provided a quick and seamless transition. We continue to be fully dedicated to the support and success of our students, alumni and employer partners in this virtual world," said Schlesinger. 
As the Class of 2020 navigates professional life in a pandemic, Hiatt continues to be a resource to help as it offers free career services for life for undergraduate alumni. To learn more about the Brandeis Class of 2020 as well as previous classes, visit Beyond Brandeis: go.brandeis.edu/beyondbrandeis