Four Questions with First-Gen Alumni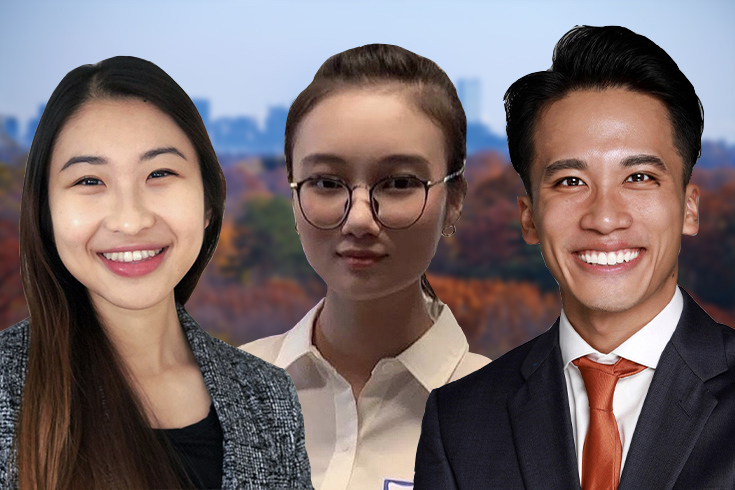 Remember the excitement and nerves you had on your first day of college? We want to celebrate the 33% of students nationwide who are the first members of their families to experience this momentous occasion. That's why—as part of the National First-Generation College Celebration—we're highlighting words of wisdom from first-gen Brandeisians.
We invited three alumni to share the impact being first-generation college graduates has rendered on their careers, alongside helpful resources and advice for students in similar circumstances. Here's how each responded in their own words:
How has being a first-gen student shaped your career journey?
Stephanie Yan '19
: Being a first-gen college student compelled me to be more proactive in seeking resources, both internally at Brandeis as I was progressing through my studies and externally during the job-searching process. I learned to take advantage of every resource that was made available to me, as well as the importance of building a strong support network around me.
Urann Chan '16
: Being first-gen has greatly shaped my career as I have spent the last 12 years leading initiatives to give back to the community, at both the collegiate and national levels. These experiences have strengthened my ability to lead and really showcase my mentoring capabilities, skills that are crucial to both graduate school and consulting.
Jiahua Chen '20, '26 PhD
: As a first-generation college student without professional references or advice from my family, I am always willing to try out different work experiences via volunteering and internships. You might only know whether you like it or not once you try it. I find my one of continuing my Ph.D. education to become a biochemist, and I am sure you will find your one during the exploration.
Why do you believe first-gen college students are assets in the workplace?
Stephanie Yan '19
: I believe my background has taught me to be more proactive, resourceful, and determined, which are excellent traits in the workplace to have, especially when it comes to problem-solving and building leadership skills. Additionally, having more diverse voices and backgrounds is always an excellent asset to the workplace, no matter the industry!
Urann Chan '16
: Growing up as an immigrant in this country, I spent the majority of my childhood helping my family navigate day-to-day activities despite being unfamiliar myself. It was not until graduate school that I realized that being able to thrive in ambiguity is a skill that I've honed, and this skill is incredibly valuable as I spend the majority of my days tackling and solving difficult scientific and business questions.
Jiahua Chen '20, '26 PhD
: Growing up as an immigrant from China, and being a first-generation college student from a low-income family, acquiring a college degree is a great pride to my family. Indeed, the education journey is not smooth and full of barriers. Still, I think we should also recognize the privileges of being a first-generation college student. The difficulties that did not knock me down make me a resilient and problem-solving person, and having no family example to follow makes me an initiative and self-awareness person. I believe these unique backgrounds, strengths, and qualities already shape us into hypercompetitive candidates in today's hostile workplace.
What were the resources you found the most helpful as an undergrad?
Stephanie Yan '19
: Intercultural Center (ICC) and Study Abroad Office served as a great support network and resource for me during my time at Brandeis. The job fairs that Hiatt held (and the sessions that had in helping students connect to employers) were also really helpful—I found one of my internships through the Business, Finance, and Consulting fairs!
Urann Chan '16
: Utilizing SSSP as well as office hours with the PI I was doing my research under (Dr. Suzanne Paradis). I had a community within SSSP that grounded me in my work to give back to the first-gen community. As for my PI, she took the time to listen to my professional goals and worked with me to actively map out steps I needed to take to achieve them (e.g. getting into the best Ph.D. program following undergrad, getting into one of my top choices despite having a lot of self-doubts).
Jiahua Chen '20, '26 PhD
: If you see this post, you are already on the right path to getting helpful resources, visiting and talking to your professors and academic and career advisors. So, keep going, and best wishes for your educational and career success!!
What career-related advice would you like to pass on to other first-gen students?
Stephanie Yan '19: Take time to get to know your professors/advisors -- they can serve as excellent resources and mentors as you progress through your college career and beyond! Additionally, be proactive in networking externally early on -- building your network early is key.

Urann Chan '16: Never stop learning - continue pushing your limits and when you have the capacity to learn something new, put yourself in a situation that fosters growth. You may feel uncomfortable or that you don't belong at first but those feelings won't magically go away unless you make your mark.

Jiahua Chen '20, '26 PhD: It is okay to be scared to step beyond your comfort zone and do things you have never seen anyone do in your family, but we are all here with you and support your educational and career success!! We can also be part of your "family".

Explore more of Hiatt's career resources for first-generation college students on our Identity at Work webpage.