Networking with Alumni: It Works!
This news item was originally reported in the spring of 2018 with the permission of both alumni. Information regarding current roles and companies may have changed.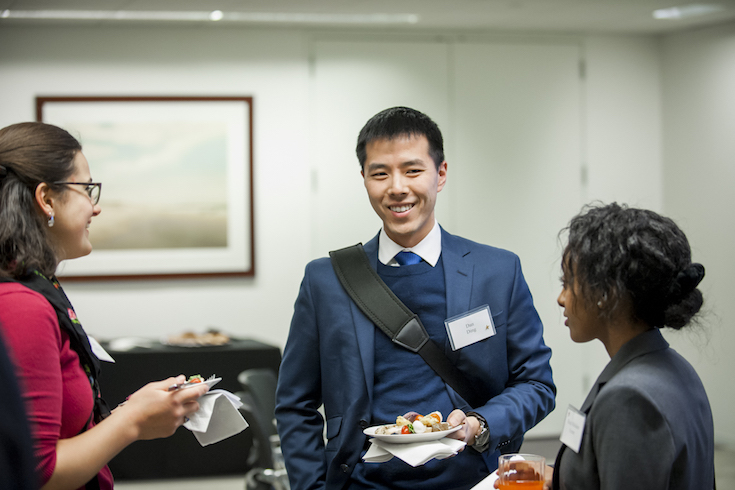 Dan (center) and Roza (right) at the 2018 Brandeis Networking Night in Washington, D.C.
In the winter of 2018, senior Roza Azene '18, wanted to be proactive in making connections that would benefit her career. She saw an opportunity to meet and network with alumni and parents at the Brandeis Networking Night in Washington D.C. and took advantage of it. 
A native of Addis Ababa, Ethiopia, Roza graduated in May 2018 with a job at Edgeworth Economics in D.C. In fact, it was through an alumni connection with Dan Ding '11 that she met at the networking event that Roza was able to land a role in the field she was most passionate about.
"I met Dan at the networking event and he helped me get an interview. He made sure that my resume reached the Human Resources Office and followed up with me during the interview process. Dan was very kind and helpful throughout the entire experience." - Roza Muluken-Azene '18


Dan graduated from Brandeis in 2011 with a BA in economics and an MA in international economics. Currently serving as the 
managing consultant and training & development specialist
 at Edgeworth Economics, Dan's connection with 

Roza

 served them both well: 

Roza

 with a new job and Dan welcoming a qualified member to his team!


"

Roza

 showed great initiative, intellectual curiosity, and authenticity during our conversation. I was impressed by her strong understanding of our work and her genuine interest in our firm culture. I look forward to having 

Roza

 at Edgeworth and collaborating with her on future projects." - Dan Ding '11


This successful networking story is a testament to the strength of the Brandeis network and their willingness to give back. In March, students will have access to Rise Together, 
an online platform that joins Brandeis students and alumni from all over the world to make connections, exchange career advice, expand their network and learn more about industries, careers and the world of work. 


Though Rosa and Dan connected in-person, it certainly showcases how powerful networking can be whether it's at an event, over email or through an online platform.