Student Survey Summary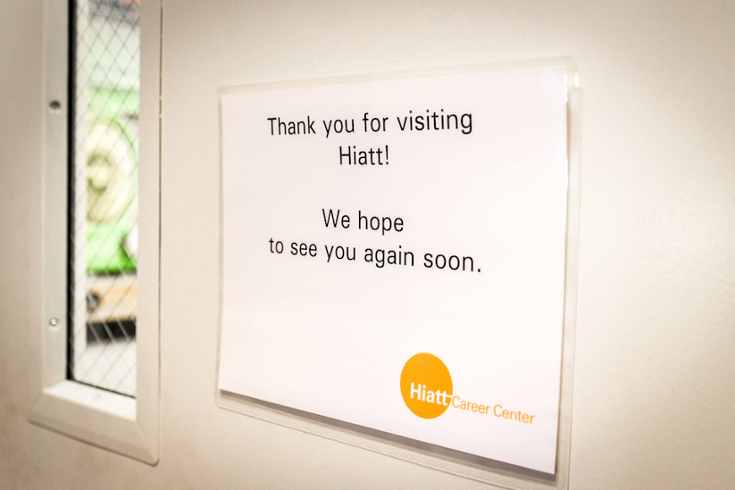 You spoke. Hiatt listened.
Earlier this year, we surveyed Brandeis students about our office, services and resources seeking feedback that would help us improve and grow as we move forward. Below is a brief summary of that survey. 
The survey was conducted in March 2021, all surveys only represent a snapshot in time, this survey was conducted during a hybrid semester where Hiatt was operating 100% virtually. The response rate was 19% or 641 undergraduate students. Respondents were representative of class year, ethnicity, and major. By citizenship, international students had a low response rate. The overall margin of error is +/- 3%.
University 
Environment
To help understand how 'career' fits into students' choices, we asked them questions about what attributes they most associated with Brandeis, what factors were important to them in choosing a major and their perceptions of several campus offices. 
Top attributes associated with Brandeis:
A good reference for future career and/or education

F

ocus on personal development

Teaches important skills for my future

F

ocuses on professional development
Top factors in choosing a major: 
Want to learn about a favorite topic or area of interest

Enjoyment of the first courses taken from a specific department/program

In preparation for graduate or professional school

To change society

Get a good job. 
Summary:
Students indicated that they align Brandeis and choice of major as important factors for their career future and success. Their feedback attributes that both of these factors have an impact both personally and professionally as it relates to the working world and the ability to hone in on those skills in their education is vital.
Hiatt Engagement
Hiatt emphasizes that students utilize the Center early and often. Of the survey respondents, 67% of students indicated they have engaged with Hiatt. To put that number in perspective nationally, Gallup in 2016 found that 61% of graduates between 2010-2016 visited their university career office at least once. Students who stated they have not engaged, later in the survey reported using several Hiatt resources and sponsored programs indicating not all students associated all Hiatt's programs with the office.
Hiatt engages students within various populations across the university. The breakdown of that usage is:
Students of Color  - 71%
International Students - 62%
First-Generation (first in the family to go to college)- 76%
LGBTQIA+  - 63%
 Note: International students are not included in the Students of Color group  
59% of students who visited or utilized Hiatt did so in their first year at Brandeis. For those who have not engaged, the most reported reason was "I'm too busy" and "I was not aware of these services."
Top attributes associated with Hiatt 
Friendly and open environment - 23%
Accessible location - 17%
Creative and dynamic atmosphere - 14%
Safe environment - 12%
Commitment to diversity and inclusion - 10%
Attractive location - 8%
Support for gender equality - 6%
None of the above - 9%
Hiatt Career Center Satisfaction
Overall, students indicated that they were satisfied with the services, resources and support that were offered by Hiatt. Satisfaction was rated on a 4-point scale from those who reported having used the office or services.
Very Satisfied - 29% 
Somewhat Satisfied - 46% 
Somewhat Dissatisfied - 19% 
Very Dissatisfied  - 6% 
For perspective, only 17% of 2010-2016 graduates in a national survey from Gallup in 2016 rated their career centers as 'Very Helpful.' 
Satisfaction by population shows some variability between groups, and additional conversations with students will help us understand and address the variability. Overall, the top two choices ('Very Satisfied' and 'Somewhat Satisfied') are largely consistent between populations. 
Overall satisfaction  - 75%
Students of Color - 73%
International Students - 76%
First-Generation (first in the family to go to college) -  80%
LGBTQIA+ - 79% 
White students - 77%
Resources Utilized
Across all populations the most helpful resources include: 
An event with a speaker from Hiatt 
Hiatt-sponsored fair 
Hiatt online resource 
Hiatt workshop, program or alumni panel
Meeting with staff from the Hiatt Career Center 
Resources selected as "Not Helpful"
Some students surveyed described particular resources as 'Not Helpful.' The most frequent themes included: 
"Handshake is confusing"

"D

rop-in appointments provide limited information"

"Appointments didn't provide specific resources"

 
Addressing the feedback:
Handshake
While Handshake has many opportunities listed, it can be difficult to navigate. If you are having trouble with Handshake, meet with a staff member to help show you how to search on the platform. Handshake is also just one resource and we encourage students to learn more about and utilize search engines and other avenues in connecting with employers (LinkedIn, professional networking groups, alumni networking, etc.).
Drop-Ins
Drop-in sessions are brief meetings with a Hiatt Peer Advisor to review application materials such as a resume or cover letter. Prior to moving online this year, drop-in hours were on a first-come, first-served basis without having to reserve an appointment slot. These sessions are designed for quick questions and standard reviews. For students looking for more in-depth support as well as conversations tailored to their specific needs and goals, they should make an appointment with a Hiatt staff member (these appointments range from 45-60 minutes).
Appointments 
Meetings with staff will vary based on your goals and needs. You might meet with someone once, or once a week for several weeks, depending on what you want to discuss. To help us collaborate with you on this process, counselors often begin by getting to know more about you and your interests to help you build upon skills or connect you to resources. Staff work with all students and alumni in all areas of interest and majors, but also have areas of specialty and interest. If you are working with Hiatt for the first time, set up a 'Welcome to Hiatt' appointment, or call the front desk to find the best person to help you get started.
Next Steps
We welcome all feedback from our students through any format aside from surveys. If you have additional ideas, suggestions or questions we invite you to visit during Office Hours with the Director, or contact us to find another time to offer additional feedback. 
This survey is part of a year-long process gathering feedback from the community to help us improve. Hiatt also conducted an internal review of services and programs with Brandeis community members and an external review with career services leaders. In the next few months, we'll share more details from the external review along with recommendations.