Give Back Through a Service Year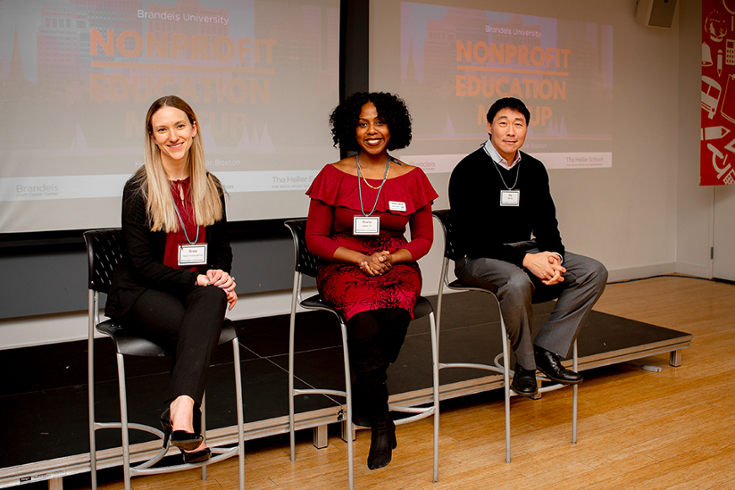 As a college student living off instant ramen—or alumni paying off student loans—you probably don't have tons of money lying around to donate to a non-profit's cause. While monetary giving in any amount is impactful, it isn't the only way to give back to a community or movement. You can still make a difference through alternative means, like undertaking a service year.
But service years can be tricky to navigate, with varying forms of compensation, benefits, and even responsibilities (yes, most are more than solely constructing school buildings as you might be inclined to believe). That's why—in honor of National Non-Profit Day—we wanted to share some brief information about multiple different service organizations you can give back with…
Americorps' mission is to improve lives, strengthen communities, and foster civic engagement through service and volunteering. Sometimes referred to as the domestic Peace Corps, they connect individuals and organizations to help communities tackle their toughest challenges.
There are three different types of programs you can do as an AmeriCorps member:
You can work as a member at the state or local level, which usually entails working with national and community-based private and public organizations.
You can be on a team, traveling across the country and impacting communities with NCCC.
Or as a VISTA, you'll perform capacity-building activities, through private non-profit organizations and public agencies.
During your service term, you will receive a stipend—some programs will include housing—and at the end of your term, you'll receive an education award that you can apply to student loan payments or use to pay for graduate school.
There are also additional scholarships or fee waivers that you're eligible for as a former AmeriCorps member and some graduate schools will match the education award amount.
The Peace Corps is a service opportunity for motivated changemakers to immerse themselves in a community abroad, working side by side with local leaders to tackle the most pressing challenges of our generation.
It is an amazing international opportunity; some returning members say it is the best and the hardest thing they've ever done. You'll have a chance to:
Work and live in a community abroad, becoming part of everyday life.
Learn a new language or refine your language skills.
 Get the opportunity to travel the world (and get paid to do so)!
Similar to AmeriCorps, you'll receive a living stipend, housing, and money to help with your transition back to the US at the end of your term (approx $10,000 pre-tax).
Terms usually last 2 years and if/when you come back to the US, there is a strong alumni network of Peace Corps volunteers. There are also numerous opportunities to continue or deepen your knowledge post-service as the Peace Corps has a fellowship program you can apply for that offers financial assistance with graduate school costs.
Teach For America (TFA) recruits outstanding and diverse leaders to become TFA "corps members." Corps members commit to teaching for two years in a low-income community, where they're employed by local schools and confront both the challenges and joys of expanding opportunities for kids.
TFA takes young graduates and—after a summer of intensive teacher training—places them in under-resourced schools where they teach subjects usually related to their major.
During their two year term of service, most school districts require Corps members to be working towards their teaching certificate. At some sites, you may have the opportunity to be working towards a master's degree.
Informed and inspired by their students, many Corps members continue teaching. Others pursue alternative leadership roles in schools and school systems or launch careers in other fields that shape educational access and opportunity.
There are mentoring opportunities for you to take advantage of—both for you as a mentor and as a mentee—and TFA really encourages you to develop into a capable changemaker and grow as a leader. The TFA alumni network is very strong and there are numerous fellowships, and partnerships with both graduate schools and employers.
City Year is one of the best known organizations that has AmeriCorps members and therefore, gets its own mention; it's also a popular one for Brandeis graduates!
At City Year, members serve as student success coaches, supporting the development, growth and success of students in systemically under-resourced schools, while cultivating skills to be leaders in their communities and careers.
City Year's approach is research-based and data driven and they're located in 29 different cities. Just like any AmeriCorps position, you'll receive a stipend and an education award at the conclusion of your 11 month term of service (other benefits that will vary by site).
Are you interested in the environment and/or conservation? Try WWOOFing!
WWOOF stands for Worldwide Opportunities on Organic Farms and provides you with a way to learn about organic food, agriculture, and sustainable ways of living. You'll spend your days living with a host family and learning about agro-ecological and sustainable farming methods through first-hand experience. There are destinations that are located throughout the United States and globally.
The Student Conservation Association (SCA) works to protect and restore national parks, marine sanctuaries, cultural landmarks and community green spaces in all 50 states. Through their gap year program you have the opportunity to apply to any of the five different programs they run. Housing is either provided or you'll receive a housing allowance along with a weekly or bimonthly stipend.
If you're interested in staying in Massachusetts, you can apply for the MA Conservation Corps where you can either be part of a trail crew or apply for an individual placement.
If you want to explore any of these options, schedule an appointment with a member of our Career Team. They'll be able to answer any questions you might have and help you decide if this is the right next step for you.