Celebrating LGBTQI+ Pride at Work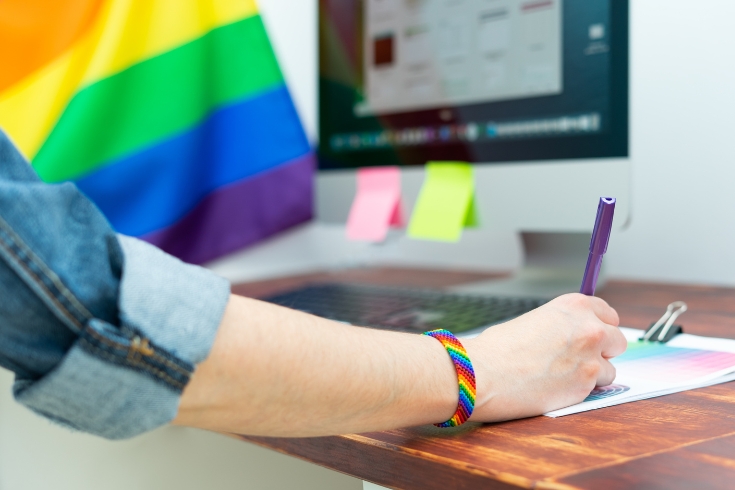 Welcome to Pride Month! Beyond the splash of rainbows and identity flags, Pride is a time to celebrate the contributions and acknowledge the ongoing challenges of our LGBTQI+ community. But let's be real: Navigating your identity in the workplace can be a terrifying concept when discrimination and bias still persist in today's world of work. Remember that you're not alone in your journey, and your friends and allies here at Hiatt have a few helpful tips.
Find a Supportive Workplace
When looking for a job or internship, it's essential to research the company's values and culture. Seeking out a supportive work environment can help you feel more comfortable (and safe) being your authentic self at work.
One key identifier can be when an organization has clear priorities around diversity, equity and inclusion, and explicitly lays out policies against discrimination. This might include benefits for gender-affirming healthcare, inclusive leave policies for family building, or Employee Resource Groups (ERGs) for individuals who identify as LGBTQI+. Review our article about finding LGBTQI+ inclusive employers for some additional helpful tips.
Coming Out at Work (Again and Again and Again)
Coming out and being out at work often means more than simply letting your coworkers know that you identify as LGBTQI+. Sexuality and identity can be revealed through many different means, but this part of your life is yours to share with whom and how you see fit.

For specific resources and toolkits on coming out or transitioning in the workplace, visit our LGBTQI+ Identity at Work webpage.
Know Your Rights
It's important to know your legal rights and protections as an LGBTQI+ identifying individual in the workplace. The U.S. Equal Employment Opportunity Commission prohibits employment discrimination based on sexual orientation or gender identity, and some states have additional protections.

Knowing your rights can help you take action if you experience discrimination or harassment. Here are some resources that might be helpful to review:
Your identity as a member of the LGBTQI+ community is an integral part of your story and has played a key role in helping you become the amazing employee you are! While there are safety and bias considerations to ask of every workplace, it is possible to thrive as your authentic self.
Make sure you explore all of the tips and resources included on the LGBTQI+ Identity at Work page. You can also make an appointment with any member of Hiatt's Career Team to discuss all the career-related questions you might have.