Staff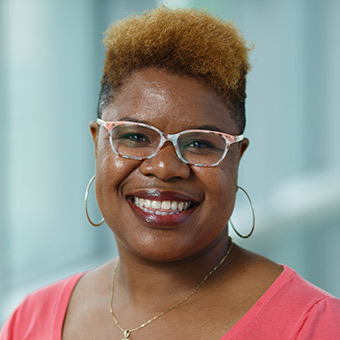 Kathryn A. Bethea-Rivera
Director, Myra Kraft Achievers Program
Pronouns: she/her
Kathryn has worked for almost 20 years in higher education in multiple positions to promote and advocate for diversity, equity, and inclusion for our most marginalized and disenfranchised populations. Currently, she has served as the director of the Myra Kraft Achievers Program (formerly MKTYP) for the past four years. She supervises a staff of 10 full- and part-time staff/faculty, manages the curriculum and co-curriculum programming, advises 80+ students, oversees the operating and gift fund budget, is part of the strategic team for admissions and scholarship fundraising and is part of the academic advising leadership team. 
Kathryn holds a BA in psychology and Africana studies from the University of Notre Dame, an EdM in human development and psychology at Harvard Graduate School of Education and a PhD in higher education management from the University of Pittsburgh's School of Education. Her research and practitioner expertise focuses on first-year college access, transition, and retention practices for underserved and underrepresented students of color. She has served on panels and presented her work at various professional conferences such as the Association for the Study of Higher Education (ASHE) and the American Educational Research Association (AERA). She has published multiple articles and has also taught as an adjunct psychology lecturer at various colleges in the Pittsburgh and Boston areas.
When Kathryn is not working, she enjoys cooking and spending quality time with her husband and their cat; salsa dancing in her living room to Celia Cruz; helping youth at her church; traveling to various cities of Spain during the summer; and watching RuPaul's Drag Race while eating her favorite dessert, banana pudding!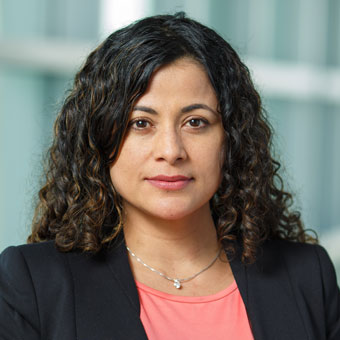 Lily Pineiro
Academic Advisor and Administrator, GenOne Network
Pronouns: she/her
Lily joined the Academic Services team in 2016 as a senior department coordinator. Originally from Colombia, she holds a BA in business administration and a master's in marketing from the UNAB — Colombia. Prior to working at Brandeis, Lily's work experience includes supporting international students as an admission officer for Approach International Student Center. She also has more than eight years of experience working as a commercial developer and sales coordinator in Colombia for Nutresa Food Conglomerate.
With the Myra Kraft Achievers Program, Lily spearheads our events and has overseen collaborations with various university partners to sponsor multicultural events/celebrations that included roundtable discussions/panels, our Night of Artistic Expressions with the Gittler Residency Program, Brandeis' MLK Day of Service, annual retreats, game nights, our Night of Inspiration, leadership and relationship workshops, our yearly newsletter, and our Myra Kraft Achievers Program Scholars' Closing Ceremony.
In her free time, she enjoys spending time with her husband and twins, going for walks at night, reading parenting books, and trying international cuisines.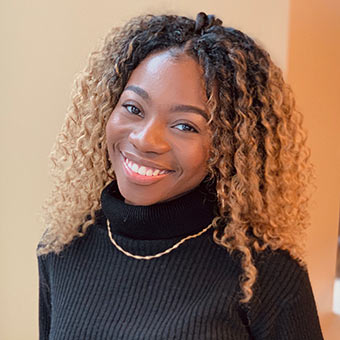 Agnes Nkansah
Myra Kraft Achievers Program Graduate Assistant
Agnes received her BA from Brandeis University in 2021 by merging her passions for healthcare, business and development. She majored in health, science, society and policy, and minored in international and global studies, and African and African American studies. Most recently, her interest in public health and women's advancement led her to the Massachusetts Commission on the Status of Women (MCSW), advocating for legislation that better addresses the gaps in access services and basic necessities for women in underserved communities. She played a large role in the MCSW's second annual Girls Initiative, which sought to evaluate the status of girls ages 13-22 in the Commonwealth throughout the evolution of the COVID-19 pandemic.
While formerly a Myra Kraft Transitional Year Program scholar and fellow, as the graduate assistant, she now supports the program through advancement and other administrative capacities in addition to managing the Myra Kraft Achievers Program peer mentoring program and monthly newsletter. At the Heller School for Social Policy and Management, she is pursuing a dual degree in business administration and global health policy and management, while holding the Mary I. Jagoda '05 Endowed Fellowship.
In her spare time, she enjoys training at the gym and being in fellowship with her church community as a youth leader.