Advising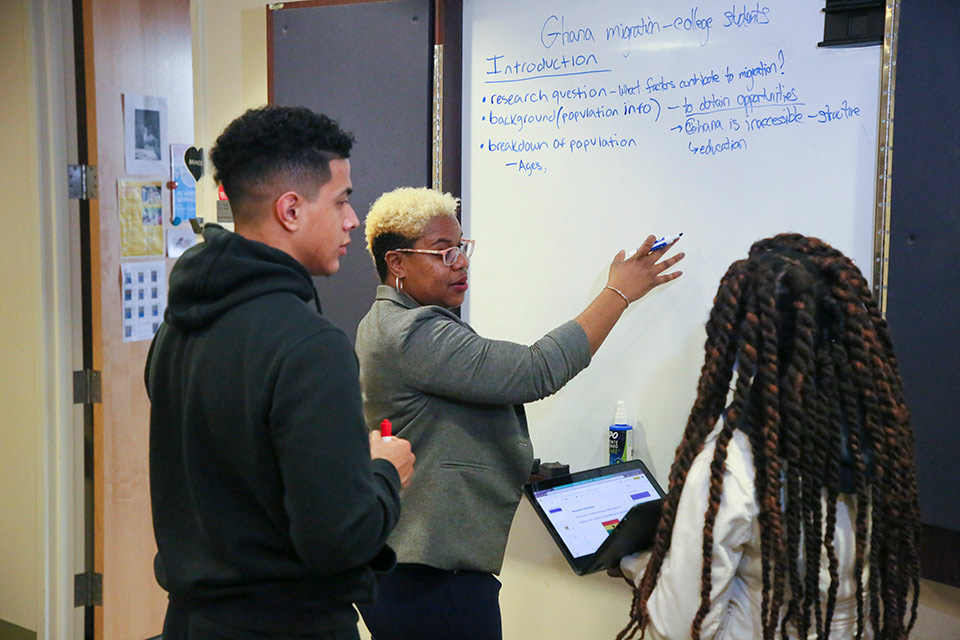 A Holistic Approach
From the beginning of choosing housing and student clubs/organizations to research/internships and graduation, the Myra Kraft Achievers Program is there every step of the way.
The academic advising is student-centered and individualized in order to accommodate the specific needs and interests of each student. Students are required to meet with his/her/their academic advisor weekly in order to share academic and personal goals and plans. In this way, advising becomes a meeting of the minds so that all parties are working towards the student's ideals of success. The biggest goal of the program is to support students toward graduation and students take advantage of the resources at Brandeis so they typically graduate within four - six years and the average college journey is 4.5 or 5 years.
The Myra Kraft Achievers Program is first and foremost a program of people. The staff, faculty, alumni, supporters, families, and students all have a wealth of experiences that enriches not only the program but also the university. Our comprehensive advising includes the Director, Program Administrator, Myra Kraft Achievers Program Fellows, Instructors, Tutors/Teaching Assistants, Peer Mentors, and Myra Kraft Achievers Program alumni are all willing to share their incredible wisdom and insight to our first-year students. We are all partners together and contributing to the work of the Myra Kraft Achievers Program, Academic Services, and the university. 
You should also consult with the Myra Kraft Achievers Program staff/faculty about resources available for assistance through the Brandeis' Library, English Language Programs, the Writing Center, and the Brandeis University Group Study (BUGS) peer tutoring service.
Course Progress
Beyond seeking guidance and support with your coursework, another key to success is monitoring your progress in your courses. The Google suite, LATTE, and Workday are useful tools and instructors communicate, post assignments, and submit grades here.
Campus Community
Also, the entire Brandeis Community, such as the BCC AcServ Community Therapist, Orientation Leaders, Community Advisors, Roosevelt Fellows, Undergraduate Departmental Reps (UDRs), faculty, staff, and administrators, work to actively support the success of students in the Myra Kraft Achievers Program.