Workday Advisory Committee
The Workday Advisory Committee (WAC) provides oversight and direction for the Workday enterprise system, including business processes, system configuration, security roles and changes stemming from Workday product releases.
WAC membership includes representation from University departments and schools. The committee meets regularly to review community requests presented by its functional subcommittees for student, finance and human resources.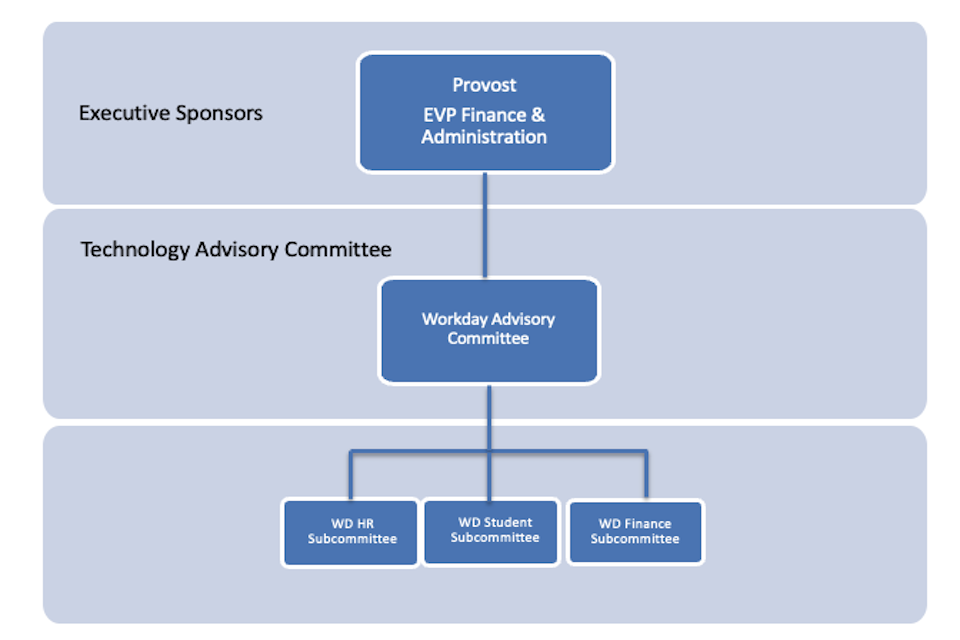 Expand All
Approve priorities for Workday Production's ongoing operations, enhancements and new initiatives approved at the Subcommittee level to assure alignment with the university's business goals and needs.
Discuss and make decisions on cross-functional requests stemming from subcommittees, assessing impacts for shared objects and functions.
Ensure changes to sandbox and production environments are controlled and coordinated.
Identify and monitor progress of Workday initiatives on its roadmap and provide guidance to ongoing administrative systems' operations, support efforts and enhancements.
Consider and discuss impact of administrative system changes on people, process, technology, standards and policies.
Resolve the escalation of issues which span departmental or divisional boundaries.
Review school and department systems in the context of enterprise systems.
Provide direction to prevent, where appropriate, unnecessary redundancy or non-sustainable implementations and resulting inefficiencies and risks.
Assist in informing the broader campus community of approved changes to processes, policies and standards.
In conjunction with data governance program launch, with approval from the appropriate data trustees if applicable:
Encourage and facilitate the integration of systems and access to data across functional boundaries and guide the development of common data models.
Champion effective information and IT security measures, policies and practices to ensure the confidentiality, integrity and availability of resources are preserved.
Chair, ITS Leadership Representative: Val Pirri
HR Subcommittee Chair: Dana Sheehan
Finance Subcommittee Co-Chair: Ken Freda
Finance Subcommittee Co-Chair: Cherie Sadeli
Student Subcommittee Chair: Kim Godsoe
Student Records: Mark Hewitt
Student Financials Representative: Sherri Avery
Payroll Representative: Joe Loynd
Student Employment Representative: Kristyn Burke
Security Lead: So Wai Wong-Chan
Technical Lead: Lauri Doniger
Training Lead: Kristin Zawatski
The Workday Advisory Committee meeting agendas and minutes are posted to Box (Brandeis login required). If you have questions, please contact the Workday Advisory Chair Val Pirri.  For more information about Workday, please see the Workday@Brandeis website.
Requests for enhancements, the addition of new initiatives, or changes to Workday should be sent to help@brandeis.edu with the subject: Workday Governance.
The Workday team reviews governance requests using the Workday Request Review Process. The team makes a preliminary determination based on its complexity and level of effort before the request is submitted to the Committee for prioritization consideration.
For more information about Workday, please see the Workday@Brandeis website. General support for Workday Student, HR or Finance can be also be sent to help@brandeis.edu with the subject: Workday Support.