IT Governance
Brandeis University's information technology (IT) governance structure includes committees, processes, and communications aimed at ensuring IT-related decisions and investments effectively support institutional objectives and priorities. 
Objectives
An effective IT governance framework improves the transparency of IT spending, clarifies decision-making boundaries and accountabilities, provides strategic direction of IT, and ensures that there is adequate IT capability and infrastructure to support University needs.
Governance Structure
Brandeis IT Governance is comprised of four advisory committees that guide the University's technology decision making.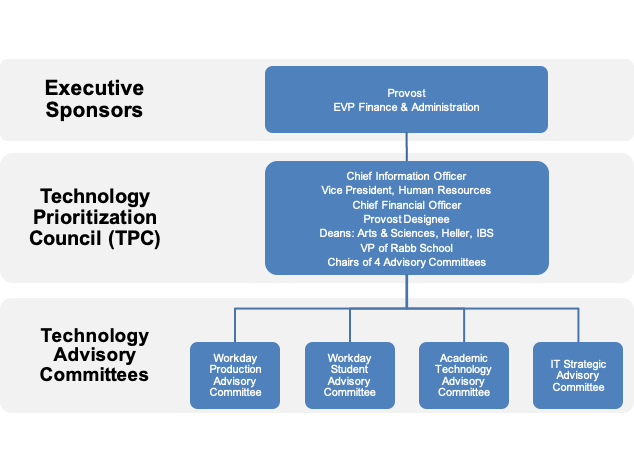 Technology Prioritization Council
The Technology Prioritization Council (TPC) serves as the parent to the four technology advisory committees. TPC validates the direction, resolves escalated issues, and provides approval and prioritization of projects requested by community members.
Workday Production Advisory Committee 
Provides oversight and direction for Workday Production, approving and prioritizing changes stemming from needs across campus. These may include changes to business processes, system configuration, and security/roles, as well as changes stemming from Workday product releases.
Workday Student Advisory Committee
Provides oversight, direction, and decision-making for the Workday Student implementation, reviewing and providing input on items such as the project plan, business processes and workflow, risk assessment, community readiness, training strategy, and policy recommendations.
Academic Technology Advisory Committee
Receives, proposes, prioritizes, and submits recommendations related to the use of technology in support of the academic mission of the University including the areas of teaching, learning, research and scholarship.

Provides direction to prevent unnecessary redundancy or non-sustainable implementations and their resulting inefficiencies and risks.
LATTE Subcommitee

The Subcommittee reports to the parent Academic Technology Advisory Committee (ATAC).
Makes recommendations regarding the features, procedures, and policies related to LATTE, the University's learning management system (LMS).

Ensures that LATTE's features meet the campus' evolving needs, providing a repeatable process to gather, evaluate, and prioritize requests for features and functionality in LATTE while maintaining stable and efficient performance.

Research Computing Subcommitee

The Subcommittee reports to the parent Academic Technology Advisory Committee (ATAC).
 Provides recommendations regarding strategies, priorities, policies, and standards for research computing.
IT Strategic Advisory Committee
Reviews, evaluates, and makes approval recommendations regarding IT proposals, priorities, policies, and technology investments in support of University objectives.