Event Technology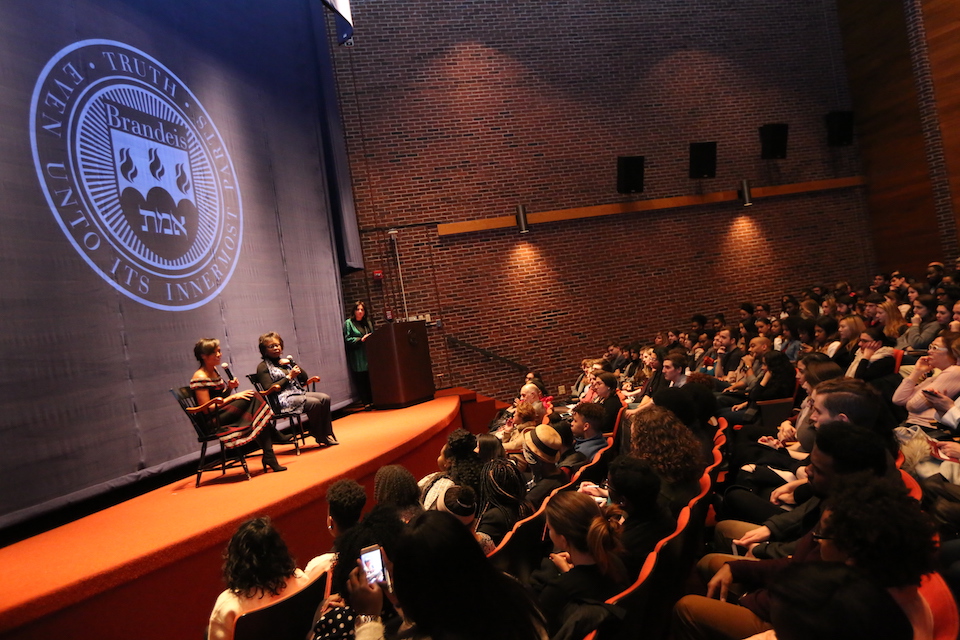 The Media Technology Services team offers tech support for a wide range of events on campus, from concerts and theater productions to Commencement.
Video Production Services
MTS offers professional video production services for events or projects that require a studio environment or advanced video editing.
A/V Event Services
Media Technology Services provides A/V equipment and support for campus events as well as gear rentals. Support is provided at no charge for academic use, within the parameters of normal operations, occurring in registrar-controlled classrooms only. Pricing applies to all other orders. This includes rentals and loans through Conference and Event Services.
Rentals & Audio/Visual Support
Media Technology Services (MTS) provides state of the art audio visual equipment and technical support across campus. 
If you require additional equipment beyond what's installed in your space, or find yourself in a space with no installed technology, contact MTS directly: mediaservices@brandeis.edu, 781-736-4635. Phone communication is the best method if you have an immediate need, or are less than two weeks from your event date.
If inquiring about equipment or services for your classroom or event, MTS recommends at least two weeks advance notice. Service delivery is based upon equipment and staff availability. Once we have received your request, Media Technology Services will further discuss specifics and logistics.
Additional, worthwhile contact information to consider:
Contact
Matt Burton
781-736-4635
Large Event Staging
Get your event recorded or streamed
Contact
Chris Anderson
781-736-4662
Borrowing
Media Technology Services offers A/V equipment rentals for self-service use for campus events.
Video Equipment
University-sponsored
External Organizations
Cameras
Digital (3-CCD chip) HD Cam pckg w/ tripod, headphones, ambient mic
$85
$135
Digital (3-CCD chip) DV Cam pckg w/ tripod, headphones, ambient mic
$50
$75
Live multi-cam switching & production rack
$185
$250
Live HD multi-cam switching & production rack
$275
$350
Video - Document Camera
$35
$50
Display
Data Display Flat Screen (40" +)
CALL
CALL
Data Projection Screen (4-6 ft.)
$10
$15
Data Projection Screen (7-8 ft.)
$20
$30
20" TV w/ built-in DVD or VHS player on cart
$45
$65
Large TV/Monitor w/Cart (2-man delivery req.)
$75
$125
Projectors
Data: LCD or DLP (up to 3000 lumens)
$75
$125
Data: LCD or DLP (3000-6000 lumens)
$150
$225
Data: LCD or DLP (6000 lumens +)
$225
$325
16mm Film Projector
$35
$50
Players
DVD, VHS, Legacy Decks (limited inventory)
$25
$40
Digital Deck (e.g. mini-dv)
$50
N/A
Other: Blu-ray, Beta sp, etc.
CALL
CALL
20" TV w/ built-in DVD or VHS player on cart
$45
$65
Video Distribution
Closed-circuit or streaming box (tech required)
$150
$225
Network (LAN) Broadcaster (tech required)
$75
$125
Audio Equipment
University-sponsored
External Organizations
Sound Systems
Small venue system w/ Microphone
$75
$125
Large venue system (4 speakers)
$150
$225
Porta Sound "as amp" or as table top lectern (available for pick up only)
$20
$30
Microphones & Speakers
Powered Speaker w/ Microphone
$50
$75
Companion Speaker
$25
$35
PZM (Boundary), Pres. Mic (flex) or Push-to-Talk Microphone
$15
$25
Wired Microphone
$15
$25
Wired clip-on Microphone
$15
$25
Wireless Handheld Microphone
$35
$50
Wireless clip-on Microphone
$45
$65
Mixers & Snakes
4 or 6 Channel Audio Mixer
$15
$25
8 Channel Audio Mixer
$35
$50
16 Channel Audio Mixer
$75
$125
8 Channel Audio Snake
$15
$25
16 Channel Audio Snake
$35
$50
Recorders & Players
Digital Recorder
$15
$25
Analog Cassette Recorder
$15
$25
CD or Digital Player/Recorder
$15
$25
Reel to Reel Player
$35
$50
Other Equipment
University-sponsored
External Organizations
Computer Equipment
Laptop (Windows)
$45
$65
PC Prompter Monitor (15"-19")
$25
$40
1x2 PC (rgb or vga) distribution amplifier
$25
$40
2x1 PC (rgb or vga) switcher
$25
$40
Digital PC Scan Converter
$85
$135
Wireless mouse
$15
$25
Wireless keyboard
$25
$40
Other AV Equipment
Overhead Project (acetate sheet)
$10
$15
35mm Slide Projector
$35
$50
Slide Tray (only if not returned)
$12
$12
Presentation Accessories
A/C Cord, Power Strip, Roll Cart, Projector Stand, etc.
No charge
$5
Laser pointer (color based on availability)
$10
$15
Speaker timer
$25
$35
Gaffers Tape (per roll)
$15
$15
Equipment Rentals for Students
ITS offers a substantial, sliding-scale discount on event-related technology and equipment rental to Brandeis student groups. Contact Media Services, 781-736-4632.
To be eligible for the discount, student groups must:
Be recognized by the student government.
Obtain authorized signature on the rental form from either the Dept. of Student Activities or Conference and Events Services.
Use equipment for an official group function.
Use equipment on-campus only.
Pick up and return equipment during regular

MTS office hours

(Monday - Friday 9:00a.m. - 4:00p.m.).
Transport, set-up and strike equipment.
Receive training on equipment (if required by MTS).

Student groups meeting the above criteria may rent equipment from MTS at the following discounted rates:
| Regular Rate (see tables above) | Student Group Discount Rate |
| --- | --- |
| $25 - $99 | $25 |
| $100 - $249 | $50 |
| $250 - $499 | $75 |
| $500 or above | $100 + 20% of university affiliated charges |
| Under $25 | No charge |
Guidelines
Inventory is available on a limited basis. Depending on general campus activity and demand, we reserve the right to limit the number of simultaneous and repeat rentals in order to provide equitable support for the entire University.
Academic and event use has priority over student groups: and in some cases, confirmation of availability may be withheld until one week before the event, regardless of how far in advance the request is made.
A minimum one week notice is required to reserve equipment.
Equipment training is available.

Student group is responsible for damaged or stolen equipment.
Labor & Service Fees
Contact Tim O'Neil, 781-736-4429
Labor Fees
University-sponsored
External Organizations
Set-up/Strike/Transport - Tier I (up to 30 minutes)
Regular hours
$35
$50
After hours
1.5 x regular rate
1.5 x regular rate
Set-up/Strike/Transport - Tier II (over 30 minutes or tech support)
Regular hours
$75
$125
After hours
1.5 x regular rate
1.5 x regular rate
Tech I: General AV Operator
Regular hours
$25/hr
$35/hr
After hours
$37.50/hr
$52.50/hr
Tech II: Specialist
Regular hours
$40/hr
$50/hr
After hours
$60/hr
$75/hr
Service Fees
University-sponsored
External Organizations

Non-academic Use

Contact Media Services, 781-736-4632 

Classroom/Conference Room Technology
$35
$50
Sound System
$15
$25
Videoconferencing


Rates do not include potential Tech labor fees.
Contact Tim O'Neil, 781-736-4429

IP Videoconferencing Suite
No charge
$40/hr
ISDN Videoconferencing Suite
ISDN carrier fees
$40/hr + ISDN carrier fees
IP Portable System
$85
$135
ISDN Portable System
$85 + ISDN carrier fees
$135 + ISDN carrier fees
Desktop Videoconferencing (Tandberg 150)
ISDN carrier fees
$50 + ISDN carrier fees
Streaming & Broadcasting


Rates do not include potential Tech labor fees.
Contact Tim O'Neil, 781-736-4429

 
Live Streaming Station (Tech II support required)
$150
$225
Campus Network Video Broadcaster (Tech II support required)
$75
$125