Manage Devices
It is highly recommended that you have at least two devices configured for Duo two-step authentication. That way, if you can't access one device (like your office phone), you have another option when prompted for two-step authentication.
ADD DEVICE (NEW NUMBER) ADD DEVICE (SAME NUMBER) DELETE DEVICE
Adding New Device with New Number
Navigate to Brandeis Account Management and log in with your Brandeis username and password.
Click on "Manage my account."
Select Duo Device Management.
Authenticate with Duo using a device already associated with your account. If you only have one device associated with your account and it's not working, please contact the Technology Help Desk.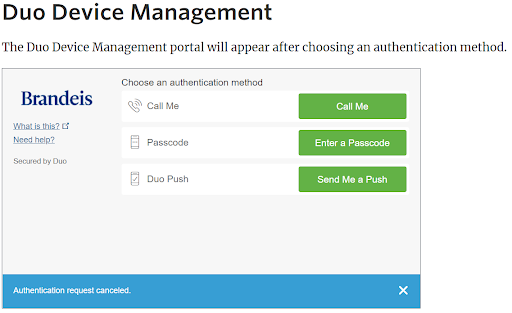 5. Select "Add another device."

6. Select the type of device you'd like to enroll and click "Continue."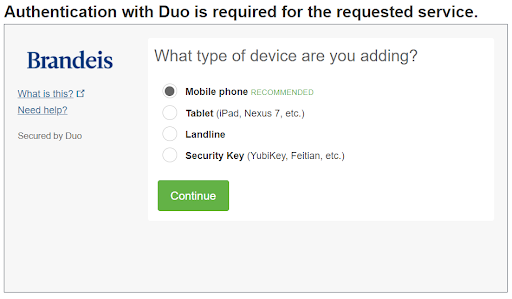 Device Recommendations
We recommend using a smartphone for the best experience. If you use a smartphone, you will need to install the Duo Mobile app.

If you are using a tablet: Select "Tablet" from the options shown in the above screenshot, then click continue. Then, choose whether it's an Apple or Android tablet and click "Continue" again. Then, skip to step 10 below.

If you are using a landline: Once you complete steps 6, 7 and 8, your landline will be setup for use with Duo.
7. Enter the number of the smartphone that you'll have with you when logging into Brandeis services, verify that it's correct and check the box, then click "Continue." Note: If you chose "Landline" in the previous step, you can also enter an extension.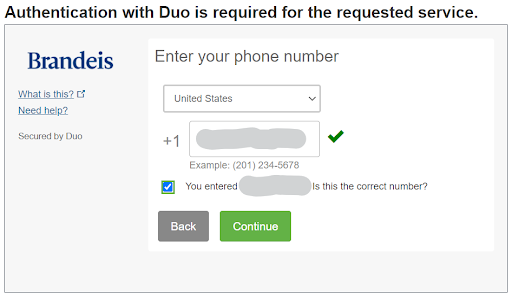 8. Choose "Call me" or "Text me" to receive verification code to verify ownership of the device, enter the code you receive, then click "Continue."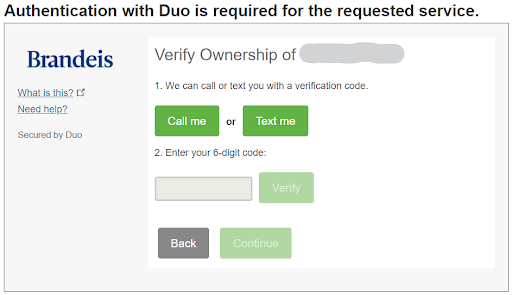 9. Select what kind of phone you have (i.e., iPhone, Android, etc.)
10. Install the Duo Mobile app on your smartphone. You can find it in the Apple App Store (iOS) or the Google Play Store (Android).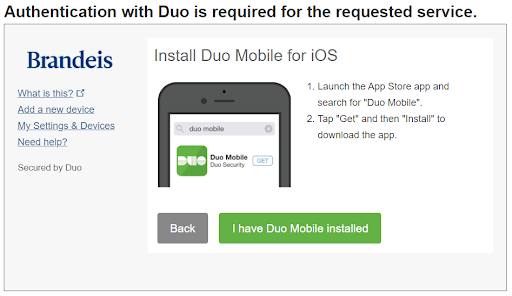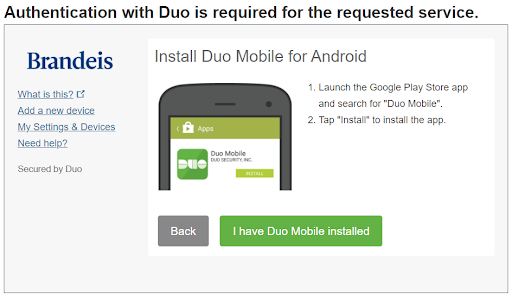 11. After installing the app, return to the Duo enrollment window and click "I have Duo Mobile installed."
12. To activate Duo on your device, open the Duo app on your smartphone, tap the "+" button, and use your smartphone to scan the QR code on the computer screen. On iPhone and Android, activate Duo Mobile by scanning the barcode code with the app's built-in scanner.
A green checkmark indicates that your account has been properly linked on your phone.
Can't scan the barcode? Click "Or, have an activation link emailed to you instead" and follow the instructions.


13. When Duo Mobile is activated, click "Continue." You should see the following confirmation screen: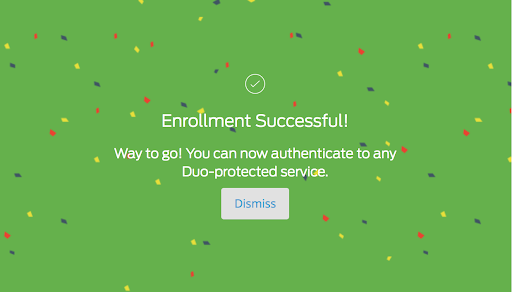 Adding New Device Using Same Phone Number
1. From the Duo Device Management screen, click "Device options" next to the device you want to replace.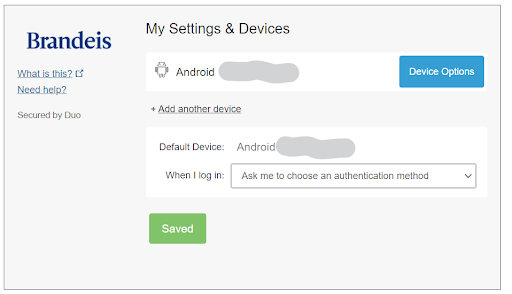 2. Select "Reactivate Duo Mobile."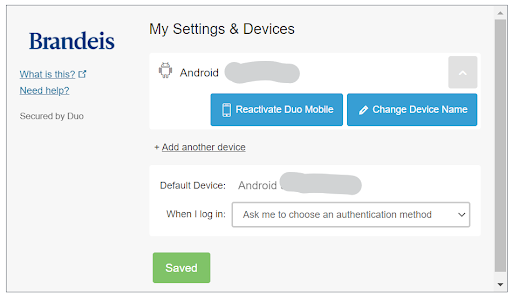 3. Follow the instructions for adding an additional device at the top of this page from step 8 onward.
Deleting Saved Device
Note: You can only remove or delete a device from Duo only if there is device already added. There must always be at least one device associated with your Duo account.
1. From the Duo Device Management screen, click "Device options" next to the device you want to delete.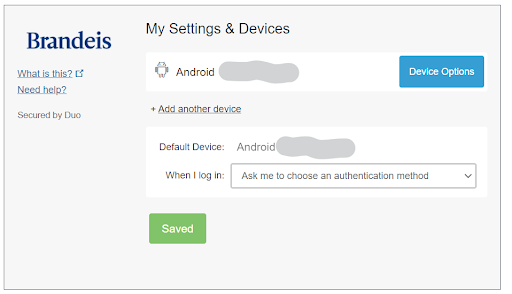 2. Click the red trash can pictured below to delete the device.