Setting Up & Using Duo
Faculty, staff and students are automatically enrolled in Duo two-factor authentication. You will be prompted to enroll in Duo when trying to log in to campus systems or services such as Google Mail, Workday or LATTE.
The following instructions guide you through the Duo enrollment and device set-up process. Please review the helpful Device Options to learn more about the various authentication method(s) for each type of device (e.g., smartphone, landline).
Getting Ready
You will need to use two different devices to complete this process:
A smartphone, tablet, or landline that you normally have with you when logging into Brandeis services.
A secondary device that is connected via wireless or data connection such as computer or tablet. If you don't have both of these available, please contact the Technology Help Desk.
Setting Up Duo
Go to duo.brandeis.edu on a device that you won't be using to authenticate with Duo (i.e., not your smartphone).

Click "Start Setup" when prompted with the Duo enrollment window.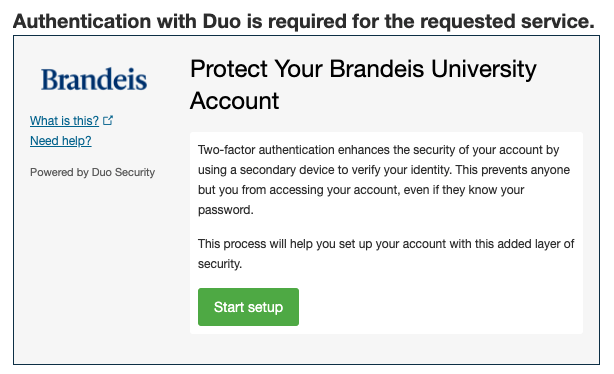 3. Select the type of device you'd like to enroll and click Continue.
We recommend using a smartphone for the best experience. If you use a smartphone, you will need to install the Duo mobile app.
If you are using a tablet: Select "Tablet" from the options shown in the above screenshot, then click continue. Then, choose whether it's an Apple or Android tablet and click continue again. Then, skip to step 8 below.
If you are using a landline: Once you complete steps 3, 4, and 5 below, your landline will be setup for use with Duo.
4. Enter the number of the smartphone that you'll have with you when logging into Brandeis services.
    Note: If you chose "Landline" in the previous step, you can also enter an extension.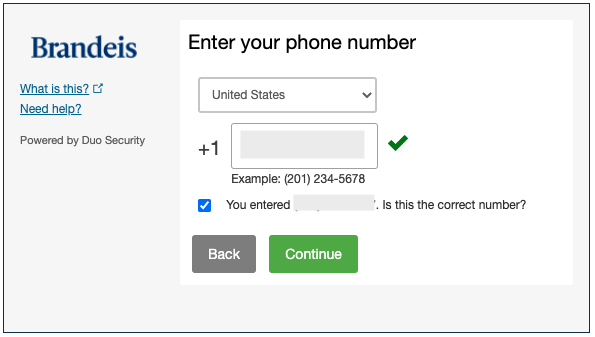 5. Choose "Call me" or "Text me" to receive verification code to verify ownership of the device, enter the code you receive, then click "Continue".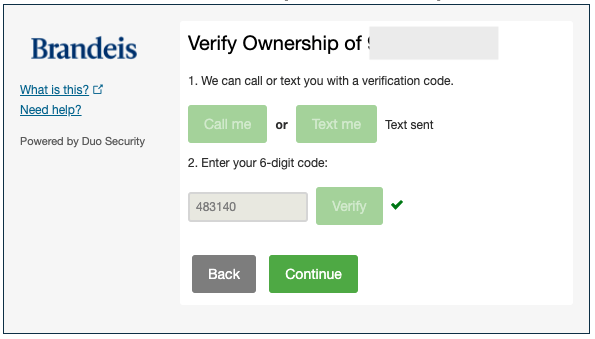 6. Choose your preferred option for authenticating (automatically send a push, automatically send a call, or manually choose every time) using the drop-down menu next to "When I login:". Then, click "Continue to login."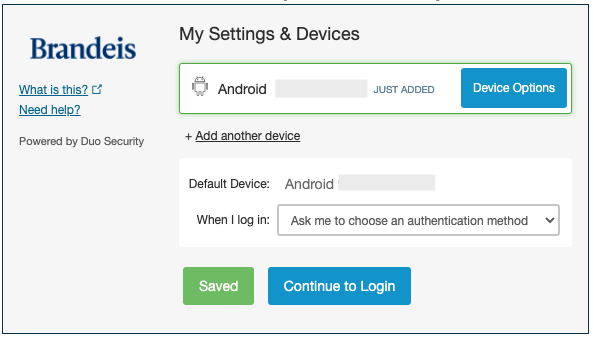 7. 
Install the Duo Mobile app on your smartphone. You can find it in the
Apple App Store
(iOS) or the
Google Play Store
(Android).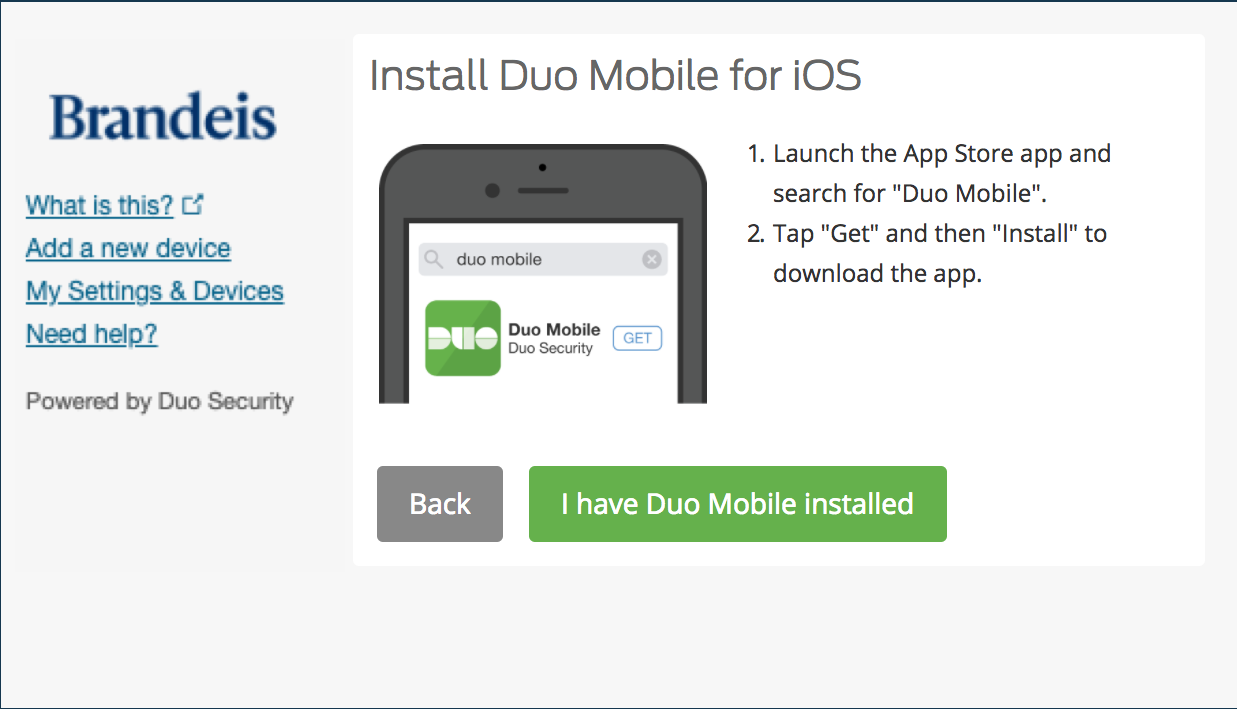 8. After installing the app, return to the Duo enrollment window and click 'I have Duo Mobile installed.'
9.  To activate Duo on your device, open the Duo app on your smartphone, tap the "+" button, and use your smartphone to scan the QR code on the computer screen. On iPhone and Android, activate Duo Mobile by scanning the barcode code with the app's built-in scanner.
A green checkmark indicates that your account has been properly linked on your phone.
Can't scan the barcode? Click "Or, have an activation link emailed to you instead" and follow the instructions.
10. When Duo Mobile is activated, click Continue. You should see this confirmation screen: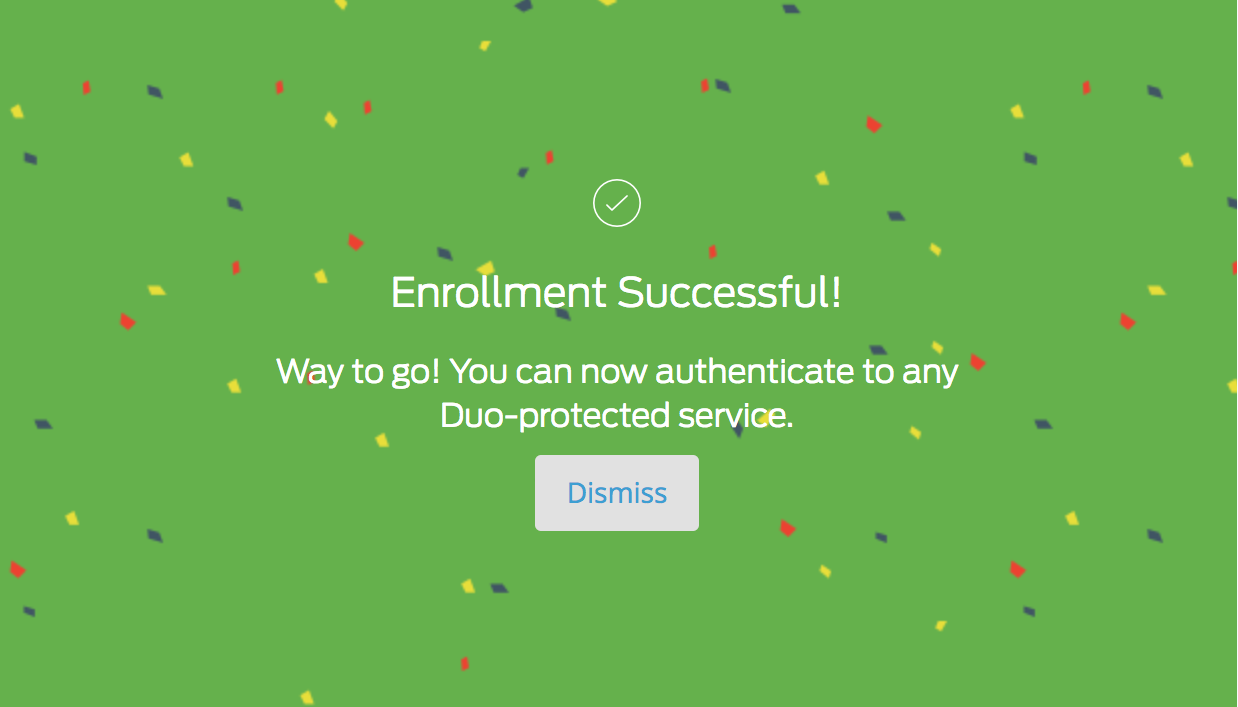 Using Duo
Once you have enrolled, you will need to follow these steps to login to Brandeis systems and services:
Your Brandeis Username and Password.
Authenticate using Duo on your two-factor authentication device (e.g., smartphone, tablet). 
With a push notification (recommended): Choosing this option will cause your smartphone to send you a notification. Simply open this notification when it appears and choose "Approve" to authenticate.
With a call: This will call your phone. Once answered, you will be prompted to press any key to approve the authentication request. 
With a passcode: When opening the Duo mobile app, it will display a six digit code which you can enter after selecting "Enter a Passcode" from the authentication screen. 

If you have a hardware token, select "Enter a Passcode", press the button on the token, then enter the code the token displays.
You can set Duo to remember your device for 30 days at a time. If you are unable to check this option and would like to, please contact the Help Desk at 781-736-4357.
If you have multiple devices on your Duo account, be sure to choose the correct one from the dropdown menu towards the top of the authentication screen.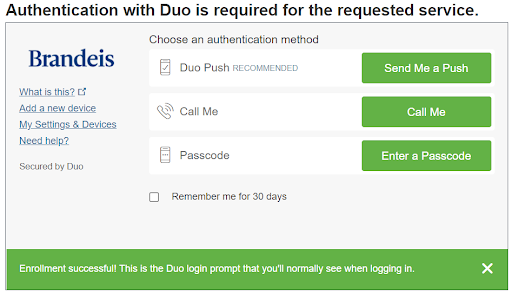 Resources
Please review the Duo Two-Factor Authentication FAQs for helpful information to commonly asked questions.
Support
If you are still unable to add your device to Duo using the instructions above and information in the FAQs, please contact the Technology Help Desk.