Zoom Live Transcription
Live transcription uses automatic speech recognition (ASR) technology which enables speech to text transcription in Zoom meetings and webinars. This feature is enabled by the host of the meeting or webinar once it begins. The use of auto transcriptions will make your Zoom meeting more accessible for all participants. It is highly recommended that users enable this feature for all meetings or classes hosted on Zoom.
Enable Zoom Live Transcription
Host
Click Live Transcript in the Zoom meeting controls (toolbar at bottom of screen).

2. When the Live Transcription menu opens, click Enable Auto-Transcription.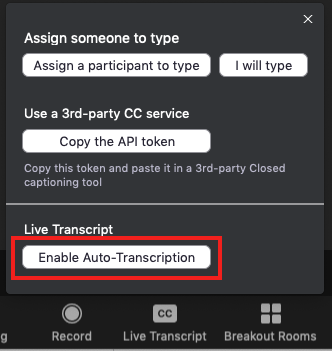 Note: If the meeting is being recorded, and you have enabled Live Transcript, you will receive a copy of the transcript in the same location of your recorded meeting.
3. To turn off Live Transcription, click Disable Auto-Transcription from the Live Transcript menu.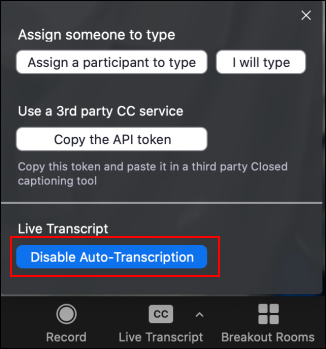 Participant
Once Live Transcription enabled, participants have the option to choose how they want to view the robot transcription feature.
1. Click Live Transcript to choose a transcript option.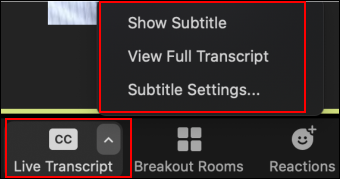 Show Subtitles displays subtitles on the screen.

View Full Transcript displays subtitles in real time with both the speaker's name and a time-stamp within the transcript window. We recommend this setting as best practice.

Subtitle Settings will open a window where you can adjust the font size of both the subtitles and the chat window.
2. Click View Full Transcript to view subtitle and speaker. 
3. If you would like a copy of the transcript, click View Full Transcript and Save Transcript. A copy of the transcript will be downloaded to your machine.
Note: The transcript saves up to the moment of clicking Save Transcript. We recommend you click Save Transcript just before the meeting ends to ensure you have the transcript from the entire meeting. Also note that this option may not be available if the host has disabled this feature.
Tips for using Zoom Live Transcription
Use an External Microphone: An external microphone/headset provides better audio quality and, therefore, more accurately matches what is being said verbally. 
Speak Slowly: Speaking slowly enables a more accurate match to what is being said verbally and allows others to follow the automatic transcript or subtitles. 
Take Turns/Pause Before Speaking: Zoom's active speaker tracking is used to identify the speaker. When another individual begins speaking, it can take a second or two before Zoom updates the transcript to identify the new speaker.
Need Help?
For more information or assistance in using the Zoom live auto transcription feature, contact the Technology Help Desk at
help@brandeis.edu
.