Forms
Need to create an online form and not sure where to turn? Read on!
Wufoo
Brandeis has contracted with Wufoo, a web-based form builder. You can easily create forms, embed them on your site's pages, and review responses. Wufoo is the preferred form building tool for use on Brandeis websites.
To use Wufoo, email Digital Communications to request an account. One account will be granted per department/area. Please format and embed your form into the CMS using these instructions.
Expand All
Form Name
"Form Name" text should be in title case. For example: Wufoo Form Sample
Form Template
Select Brandeis - Responsive Templates in the template dropdown menu, which is located on the same line as the form name line, on the right side.

In Wufoo, in the "Forms" view, navigate to your form, hover over Share select Embed form.

Scroll down the page the the Embed your form section. With the first tab (Embed with JavaScript) selected, highlight all of the Embed code and copy it. Alternatively, you can click the green Copy Code button.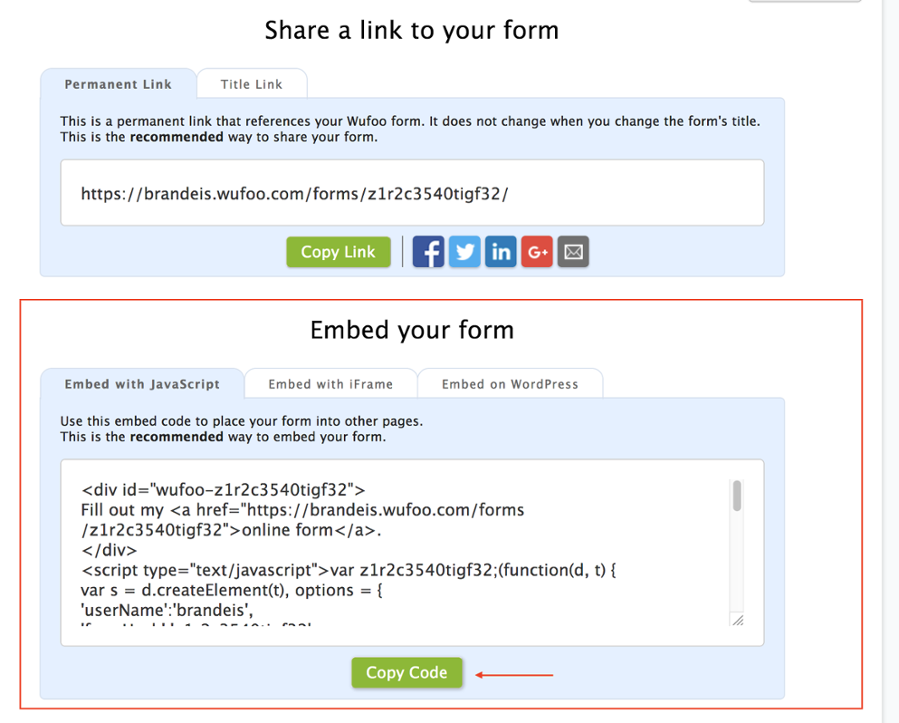 In the CMS, select the page on which you'd like the form to appear. Click Edit.
Expand the Editor Content Type. Select Tools > Source code.

Paste the code into the editor, and click Ok.
You will see a yellow placeholder box appear in the WYSIWYG editor.
Click the three dots ("kabob" menu) next to Preview Draft at the top right. Then, click Check Content & Submit to save your page. The spelling/link checker window will appear. Once you have reviewed and corrected any issues, click the blue check mark to finish submitting your page. Your page is not saved until you click this checkmark, even if you have no spelling or link errors.
Your form will appear on the page.