Recent Changes
The following outlines changes to LATTE, the university learning management system, that have been approved by the Academic Technology Committee and its LATTE subcommittee. These changes have been implemented to optimize the system and provide resources necessary to support the hybrid teaching and learning model of academic year 2020-2021.
Expand All
Change in available grade aggregation types (effective Jan. 7)
Based on recent analysis, several grade aggregation types are not in use and unnecessarily complicate the use of the gradebook. Gradebook aggregation types with minimal or no use will be removed within LATTE (see screenshot below). The most widely used methods will remain: 
Weighted Mean of Grades

Simple Weighted Mean of Grades

Natural
This update will limit the options of aggregation types starting with the spring term. Courses (current or past) that used one of the discontinued aggregation types will not be unaffected.
Please see the Gradebook Quick Guide in Learn LATTE to learn more about these grade types. The Library Team is available for more personalized assistance with your course gradebook.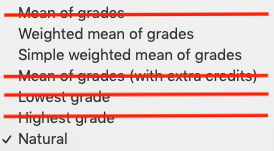 LATTE Change Request Form (eff. December 17)
The LATTE Course Tools block will include a link to request a change to LATTE. This form is intended for use by faculty, staff and graduate students to initiate the request process with the Academic Technology Committee LATTE subcommittee. Submission of the form does not guarantee the adoption of any proposed change request.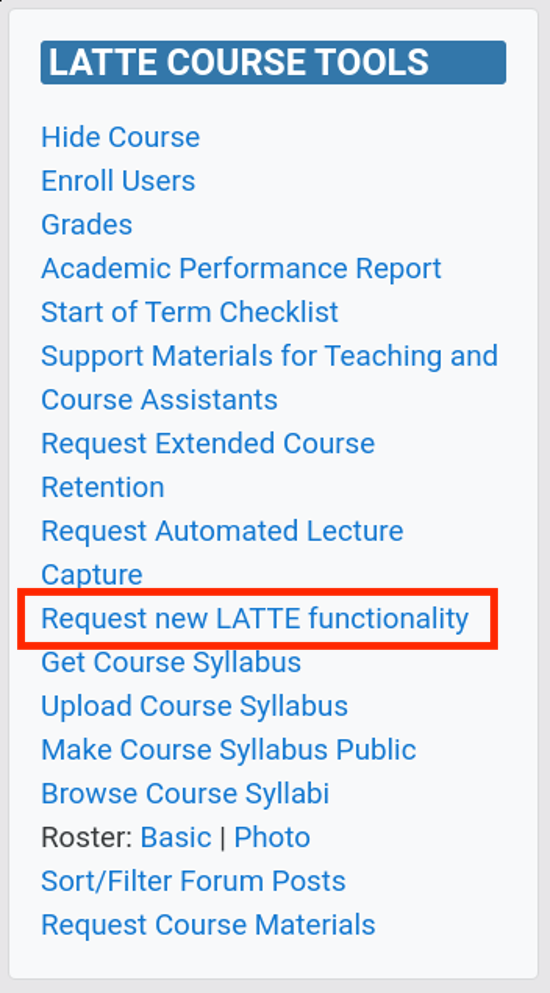 November 5, 2020
Dear Colleagues,
Introducing LATTE News, a monthly communication outlining planned changes to LATTE, as discussed and decided by the LATTE Subcommittee of the Academic Technology Advisory Committee. The Subcommittee met in mid-October to discuss the following LATTE changes and enhancements.
Enhanced Blocks: effective November 14

With the majority of courses now being delivered partially or fully online, instructors and students are routinely using LATTE as a gateway to communicate - through shared Zoom links, discussion forums, and assignment activities. 
The LATTE blocks will be enhanced to provide direct access to student support resources and technology help. 
The LATTE Course Tools block will be renamed Student Course Tools and will include links to departmental resources across campus, such as the Writing Center and the Brandeis Counseling Center. These links will be visible to students only, as faculty have access to different links within this block. (Note that faculty can switch their role to Student to see the course as students do.)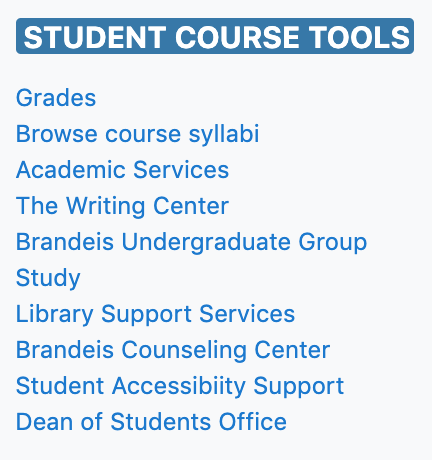 The LATTE Resources block will be renamed the Technology Resources block. This block will be modified to highlight the best way to contact the Technology Help Desk for technical support.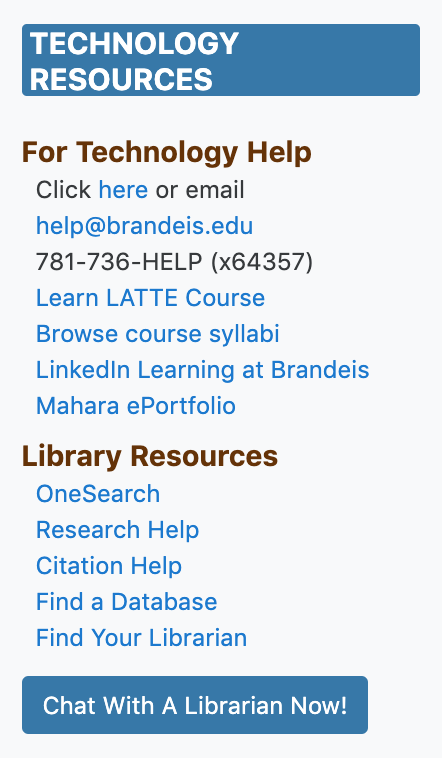 2. TurnItIn: Known Issue
The LATTE team has discovered a bug with the TurnItIn application which the vendor is actively working to resolve. To learn more about the bug and the recommended practice to avoid the issue, please see the Known Issues page in Learn LATTE.
3. Assignment Creation Default: Currently Effective

When creating an assignment, two default types for assignment submissions are now shown, both "upload file" and "submit web text". Recall that the "submit web text" option should be used if students are being required to create or upload video, using Echo360 is the recommended best practice.
Support
If you have any questions about these changes, please contact the Help Desk (
help@brandeis.edu
or 781-736-4357). In addition, the
Learn LATTE
course offers a collection of tutorials and reference documents designed to help you become familiar with the various features in LATTE and how best to make use of them. Additional faculty support resources are available from several groups across campus; details can be found in this
overview
. 
Associate Director, LMS and Service Management
Information Technology Services, LATTE team
September 23, 2020
Dear Colleagues,

You are receiving this message as an instructor or academic administrator in a Fall 2020 course. We are writing to notify you that LATTE, the university learning management system, will undergo changes effective tomorrow, Thursday, September 24, in order to provide resources to support the hybrid teaching and learning model and sustain the platform's technical platform.

You will continue to receive communications when changes of any kind occur within LATTE. These changes have been approved by the Academic Technology Advisory Committee (ATAC) and the LATTE Subcommittee.

Summary of Changes (effective 9/24)
The text editing toolbar, commonly found in discussion forums, label activities, and assignments with online text submission types, is integrated with Echo360. This is the ITS recommended best practice for instructors and students to record a video or upload an edited video clip directly within a LATTE course.
LATTE provides several ways to perform the same function. Over the past several months, many instructors and students have used the Add Media and Record Video buttons available in the text editing toolbar as means to record a video or upload a video clip within a LATTE activity. These options are not best practices, and their use can cause course sizes to grow exponentially. In addition, due to the exponential growth of course sizes, limitations for file sizes that may be uploaded are being reduced. Additional documentation is available to assist in situations where larger file sizes are needed.
Change in video options: The Add Media and Record Video buttons will be removed from the text editing toolbar in order to prevent media from being added directly into the text editing window and prevent the video from being recorded "in-line" in the window.

No files will be automatically removed.
Changes to date (effective 9/17)
Change in file size: Change in file size: The file size limitation for files uploaded into all areas (for ex: discussion forums or assignment activities) was changed from 2000MB (2GB) to 20MB. This places the limitation on par with Gmail attachment file size limits.Files of larger sizes can be shared with Brandeis cloud storage solutions such as Box, Google Drive or embedded Echo360 videos/presentations and linked from LATTE.

Expanded Help Instructions:When attempting to upload files greater than 20MB, instructors or students will be directed to documentation that outlines alternative ways to incorporate files into course activities.
Support/Resources
Faculty support resources are available from several groups across campus; details can be found in this overview. Please visit the ITS website for helpful information including best practices and FAQs.

If you have any questions about these changes, please contact the Help Desk (help@brandeis.edu or 781-736-4357).

Sincerely,
Ivan Nieves
Associate Director, LMS and Service Management
Information Technology Services, LATTE team
brandeis.edu/its

FAQs
Why are these changes being made?
With the shift to distance learning in mid-March, the number of large files and video uploads directly into LATTE has grown exponentially; the number of courses larger than 2GB has grown from 31 courses in Spring 2020 to 887 in Fall 2020. In addition to an overabundance of video options, this led to a technical challenge and adversely impacted system performance. These changes will streamline the use of video content and the size of upload files.

When will these changes go into effect?
The reduction in file size went into effect on September 17. The Add Media and Record Video changes wrny into effect tomorrow, Thursday, September 24.

Will these changes impact the sizes of the files that I can upload to my course as a resource?
The change to file size limitation applies only to the size of files that may be uploaded through a LATTE activity, such as a discussion post, label, and assignment activity. Files hosted externally, such as links to Box, Google Drive, or embedded Echo360 videos/presentations are not affected by this configuration change.

If I have files that are larger than the new limit within my course, what will happen to them?
On an ongoing basis, instructors will be contacted if particularly large files are detected in their courses, and provided instructions and assistance to replace them. No files will be automatically removed.
Course shells exceeding 2GBs in size will not qualify for a course retention extension, so they will not be kept past the 6 term time limit set by the Course Retention Policy. We will partner with faculty to optimize course size limits if retention extensions are needed.
How will these changes impact the student experience?
Students may hit a size limitation with image uploads, especially if they're using a smartphone camera app to capture a high-resolution image of their handwritten notes for submission. We recommend offering formative activities early on in the semester for students to become familiar with the upload process and size limit, before requiring this kind of activity in a graded assignment or quiz. This will give students the opportunity to develop a new process and seek out support if needed. When hit with a size limit, students will be directed to refer to best practices and resources for completing assignments or using discussion forums.
Change Archive
Expand All
The LATTE support team has identified various issues with the LATTE system in conjunction with our user community. Visit the known issues page for workarounds and updates.
On January 2, we released an update to LATTE. The new version will look, feel, and function the same as previous versions. More information about the upgraded and new features is provided below.
New Features
Responses to forum posts can be made quickly through an inline "Reply" option eliminating the need to navigate to an additional page to draft and post your reply.

When viewing discussion topics, threads can be sorted and starred. Instructors have the additional ability to lock discussion threads and reply privately to students in the forum.

Unwanted messages in a conversation can be deleted for everyone involved.

Messages in group and private conversations can be muted or unmuted. If a conversation is muted, email notifications are disabled.

A digest notification email is sent when there are new messages in an unmuted, group conversation.

A full messaging page for all messages is available in an improved, two-column layout.

An area for starred conversations allows for a "personal space" to record draft messages, notes, or links that can be saved and accessed at a later time.
Improvements to existing system
Instant account provisioning - new members of the Brandeis community will be able to log in to LATTE as soon as they have created their Brandeis account, and will no longer need to wait 24-48 hours for account information to propagate through ITS systems first.
Faster updates of data from SAGE - Changes to enrollments move between systems faster so students can access materials faster.
Self-enrollment - for select resources individuals may now self-enroll to gain access, rather than requiring to be manually added to the resource. 
Role-based enrollment - LATTE now receives information about your affiliations at Brandeis, and we can automatically connect members of the community to resources in LATTE based on their affiliation. For example, all faculty are automatically connected to this very Learn LATTE resource.
Co-location of placement tests - If your department uses LATTE for electronic placement tests, ITS now supports and encourages moving these into a common placements site. With the self-enroll option, students can add themselves to this resource and complete any or all placement tests they need. Managing the placement test and reviewing the results is restricted and no department can see the results of another department's test.
Longer recycle bin retention - The recycle bin will now hold on to deleted items for two weeks instead of one. This provides more time to restore items that may have been erroneously deleted from your course.
New features
Download Instructor Files - there is now an option in each course for an Instructor to download all of their course files with one click. This is an excellent way to save your materials for use again in a future course, or to share your resources with another instructor.
Group Choice - This new activity allows students to self-organize into groups within your course.
Tiles course format - A new course format that provides an alternative to the standard topic view
Learn LATTE course - This very site. It has been created to provide an easier to find set of support materials. Learn more about LATTE and how to use it to manage course administration, free up class time for more teaching, and make information available to your students around the clock.