Fellow Projects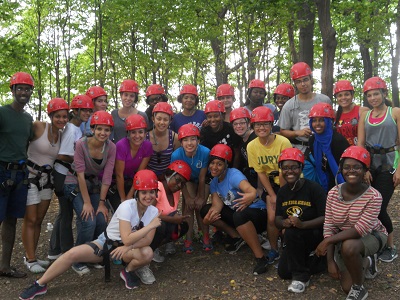 Each fall, MLK Fellows participate in a daylong retreat for the purposes of bonding and community building.
During this retreat fellows also brainstorm both their community service opportunities for the year as well as social outings in Boston. Past events have included dinner at local restaurants, candlepin bowling, and attending "The Lion King" at the Boston Opera House.
Each semester, MLK Fellows engage in community service such as helping to clean the Charles River in Spring 2015, collecting donations for and sorting clothes at Cradles to Crayons in Fall 2014, and volunteering for a haunted hayride for children at a local farm in Fall 2012.
The MLK Fellows also assist with the planning and implementation of the Dr. Martin Luther King Jr. Annual Interfaith Service Day. Teaming up with the Brandeis Chaplaincy, Department of Community Service, and external partners, the planning committee organizes a day-long service project and reflection for both Brandeis students and the local Waltham community. This past year, the group partnered with Outreach Inc. and packaged over 12,000 meals for local food banks.
Through these events, MLK Fellows have been able to build a united community among one another with the common desire to strengthen the larger Brandeis community and to uphold the timeless values of Dr. King.
Inspiration
"Every man must decide whether he will walk in the light of creative altruism or in the darkness of destructive selfishness."
— Dr. Martin Luther King Jr.
Contact Us
Katie Dunn
Assistant Director of Academic Advising
781-736-3448
kdunn@brandeis.edu