Family Stories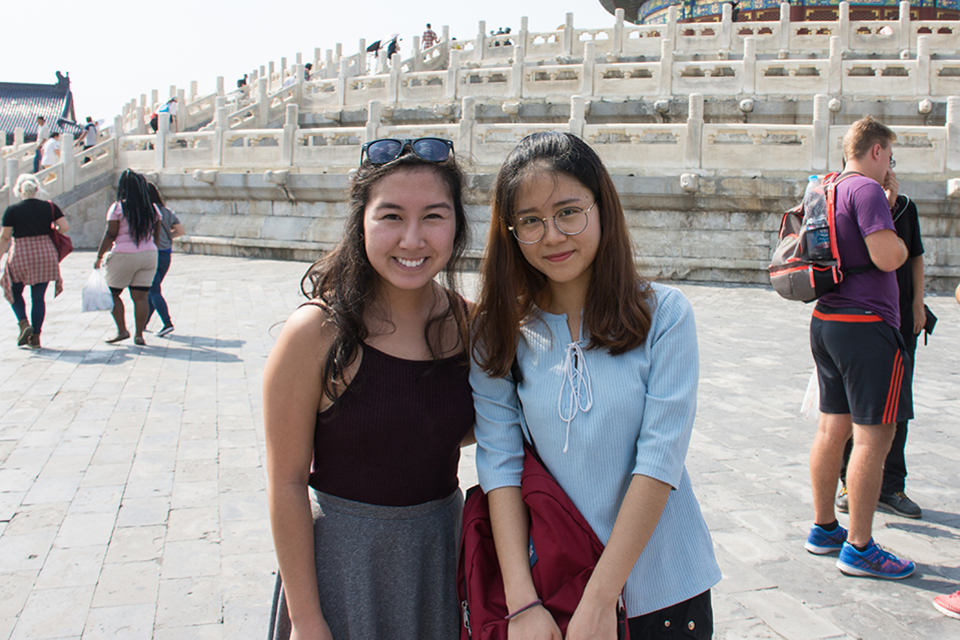 Parents and family members have taken the time to reflect on their student's experience abroad and have shared some of their insights, hopes, and thoughts. Contact us if you'd like to share yours as well.
"Yahni left as a girl and came back as a woman. The experience of being away and being immersed in a different culture fostered newfound growth and allowed Yahni to blossom."
— Sandra Amado, parent of Yahni Lapa (Brandeis in Merida, Summer 2022)
"The experience of studying abroad has had a profound impact on Weini's personal growth and independence. Seeing her live far away from home and thrive in a different environment has been truly remarkable. Whenever we receive her enthusiastic calls, sharing her 'adventure,' it fills our hearts with joy.
The study abroad office has been an invaluable support system for families. They have been there every step of the way, ensuring students' well-being and providing assistance whenever needed. Even after the program ended, the office continued to stay connected with the students, creating a safe space for them.
We are incredibly proud of Weini's courage to pursue her dreams through study abroad. Despite the distance, the experience has brought us closer as a family. It has taught us the importance of embracing new opportunities and cherishing the moments we share."
— Yah Shen, parent of Weini Xue (Brandeis in Copenhagen, Summer 2022)
"My daughter talked about studying abroad for years but when COVID hit we were unsure it would ever become a reality. As they began the program again, both Brandies and the Study Abroad office provided excellent information in real time and while I was nervous having her far away, especially during this unusual time, I felt confident that she'd be taken care of and the ability to FaceTime was comforting. Her time in Rome was filled with, new experiences, a new language, making new friends and exploring the country. I think the time abroad gave her the confidence to make the most of the experience. I would highly recommend studying abroad through Brandeis."
— Susan Bazarsky, parent of Alex Bazarsky (IES/Rome, Spring 2022)
"It is easy to find opportunities to travel as a tourist, but it is rare to have the opportunity to live abroad for an extended period of time - especially while simultaneously earning academic credits. My daughter spent a semester in Thailand and had the unique experience of taking classes in Thai language, culture, history, and current events from Thai teachers and local experts. Towards the end of the program, she had the opportunity to participate in an internship with a local NGO working to find ways to encourage cycling to local tourist sites, thereby reducing heavy local traffic and carbon emissions.  Studying abroad (or away) offers students the opportunity to connect with people, ideas, and the natural environment in ways that often influence their personal and professional interests for the rest of their lives."
"Through the Brandeis in Siena program, my daughter became more independent and confident after her experience.  She has become more interested in international politics and history since returning.  Not only did she learn about the culture in Siena and Italy more generally, the trip was well-planned and offered great courses. While we missed our daughter a great deal, we regularly texted and occasionally used FaceTime or WhatsApp for video calls. The WiFi in Siena was more than adequate for those conversations. She could have used an Italian SIM Card, but decided not to and we still we able to easily stay in regular communication with no extra charges. Many family and friends have had have study abroad experiences.  The Brandeis in Siena program stands out as being well-organized with clear communication and a helpful and friendly staff to answer any questions.  Our daughter was on one of the first study abroad trips after COVID and I cannot say enough about how well the trip was coordinated."
— Nicole Krassas, parent of Maggie Krassas Moran (Brandeis in Siena, Summer 2021)
"Sydney thrived during her study abroad program in Merida, Mexico.  She completed a Spanish minor while at Brandeis and this immersion, including living with a non-English speaking family, allowed her to achieve fluency.  She loved the city, the other students, the adventures they sought out and, mostly, her host family.  This love of her experience and her program, specifically, prompted her to return to Brandeis and work in the Study Abroad office so she could share her experience and love for the program with others."
— Wendy Pomerantz, parent of Sydney Goldman (IFSA/Public Health in the Yucatán, Summer 2019)